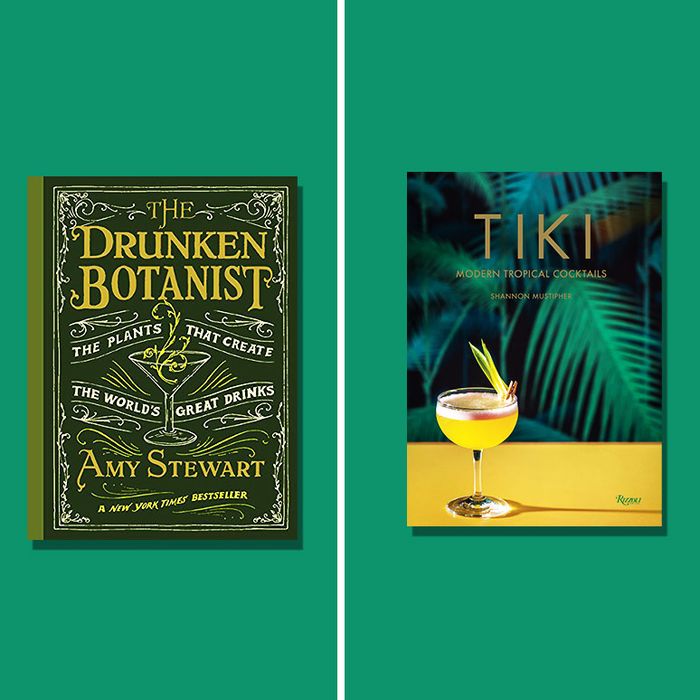 The way you learn how to make craft cocktails isn't by drinking a lot of them (though that experience doesn't necessarily hurt). You need to memorize recipes, learn how different liquors are made, and even understand a bit of chemistry — that's why most serious bartenders and booze connoisseurs are well-read folks, with libraries full of bartending guides and cocktail books that they still reference, even after years of experience under their belts.
To help you fill your own home with the best cocktail books for every type of drinker, we asked 18 experts — including bartenders, beverage directors, and cocktail-book authors — to share what's on their shelves, from the classic guides that taught them the fundamentals to the modern books that help them get creative. As always, each title on this list has been recommended by at least two experts.
Best historical cocktail book
According to Kitty Amann, the co-author of Drinking Like Ladies and a brand ambassador for whiskey brand Uncle Nearest, this is a "must-read for anyone who likes cocktails and history." She looks at Imbibe! like a textbook: "I learn something new each time I go back to it." Both Holly Booth and Josh Novaski, co-lead bartenders at Utah-based High West Saloon, say that the book features "great storytelling and historical references to American craft cocktail creation." New York City–based bartender and beverage consultant Lucinda Sterling says that it has "great stories and recipes," and Jägermeister brand-meister Willy Shine and H. Joseph Ehrmann, the co-founder of Fresh Victor cocktail mixers and the owner of San Francisco's Elixir, are also big fans. Alongside its included 100 recipes for cocktails, the author — who won a James Beard Award for this book in 2007 — includes detailed historical notes contextualizing each drink and providing a compelling portrait of Jerry Thomas, who is widely considered the father of the American bar.
Best fundamental cocktail book
For learning about basic techniques, four of our experts recommend Dale DeGroff's The Craft of the Cocktail. Craig Joseph, the bar manager at Ty Bar at the Four Seasons Hotel New York, calls it his "all-time favorite cocktail book," adding that it's "the only book every bartender, beginner or pro, needs in their life." Jim Kearns, the beverage director and a partner at New York City's the Happiest Hour, adds, "It has a lot of valuable information in it, as well as recipes, so it's a good one to check out." And Gareth Evans, the global brand ambassador for Absolut Elyx, told us that "DeGroff is rightly credited with the resurgence of fresh fruit and juice in modern cocktails, after the dark days of the '70s and '80s when sour mix and layered disco drinks reigned supreme." Echoing Joseph, Evans says this is "a must-have for any aspiring bartender" for its "refreshing (pun intended) take on how to mix up simple, balanced drinks." Ehrmann also recommends this title, and told us that DeGroff has a new edition coming out in the fall.
Best Tiki-style cocktail book
Photo: retailer
Four of our experts also raved about this recent collection of recipes from Shannon Mustipher, whom Kenneth McCoy, the chief creative officer of New York City–based bar The Rum House, calls "one of the coolest and most knowledgeable women in bartending." According to Jon Dubin, a senior brand manager for Knappogue Castle Irish Whiskey, this is a "must-have" for your bookshelf or bar cart. Damon Boelte of Brooklyn-based Grand Army Bar says that it is "one of the most comprehensive and streamlined books about Tiki cocktails" out right now. And Amann told us that while she used to find Tiki-style cocktails "intriguing but intimidating," this book full of "recipes, photos, engaging drink histories, and descriptive rum tasting notes" made them far more approachable.
Best book for learning how to create unique cocktail recipes of your own
In our list of essential gear for a home bar, Evans called this "one of the most invaluable cocktail books ever released," as well as a "treasure trove like no other." The Cocktail Codex includes explainers of six "root recipes" that the authors say serve as templates for all cocktails: the old-fashioned, martini, daiquiri, sidecar, whisky highball, and flip. According to Booth and Novaski, the James Beard Award–winning book "provides a road map to building" those and other cocktails because the "structure of the book breaks down drinks into their basic categories." Evans adds that "it lays out a wide spectrum of techniques, flavor pairings, and spirits knowledge that really speak to the professional mixologist as effectively as the casual home bartender." In addition to photography, the book utilizes easy-to-read infographics and charts to help illustrate the components of the different drinks and give you the tools you need to improvise and create your own recipes.
Best book for improving bartending technique
"This was the one book I would always have kicking around the office, and it was the unofficial training manual for bartenders and barbacks alike," says bartender Gareth Howells, a North American brand ambassador for Dewar's. Howells adds that he "learned a huge amount from this when I first started bartending, and it really helped me refine various aspects of my processes." Novaski agrees and says it is "great for educating people on technique and what bar tools they need and why." According to Sterling, "This book is able to present basic facts in a funny and simple way, allowing a first-time or at-home bartender to learn the basics, and impress."
Best science-based cocktail book
Amanda Swanson, a tequila sommelier and the beverage director of Tribeca's Anejo, recommends Liquid Intelligence for more experienced bartenders because "it covers the nitty-gritty chemistry of cocktails from the shape of the cubes of ice and the size of the bubbles in Champagne to the science of perfect dilution." Ehrmann agrees that it's a good choice if you want to get into the more "scientific" aspects of cocktails. "Once you think you know everything about how long to stir, shake or muddle, Arnold throws you a curveball," adds Sterling.
Best book on punch-based cocktails
In addition to Imbibe!, Wondrich also wrote Punch, which charts the punch bowl's history alongside ideas to create your own bowl-based cocktail. Shine says a deep dive into both Imbibe! and Punch is "essential to the serious bar professional" or anyone "who is looking to further their knowledge of the history of where our incredible profession comes from." Ehrmann also recommended both of Wondrich's titles, calling them "definitive historical books" for bartending.
Best book for mixology nerds
"If you want to geek out a little more (and most cocktail lovers do), Meehan's Manual includes in-depth sections on spirits, behind-the-scenes sections with distilleries and producers, as well as guides to classic and contemporary cocktails," explains Jacob Briars, a global advocacy director of Bacardi Limited. "It's a beautiful book, inside and out," seconds McCoy.
Most fun to read historical cocktail book
"Like many bartenders, I love Charles H. Baker's A Gentleman's Companion: Around the World With Jigger, Beaker, and Flask," says Briars. Baker was a writer for Esquire and Gourmet who traveled the world in the 1930s, "writing down recipes on cocktail napkins as he encountered them," Briars explains. While Briars notes that some of the included recipes are often terrible, "meaning modern bartenders have had to tweak them to make them palatable," he says it's still a "great travelogue." Jane Danger, the beverage director of New York City–based tiki cocktail bar Mother of Pearl and the author of The Bourbon Bartender, calls the book "an inspiration" for both writing and drink-making. "I feel the story behind the cocktail needs to be as good as the drink," she notes, and this text fulfills both requirements.
Best book on the production of spirits
According to Nate Fishman, a bartender at Liquor Lab and a brand ambassador for Santera Tequila, this book "gives you the understanding of cocktails and spirits through gardening and horticulture," which makes "pairing and creating cocktails" at home much more accessible. Swanson says Stewart "delves into every spirit before it was a spirit: the sugar canes of rum, the rice grains of sake, and the agave of tequila and mezcal, of course," so it adds an additional "element of understanding" to your drinks.
Best book on contemporary cocktail-making
"If a beginning bartender wants to learn technique and amazing recipes, Death & Co. is always my go-to cocktail book," says Swanson. Published in 2014, the book's authors (who also wrote The Cocktail Codex) are the team behind the cocktail bar of the same name, which now has locations in Denver and Los Angeles in addition to its flagship in New York City. Unlike The Cocktail Codex, this book focuses more on recipes and includes 500 of their favorite cocktails, many of which have been featured on their menu. Cara Maldonado, the beverage director at the Four Seasons Hotel New York, is also a fan of this book, telling us she keeps a copy on her bar cart.
Best encyclopedic cocktail book
Photo: retailer
Both Ehrmann and Booth call The Joy of Mixology a "classic," with more than 350 "simple and easy" recipes to thumb through. Regan groups this encyclopedia of cocktails into families based on the balance of ingredients, not by the base spirit, so you can master dozens of recipes quickly, and then learn how to create your own takes on the classics.
The Strategist is designed to surface the most useful, expert recommendations for things to buy across the vast e-commerce landscape. Some of our latest conquests include the best women's jeans, rolling luggage, pillows for side sleepers, ultra-flattering pants, and bath towels. We update links when possible, but note that deals can expire and all prices are subject to change.
Every editorial product is independently selected. If you buy something through our links, New York may earn an affiliate commission.