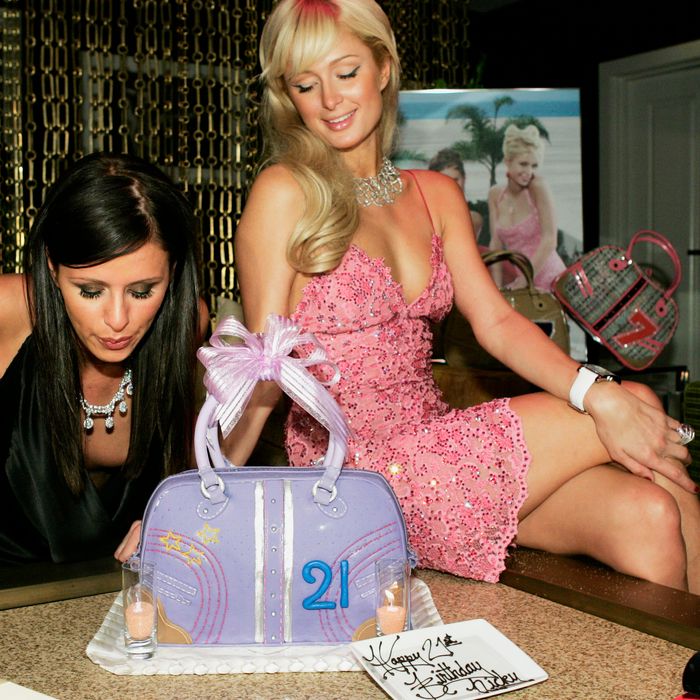 Photo: J. Merritt/FilmMagic
The obvious gift for a newly minted 21-year-old is a bottle of booze. Problem is, it probably won't last the week. (And that's being generous.) But there are dozens of other fun, boozy or booze-adjacent gifts that are still appropriate for someone who's just started drinking legally. To find that elusive gift — one that will be appreciated for longer than a weekend — we talked with a professional bartender, brewers, and a sommelier, along with a couple of actual 21-year-olds, who recommended the best gifts for newly legal young adults (including some options for the 21-year-olds who don't want to drink).
Willy Shine, mixologist and Jägermeister brand rep, would give a burgeoning cocktail enthusiast some cocktail tools, "in order for him or her to enjoy perfectly crafted cocktail at home and for their friends." He recommends Dale DeGroff's Craft of the Cocktail, "a great place to begin to understand cocktails, their recipes as well as their origins. This book is a beautiful welcome into the world of proper cocktail-making and understanding."
For a new wine drinker, Aldo Sohm, sommelier at Aldo Sohm Wine Bar and Le Bernardin, recommends Wine Folly. It's a wine book geared toward visual learners, who would prefer to learn about wine through pictures rather than text, and it's far from pretentious. "Madeline Puckette teaches you in a very, very playful way. It's really the new way of learning because she's demonstrating in pictures," including easy-to-read illustrations that break down the color and clarity of wine or show you how to serve and taste a glass properly, even if it's just a glass of two-buck Chuck.
Marissa A. Ross's Wine. All the Time is another approachable wine book that includes a whole chapter on drinking wine in the real world — with practical advice on how to (safely) drink wine while camping, going to a music festival, or talking with your boss at your first postgrad office happy hour.
Jim Koch, the founder and brewer of Sam Adams, recommends proper beer glasses for brand-new (legal) beer lovers, "because every drinker should have the right glassware to fully enjoy his or her first cold beer." And by "right," he means something that's a little fancier than a regular, old pint glass or a red Solo cup. Though he's biased, Koch does like the Sam Adams Perfect Pint glasses, which have "an angled lip to deliver the beer to the front of the tongue, and a narrow base so the beer doesn't get warm."
David Zuskov, the brewer and lab manager at Almanac Beer Co. in Alameda, California, also likes Spiegelau glassware. As he explained in our gift guide for beer lovers, "The IPA glass really makes a difference. I drank the same beer out of their glass and a pint glass, and you can taste so much more flavor from theirs." Spiegelau's three-piece starter set would be a good choice for someone who's starting to learn the difference between an IPA, a lager, and a stout.
Another solid wine gift for newbies is the Corkcicle, which chills a bottle of warm wine down quickly and keeps it cold. According to writer Leah Bhabha, "It'll begin cooling down the wine immediately, chilling from top to bottom, and keeping it icy for up to an hour without watering it down." It's certainly a more elegant way to chill wine than putting ice cubes in your glass.
If you're looking for a party gift, Evan Sayles, an actual 21-year-old, thinks a backyard cornhole set would be appreciated. This highly reviewed portable cornhole set fits into his requirements for an easy-to-move and useful gift.
A recent college graduate also tipped me off to this margarita glass rimmer, which could also be used to efficiently put salt on shot glasses for tequila, if that's more the 21-year-old's speed.
Cassidy Olson, another 21-year-old, and her housemates came into possession of a shot roulette game for someone's birthday, and it's been a hit at parties. "It's not as dangerous as it seems," she notes. "We don't usually play with entire shots, it's usually a mixed drink. But it's fun!"
And if all else fails, you can give the 21-year-old in your life a piñata, to be filled with nips of alcohol and candy and destroyed at their party. This was my go-to gift for friends when they turned 21 in college, and it seems like it could still be a hit. "That sounds hilarious," says Sayles. "That would be so fun."
Sayles would like things for his postgraduation apartment. "So I've been asking around, trying to source some household supplies that I could move into my new apartment like kitchen supplies. Something small, portable, but would add utility in my life." That also includes actual glasses because, right now, in Sayles's college apartment, "it's a mix of pint glasses that I've brought myself and plastic cups that we've stolen from a dining hall, and I definitely prefer drinking out of a glass." This set from Strategist-favorite brand Bormioli includes both short and tall glasses.
"Wedding registry–type things make sense," adds Olson, "because a lot of us are moving into places for the first time permanently. I know nothing about glassware, so I couldn't say what glassware, but a combo of drinking glasses and wine glasses would be good." Enter another Strategist favorite: the Bormioli Rocco Bodega short tumblers. They're inexpensive enough so as not to be precious, but are still well-balanced and nice to hold — and they do double duty as wine glasses, just in case.