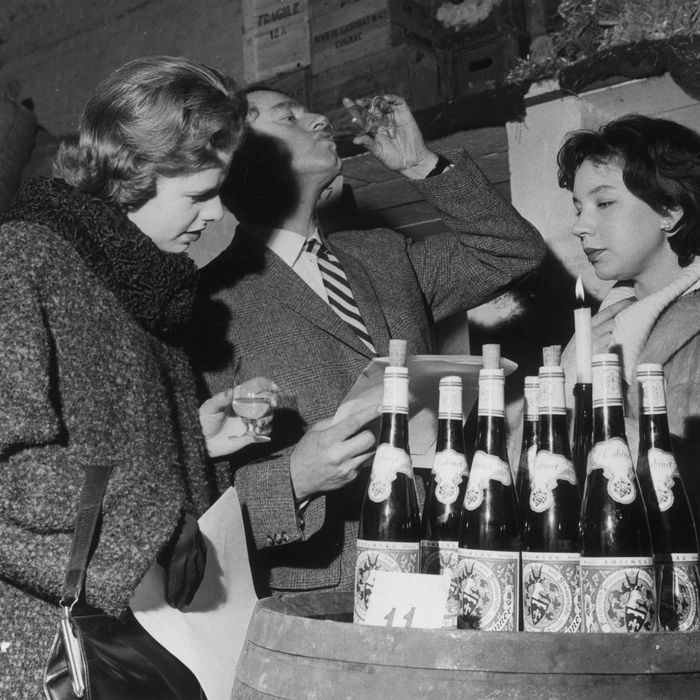 Photo: Evening Standard/Getty Images
Welcome to Reading Lists, comprehensive book guides from the Strategist designed to make you an expert (or at least a fascinating dinner-party companion) in hyperspecific or newsworthy topics. Here, we surveyed sommeliers and wine buyers to find the best books about wine for enthusiasts of every persuasion.
For our primer on wine books, we consulted a group of sommeliers that includes Aldo Sohm, wine director of three-Michelin-starred Le Bernardin and the face of Aldo Sohm Wine Bar; Belinda Chang, James Beard Award–winning sommelier; Victoria James, beverage director at Cote; Ashley Santoro, regional beverage director at the Standard; Alexis Schwartz, sales representative at Brooklyn-based wine importer Zev Rovine Selections; and Carla Rza Betts, co-founder of An Approach to Relaxation.
Each of these experts sent us a list of books, from their most-referenced wine encyclopedias to the books they give as gifts to fellow wine lovers, and we only included titles that were recommended by two or more of the sommeliers. Not all of these are wine books for beginners, and some are admittedly on the more-expensive side. But whether your goal is to build a working library of the best wine books that includes some canonical titles, or to just learn a little bit more about pét-nat and natural wines so you can order wine in a restaurant more confidently, this sommelier-approved list will be a good starting point.
Jon Bonné is a wine writer with a few books under his belt, along with a still-running column for the San Francisco Chronicle. His most-recent title, The New Wine Rules, has quickly become a favorite; his writing was cited by four of the six sommeliers with whom I spoke. "This is a small little book, this is not technical," says Santoro. "It's like a Zen little wine reference book." Sohm agrees, and loves the way that Bonné empowers readers. "Wine is always so filled with rules and intimidations and people feeling insecure. He actually breaks it down just beautifully. He gives people a certain security and lifts all these myths." And since it was published in 2017, it provides a good snapshot of how people drink today; Schwartz describes Bonné as "of-the-moment now, and looking at things in a nice way."
"Kermit Lynch was one of the first major importers of great French wine into the States," Betts explains, "and his tales of grand feasts, cold cellar tastings, and navigating the world of the wine merchant are a lovely treat." It's a good read for those interested in the history of importing wine and seeing how the market has changed over the last several decades. "The wines that he's talking about, you're like, 'Oh, yeah, of course I've heard of those wines.' But he is struggling to sell them," says James. But even if you're clueless about which wines are from where, it's just a fun read, about a hippie-turned–wine importer from Berkeley, California, and a memoir that three of our somms think of as reenergizing. "I sometimes reference that book because it's motivating, and it inspires you to kind of think about the things that initially got you into wine," says Santoro. "That's one of my top ten, for sure."
The Oxford Companion to Wine, by Jancis Robinson, isn't for beginners. "It's so packed with information, it's really hard for people to digest, especially when you're going to complex areas," explains Sohm. But for him, and three of the other sommeliers, it's considered a classic title. "This is the holy grail," says Sohm, a go-to reference for many working somms and wine experts. Schwartz will take out her copy "if there's a term or a process or a place that I need to refresh myself on, I'll open it and read about it," like an encyclopedia. Betts calls it, "A fantastic reference point, regardless of your wine knowledge." Schwartz, however, does recommend getting the newest edition, "because they're much more inclusive and they incorporate certain producers that I actually like to drink or talk about," including more information on biodynamic and natural wines.
If there's a place that you're going or you want a more geographic overview, Robinson's The World Atlas of Wine, written with Hugh Johnson, is recommended by two of our experts. It's especially handy if you're a visual learner who loves maps, like Betts. "This book with its very detailed regional maps and easygoing voice felt like I was being led comfortably down a potentially overwhelming path." It's still technical, since it does cover such a huge amount of producer information by region, notes Santoro, but it's not dry. "I think it's definitely for someone that's starting out their sommelier journey or takes wine classes now that are a little bit more fun and aren't super professional, but they want to know a little bit more about the things they already love," she explains.
"That's my signature gift, for a housewarming or for anyone I know," says Chang, and though she's the only sommelier to recommend this specific title, both Sohm and Betts lauded Jay McInerney's work as a wine writer. This workbook is designed to help you think a bit more carefully about what wines you're drinking and what you like to drink, alongside answers from famous oenophiles who have been asked to think about the same questions. "So this book has Graydon Carter's favorite wine, my favorite wine, among others," says Chang, "and then it has pages to fill in. I know a lot of people will buy a Moleskine wine journal or a beautiful Smythson wine journal and never use it. But I think this is one that people actually use because it's beautiful, there's stuff to read, and then filling in the pages is really satisfying and fun."
Before the documentary SOMM provided an insider look at world of sommeliers, there was Rajat Parr and Jordan Mackay's Secrets of the Sommeliers, and according to Santoro, it kind of changed the culture and inspired a new generation of younger sommeliers. "I knew that what I wanted to do before reading that book," says Santoro, but this title helped her to understand, "I can actually make a living from being a somm, and I don't have to be 50 years old and wearing a tuxedo and just drinking Bordeaux." Sohm also cites it as giving "a lot of insight into how people in the industry think, it gives opinion from very famous wine directors and gives also side notes" with practical examples about some of the common questions he and other sommeliers have to answer daily during service.
This James Beard Award–winning title came out in 2017, and it's already becoming the must-have, classic title on Champagne. "This one is never leaving my side," says Chang, and Sohm agrees. "It's filled with maps, it's filled with history about how bottles were made, and it's really, really an absolute world-class book right now." Sohm also calls the author Peter Liem "arguably one of the best connoisseurs of Champagne." The photographs, by Andrea Gentl, are also stunning, says Chang. "Champagne is already, inherently romantic and celebratory and mystical to us all, but I think she really captured it through the photography. And the book touched my soul, not to sound cheesy. But it really did."
"To me, I think the big problem with a lot of wine books is that they don't involve food, and that, to me, is the silliest thing ever, because wine exists because of food," says James. She cites Richard Olney as one of the best food writers who also writes well about wine because he "concentrates on regions and recipes and the wines that go with them. And when you understand the food, I think you understand the flavors in the wine and the region, as well." Santoro thinks The French Menu is a good place to start in Olney's work for an overview of regions; James also likes Lulu's Provençal Table, which focuses on a single family-owned vineyard in the South of France.
"It's not a wine book. I think that book changes how you live," says Chang. "It teaches you the joys of the table and how wine is a part of the joys of the table and how life happens with the joys of the table if you're living elegantly and beautifully and bravely, so for me, it is a wine-drinking book." Schwartz agrees. "Wine should be a part of food, and I think far too often, wine books or the way we talk about wine, it just becomes too detached from those experiences," and author M.F.K. Fisher brings it back to its original joy.
Betts recommends anything by Jay McInerney for "when you want to indulge in wine-world gossip, vivid social commentary, and a luxurious helping of joie de vivre from a man with a great palate and a wild party side." Sohm particularly likes The Juice, which features a chapter about his relationship with chef Eric Ripert. "I would give this to someone who just wants to read a little bit about wine but doesn't want to go into depth," he says, adding, "Sometimes, if you study all day long, you need to back off a bit and read something entertaining, and this is something that refreshes you a little bit and makes you smile."
"Ten years ago, when I started out in wine, everyone was like, 'I want Chardonnay or Tempranillo or Cabernet.' But now, everyone's like, 'What is amaro?'" says Santoro, and though this book isn't about wine, it's a good read if you're trying to stay ahead of trends. "If you're a beverage professional, this is another obscure category of beverages that people often forget about," notes James. "And there's so much history there and so many interesting cocktails and recipes you can dive into."
The Strategist is designed to surface the most useful, expert recommendations for things to buy across the vast e-commerce landscape. Some of our latest conquests include the best women's jeans, rolling luggage, pillows for side sleepers, ultra-flattering pants, and bath towels. We update links when possible, but note that deals can expire and all prices are subject to change.
Every editorial product is independently selected. If you buy something through our links, New York may earn an affiliate commission.