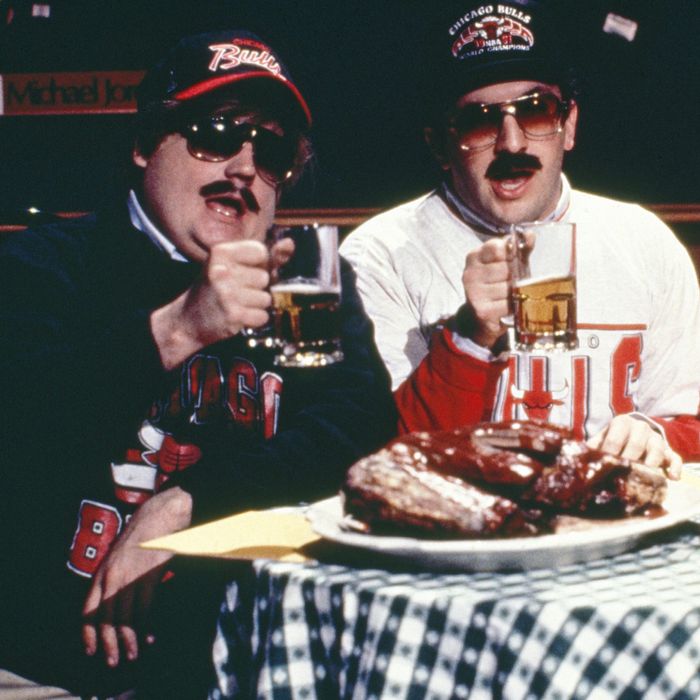 Photo-Illustration: NBC/Getty/NBCUniversal via Getty Images
Finding the best gift for the beer lover in your life can be tricky, especially if you're not a beer person. And though it might be tempting to give them one of those "funny" beer gifts, like a helmet with the two straws, you can do better than that. There are plenty of clever gift ideas for beer lovers that they'll use and appreciate, and to make it easy for you to pick a beer gift they might actually want, we consulted a group of experts that included brewers and brewmasters, certified ciceroni, and beer writers to find the best gifts for beer lovers that have more staying power than a six-pack.
Gifts for beer drinkers
Yeti coolers, which we've deemed the best coolers on the market, are beloved by pretty much anyone who uses them for their virtual indestructibility and the fact that they keep food and drinks (and ice!) cold for literal hours on end. Which is why we were not surprised when Jesse Ferguson, the founder and brewmaster at Interboro Spirits and Ales, told us this Yeti cooler would make an impressive gift for a beer lover who needs to keep their brews ice cold. "This is great for the traveling beer geek," he says. "Fill it with cans and bottles and check it on your way home from your trip visiting new breweries." The rugged soft-side cooler has a wide-mouth opening with ultrastrong magnets to keep it closed, as well as top handles, a shoulder strap, leak-proof liner, and a shell that's resistant to mildew, punctures, and UV rays. It can hold up to 20 cans of beer or 28 pounds of ice.
For beer lovers who wait in line outside their favorite breweries on a weekly basis, Matt Monahan, co-founder of cult favorite Other Half Brewing Company, recommends a Dayventure beer cooler from Pelican. "This company makes amazing, high-quality coolers that match up every bit to the competitors and then some," he says. "This cooler in particular fits 4 packs of 16oz cans perfectly."
Strategist writer Dominique Pariso first turned us on to Brümate's stainless-steel coozies when she wrote that they kept her slender White Claw ice cold, even on a hot summer day. Luckily for the beer drinker in your life, BrüMate's Hopsulator coozie comes in a standard size that'll keep their favorite 12-ounce bottles of IPA ice cold, too.
Since glass isn't allowed on many beaches or in some state parks, your favorite beer lover is probably hauling cans all summer long. Mary Izett, co-owner of Fifth Hammer Brewing Company in Queens, New York, loves the Yeti Colster — a can insulator — for summertime imbibing. "They're lightweight, durable, and keep your beer at the appropriate temperature on the hottest of days," Izett says.
"If you want to get some fancy glasses, Spiegelau has some really nice stuff specifically designed for specific styles," David Zuskov, the brewer and lab manager at Almanac Beer Co. in Alameda, California, explains. "The IPA glass really makes a difference. I drank the same beer out of their glass and a pint glass, and you can taste so much more flavor from theirs."
If you're not sure what style of beer they enjoy the most, but still want to upgrade their glassware from novelty pint glasses, give them a Spiegelau four-piece tasting set, which comes with the IPA glass, a glass for stouts, and one for American wheat beer.
Cory Bonfiglio, co-owner of Beer Street and Beer Street South in New York City, says one of the best gifts to give right now is a gift card to the recipient's favorite beer shop. "It's not remotely sexy, but gift cards from local beer shops and breweries would be incredibly helpful in this time of uncertainty," he says. To complete the gift, he also suggests throwing in a pair of "beautiful, classic, and inexpensive compared to quality wine stemware" Teku glasses.
"One year for Christmas, my mom gave me one of those 'Save Water, Drink Beer' shadow boxes that you fill with your used bottle caps. She also gave me a wall-mounted bottle opener built from a melted Toasted Lager bottle. It was the perfect combo," says Dan Jansen, director of supply at Anheuser-Busch's Brewers Collective. "The challenge became filling the shadowbox by the next Christmas, and I definitely rose to it." While these aren't the same shadow box and bottle opener Jansen has, they're just as compelling to get your beer-loving buddy to get busy (responsibly) filling up that box.
Speaking of bottle openers, according to Julia Herz, the publisher of CraftBeer.com and craft-beer program director at the Brewers Association, you can't go wrong with giving a beer lover a solid bottle opener. "A kick-ass bottle opener needs to feel sturdy and work well. It's a catalyst for each glee-filled moment you open a beer. It needs to be special enough for it to gain more and more meaning and purpose with each use." We think this one from FS Objects, which is handmade from solid brass, definitely has that "special enough" quality she's talking about.
For a still stylish but less expensive option, try this durable, zinc-alloy bottle opener from Hay (one of the Strategist's go-to home-goods brands).
Or, for the beer drinker who prefers to wear his gear, this belt with a built-in bottle opener behind its buckle is sure to delight. It came recommended by our Resident Cool Guy Chris Black, who says the belt has that "I played a side stage at Lollapalooza in 1993" energy.
The lambic beer drinker in your life, though, will need a corkscrew to get to the good stuff. (Bottles of lambic are corked, not capped, and we talk more about this unique type of Belgian beer below.) For them, consider this cheerful one from iconic Italian design company Alessi that Black also recommends. Her name is Anna G. and she was designed by Alessandro Mendini in 1994.