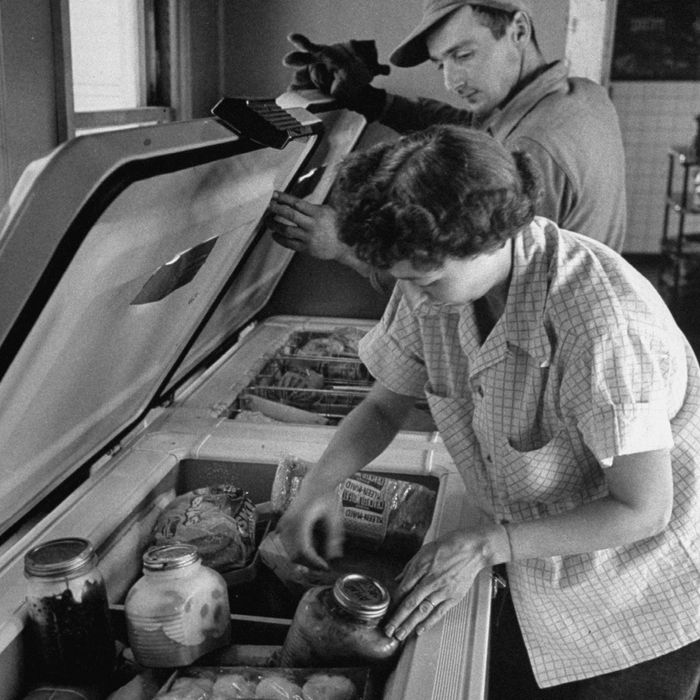 Photo: Gordon Parks/The LIFE Picture Collection via Getty Images
At the start of the coronavirus pandemic, many people stocked up on frozen foods like meat and vegetables, only to get home and realize that their freezers are full. Their next logical thought? I need a bigger freezer. Better yet, I need a dedicated freezer. Suddenly everyone was buying freezers.
To help you find the best freezers to get you through the remaining socially isolated months (and still be useful after, when you're no longer hoarding skirt steak and potato skins), we spoke with nine experts, including appliance store owners, hunters, butchers, preppers, and homesteaders.
The first thing to do is determine which type of freezer is better for you, chest or upright. The main difference is the amount of space it takes up. An upright freezer has about the same footprint as a typical refrigerator and is convenient to use, since everything is on shelves and you're not bending over. A chest freezer is much more efficient, but it takes up more mudroom or basement real estate, and finding something inside it often involves the unpleasant prospect of digging. After that, it's a matter of capacity. Budget will answer this question for many — more space typically means more money — but even if you don't care how much money you spend, think twice before buying the very largest freezer. "Get the size that you need, not bigger. Bigger is harder to fill, costs more to run, and makes it harder to find things," says Tasha Greer, a homesteader and author of the upcoming book Grow Your Own Spices. Besides, most freezers can hold more than you might think: Greer says she fit 300 pounds of meat in a 7.2-cubic-foot freezer and 1,000 pounds of meat in a 15-cubic-foot freezer.
The last major choice is between frost-free or manual defrost. (Frost is something all freezers have to deal with, and it often pops up as you introduce moisture to the freezer by opening the door.) If you opt for a chest freezer, in all likelihood it will be a manual defrost, which means you'll have to periodically get the ice off of the freezer coils on your own. But with upright freezers, you'll be given a choice. "When a refrigerator is frost-free, you're adding components like fans that can break," says Robert Maguire, owner of Rutland Appliances in Rutland, Vermont. "Your payoff is, you never have to defrost your freezer." If your prime interest is longevity, Greer says, avoid the additional components of a frost-free freezer. "Those mechanisms can cut short the life of a freeze, so I skip them."
Here are the experts' recommendations, based on your needs.
The best freezer for convenience
"Upright freezers are really nice," says Cole Kramer, owner of the a hunting outfitter Kramer's Kodiak Guide Service in Kodiak, Alaska. "You're not piling up packages and losing stuff in the bottom of the chest freezer. They're much easier to keep organized and know what you have." He recommends them for casual use and for small families. Shirley Hood, Appliance Specialist at Abt Electronics and Appliances in Glenview, Illinois, agrees: Upright freezers are "great if you don't typically freeze a lot of things," she says.
Recently, many brands have been increasing the amount of insulation in freezers so they can still serve you when the power goes out. "The technology has advanced to such a degree that some Frigidaire units will keep your food good for days, so long as you don't open the door," Maguire says. This frost-free 20-cubic-foot unit promises to keep your food cold for two days without power and has other features we love, like a light on the outside to let you know the unit is running. "Frigidaire is very popular," Hood says. "They're very reliable and require almost no maintenance."
The best freezers for small spaces
A narrower upright freezer is a great small-space solution. "They easier to store, and they have a smaller footprint," Hood says. Smaller is also better if you're buying to expand your freezing capabilities during the pandemic or for seasonal use. Even "the smallest unit is still going to make a difference in storage," says Kirsten Lie-Nielsen, author of So You Want to be a Modern Homesteader. This simple, small, and affordable freezer comes with easy-to-use wire shelves and uses manual defrosting, which means it has fewer moving parts and fewer opportunities to break.
Although it's twice the capacity of the Frigidaire above, this freezer (which can also be used as a full-size refrigerator) has a similar footprint.
Jill Gould, founder of Butter Meat Co. butcher shop New York, says she's a fan of small-format freezers like this one, because "you can fit about 100 pounds of beef in them, and they are light and easy to move around." This Magic Chef has an easily adjustable exterior temperature dial and comes with an interior basket, which is essential if you hope to keep any kind of organization.
Hood says many of her clients prefer a frost-free model like this one, which requires less effort. "But the negative of a frost-free is that it doesn't keep food as long as a manual defrost freezer," she says, since it's "cycling on and off constantly to maintain the temperature." Hood says ice cream, for example, can sometimes turn into a gelato-like texture when being stored in a frost-free model because the freeze isn't maintaining a consistent temperature as a way to avoid a build up of frost.
The best freezer for long-term storage
One of the great benefits of a chest freezer is the vertical door. "The cold air doesn't come spilling out when you open it," says John Ramey, founder and chief editor at theprepared.com. "In an emergency situation, where power may be off or unpredictable, maintaining that cool air could make a difference," he says. Maintaining the cold air also allows chest freezers to run more efficiently — and quietly since the compressor doesn't have to turn on as frequently. The large amount of space makes it easy to store a lot of frozen goods, but be careful you don't lose anything to the depths. "I have five chest freezers," says Sierra Langbell, a hunter and the owner of Fox Red Taxidermy. "Organization is very, very important or you'll put stuff in and forget what you have and the meat will go bad. I use dividers in mine, and always pick from the left side to the right," she says. This freezer features a power light, removable wire baskets, and an easy-to-access drain for when it's time to defrost.
Slightly larger and with a glass top.
The style makes it doubly useful if you decide to open a convenience store.
The best freezer for big families and big cuts of meat
If you are feeding a family of six or more, if you hunt, or if you regularly buy your meat by the half cow or pig (or larger), a 15-cubic-foot freezer may be the answer. If you do buy big, however, keep it full so it runs more efficiently. "If you have empty space, fill it with frozen plastic water bottles," Greer says. That way, if the power ever does go out, the freezer will act like a large cooler, with the frozen bottles serving as ice packs. Like a few of the others above, this freezer has an internal light and built-in drain. Plus, it's designed, engineered, and assembled in the U.S. And it should last. "As long as you keep an eye on them, you won't have issues," Langbell says. "I either have issues in the first few months or after ten years."
One thing to be aware of is that such a big freezer makes organization even more important. "I keep a list of what's in it that I check off as I take it out," says Lie-Nielsen. "Organize your meat in either cardboard boxes or something like milk crates," Kramer says. That way "you can pick up and move things out of the way to get to other meat."
The Strategist is designed to surface the most useful, expert recommendations for things to buy across the vast e-commerce landscape. Some of our latest conquests include the best acne treatments, rolling luggage, pillows for side sleepers, natural anxiety remedies, and bath towels. We update links when possible, but note that deals can expire and all prices are subject to change.