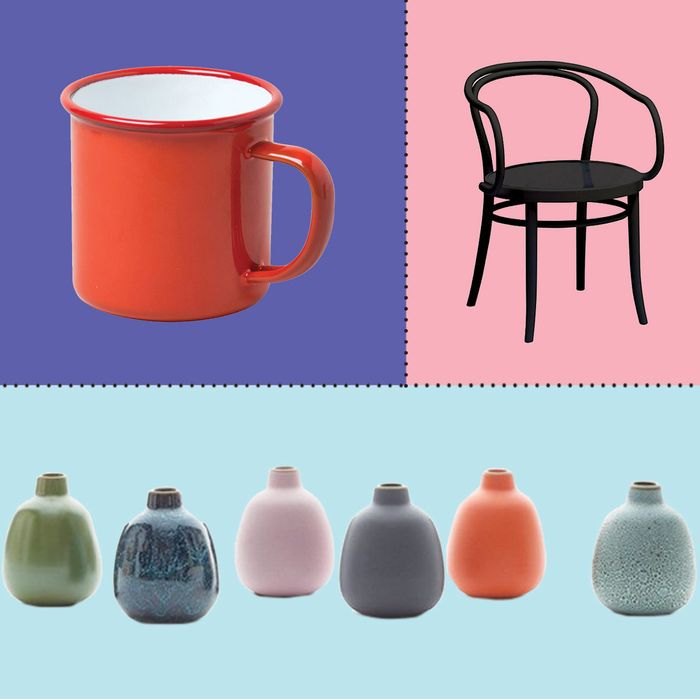 Ming Thompson is an architect and principal at Atelier Cho Thompson, a San Francisco– and New Haven–based design firm with a portfolio that includes offices, university spaces, and private homes. We spoke to her about the 20 things — some cheap, some not, but all investment-worthy — to buy for that first home in your 20s and hold on to forever.
When I was 20, I decided I loved Hans Wegner wishbone chairs, so I bought one pair that anchored my dining table, and had a mix of thrift-store chairs, too. As I've gotten older, I've bought new pairs, and now I have a big old-wood farm table with eight chairs. Right now, I'm loving the Hay AAC chair, the Normann form chair, and the Thonet Era chair. Find statement chairs that you love, and grow your set over time.
Photo: Tuomas Uusheimo
These stools, designed by architect Alvar Aalto, are stackable, fun pops of color, and can be used a million ways. Ours moved from office to living room to baby room.
The big one, 24 inches by 18 inches, moves with us from house to house, and makes any of our terrible kitchens into great places to cook. It's the centerpiece of every dinner party, loaded with pizzas or cheese spreads, and we do all of our food prep on this.
After breaking dozens of paper-thin glasses, I invested in these timeless and durable glasses in the colors of the sea and sky. They feel just right in your hand, with a heavy bottom and a comfortable shape.
You might have a chef's knife, a cleaver, a paring knife, and a knife set, but this is about to become your most-used knife. For morning and lunchtime meal prep, I grab this knife and chop fruits, vegetables, bread, and cheese. And sandwiches! I bet you didn't even realize how much you needed a knife that cuts through a crusty baguette and layers of fillings in one chop. My father, a professional chef, gave this to me after grad school, and he always knows best.
It's cheap; it's a necessity; it really spruces up a bar set or dinner spread.
This thing elevates your plants, both physically and aesthetically. A $10 Home Depot palm looks like a million bucks.
Growing up, my mom always told me, "Everything has a home," meaning that all the objects in your house should have an assigned and sensible place. I finally figured out that I need nice-looking storage boxes to help me stay organized all around the house.
These are a ubiquitous knife in France, and for good reason: It's a simple and well-designed tool that will come in handy for years. The handle is perfectly shaped to your hand, a simple locking ring holds the blade in the open position, and it will last you forever, with a bit of sharpening once in a while. I've tried a few, and the No. 8 is just the right size for slicing an apple, opening boxes, and cutting flowers.
A drink of cold milk from an enamel mug is a pretty perfect experience. Enamelware is so durable that you'll pass this mug onto your grandchildren one day. You'll use it for breakfast at home, camping, and dinner-party desserts. Falcon, a British enamelware company, makes the most beautiful shades of gray and green pieces.
Photo: Fotograf Erik Lefvander Office: John Ericssongatan 7 112 22 Stockholm Cell: 0735 066 660 Web: www.lefvander.se Agent: www.eyes.
A pouf works as a table, a footstool, and a seat for dinner parties. While you'll likely have a neutral-colored couch, you should pick a colorful pouf as an accent piece.
I often see vintage biergarten benches, imported from Germany, for $50 or less at flea markets across the Northeast. The combination of light wood and painted steel is classic, and their simple design shows the beauty of good engineering. They fold up, are great for parties, and will make appearances in your home over the years in the entryway, the dining room, and the deck.
This is one of the most expensive items on this list, but if you like cooking in the least, you'll use this all the time. I have many Dutch ovens in my kitchen, but this size and shape gets the most use — it's the perfect size for chili, soup, and pulled pork. In black, it's stylish, easy to clean, and will be a kitchen workhorse.