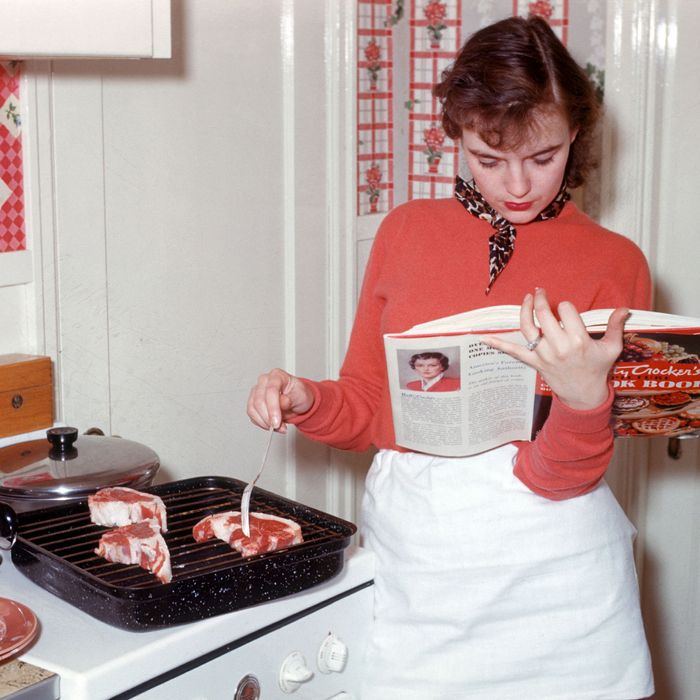 Photo: Kirn Vintage Stock
A cookbook — a really good cookbook — is an excellent gift to give anyone who loves to eat. But when it comes to the cookbooks themselves, it's best to know your audience. Some people actually want to cook from a book, whereas others prefer to get into a cookbook by reading one, novel style. There are also folks who just want a stunningly photographed cookbook that can be stacked on their coffee table and devoured by eye. To narrow down which cookbooks make the best gifts, we decided to go to the experts: cookbook authors. We asked an author to pick a book they'd personally give as a gift, and then had that author recommend which book they would gift, then asked that one to recommend another book.
And as the conversation got going about the most giftable cookbooks, a few Strategist editors noted while they were loving Alison Roman's new book, Nothing Fancy. They also felt it was indeed fancy enough to place on a coffee table, amid design books and Pothos plants — truly a gift to please all. (I also happen to assist her on shoots, so it was an easy place for me to start this daisy chain.) And we're off!
Alison Roman
"My favorite cookbooks are the ones I never cook from, the ones where I just connect to the human for being smart or funny or interesting; or it brings up something I hadn't thought of, or changes my perspective. I think that's what any book should do, cookbook or otherwise," Alison said. Which is why she recommended gifting Fancy Desserts, by Brooks Headley. Brooks, now known for his mostly vegetarian East Village restaurant, Superiority Burger, first made his mark as a pastry chef, winning a James Beard Award for his work at Del Posto. "It was the first cookbook I read, like I didn't cook one thing from it — not to say the recipes aren't good — but Brooks has such an expertly pointed and honest opinion about food that I felt so inspired to have opinions," said Alison. "It was the first book I read that was less about the recipes and more about a perspective on food, which is why I started reading cookbooks in the first place."
Brooks Headley
"Hello My Name Is Ice Cream is the single best book about ice cream in the history of dessert books," Brooks said, citing the book as just as useful for home cooks as it in in a professional kitchen. "Our house copy is split and falling apart. Dana is a genius!" Dana Cree, another James Beard–nominated pastry chef, essentially created three books in one here: a how-to guide for making ice cream from scratch, an explainer on how flavors work together, and an explanation on the actual science behind ice cream, from texture to technique to machinery. And according to Brooks, "When it was published it instantly made all other ice-cream manuals obsolete."
Editor's Note: Only the Kindle edition is available at Amazon. The hardcover is available at Barnes & Noble.
Dana Cree
For her pick, Dana recommends gifting a very practical title from the New York Times columnist Melissa Clark: Dinner, which is organized by ingredient to help make planning simple. "The dishes are always tasty and come together easily and intuitively, and Clark makes recommendations to update your pantry staples that we fully abide by," Dana said, adding that Melissa rethinks the typical American idea of dinner. "The recipes she provides for a contemporary evening meal, prepared in the home, and shared between friends and family members without circumstance completely capture how my husband and I like to eat at home with our daughter."
Melissa Clark
Melissa's suggestion for the best cookbook actually has nothing to do with dinner — though Punch would be a great gift to bring to a holiday dinner party. "This is the perfect book to gift your favorite host or hostess because it's got excellent recipes for boozy punches, which is exactly what you want for entertaining all your nearest and dearest," said Melissa, noting that punch as a concept is always preferable to mixing cocktails at parties. "Make a bowlful, leave it out for people to partake of, don't worry about any last-minute mixing," she recommended. "Plus, it's a terrifically fun read, by David Wonderich, a noted cocktail historian. And it's a looker, too, an elegant and slim volume full of good things," making it an exceptional book to give to any tippler.
David Wondrich
Hotbox contains just one recipe: Bathtub Pasta Salad (serves 3,000), so-named for the first time Matt and Ted Lee made it, and the serving vessel was, well, a bathtub. It's this anecdote and so many others from the Lees — caterers and founders of the Lee Bros. Boiled Peanuts Catalogue mail-order system for southern pantry staples (and now commentators on the Cooking Channel show Unique Eats) — that make Hotbox such a great read. "Their wild inside account of the catering business showcases the kind wild ingenuity and ability to roll with the punches and improvise a solution that doesn't seem improvised to the guest," says David, saying that he feels these attributes are the marks of a true chef or bartender — and making this a nice gift for the food enthusiast who doesn't necessarily want to cook for themselves.
Ted Lee
"I've had Jubilee for just a few weeks and already the deviled crab, sweet potato salad, and the okra rice are in regular rotation — these recipes work, they're cookable, flavorful," Ted said right off the bat. But he went on to explain that this book is groundbreaking for more reasons than excellent recipes. "It's hard to talk about it without mentioning Tipton-Martin's first book, The Jemima Code, a lavishly illustrated bibliography of often self-published African-American cookbooks that were overlooked by mainstream publishers and the food media," explaining that Jubilee is in many ways the companion cookbook to The Jemima Code. But Jubilee stands on its own, too. "Her thesis is really about African-American cooking being a story of resistance and liberation, and this book is really the embodiment of that idea." (This title also appeared in this year's Grub Street gift guide, recommended by staff writer Chris Crowley.)
Toni Tipton-Martin
Perhaps you know Ruth Reichl from her tenure as the restaurant critic for the New York Times. Or from her deeply delightful Twitter account, where she's created her own style for the platform, like, "Cats sink in deep snow, shake wet paws, run inside, sniff chocolate-scented air. A day to bake brownies." Ruth's tweets are so beloved that some are even included in her 2015 cookbook-slash-memoir, My Kitchen Year, which comes recommended by Toni, the author of Jubilee. She's particularly partial to Reichl's account of her time as editor-in-chief of the beloved, now-folded Gourmet magazine: "Ruth is an immensely talented storyteller, who writes vivid, beautiful prose. She inspires me to be better."
Ruth Reichl
Rozanne Gold is a chef, journalist, cookbook author, and philanthropist — though no title seems worthy enough to characterize all that she has done in the food industry, according to Ruth. "It is a mystery to me why she is not better known." And she recommends gifting Recipes 1-2-3, for both beginning and more advanced home cooks. "Rozanne invented the idea of minimalist recipes, and nobody has ever done them better. She makes cooking seem really easy, and when I'm at a loss for ideas I find myself flipping through one of Rozanne's cookbooks to find inspiration." This book is no longer in print, but you can still find copies on Amazon.
Rozanne Gold
When Rozanne wants inspiration, she turns to Shuk, by Einat Admony and Janna Gur, calling them "both women I love and admire — one is a fabulously creative chef and one of the most hard-working women in the biz; and the other is a beloved culinary scholar who connects not only the dots but also the footsteps between Israel's most vibrant markets, shopping bag and pen in hand." It's clear that Israeli — and all food of the Lavant — are particularly popular these days, and that boom has brought dozens of enticing cookbooks, all of which make a perfect gift for your friend who always has hummus in their fridge. "To write about this food is to write about all food," says Rozanne. "'The spirit of shuk,' should be a T-shirt."
Janna Gur
For Janna Gur, Six Seasons "has everything I love in a cookbook — beautiful writing, terrific (and meticulously developed and tested) recipes, mouthwatering photos, lots of veggies and seasonality." This title was heavily lauded when it came out in 2017, even winning a James Beard Award for best vegetable-forward cookbook, but this easy-to-follow cookbook still feels relevant today. "I would give as a gift because we all want to cook and eat more vegetables and this book shows how glorious and sexy vegetable-forward cooking can be," Janna said.
Joshua McFadden
Joshua McFadden described himself as a "big fan" of Alison's cookbooks — unintentionally bringing us back to the start of this daisy chain — and he said both Dining In and Nothing Fancy are giftable for the most simple reason: "They're fun and get people to cook, and that is the point."
The Strategist is designed to surface the most useful, expert recommendations for things to buy across the vast e-commerce landscape. Some of our latest conquests include the best acne treatments, rolling luggage, pillows for side sleepers, natural anxiety remedies, and bath towels. We update links when possible, but note that deals can expire and all prices are subject to change.