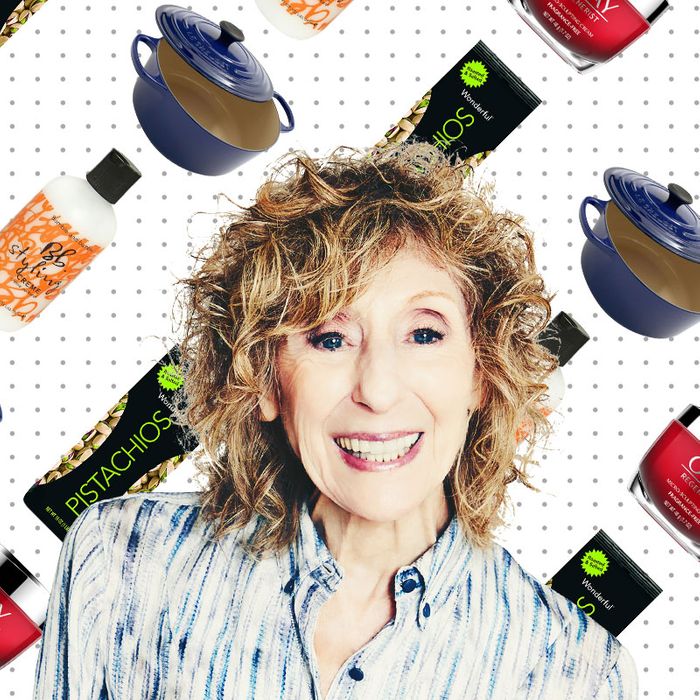 Photo-Illustration: Photo: Nicole Franzen; courtesy of the retailers
If you're like us, you've probably wondered what famous people add to their carts. Not the JAR brooch and Louis XV chair, but the hand sanitizer and the electric toothbrush. We asked author (and former New York Magazine Best Bets editor) Corky Pollan, whose latest book is Mostly Plants: 101 Delicious Flexitarian Recipes From the Pollan Family, about the face cream, jeans, and Dutch oven she can't live without.
I'm really quite excited about the Waterpik — I've been using it now for a number of years, and I think it makes a difference. I often use it after my electric toothbrush, and the amount of food that the electric toothbrush does not get but the Waterpik does is kind of shocking. Not only is it good for getting between the teeth, it's also very, very good for gums. I always get this comment from my dentist that they love the condition of my gums, and I think it has a lot to do with the Waterpik.
This is something I've used for a while. I have very dry skin, and I just find it's very soothing and light on my skin, so that's why it's so nice before you go to bed to smooth some on. I do feel it sort of eliminates some lines that you don't want. It just feels good on your skin, which is another thing — some [lotions] feel kind of rough or too strong, and this one is just light and very soothing.
I always get the ruled one, and I carry it with me always. In it I have all of my passwords and all my important phone numbers and addresses, and I find that I can get the information I need more quickly with this printed little journal than if I was scrolling down on my computer. To me that's amazing. And to me it's a way of organizing things. I don't actually print in the journal; I print out all this information on my computer and then cut it into strips and put it in the journal — so if there are changes, which there always are with these kinds of things, I just rip out the old one and paste in the new one. It's like a little bible that I carry with me all the time.
This is my sort of uniform — I wear them for every occasion, whether it's casual or formal, any kind of event, I'm usually in my Paige jeans. The nice thing about these is since you wash them so often, they do not turn gray after many washes, they really retain that deep-black color that you want in black jeans. I have two, sometimes three, pairs. I've even worn them to funerals.
I love my curls — and I have very fine hair — and I find that the Bumble and Bumble styling cream gives it a lot of body, and sort of releases the curls in a really great way. It's my secret little magic thing that I love for my hair. I usually buy two or three at a time, and I deal directly with Bumble & Bumble. Sometimes I find when I buy from other sources, they seem a little watered down. I like getting it from the source.
That's a classic; that's really a classic. I love it. I cook a lot, and I've used it for braises and stews and soups, and this size is awfully good. It just works beautifully, and it cleans beautifully, too. It can sometimes get a little discolored, but you can use Bar Keepers Friend on it and get rid of any stains that you might have. I've had mine for years and continue to enjoy it. I think the more you have it, the better it cooks, in a way.
This is a new love — I never thought I'd be that attached to a knife. First of all, I like the handle. I have other knives that have metal handles, and I find my hand slips on them, and the wood on this one really works so well. The seven-inch blade is, for my hand, really the right size blade. It's also quite beautiful-looking, too — and it's something I take with me. It's like a joke in the family, Do I have my knife with me? And it holds its edge so well, so if you sharpen it, it stays sharp. You have to be careful, but it really stays sharp for a while. It has all the advantages you want in a knife, and it's also beautiful.
My kids got it for me about three months ago, and I just love it. What I have on it is mostly Bach because you can't always get it on the radio. I have the sonatas and partitas, Yo-Yo Ma's cello sonatas, Glenn Gould playing Bach, the Goldberg Variations, etc. So whenever I need Bach, I just go to my Spotify and turn it on.
I've always hated packing — I pack too much, I can never organize myself, and with these it's so easy to organize and set one size for underwear and bras, and another for tops and blouses, and the other for pants. When you get to where you're going, all you do is you take it out of your luggage, and you can slip the whole package into the drawer and it's just there. Particularly if you're traveling to a number of cities on your trip, and maybe staying in each place one night or two nights, it really cuts down the whole mess of unpacking and packing again. Also, since I tend to over pack, when I'm taking an already full cube, I know that's all I should take and eliminate the rest, that's all I'll need. And they're mesh, so you can really see what's in each one; there's no mystery.
I've always loved nuts as snacks. Pistachios I've just more recently come to love — I love the whole process of peeling them, it also slows down the quantity of nuts you're eating, which for me is great because I can eat a huge quantity of nuts. Sometimes I've had friends over, and maybe with a glass of wine we have a bowl of pistachios and everyone slowly opens the pistachios and eats them, instead of gobbling down handfuls of nuts. And now there's this company, Wonderful, that seems to have placed them in every market you can think of, from Whole Foods to the local little mom-and-pop store, so they're just all over and very easy to get. So that's also convenient; it's very convenient to fall in love with these pistachios.
The Strategist is designed to surface the most useful, expert recommendations for things to buy across the vast e-commerce landscape. Some of our latest conquests include the best acne treatments, rolling luggage, pillows for side sleepers, natural anxiety remedies, and bath towels. We update links when possible, but note that deals can expire and all prices are subject to change.