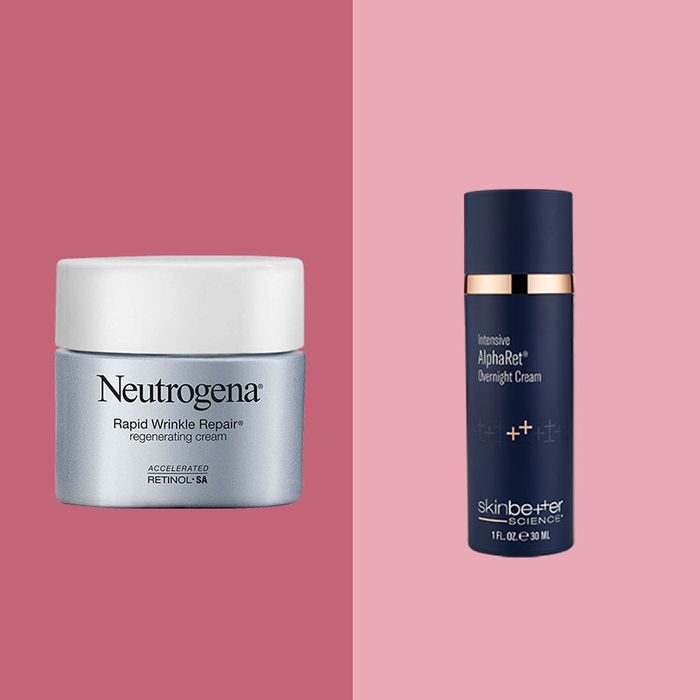 Photo-Illustration: Courtesy of vendors
At the end of a long day, completing a multistep skin-care routine may be the last thing you want to do — but if you reach for one product (after washing your face, of course), there are some very compelling reasons to go for a night cream. According to dermatologist Dr. Michele Green, "Nighttime is the restorative time for your skin, so you should give your skin the extra TLC by using a night cream." She says night creams "address different concerns than daytime moisturizers — typically, they provide intense hydration and concentrated ingredients to fight signs of aging and other concerns." We heard similarly from dermatologist Noelani Gonzalez, the director of cosmetic dermatology at Mount Sinai West, who says that night creams tend to be thicker than daytime moisturizers, use exfoliators to improve skin texture, and contain more hydrators to replenish moisture lost during the day (so you wake up looking less tired and puffy). They also contain ingredients like retinol, which shouldn't be used during the day.
Like many classic skin-care products, there are many night creams to choose from. Generally speaking, Gonzalez suggests looking for one with hyaluronic acid, glycerin, and ceramides for hydration, retinol as an acne fighter and anti-ager, or antioxidants like resveratrol for protecting against environmental stress. "Glycolic acid also helps exfoliate and renew, and niacinamide helps with redness for those with conditions like rosacea and acne." Here, we asked eleven dermatologists and facialists for their recommendations on the ones that are worth the money, the ones that fight acne, and the ones that might help slow down early signs of aging.
Best overall night cream
Gonzalez and dermatologist Debra Jaliman — an assistant professor of dermatology at Mount Sinai's Icahn School of Medicine — both suggested this drugstore CeraVe night cream, which Jaliman says delivers comparable results to much more expensive options. She calls out the ceramides and hyaluronic acid in it as excellent hydrators, plus the niacinamide as a trusted redness reducer. "This is an excellent moisturizer for when the weather starts getting cold and your skin starts losing more moisture," she says. Facialist Jordana Mattioli named the cream as a favorite, too. "For normal to combination skin, CeraVe PM facial moisturizing lotion has a non greasy texture with brightening niacinamide and skin restoring ceramides," she says. It's also one of the more affordable night creams on this list — so two dermatologists' and a facialist's rave reviews and a price tag that will let you stock up makes this one best overall in our book.
Best night cream for sensitive skin
"This is one of my all-time favorites and can be tolerated by those with very sensitive skin," says Dr. Anna Karp, dermatologist at the Skin Institute New York. "It has a cool-on-contact feel and contains hyaluronic acid which provide extra moisturization (due to its ability to hold 1,000 times its weight in water)." She also notes that the gel formula helps the cream sink into skin quickly. This cream is something of a cult-dermatologist favorite: It's made appearances on our lists of the best moisturizers for dry skin, best moisturizer for mature skin, and best moisturizers for oily skin — which makes us think it's a truly versatile (and affordable) night cream that would work for a lot of skin types.
Certain sensitive-skin types might prefer a more natural option, and for them, Gonzalez recommends Burt's Bees Intense Hydration Night Cream. "It's great for those with sensitive skin, and the product doesn't test on animals or use animal ingredients."
Aesthetician Joanna Czech likes this fancy night cream from MBR for sensitive skin types, which uses a combination of ceramides, butters, and hyaluronic acid to deliver intense moisture to the skin. "It intensively moisturizes the skin while stimulating collagen synthesis," she says, which gives the skin a plumping effect that can help smooth wrinkles and fine lines. It also contains real gold-leaf flakes (which sort of justifies the price tag) that literally bend the light to make your skin look luminous and glowy after use.
Best night cream for ultra-sensitive, compromised skin
If you've found yourself overexfoliating with acids or physical scrubs and compromised your moisture barrier or recently underwent chemical or laser treatments, celebrity facialist Candace Marino recommends this night cream from Senté. "It hits heavy with moisture, without the weight you feel with most creams," she says. Its biggest draw is its use of heparan sulfate, a sugar molecule that occurs naturally in the skin and is important for maintaining its health. "It promotes deep hydration, decreases inflammation, and stimulates collagen and elastin production," she says, adding that it's also noncomedogenic (meaning it won't clog your pores).
Best night creams for acne-prone skin
Green told us this cream from Cetaphil is a safe bet for acne-prone skin — and it also came up when we talked to dermatologists about their recommendations for moisturizers for mature skin. Dr. Francesca Fusco, a dermatologist at Mount Sinai, told us that Cetaphil can "hydrate skin without clogging pores," which would also make it a great pick for those struggling with breakouts.
Kim Zimmerman, of Rescue Spa in Philadelphia, suggests Biologique Recherche Creme Dermopurifante for those with acne-prone skin. "It allows your natural oil production to flow in and out of the pores, so that the skin stays moisturized sans breakouts," she says.
Alternatively, Marino recommends Creme Placenta from Biologique Recherche, especially if you have post-acne inflammation. "It's purifying, calming, and soothing, making it suitable for even the most compromised and irritated skin," she says.
Photo: Retailer
"Tammy Fender's Intensive Repair Balm is a good choice for problematic and acne-prone skin," says Larissa Thomson, co-founder of ONDA Beauty. "It has Helichrysum which is prized for its healing and medicinal actions. This cream provides intense moisture while also calming inflamed skin and speeding up the healing process."
And if you're specifically looking for an oil-free cream, Green suggests trying Mario Badescu Oil Free Moisturizer, which she says is "loaded with green tea extracts and antioxidants."