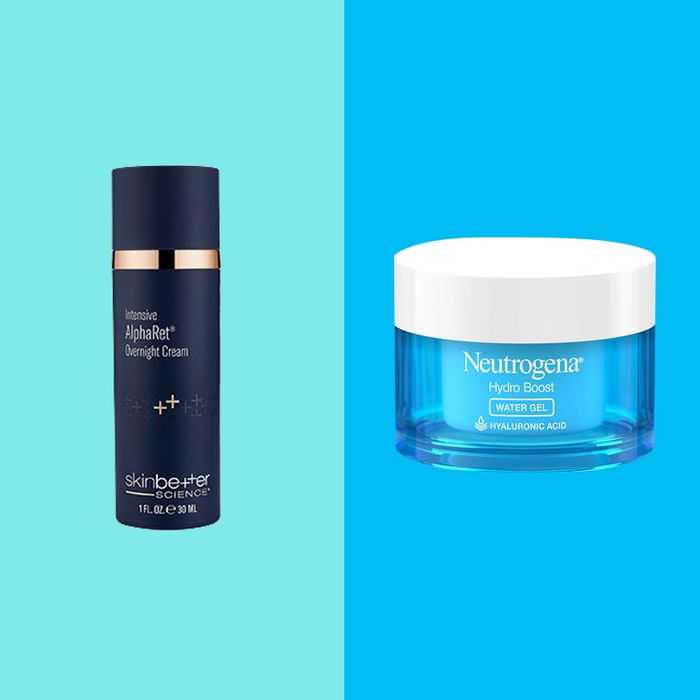 Photo-Illustration: Courtesy of vendors
At the end of a long day, completing a multistep skin-care routine may be the last thing you want to do — but after washing your face, there are some very compelling reasons to go for a night cream. According to dermatologist Dr. Michele Green, "Nighttime is the restorative time for your skin, so you should give your skin the extra TLC by using a night cream." She says night creams "address different concerns than daytime moisturizers. Typically, they provide intense hydration and concentrated ingredients to fight signs of aging and other issues." We heard similar things from Dr. Noelani González, the director of cosmetic dermatology at Mount Sinai West, who points out that night creams tend to be thicker than daytime moisturizers, use exfoliators to improve skin texture, and contain more hydrators to replenish moisture lost during the day (so you wake up looking less tired and puffy). They also contain retinol, which shouldn't be used during the day.
We asked 11 dermatologists and facialists for their recommendations: the night creams that are worth the money, the ones that fight acne, and the ones that might help slow down early signs of aging. Here are the best picks.
Best overall | Best for sensitive skin | Best (less expensive) for sensitive skin | Best for ultrasensitive, compromised skin | Best for acne-prone skin | Best (less expensive) for acne-prone skin | Best for extremely dry skin | Best (less expensive) for extremely dry skin | Best for combination skin | Best (less expensive) for combination skin | Best firming | Best (less expensive) firming | Best with retinol | Best (less expensive) with retinol | Best drugstore cream with retinol | Best serum | Best exfoliating
Active ingredients: Because your skin does so much reparative work while you sleep, the ingredients you go for are key. Generally speaking, González suggests looking for a night cream with hyaluronic acid, glycerin, and ceramides for hydration; retinol as an acne fighter and anti-ager; or antioxidants such as resveratrol for protecting against environmental stress. "Glycolic acid also helps exfoliate and renew, and niacinamide helps with redness for those with conditions like rosacea and acne." We've noted the standout ingredients in each formula as well as the concentration when available.
Consistency: Depending on your skin type, some consistencies might be better for your skin than others. Lightweight creams are ideal if you have oily skinm while richer, thicker formulations are great if you struggle with dryness. Then there are those middle-of-the-road ones, which could go either way.
Price: Night creams range widely in price (our most expensive pick is over $150 and our cheapest is under $20), so we've noted the cost per ounce.
Best overall night cream
Ceramides, peptides, hyaluronic acid | Rich cream | 1.7 ounces (Approx. $8 per ounce)
González and Dr. Debra Jaliman, assistant professor of dermatology at Mount Sinai's Icahn School of Medicine, both suggest this drugstore CeraVe night cream, which Jaliman says delivers comparable results to much more expensive options. Dr. Britt Craiglow calls out the ceramides and hyaluronic acid in it for being excellent hydrators and says the niacinamide is a trusted redness reducer that also helps "replenish the skin's barrier." Facialist Jordana Mattioli names the cream as a favorite, too. "For normal to combination skin, this cream has a nongreasy texture with brightening niacinamide and skin restoring ceramides," she says. Plus it's one of the more affordable night creams on this list.
Best night cream for sensitive skin
Rice protein peptides, vitamin E, niacinamide | Lightweight cream | 1.7 ounces (Approx. $23 per ounce)
Dr. Georgina Ferzli of Sadick Dermatology in New York City appreciates how "hydrating and soothing" this EltaMD moisturizer is despite having a much thinner texture than many other heavy-duty creams. She points out that it contains "antioxidant and rice protein peptides to promote collagen renewal," but warns that while it is "noncomedogenic," the inclusion of the antioxidant vitamin E can easily break people out if they are acne prone. Still, "I tend to recommend this product for patients with sensitive, non-acne-prone skin that are looking for a rejuvenating moisturizer," she says.
Best (less expensive) night cream for sensitive skin