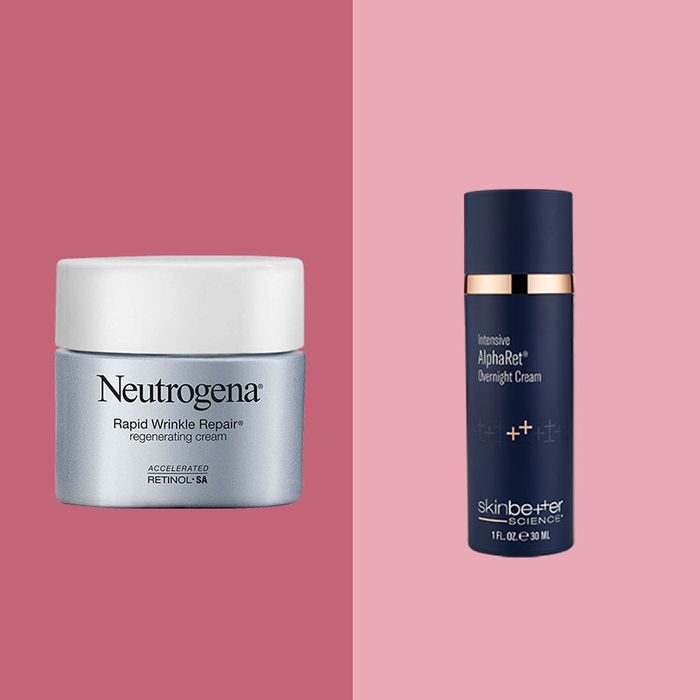 Photo-Illustration: Courtesy of vendors
At the end of a long day, completing a multistep skin-care routine may be the last thing you want to do — but after washing your face, there are some very compelling reasons to go for a night cream. According to dermatologist Dr. Michele Green, "Nighttime is the restorative time for your skin, so you should give your skin the extra TLC by using a night cream." She says night creams "address different concerns than daytime moisturizers. Typically, they provide intense hydration and concentrated ingredients to fight signs of aging and other issues." We heard similar things from Dr. Noelani Gonzalez, the director of cosmetic dermatology at Mount Sinai West, who points out that night creams tend to be thicker than daytime moisturizers, use exfoliators to improve skin texture, and contain more hydrators to replenish moisture lost during the day (so you wake up looking less tired and puffy). They also contain ingredients like retinol, which shouldn't be used during the day.
Generally speaking, Gonzalez suggests looking for a night cream with hyaluronic acid, glycerin, and ceramides for hydration, retinol as an acne fighter and anti-ager, or antioxidants like resveratrol for protecting against environmental stress. "Glycolic acid also helps exfoliate and renew, and niacinamide helps with redness for those with conditions like rosacea and acne." We asked eleven dermatologists and facialists for their recommendations on the ones that are worth the money, the ones that fight acne, and the ones that might help slow down early signs of aging. Here are their picks.
Best overall night cream
Gonzalez and Dr. Debra Jaliman — an assistant professor of dermatology at Mount Sinai's Icahn School of Medicine — both suggest this drugstore CeraVe night cream, which Jaliman says delivers comparable results to much more expensive options. Dr. Britt Craiglow calls out the ceramides and hyaluronic acid in it for being excellent hydrators and says the niacinamide is a trusted redness reducer that also helps "replenish the skin's barrier." "This is an excellent moisturizer for when the weather starts getting cold and your skin starts losing more moisture," Jaliman says. Facialist Jordana Mattioli names the cream as a favorite, too. "For normal to combination skin, CeraVe PM facial moisturizing lotion has a non greasy texture with brightening niacinamide and skin restoring ceramides," she says. Plus, it's one of the more affordable night creams on this list.
Best night cream for sensitive skin
Dr. Georgina Ferzli of Sadick Dermatology in New York City appreciates how "hydrating and soothing" this EltaMD moisturizer is despite having a much thinner texture than many other heavy-duty creams. She points out that it contains "antioxidant and rice protein peptides to promote collagen renewal," but warns that while it is "noncomedogenic," the inclusion of the antioxidant vitamin E can easily break people out if they are acne-prone. Still, "I tend to recommend this product for patients with sensitive, non-acne-prone skin that are looking for a rejuvenating moisturizer," she says.
Best (less expensive) night cream for sensitive skin
"This is one of my all-time favorites and can be tolerated by those with very sensitive skin," says Dr. Anna Karp, dermatologist at the Skin Institute New York. "It has a cool-on-contact feel and contains hyaluronic acid, which provides extra moisturization (due to its ability to hold 1,000 times its weight in water)." She also notes that the gel formula helps the cream sink into skin quickly. This cream is something of a cult-dermatologist favorite: It's made appearances on our lists of the best moisturizers for dry skin, best moisturizer for mature skin, and best moisturizers for oily skin. Craiglow calls it a truly "versatile" (and affordable) night cream that would work for a lot of skin types — including sensitive skin, because it's fragrance-free and gentle.
Best night cream for ultra-sensitive, compromised skin
If you accidentally overexfoliated with acids or physical scrubs that compromised your moisture barrier, or you recently underwent chemical or laser treatments, celebrity facialist Candace Marino recommends this night cream from Senté. "It hits heavy with moisture, without the weight you feel with most creams," she says. Its biggest draw is its use of heparan sulfate, a sugar molecule that occurs naturally in the skin and is important for maintaining its health. "It promotes deep hydration, decreases inflammation, and stimulates collagen and elastin production," she says, adding that it's also noncomedogenic (meaning it won't clog your pores).
Best night cream for acne-prone skin
Thanks to how finicky acne-prone skin can be, finding a moisturizer that will heal it instead of contribute to the problem can be tough. And if you're using strong acne-preventing topicals, you'll need a strong moisturizer to match. Ferzli says that this night cream is actually paraben-free and noncomedogenic, "meaning it's safe for sensitive skin and acne-prone skin." And it's water-based, which, as we've mentioned before, is the best option for those struggling with acne. "It's thick without being occlusive, hydrating, and feels almost whipped and fluffy when going on," Ferzli says.
Best (less expensive) night cream for acne-prone skin
Green told us this cream from Cetaphil is a safe bet for acne-prone skin — and it also came up when we talked to dermatologists about their recommendations for moisturizers for mature skin. Dr. Francesca Fusco, a dermatologist at Mount Sinai, says Cetaphil can "hydrate skin without clogging pores," which would also make it a great pick for those struggling with breakouts.
Best night cream for extremely dry skin
For those with hard-to-manage dry skin, Zimmerman recommends Augustinus Bader's The Cream, which comes in two formulas — one for normal to oily skin, and one for dry skin — for "the laziest nights when you don't have time to slather on a million serums, but you still want all the anti-aging benefits." It's quite the science-y product with equally high-tech claims: "It taps into epigenetics, which activates the body's own stem cells to regenerate and repair the skin while you sleep," says Zimmerman. Aesthetician Joanna Czech is also a fan, calling it "super-repairing," and noting that it "stimulates skin's natural process of rejuvenation." The price tag is high, but as Rio once pointed out, it's a very coveted cream, and Kathleen Hou at the Cut wrote that when she tried the cream it made her skin look "healthier, sort of like there was a good bra holding things up under it."
Best (less expensive) night cream for extremely dry skin
If your skin is looking a little dull, dermatologist Annie Chiu, who is the founder of The Derm Institute in Manhattan Beach, suggests this cream from SkinCeuticals, which "mimics the skin's natural lipid concentrations, with cholesterol, ceramides, and fatty acids." Chiu says that this strengthens the skin barrier and leaves your skin less better moisturized and less likely to lose water. The cream is packed with plenty of glow-enhancing ingredients, as well: "Vitamin E, for one, gives the skin a dewy, plumping texture without making it feel too oily," she says.
Best night cream for combination skin
If you have combination skin, Gonzalez says this SkinCeuticals cream is a solid choice because it exfoliates and moisturizes, so each part of your skin will receive the treatment it needs. "With alpha hydroxy acids, glycolic and lactic acid, aloe vera, and essential oils, it soothes dry skin, boosts skin radiance, and reduces the appearance of lines."
Best (less expensive) night cream for combination skin
For a cheaper option, Gonzalez and New York City–based dermatologist Hadley King — a clinical instructor of dermatology at the Weill Medical College of Cornell University — suggests this one for its hydrating elements. "It has antioxidants, green-tea extract, and a peptide-B3 complex, which helps hydrate and exfoliate skin," Gonzalez says. Just like the SkinCeuticals cream, this one will properly hydrate the dry areas of your skin, while the exfoliating properties will keep your oily patches at bay.
Best firming night cream
Formulated with royal jelly, which can help with inflammation and wound healing, this night cream is a favorite of dermatologist Jessie Cheung. "It's lightweight but delivers hydration and repair with amino acids and anti-inflammatories," she says. It also contains vitamin E, which helps with the skin's overall firmness and elasticity.
Best (less expensive) firming night cream
If the Guerlain night cream is too big of a splurge, Dr. Elizabeth Bahar Houshmand, owner of Dallas-based practice Houshmand Dermatology, likes this option from Vichy. She calls it great for those "with sensitive skin who are looking for effective anti-aging solutions at a reasonable price point." As far as the formula goes, it features all the expected ingredients, like vitamin C and glycerin for hydrated, brighter-looking skin. But she says the inclusion of rhamnose, a naturally derived plant sugar, is particularly notable because it plumps and firms the skin extremely well. "With continued use, the cream visibly reduces wrinkles" and gives a more even texture and tone over time, Houshmand adds.