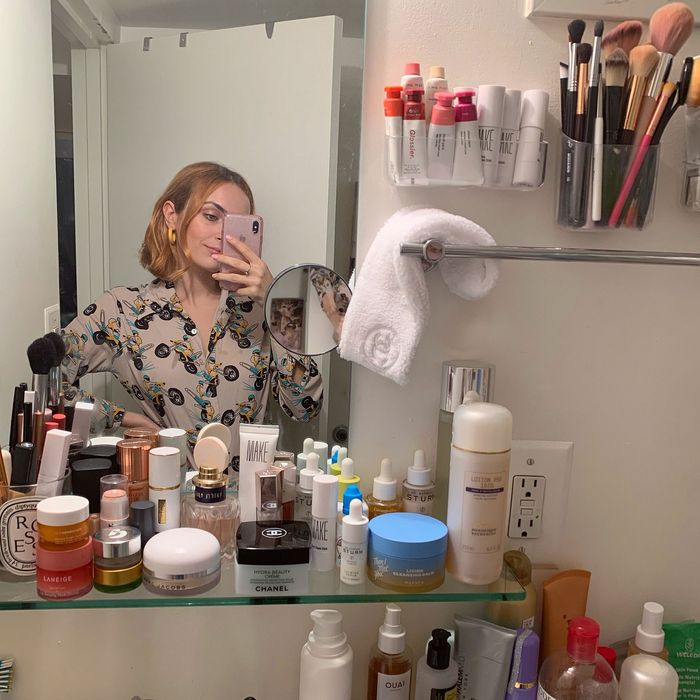 Over the last couple of months, I've noticed that different people were asking me the same beauty questions (via DM, on Twitter, and even in my real life) over and over again. The questions varied in subject: some were about skin care, some were makeup-related, and some (since summer is approaching) were about SPF. And although I love gabbing one-on-one with fellow beauty obsessives (I can, and have, spent entire days chatting with the members of our Facebook group "The Beauty of It All"), I decided it might be more useful if, instead of answering these oft-asked questions individually, I gathered them up and answered them here. So, below: The answers to the questions I'm asked most frequently about acne, lip care, and what to splurge on to look your wedding-day best.
I have dry skin and hormonal acne. What should I use that works but won't dry me out?
Conventional K-Beauty wisdom says that acne-fighting products do not have to dry your skin out. Which means that a lot of Korean products integrate soothing and healing ingredients such as centella asiatica or mugwort that help get rid of the redness and inflammation, instead of high percentages of benzoyl peroxides and salicylic acids (which are popular anti-acne ingredients in most American drugstore products).
Centella Blemish cream, for one, is an acne-treatment cream that helps reduce inflammation and heal pesky scabs, and will never dry you out. Read my full review of it here.
This Mugwort Mask, which calms red, angry, pissed-off skin without stripping the skin like a traditional clay mask, is an equally good choice. Read my review of this one here.
Do you feel like light therapy actually works? What are some of your favorite light gadgets?
Yes! I've seen it do magical things for my skin during stress breakouts and my time of the month. When I have super-stubborn hormonal zits, I find that a deep-reaching LED treatment is often the only thing that can shrink them down.
I love the Neutrogena light therapy mask, and tend to use it when I'm having breakouts all over and want to tackle my whole face.
When I just have one annoying lump on my chin, I like to go in with Dr. Dennis Gross's spot treatment gadget, to give it some pinpointed attention.
What's your favorite finishing powder?
Interestingly enough, since Fenty's very matte, full-coverage concealer has come into my life, I don't find myself setting my under eyes and areas I've spot-concealed quite as frequently as I used to. It's just so matte that I find it doesn't need a powder to make it stay put! That being said, shine control on my forehead and around my nose remains an issue. So I like to mattify those oily areas with my Glass Powder from Ohii.
How do you reapply SPF throughout the day without ruining your makeup?
The SPF powder and setting spray from Supergoop have made the reapplication process so much easier. You can choose which one is right for you depending on your skin type (I would consider the setting powder if you're more on the oily side and the setting spray if you're a little more dry). I put on my SPF in the morning, and then touch up with one of these every two hours.
What do you do if you're going on a sun-filled vacation? I love a tan, but … sun exposure!
A good sunscreen for your face and body, a cute hat, and some aloe vera sheet masks, just in case, will take you a long way. My go-to is still this sunscreen from Cosrx, because it's infused with aloe vera, giving it a very calming and soothing effect to the skin, and PA+++, which is the second-highest-level UV protectant available.
If my skin happens to get a little pink somewhere along the way, I slap an aloe vera sheet mask on after I shower for some post-sun moisture and calming ingredients.
Do you have a three-to-four-step routine for people who have to hustle out the door in the morning?
I sweat a little when I sleep, so I do like to clean my skin in the morning. Some people don't find morning cleansing necessary and that is fine! It's up to you. So my quick, rushed-but-effective routine is: A gentle cleanse (I sweep some Bioderma across my skin), then I pat some snail mucin into my face, then I moisturize with Supergoop's SPF-packed moisturizer. Out the door you go! This ensures that my complexion is hydrated, rejuvenated, and protected when I hit the mean streets of NYC.
I can't decide whether I'm a powder or a cream blush girl. HELP!
You don't have to choose! I love both cream and powder blushes but I do use them for different occasions. During the day or at times where I want my makeup to look as natural as possible, I tend to reach for my Tata Harper cream blush in Very Sweet (it's lovely and very natural). I find that cream melts and buffs into the skin a little easier, creating a more natural effect.
On nights out, I tend to reach for my powder blush, typically Estée Lauder's Sensuous Rose.
What products do you use to double-cleanse? I want to start double-cleansing, but my skin is so dry. Will it be too stripping?
As an eczema-prone, dry-skinned girl, I totally understand your fear. I hate when I wash my face and I get that tight, squeaky feeling. But double-cleansing with dry skin is possible and it's a great way to make sure your skin is a totally clean canvas for the rest of your skin-care routine. Also, now that I double-cleanse every day, I break out way less. Here's my evening double-cleanse routine: First, I take my makeup off with Then I Met You's cleansing balm (which is packed with fatty acid rich ingredients, so it nourishes as it cleanses) …