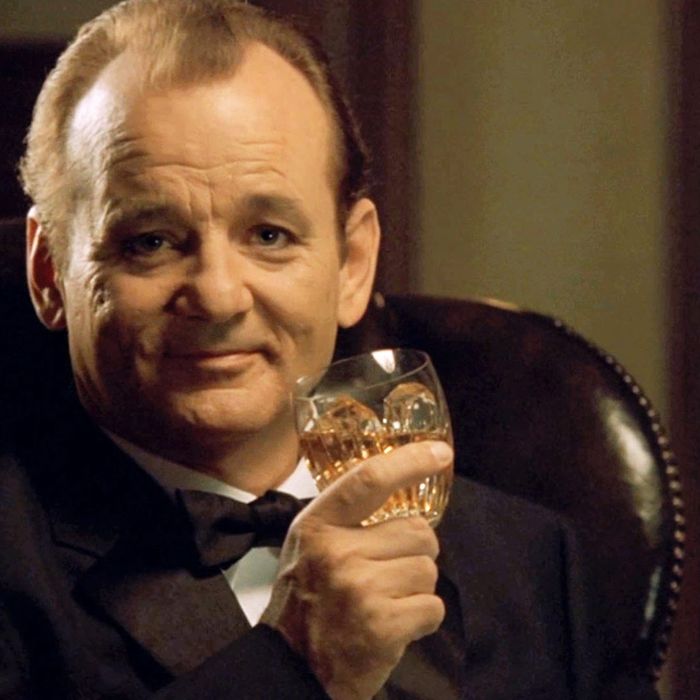 Photo: Courtesy Focus Features
Even if you've perfected your mixology skills and filled your cabinets with fancy glasses and bartending tools, your homemade Old Fashioned or Aperol Spritz will never live up to the ones served at a craft-cocktail bar if you use cloudy ice cubes that smell vaguely like the leftovers you've been storing in the freezer. As Mathew Resler, the head bartender at Bar Goto, says, "Ice is an integral ingredient when making cocktails. The appearance, dilution ratio, taste, and purity are all essential to a proper drink."
Resler and the other bartenders I asked about how to make perfect ice all pointed me to journalist Camper English, who writes about cocktails and spirits and pioneered the technique that most professionals now use to make ice (after experimenting with the frozen stuff for a decade). English says he's "obsessed with clear ice" and explains that as water freezes, "the first part to freeze will be clear" as air and impurities (which create a cloudy look) are pushed away. But in typical ice-cube trays, the exterior of the cubes freezes first, pushing air and impurities to the center, which becomes cloudy. To prevent that, English created his so-called directional-freezing method, which controls how water freezes by using "an insulated container that forces the ice to freeze from the top down, with a reservoir at the bottom beneath the cubes to collect the cloudy part of the ice."
Today, thanks to English's research, there are lots of products that utilize directional freezing to make clear ice at home. Here, he and three other bartenders and booze connoisseurs recommend the best ones — and everything else you need to make perfect, clear cubes.
Best ice trays and molds
While this looks like a typical silicone mold, it comes with an insulated foam tray (which ensures that ice will freeze from the top down) and a plastic reservoir underneath to collect cloudy water (there are holes in the bottom of the silicone mold for water to flow into the reservoir). English calls it "the ice-cube tray that's the best bang for your buck" and likes that it makes ice "in a relatively space-efficient way." Amanda Schuster, author of New York Cocktails and senior editor-in-chief of Alcohol Professor, also loves this "very user-friendly" ice mold. Once the cubes are frozen, she recommends transferring them to a "plastic, sealable bag instead of leaving them in the tray, where they can pick up odors and flavors."
Like the ClearlyFrozen mold, Wintersmiths ice molds come with an insulated container for directional freezing. "The products can be a little pricey," admits Resler, "but, from what I have seen, are some of the best on the market to date." Because ice that's directionally frozen contains less air, it's also denser — a characteristic that Sother Teague, the beverage director at Amor y Amargo and author of I'm Just Here for the Drinks, likes in his ice. "The more dense the ice, the slower the melt," he explains. "I don't want a cocktail to continue to dilute as someone drinks it."
To make different shapes of ice to pair with specific drinks, Teague likes using ice molds from Cocktail Kingdom. "I use large cubes for all spirit cocktails, spheres are great for straight pours of spirit, [and] spears are lovely in highballs," he says. Silicone molds like to absorb odors, so, like Schuster, he suggests keeping ice in a plastic bag to prevent it from absorbing other odors. "Sixteen [of the two-inch cubes] fit perfectly into a gallon-sized zip-top bag," he says. "I line them up in my freezer like album covers."
Best cooler
If you want to imitate Camper's initial directional-freezing experiment, you'll need a hard-sided, insulated cooler that will fit in your freezer (you'll also need an ice pick or hammer to break the giant block of ice into glass-sized chunks). Resler suggests attempting this "if you are feeling a little adventurous and have a clean freezer and a bit of patience." After filling the cooler with water, remove the top of it so ice will freeze slowly from the top down, leaving a very clear (cooler-sized) block.
Best water filters
Filtering water before you freeze it won't make ice any clearer, but it can impact the taste. "If you filter the water you drink, you probably want to filter the water for your ice cubes," says English, who uses a Brita filter to eliminate chloramine (chemical compounds added to water during purification).
If your water tastes like chlorine or other minerals, English suggests trying the ZeroWater filter, which he says actually reduces mineral content (unlike Brita and other similar filters).
The Strategist is designed to surface the most useful, expert recommendations for things to buy across the vast e-commerce landscape. Some of our latest conquests include the best acne treatments, rolling luggage, pillows for side sleepers, natural anxiety remedies, and bath towels. We update links when possible, but note that deals can expire and all prices are subject to change.