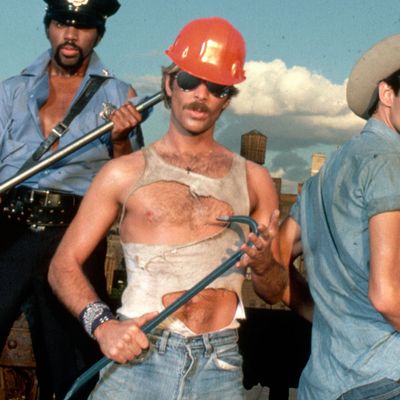 Photo: This content is subject to copyright.
Without intending to brag, I can say that I'm a pretty handy guy. I've rewired light switches, installed overhead lamps, replaced damaged doors, and installed a sprinkler system. Here's the thing, though: I am in no way a naturally handy person. I'm merely willing to watch YouTube videos on how to tackle this or that DIY project, and I'm not afraid of getting dirty in the process.
Most minor home-repair or building projects are well within most people's abilities, but you can't complete even the simplest repair, upgrade, or construction project without the right tools. But with only a handful of basics in your tool kit, you'll be ready to face most of the issues an average home presents. If you have to upgrade your electrical panel, call an expert. But for a hole in the drywall, a faulty dimmer switch, or a leaky faucet, all you need are the right tools. The ones below will cover 90 percent of the things you need taken care of around the house.
If there is one tool you need, it's a decent screwdriver. Or to be more precise, a decent set of screwdrivers. You'll need them to do everything from building Ikea furniture to replacing outlets. And while there's a time and place for a ratcheting screwdriver that can accept 783 different bits, when push comes to shove, there is no substitute for a solid screwdriver with a big handle and a superstrong blade. I've used the same Stanley FatMax screwdrivers since 2011, the year my wife and I bought our first house, and each one remains in excellent condition. This set has three flat-head blades of varying width and three Phillips screwdrivers of varied size, and with it you can tighten and/or loosen just about any screw out there. It's also less than 20 bucks.
Your second most important tool is going to be the hammer. TopBuilt makes a 16-ounce claw hammer that should be more than adequate for your nail-driving needs and for pulling out any old or poorly sunk nails, too. The fiberglass handle is affixed with epoxy resin, and feels solid and reduces vibration after each strike, meaning more comfort and less fatigue. And at that one-pound weight, this hammer is light enough for anyone to use, yet hefty enough for light demo work. I've used a claw hammer to sink plenty of nails, sure, but I have also used one to smash apart old tiles prior to a renovation and to tap holes in walls prior to sawing out sections of drywall for repairs.
Without a good tape measure, you will screw up some home-repair project, whether hanging paintings too far apart or botching a bathroom tile layout. The 25-foot QuickDraw Self Marking Tape Measure cuts out some of that potential human error in two ways. First, it features a graphite marking wheel built into the bottom of the unit (it's that little red switch) that can make a pencil mark at your exact measurement point, so your mark won't be off by even a hundredth of an inch, provided you measured properly. And for proper measuring, a red marking indicator band is stretched across a recess set into the tip of the tape measure, so you can easily determine, rather than approximate, the exact length you've measured.
If you have never used a level before, you probably don't think of one as being essential. But once you have used a good two-foot level, you will never want to start another DIY project without one. This Irwin Tools level uses rare earth magnets that hold it in place anywhere a bit of ferrous metal can be found, while its long body and squared off edges make it easy to trace lines along the thing. With a good, long level, everything from installing shelves to hanging pictures to putting up curtain rods becomes easier. Using this level often means doing this or that project correctly the first time instead of stepping back to admire the "handiwork," only to realize that your new drapes are at a ten-degree tilt. Which … I've maybe done.
I have a lot of Kobalt tools, including multiple hand tools and power tools alike. But it's my Kobalt pliers that have impressed me more than anything else the brand makes. Simply put, these are strong, durable tools that have yet to let me down, despite some pretty intense years of use. The set includes needle-nose pliers, two sizes of standard pliers, a slip-joint pair that can even stand in for a crescent wrench, and a pair of diagonal pliers that can be used to clip screws or bolts with ease. They are made from chrome-nickel steel and keep their edge well — none of my Kobalt pliers has felt the least bit loose, even after some seven years of use.
Most of the time, you won't be using a drill to drill holes at all — it'll instead be more of a driver that sinks and/or removes screws. I love the Black + Decker LDC120C because it costs half as much as other battery-powered drills or drivers I've used without any perceptible reduction in performance. It drives screws home with ease and with minimal risk of stripping when you set its 11-position clutch properly, and it's lightweight enough for easy single-handed use, even when you're working overhead.
The reciprocating saw is often called a Sawzall, which is pronounced "saws all," and which serves as a perfect description for the tool. While, in fact, Sawzall is a proprietary brand name and thus can't be applied in this case, this DeWalt DWE304 reciprocating saw certainly can make short work of just about any material, provided you have the right blade in place. It can cut through thick metal pipes, wooden beams or branches, plastics, masonry, and more. I have used my not-Sawzall to fell small trees, cut away old plumbing pipes, power through drywall panels, and so much more. You can't count on the cleanest of cuts when you use a tool like this one, but you can count on it to really cut.
The Strategist is designed to surface the most useful, expert recommendations for things to buy across the vast e-commerce landscape. Some of our latest conquests include the best acne treatments, rolling luggage, pillows for side sleepers, natural anxiety remedies, and bath towels. We update links when possible, but note that deals can expire and all prices are subject to change.
Every editorial product is independently selected. If you buy something through our links, New York may earn an affiliate commission.