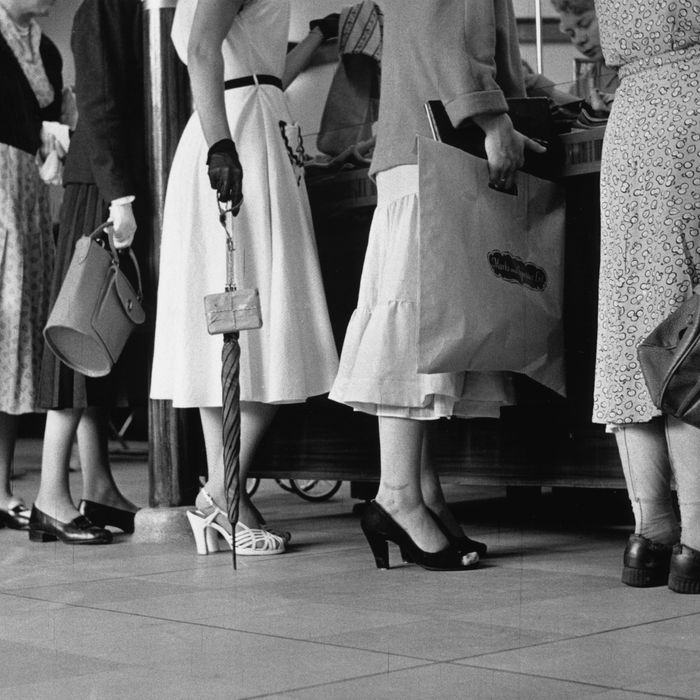 Photo: Getty Images
Photo: Getty Images
Traditionally, orthopedic shoes have gotten a bad rap for being, well, ugly. But they've come a long way over the years. Even medical-grade shoes for people with severe deformities, chronic problems, and diabetes are beginning to look more mainstream, says Jacqueline Sutera, a podiatric surgeon at City Podiatry in Manhattan.
For the average person concerned about overall foot health, which affects the entire body from alignment to knee and hip issues, there are more options than ever before that provide stability and comfort without sacrificing style. To help us navigate the myriad brands and styles out there, we spoke to podiatrists like Sutera and John Brummer of Brummer Surgical Podiatry, as well as Michael Schwartz, vice-president at Eneslow, one of Manhattan's oldest purveyors of orthopedic shoes, about what to look for when choosing the right shoe for you.
Sutera recommends loafers and Mary Janes as stylish alternatives to the commuter sneaker, from brands like Clarks and Born.
Made from leather, these Mary Janes feature a fully cushioned, leather-lined footbed.
The stacked heel provides height, while the removable, microfiber-lined, cushioned footbed adds comfort and support
Vionic was started by a podiatrist, and its shoes are engineered for maximum comfort. The American Podiatric Medical Association considers wearing heels over two inches the point at which damage can occur to your feet. So Sutera, who, full disclosure, does consulting work for Vionic, recommends a kitten heel instead. This pair features a foam-padded insole molded with biomechanic contours.
Clogs are not meant for agility, but for people who are on their feet all day. "I wear clogs in the operating room sometimes," says Brummer. "They alleviate a lot of stress on the foot, and because the heel is heightened, there's a bit of lift, which decreases strain on the Achilles and relieves tension on the bottom of the foot." As for wooden clogs, Sutera advises against overusing them: "The hard surface can bruise your feet, wearing them out and causing them to get thinner." Your best bet is to stick with this Strat favorite, the Dansko clog.
All three of our experts are in wide agreement: Birkenstocks are great for your feet. "Birkenstock is doing cutting-edge things for the masses, not just for folks who need orthopedic features for relief or restrengthening muscles," says Schwartz. They have a solid footbed that makes good contact with your feet and provide good arch support.
This Israeli brand was recommended by Schwartz, as well as by my own podiatrist, and I can attest that my Naot boots are one of the most comfortable pairs of shoes I own.
Sutera and Schwartz recommend Aetrex, one of the most popular orthopedic brands on the market. These braided sandals are as cute as they come.