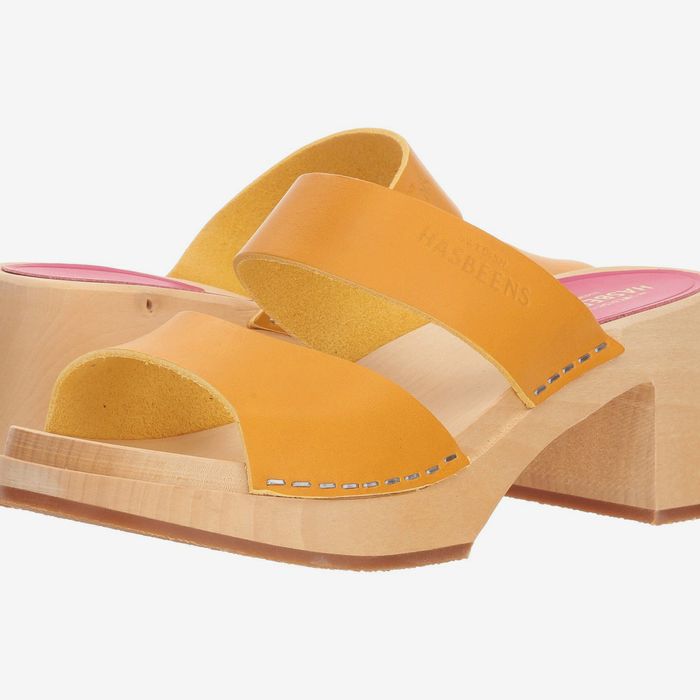 Photo: courtesy of the retailer
Update: On the occasion of it's being sandal season and the release of Lauren Mechling's new novel, How Could She, we asked Mechling (who wrote this piece for us last summer) if there were any other clog sandals she's excited about; below, her new picks.
Summer is no holiday for the clog aficionado. While the boots we clomp around in during the cold months tend to be lined in heavenly feeling shearling, warm-weather clogs can feel hard underfoot and sweaty all around. The sandal-clog iterations, with their ankle-skimming slingback straps, are notorious agents of chafing and blisters. What's more, so many of the sandal versions share an unfortunately twee schoolgirl vibe — nothing close to the minimalist, jolie laide shoes we typically associate with the jolie laide word clog.
What's a card-carrying member of the clogerati to do? In my case, when shorts weather arrived this year, I panicked and reverted to the white Birkenstock sandals that everybody was wearing four summers ago. But as a self-identifying lover of the Clog Life (and creator of the eponymous hashtag and Instagram account), I felt great shame in not being able to live up to the lifestyle that I've made such a big stink about promoting. So in search of the perfect summer clog I went.
New Clog Additions
I would add the Crystal clogs from Santa Venetia, which are perfect for the clog-sock combo-ing rage. It's worth mentioning that the Bay Area brand just released its first leather clog: in a spectacular metallic lavender.
Then there are these, which are new from
No. 6 — they're the clog version of the Saltwater sandal that all the cool girls (under-8 set) wear.
And Last Summer's (Still Very Relevant) Picks
In hopes of diversifying my pro forma Brooklyn writer-mom clog collection, which is predominantly made of No. 6 shoes, my first stop was Swedish Hasbeens, a popular brand known for its feminine twist on the shoe. My hairstylist is the most attractive person on the planet and is always going on and on about her Hasbeens, so I took a look. Most of the summer versions I came across were too towering and sex-kitten-y for my taste, but the Maria style, with a comparatively low heel, an open back, and primary-color palette, is indisputably handsome.
When strangers email me to tell me they are ready to take their clog-odyssey and ask me where to begin, I often direct them to the website of Sven Clogs, whose medium-heel Plain Clog is elegant and as clog 101 as it sounds (the hunter green is exquisite). So I checked out their selection. The brand's cutesy sandals with back straps didn't do it for me, but Sven also carries several models of summer clogs that adhere to an uncoquettish version of clogdom that I can stand behind. Their Weave Open Toe clog and the Peep Toe plain clog are adequately serious, and I could respect any woman in the 2 Strap Buckle Clog, which appears satisfyingly orthopedic.
The summer best seller from No. 6, the brand that put clogs on the fashion map, is the Alexis, a platform slide with cutout sides.