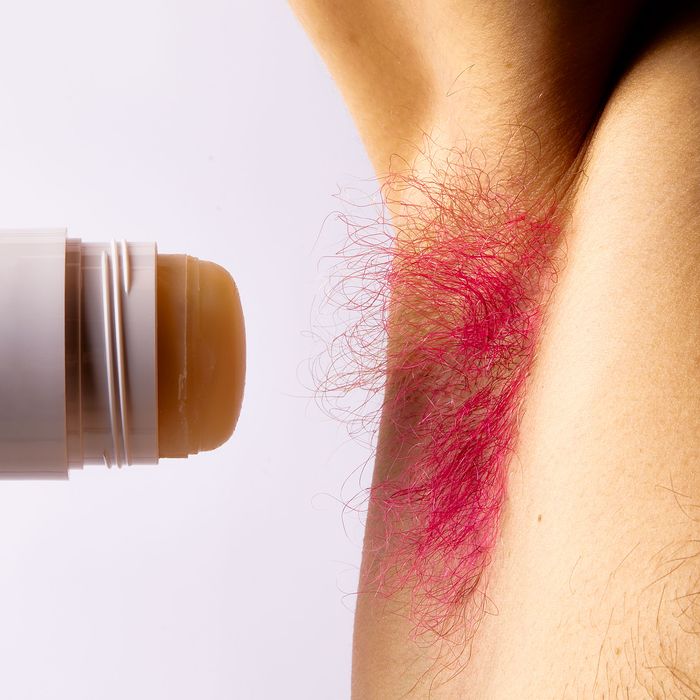 I made the switch to natural deodorant in 2018, starting with whatever I could find at my local drugstore (at that time, Tom's) and testing other formulas from there. Back then, the options were limited, but in the years since, it seems like nearly every personal-care brand has released its own natural deodorant. There are deodorant sticks from Native, roll-ons from Real Purity, and even an acid-based deo from beauty brand Kosas that's supposed to make you smell like nothing at all. After testing a bunch and speaking with experts, I now consider myself well versed in the world of natural deodorant. And the one thing you need to know about all of them is that they won't stop you from sweating. That's because natural formulas lack aluminum, the ingredient in conventional antiperspirants that plugs up sweat glands. As the name implies, antiperspirants "work to block sweat ducts," while deodorants are meant to oust any odors, dermatologist Dr. Shari Sperling told us. Natural deodorants do have alternative ingredients like glycerin, which can absorb moisture to help you stay dry and may make you feel as though you're not sweating, experts explained to us.
Finding one that works for you is a very personal process that will likely involve a fair bit of trial and error. One person's favorite natural deodorant may not work for someone with more sensitive skin or a heavier sweater. And since there are so many factors to consider (do you want a charcoal-based deodorant or one with arrowroot powder? A gel or a cream?), I polled a handful of clean-beauty experts, dermatologists, and Strategist staffers to find the best natural deodorants for all types of sweaters.
Best overall | Best for reducing sweat | Best for heavy sweaters without baking soda | Best if you're new to natural deodorants | Best smelling with baking soda | Best for odor | Best for odor without baking soda | Best for sensitive skin | Best with probiotics | Best cream | Best cream for sensitive skin | Best for kids | Best gel-to-powder deodorant | Best for working out | Best AHA deodorants
What we're looking for
How it smells: Is it earthy? Floral? A mix of both? Is it made of synthetic fragrance or scented with essential oils? Fragrance can be an irritant, so I've kept that in mind when considering a formula's merits.
Longevity: Unlike traditional antiperspirants that promise 24-hour protection (and deliver), natural deodorants don't last quite as long. Some need to be reapplied throughout the day to keep you smelling fresh, while others only need touching up after a particularly strenuous activity, like working out. Realistically, no natural deodorant is going to be as effective as an antiperspirant when it comes to keeping you dry, but it will help your sweat smell better or, in some cases, eliminate the smell altogether.
Application and consistency: Natural deodorants come in a range of formats, from sticks to creams to roll-ons. Sticks are most similar to traditional deodorants like Dove and Secret and thus can be ideal for newbies or anyone who likes the ease of use of a stick. Creams are an OG format in the natural-deodorant world but tend to be messier and a bit more difficult to apply. They're the most interactive and often require you to smear the product into your pits by hand or with the help of a tool. Then there are roll-ons, which are compact, easy to apply, and — because they're clear — don't leave marks on your clothes. Ultimately, it comes down to personal preference. Some mimic a traditional deodorant stick, while others have to be scooped out and daubed into your armpit. Format doesn't necessarily mean better or worse, but it can have an impact on ease of use.
What it's made of: Natural deodorants use a variety of ingredients to keep you smelling fresh and somewhat dry. Baking soda is a well-known odor absorber. The drawback of baking soda, though, is how irritating it can be for people with dry or sensitive skin. This is because baking soda is alkaline (meaning it has a pH above 7). When it comes into contact with your skin, with its natural pH around 5, baking soda can cause dryness and irritation. For additional sweat absorption, some brands mix in other ingredients like activated charcoal (known for its ability to absorb bacteria). Other popular ingredients include magnesium and arrowroot. Magnesium behaves similar to baking soda but without the same levels of irritation, and arrowroot both thickens and absorbs moisture. Magnesium and arrowroot are popular substitutes in baking soda-free natural deodorants.
Regardless of which deodorant you choose, you should probably patch-test it first. Dr. Heidi Waldorf of Waldorf Dermatology Aesthetics recommends swiping on a little for a few days on a small area of your inner upper arm before using it on your pits.
Best overall natural deodorant
Gel texture | Long-lasting | Earthy scent | Contains baking soda 
While some natural deodorants can have a gritty feel, Ursa Major has a smooth, gel-like consistency that glides on the skin like a conventional deodorant. Its easy-to-use stick, sweat-absorbing ingredients, and clean, unisex scent make it a favorite of three of our experts. I haven't personally tested this one because it contains baking soda (irritating to my sensitive pits), but the consensus is that it would work well for most people. It's good for both suppressing odor and absorbing moisture. According to Jacqueline Jones, natural-beauty writer at the Beauty Proof, it's a "game changer" in comparison to other natural deodorants she's tried that were messy, stain-producing, and otherwise ineffective. "No matter what the weather's like or how crazy my day gets, the Hoppin' Fresh deodorant gets the job done without screaming 'dirty hippie.'"
Best natural deodorant for reducing sweat
Fragrance-free | May not require reapplication | Roll-on deodorant | Contains essential oils, vegetable glycerin, aloe
While the only FDA-approved antiperspirant is aluminum, there's anecdotal evidence that this deodorant from Real Purity helps to cut down on sweat. It's become something of a cult favorite amongst Strategist staffers since Aubrey Plaza introduced it to us in 2017. We investigated its seemingly magic properties in 2021, and while dermatologists maintain that there's no such thing as a natural antiperspirant, some ingredients are better at absorbing sweat than others. Real Purity uses vegetable glycerin and aloe, which dermatologist Dr. Marisa Garshick told us "does not prevent the formation of sweat, but can help to absorb moisture, minimizing the feeling of wetness." Strategist senior editor Simone Kitchens (who has been using the deodorant since 2018) says this is the only natural deodorant she's tried that hasn't stopped working. It's also odorless, which she describes as a benefit. "It doesn't have some like cedary sagey geraniumy whatever-y smell," she says. "It smells like nothing."
Best natural deodorant for heavy sweaters without baking soda
Cream deodorant | Contains activated charcoal and coconut oil | Scented with essential oils
Kirbie Johnson, a beauty reporter and co-host of the Gloss Angeles podcast, swears by this Piper Wai cream, which helped her survive a hot Texas day entirely stink-free. "The other deodorants I brought felt like they were evaporating off my body the minute they were applied, but this works and stayed put. Even in 100-degree heat, I did not smell," she says. Its main ingredients are charcoal and tapioca starch, which in combination absorb sweat and control odor. It also contains essential oils like citrus and mint, which give it its light, pleasant scent. "The key is smoothing it onto your underarm liberally with your fingers," Johnson says, noting that a pea-size amount is plenty. If you're sensitive to coconut oil, she recommends patch-testing and proceeding with caution.
Best natural deodorant if you're new to natural deodorants
Stick deodorant | Long-lasting | Moisturizing | Contains glycerin | Smooth application
Dove is a big player in the traditional-deodorant space, but it's recently expanded into natural deodorants too. Its zero percent aluminum option comes in familiar scents (like cucumber and green tea) and is widely available at big-box retailers. Strategist writer Chloe Anello is a fan. Anello has been a Dove antiperspirant loyalist but tried the aluminum-free version in her favorite scent, cucumber and green tea. "It has that same fresh scent the antiperspirant does, so most important, I don't feel like I smell during the day," she writes.
Best-smelling natural deodorants with baking soda
Various scents that use synthetic fragrances | May require reapplication | Stick deodorant | Contains baking soda 
Native's deodorant comes in an array of fresh scents like coconut and vanilla and cucumber and mint. The brand also releases limited-edition scents seasonally (I bought coconut milk and turmeric by the pack). Its formula isn't drying, like those of other natural deodorants, because it includes coconut oil and shea butter, and while I don't personally use this one because it contains baking soda, it's a favorite of friends. "I've tried many other natural deodorants — they either don't work or are irritating to my skin," dermatologist Dr. Debra Jaliman explains. Native is the exception — she even recommends it to her patients, who have also come to love it.
Best natural deodorant for odor