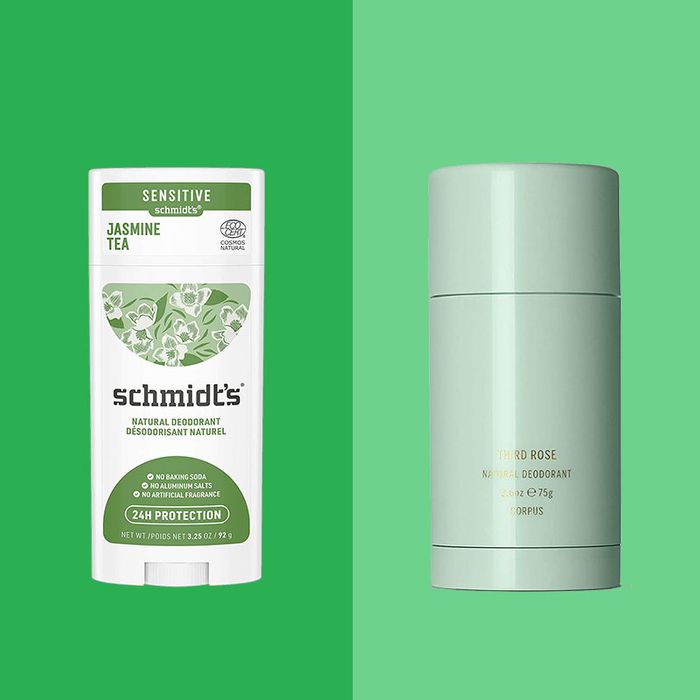 Photo-Illustration: Courtesy of the retailers
The first thing you need to know about natural deodorant is that it will not stop you from sweating. That's because natural formulas lack aluminum, the ingredient in conventional antiperspirants that plugs up sweat glands. Aluminum isn't necessarily harmful — regarding its rumored link to cancer, the American Cancer Society says, "There are no strong epidemiologic studies in the medical literature that link breast cancer risk and antiperspirant use, and very little scientific evidence to support this claim." But many still opt for natural deodorants since, as Doree Shafrir, writer and co-host of the podcast Forever35, explains, they "don't block your pores and prevent your body from sweating, they allow 'good' bacteria to flourish so that you eventually become less stinky than before." In fact, Follain founder and CEO Tara Foley says deodorant is one of the top-selling categories at her shop: "It's a place where a lot of people start their clean-beauty journeys."
Which brings us to the second most important thing about natural deodorant: Finding one that works for you is a very personal process that will likely involve a fair bit of trial and error. One person's favorite natural deodorant might not work for someone with more sensitive skin, or a heavier sweater. Many natural deodorants rely on baking soda to absorb moisture, for example, but too much baking soda can cause skin irritation in some people. Since there are lots of factors to consider (do you want a charcoal-based deodorant or one with arrowroot powder? A gel or a cream?), we polled a handful of clean-beauty experts and Strategist staffers to recommend the best for all types of sweaters.
Best overall natural deodorant
While some natural deodorants can have a gritty feel, Ursa Major has a smooth, gel-like consistency that glides on the skin like a conventional deodorant. Its easy-to-use stick, sweat-absorbing ingredients, and clean, unisex scent makes it a favorite of three of our experts. Jacqueline Jones, natural-beauty writer at the Beauty Proof, calls it a "game changer" in comparison to other natural deodorants she's tried that were messy, stain-producing, and otherwise ineffective, and says, "no matter what the weather's like or how crazy my day gets, the Hoppin' Fresh deodorant gets the job done without screaming 'dirty hippie.'"
It offers "long-lasting protection with a pleasing aroma — peppermint, eucalyptus, and rosemary — using kaolin [clay], baking soda, and saccharomyces [odor-fighting enzymes] to soak up sweat and bacteria," according to Oakjoo Lee, merchandising and planning manager for skin care at Credo Beauty, who says it's especially popular among male customers. It's also a top seller at Follain, and Foley raves about its earthy, pinewood smell.
Best extra-strength natural deodorants
With a double dose of baking soda to keep you dry, this powerful deodorant is Foley's pick for heavy sweaters. It's formulated with arrowroot powder, another natural ingredient that helps soak up moisture. She says it's the best for odor and sweat protection, so it might be one to consider if you're hesitant about making the switch to a natural deodorant.
As Shafrir says, "The adjustment period when you switch from using an antiperspirant to a natural deodorant can be rough — on both yourself and the people around you." For another option that best mimics an antiperspirant, she likes the extra-strength natural deodorant from Milk + Honey. She says this formula, from the Austin-based brand (that has advertised on her podcast), like LoveFresh, "has arrowroot powder for maximum absorption."
Best-smelling natural deodorants
Without synthetic fragrances, natural deodorants usually get their scents from essential oils, which smell very differently than baby powder–esque traditional deodorants. CAP Beauty co-founders Cindy DiPrima and Kerrilynn Pamer agree that Agent Nateur's unisex deodorant smells the best of the bunch, with a sophisticated scent that's far from crunchy. DiParma told us: "The scent profile is simply gorgeous. With notes of vetiver, sandalwood, cedarwood, and rose, it's warming, sultry, heart-opening, and most importantly, subtle." Pamer, who is also CEO of CAP, calls it "musky, sexy … complex, and intoxicating."
Strategist writer Louis Cheslaw is a fan of Native, a popular option that goes on like a typical stick deodorant and comes in lots of fresh scents like Coconut & Vanilla and Cucumber & Mint. Cheslaw found Native after trying a few other brands like Ursa Major and Toms, which he found to be too sticky and wet. "It's as much of an essential for me as toothpaste," says Cheslaw, who alternates between Eucalyptus & Mint and unscented.
Best baking soda–free natural deodorants
Although baking soda keeps wetness and moisture at bay, it can also be very irritating to some people, sometimes to the point that it turns them off from natural deodorant entirely. Dermatologist Cybele Fishman explains, "Baking soda is highly alkaline, and often causes irritant dermatitis in armpits. I am seeing so many armpit rashes since so many people are changing to natural deodorants, and when we check, there is usually baking soda in them, and when they stop using it, the rash goes away." As an alternative, she suggests baking soda–free deodorants, and this rose-scented one comes highly recommended by Lara Kaiser, of Shen Beauty. "There's really nothing I don't like about it," says Kaiser, who found that other natural deodorants were either too greasy or left oily stains on her shirts. She likes that it "lasts forever," describing how one tube lasts her a year even with daily use. Several of our friends at the Cut are fans as well.
Sustainably made and baking soda–free, Corpus deodorant is also popular at Shen Beauty according to Kaiser, who loves the subtly elegant scents. "A lot of my clients have been rebuying," she says. Lee agrees that it's "super chic and sleek" and describes how the "long-lasting water-based formula" contains "naturally derived enzymes and plant extracts" like rose, mandarin, and cedar root to neutralize body odor.
Best magnesium-based natural deodorant
Magnesium is another baking-soda alternative that's more gentle on the skin and still effective for killing odor-causing bacteria. Last year, Jackie Johnson, host of the natural-beauty podcast Natch Beaut, judged natural deodorants at last year's Indie Beauty Expo and awarded the first-place prize to Brothers Artisan Oil's magnesium-based deodorant. "It works extremely well," she says. "If you're a stink queen, this will cut that for you." It comes in a handful of scents, but Johnson's favorite is eucalyptus and lime, which she calls "really light and refreshing, and not overpowering." It kept her stink-free during a sweaty workout class, but she does add that, like with any natural deodorant, you might have to reapply throughout the day. "Get comfortable with reapplication," she advises.
Lee likes this scent-free deodorant from Violets Are Blue, which she says is good option for someone transitioning from a conventional deodorant. "This has the look, feel and application process of a more traditional formula, which can make the switch much more seamless." The quick-drying formula contains magnesium (which helps to block odor) and tapioca starch (which help you keep dry), and doesn't contain irritants often found in natural formulas like essential oils, baking soda, or arrowroot. "It's ideal for anyone with skin sensitivities," she says.
Strategist writer Tembe Denton-Hurst is also a Native fan, but she prefers their sensitive line, which is aluminum-free and comes in similarly scented options. To keep odor at bay, it uses arrowroot powder and magnesium hydroxide, which work together to neutralize scent and absorb moisture.
Best (less expensive) magnesium-based natural deodorant
Schmidt's is one of the biggest names in the natural-deodorant scene (actress and comedian Ana Gasteyer calls it "a unicorn product"), and their sensitive-skin formula replaces baking soda with magnesium. Even though she's not sensitive to baking soda, Johnson prefers the magnesium versions. "I just think they work better, and I also think the scents are more exciting," she says. Along with the jasmine-tea scent, she says the rose and black pepper and coconut-pineapple varieties are "on point."
Best tapioca starch-based natural deodorant
This deodorant, which uses sea salt and tapioca starch for odor, comes recommended by Kelly Ripa, who said it's something she can't live without. Prior to finding Each & Every, she'd actually sworn off deodorant altogether (she claimed that, after a few hours of wear, it made her smell funny). She's turned Strategist writer Chloe Anello into a fan too. "It works really well and I smell good throughout the day," she says, and while it's on the pricier side, Anello — who likes the cannabis and lavender scents — says it's worth it.
Best natural deodorants with eucalyptus
Strategist writer Hilary Reid swears by this natural deodorant from Malin + Goetz, which she says has a vaguely medicinal scent and reminds her of the essential oils used in the steam room at a Russian bath house in the Financial District. "It works incredibly well," she says. "The thing I love about it is that it lasts pretty much the whole day, and it doesn't sting when applied to freshly shaved armpits." Reid has been using the same stick since last summer, which she says makes the $22 pricetag worth it.
Best natural deodorants with charcoal
As Johnson says, "Charcoal is a hot ingredient," and some natural-deodorant fans claim it helps ease the transition from us