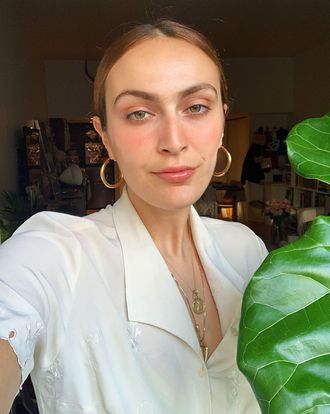 Rio, wearing the Hailey Bieber Look.
Photo: Rio Vierra-Newton
A couple of months ago, I noticed several pictures of Hailey Bieber on the cover and inside of Pop magazine's spring/summer 2019 issue. I quickly became obsessed with her makeup — which, in my opinion, was the perfect warm-weather look. I loved everything about it — her natural, clean skin; her sexy glossy lip; her sun-kissed, almost burnt-looking cheeks — and decided her perfectly fresh-faced makeup is the look I want to emulate this summer.
The trouble was, I had no idea what products she was wearing, and I needed to identify them to achieve my goal. I took another look at the photos, figured out the makeup artist was Fara Homidi, and immediately slid into her DMs to ask her what she used to create Bieber's fresh face. She was more than happy to share, and guess what? All of the products are cruelty-free. Below, the four products that Homidi put on Bieber — and that I will put on my face all summer long.
Step 1: Cream
Step 2: Blush
Step 3: Lip Gloss
Step 4: Brow Gel