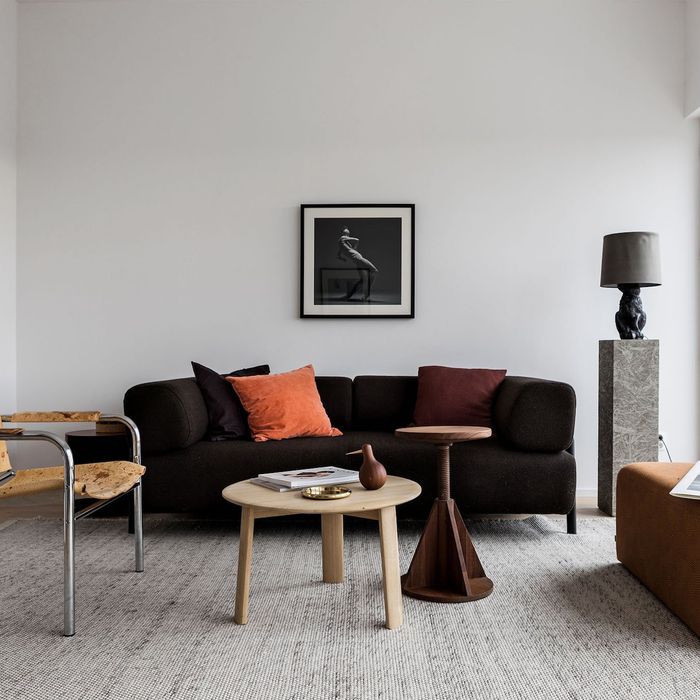 Photo: Courtesy of the Retailer
While choosing a coffee table may feel like both an overwhelming and an unsexy task, there are things to consider — beyond your overall aesthetic — to make the process a little less daunting. Nina Gotlieb, director of hospitality and contract design at West Elm, points out that it's helpful to consider the proportions and relative mass of each piece in your living room. "Sometimes, if you have a super-leggy couch, you don't want a super-leggy coffee table. Or if you have a sofa that's upholstered all the way to the ground, you don't want a super-massive coffee table because then everything feels too heavy," she says.
And you shouldn't be afraid to experiment with nontraditional shapes and materials. There are plenty of fun designs out there that range from the tried-and-true (mid-century design, for example, doesn't seem to be going anywhere) to the unexpected (consider a table with pool noodles for legs) that you can incorporate without turning your living room into a mismatched playhouse.
To help you find the coffee table that works best with your budget and your space — whether you want to make it the focus of your room or have it play a more supporting, holding-the-remote-control kind of role — we polled 24 interior designers on their favorites. Below, 50 coffee tables organized by style and material.
Best modern coffee tables: Acrylic
If you're looking for a coffee table that doesn't distract from the other furniture in your room, interior designer Dee Murphy recommends this curved acrylic number from CB2, which she likes to use in a space "where I feel the eye needs a 'rest'" — in a room that has a lot of color or pattern, for example, or even in a small space. "The table won't crowd or compete with the rest of the furniture or décor. It also works well with all design styles," she says. We can picture this going quite nicely with an Eames lounger or an overstuffed wingback chair upholstered in a jaunty print.
Gold finishes make this acrylic table a little more interesting. According to Abbe Fenimore, founder of interior design firm Studio Ten 25, an acrylic or glass coffee table layers particularly well with a statement rug. We like its Hollywood Regency vibe.
This acrylic table has a more traditional four-post silhouette (and serious '80s vibes) and comes recommended by founder and lead designer Maggie Griffin of Maggie Griffin Design. It's a favorite of hers for its price and the fact that it can be wiped down easily (i.e., it's good for kids).
For a modern look, interior designer Elizabeth Stuart also favors plexiglass, and she recommends this coffee table originally manufactured by Minotti. "A coffee table like this works every time," she explains. The thick tabletop gives it heft, while a minimalist chrome frame offsets it. You can even DIY this look — and take it up a notch — by grabbing a piece of colored plexiglass and putting it on top of a wooden box.
Best modern coffee tables: Terrazzo
Although Hollister and Porter Hovey of Hovey Design call terrazzo a trend that is "practically passé" (we're still fans), they appreciate how beautiful this coffee table looks in its black-and-white color scheme. The thick, rounded legs are on trend, too. The Hovey sisters add that this piece looks more high-end than other tables at this price point.
If your love for terrazzo is unapologetic but you also like mixing materials, Mallory Fletchall, interior content creator at Reserve Home, recommends this petite coffee table that combines a speckled tabletop with a warm ash base. Perfect for someone who gets décor inspiration from the Wing.
Best modern coffee tables: Marble-topped
Marble-topped coffee tables are a popular choice among the experts we spoke to, and this one, recommended by Rayman Boozer of Apartment48, is a solid option. Boozer says it's especially great for a smaller living space because of its narrow dimensions. He also calls out the brass accents, which "suit a contemporary aesthetic without being too flashy." We like the proportions of the not-too-thick marble slab and the slender frame.
Brass-finished iron legs add a touch of metal to this marble-and-wood table that freelance writer Hélène Heath recommends. She says the mix of materials "helped tie all the elements of our living room together." The shelf provides bonus storage and a "lovely styling opportunity," she says, meaning your Diptyque candles, stacks of The Gentlewoman, and a vase of peonies.
Murphy also recommends this tiered coffee table by Thomas Bina that incorporates a lacquered top, delicate steel legs, and an oak lower shelf for those looking to update the mid-century look. Murphy likes that the tabletop has rounded edges (which she says are babyproof), while the extra shelf is great for storing books or small baskets of knickknacks.
If you're going for an "easy Milanese" vibe, the Hovey sisters recommend the Secant Table (which is actually designed by Sara Wright Polmar, a Norwegian). They call it "one of the most Italian-looking tables we've seen" for its streamlined industrial look and, of course, its "heavily veined" marble top. (You can choose a glass top and a base in a different color, if you please.)
Best modern coffee tables: Steel
For a more straightforward, utilitarian option, Kirsten Grove of We Three Design Studio suggests trying this square, powder-coated-steel table designed by Danish collective Hay that features a tray tabletop (all the better for catching your red-wine spills) and a wiry frame. Grove thinks the simple design lends itself to a variety of décor schemes, including Scandinavian and mid-century.
Boozer also recommends a steel coffee table, and this round, simple style has a slim profile, which, he says, "subtly allows you to make bold choices with your other furnishings." We especially appreciate how smooth and stonelike the finish feels. A second shelf provides always-welcome extra storage.
Seattle-based designer LeeAnn Baker recommends this oval coffee table, in a shape she says is especially versatile if you are tight on space. She loves the dark-bronze metal frame and the antiqued mirrored lower shelf, noting that "it reads much more expensive" than its price point. Use the double surfaces for your stacks of coffe-table books — and a place for your friends to put their highballs while watching Succession.
Best modern coffee tables: Wood
Fletchall recommends this delightful round, wooden coffee table from Now House by Jonathan Adler, saying that its price point (for a wooden table) and its grooved legs are especially enticing. We like how jovial it looks.