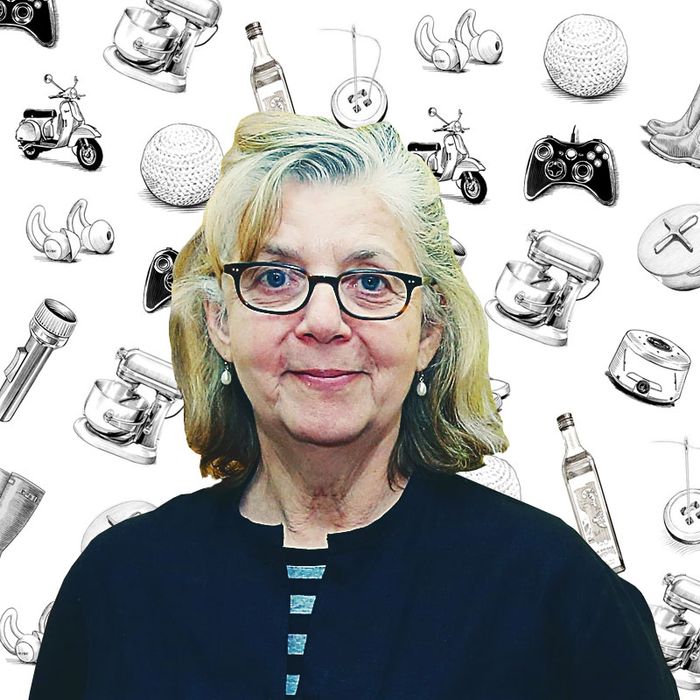 If you're like us, you've probably wondered what famous people add to their carts. Not the JAR brooch and Louis XV chair, but the hand sanitizer and the electric toothbrush. We asked illustrator Maira Kalman — whose newest book, an illustrated reissue of the Autobiography of Alice B. Toklas is out today — about the French press, sketchbooks, and bouncy balls she can't live without.
Working in my studio and sitting at a desk, painting or writing, I need to take breaks. And throwing the ball against the wall is one of the greatest diversions and brain reactivators around. The Pinky High-Bounce is a perfect product and the balls don't leave marks on the wall. Whenever my nieces and nephews come over — and soon my grandchildren, who are almost old enough — we all throw the ball against the wall, not caring if something breaks. In my apartment, we throw it over the bed against the wall in my bedroom. That's my favorite place, everybody's very happy, and there's a lot of screaming.
I write a lot of letters that I actually put stamps on and take to the post office. For me, it's one of those places where you can find time because time stops when you're there. Mostly I write letters to my granddaughter Olive and her little sister Esme. Olive is 4, and I've been writing her an illustrated letter on this stationery every week or every two weeks since she was born. So now she has hundreds of letters and a record of the history of her life and the history of my life over the last four years. I do it with a pen and ink. It's always inspiring to write a letter because you want to make it good, but it's not for publication yet, so there's a sense of ease and authenticity, which definitely helps me in how I think about working on my paintings and writing. I always think, "This is me speaking from the heart — how can I do that in my work?"
[Editor's note: For the prices shown, you can get a 25-pack from Amazon or a 10-pack from European Paper.]
I've been keeping sketchbooks since I was 18, which is 50 years of sketchbooks or something like that. They're a history of my life through travel and observation, mixing images and text and ticket stubs and lots of pressed flowers. The pages in these sketchbooks are perforated, so if you're really embarrassed about something, you can always tear it out and edit history. Because I walk a lot, I only want to carry a sketchbook, a pen, a phone, and a wallet with me, and these sketch books fit exactly into my bag. I love the paper and the gold name embossed on the back.
My two favorite times of the day are getting into bed at night and getting out of bed in the morning, which I always do with a cup of coffee from my French press. I grind the beans for seven seconds, then I wait four minutes for it to brew, and while I'm waiting, I get the New York Times, which is at the door. Then, when the coffee is ready, I read the obituaries in the New York Times. It's the most satisfying morning ritual before I go out and take a walk.
I have these waffle towels and I have the waffle robe. I believe in waffle fabric. I think it has great integrity and I feel intelligent when I'm using it. These towels are thinner and less heavy than the big thick towels that people like to use. I used to be in the thick-towel camp because I didn't know any better. Then I got introduced to these and I thought, "How could anybody choose anything else?" Also, they take up a lot less room in the closet. So when you're organizing your linen closet, which of course we all do very often, it's nice to have the lineup of slim towels. I'm just grateful they exist.
I live a few blocks from C.O. Bigelow. The place has been a part of my life for literally 50 years. This lip balm is critical for New York and certainly for the dry winter. They have a few different colors and I am constantly reapplying them. I like that this one is minty and that it's not gooey, but it's still it stays on your lips. And it's cheap. I don't like expensive beauty products I think that's an unfair road people take.
I'm a big ironer and I could talk about ironing at great length. As I said, getting into bed is one of the great moments of life. But it has to be in a beautifully made bed with white linens that are starched and ironed. Which is something that I love, love, love to do. I use liquid starch in a spray bottle and I iron my pillowcases with it so that when I get into bed — which I do very early to read, talk on the phone, or watch British murder mysteries — it's just one of those glorious experiences. I iron everything. That's kind of the legacy of our family and it's something that the women did back in Belarus. Who knows if they were washing by the river or what. But anyway, even with my son Alex Kalman, the joke is that we iron our underpants. And napkins, of course. If you don't iron your napkins before putting them on the table, that's a tragedy. If you can walk everywhere, iron, and mail letters, that's a nice life.
I'm addicted to this dish soap. I've not gone so far as to drink it, but I love the scent. Anything that has ginger in it gets me really excited. And pomelos, I adore pomelos. I eat them straight and use them in salads. The first pomelo I ever had was in the Sinai, in Egypt, and it was one of those revelation moments like, "This is an amazing fruit."
The joke in my family is that when Thanksgiving hits, all you hear in the house 24-7 until New Year's Eve is this album. It's just on a continual loop. Of course, we have our connections with Charlie Brown. But this transcends any kind of identification with that cartoon. The music is so beautifully played and so beautifully composed. It just gives me so much contentment and peace of mind and pleasure. And I never get bored with it. I actually listen to it all year round, but it peaks to some kind of insane level during the holidays.
The Strategist is designed to surface the most useful, expert recommendations for things to buy across the vast e-commerce landscape. Some of our latest conquests include the best acne treatments, rolling luggage, pillows for side sleepers, natural anxiety remedies, and bath towels. We update links when possible, but note that deals can expire and all prices are subject to change.