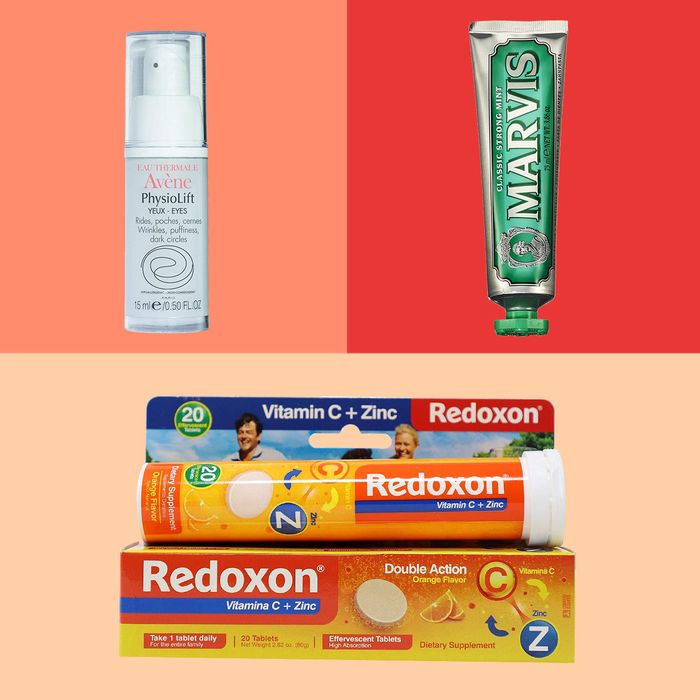 It won't take much time in Greenwich Village apothecary C.O. Bigelow to realize that it isn't any old drugstore — if the boxes of obscure, effervescent European vitamins don't tip you off, the racks of Mason Pearson hairbrushes will. Founded in 1838, and said to be one of the oldest apothecaries in America, C.O. Bigelow is a place where you can pick up standards like Cetaphil and Dove bars as easily as you can licorice-mint Marvis toothpaste and a candy-store array of barrettes (Marc Jacobs is a fan — he recently captioned an Instagram post of himself in sparkling black-and-silver hair clips, "Got distracted at the barrette counter at Bigelow's Pharmacy yesterday").
Many of the goods in the store are the picks of pharmacist and third-generation owner Ian Ginsberg, who, as he told us, has "spent my career traveling around the world finding really cool drugstore things." We wanted to know what drugstore items Ginsberg stocks his own medicine cabinet with, so we called him up to ask. Below you'll find his choice toilet paper, lozenges, and shaving cream.
I'm a die-hard Marvis guy. Marvis is still made by an Italian family in Florence, and started as a Mr. and Mrs. many years ago — the packaging is incredible, it's a bathroom accessory. Toothpaste in Europe has always been made much stronger, because everybody smoked. Marvis comes in a bunch of flavors, but I like the classic mint. It's superstrong — when you're done brushing, you just want to kiss everybody on the street.
In our home we use Kleenex — the plain old Ultra Soft Kleenex. I like simple. Those ones with the lotion sound real fun, but quickly become annoying. You go to blow your nose, or wipe your face, or clean your glasses, and you end up rubbing lotion all over yourself.
Ultra Soft Charmin is the drug of choice in our house.
I love European lozenges, and in particular Strepsils. They make a variety of different ones, from honey lemon to ones made particularly for sore throats. I also love some of the old British ones, like Potter's Catarrh, which are sugar-coated but have eucalyptus in them and all kinds of old-timey ingredients: hyssop and burdock root, and things of that sort. You suck on these lozenges and your whole head blows up.
I love effervescent vitamins — you pop 'em in a glass of water and they dissolve. Redoxon makes effervescent vitamin C. You plop it in a bottle of water, and it's like drinking orange soda, except, of course, your body is absorbing vitamin C. I'm a big runner and I don't like drinking Gatorade because it's way too many calories, so there's something that I buy in Europe called Supradyn or Berocca Boost — they're effervescent vitamins, plus electrolytes. When I go to the gym, I throw one of those in my water bottle.
I'm a Motrin and Advil guy, not a Tylenol guy. I think most of the time the pain you reach for medicine for is due to inflammation. Advil and Aleve are anti-inflammatories, Tylenol is just an analgesic. Tylenol is great for reducing fever or maybe a headache. But if you have muscle aches and pains, you're much better off with Advil.
If you have poison ivy or bug bites or dry skin or allergies, the best thing is Aveeno Anti-Itch Lotion. It's easy to apply and it also has a little calamine and pramoxine in it. It's got a little camphor and menthol, which are really helpful ingredients — they've been in apothecary products forever. Because the lotion is cooling, it desensitizes your skin to the itch, so it also feels good when you put it on. It's the greatest thing ever.