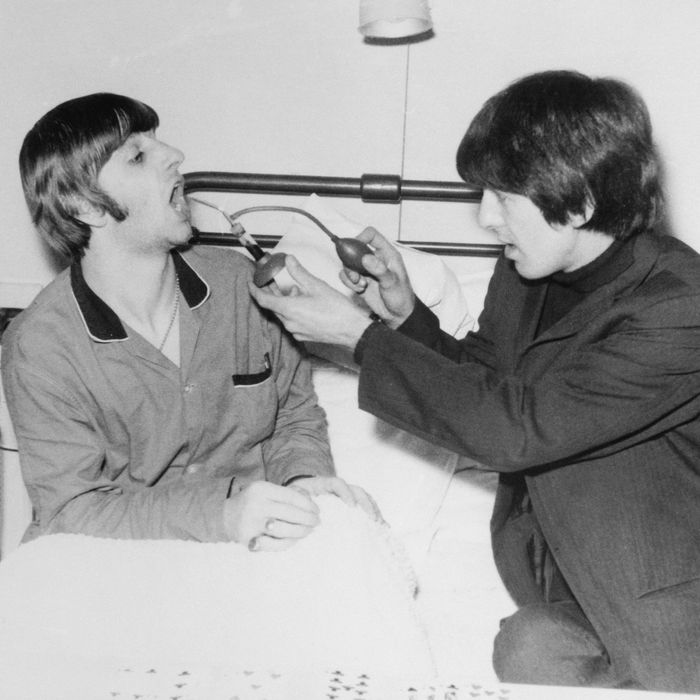 Photo: Bettmann/Bettmann Archive
It's cold and flu season, that special time of year when your throat becomes susceptible to soreness and scratchiness (or if you're lucky, a spot-on Kathleen Turner impression). For most people, a sore throat is a mere nuisance. But for those whose livelihood depends on their ability to speak or bust out a tune, quick and reliable sore-throat fixes are essential and must be on hand in medicine cabinets or kitchen pantries at all times.
"Our vocal cords are a muscle and they need to stay active and in shape while both speaking and singing," says Bianca Marroquín, who currently stars as Roxie Hart in Chicago on Broadway. "Just as an athlete remains trained and ready for events, eight Broadway shows per week requires great discipline and care." To get a leg up on germs and the next bug that's probably already going around, we talked to professional singers about their proven sore-throat remedies and prevention techniques.
Best ways to prevent a sore throat
Caroline Rose, the singer-songwriter who recently released her second album Loner, is a proponent of a DIY gargle. "I'm basically plagued with throat issues while we're on the road, so I have a preemptive regimen each night of gargling with Ancient Secrets salt mixed in water," she says. "When I'm feeling real spunky, I'll do it in the morning, too. Pure saltwater's all-healing; it's an age-old remedy for a reason."
Three-time Grammy Award winner Angelique Kidjo has her own special recipe for an effective swish. "I do a gargle with fresh thyme infused with hot water in a mug," says Kidjo. "Add one tablespoon of salted butter and one tablespoon of honey, wait until it is warm, and use for a gargle."
"Like most people, I'd say Throat Coat tea," says Michelle Zauner, the singer-songwriter who performs under the moniker Japanese Breakfast. However, that's not her only solution.
"I actually am a very loud person and have — knock on wood — never lost my voice because I'm basically always shouting in my everyday life. But if I have a tickle in my throat, I go on health lock down, cut alcohol, stop talking, take Airborne gummies, vitamin C raspberry powder with seltzer, and just drink and pee as much as possible until it's gone." —Zauner
Add some extra zest and 1,000 mg of vitamin C to your water with Emergen-C's Fizzy Drink Mix available in raspberry, açaí berry, orange, lemonade, and more tangy flavors.