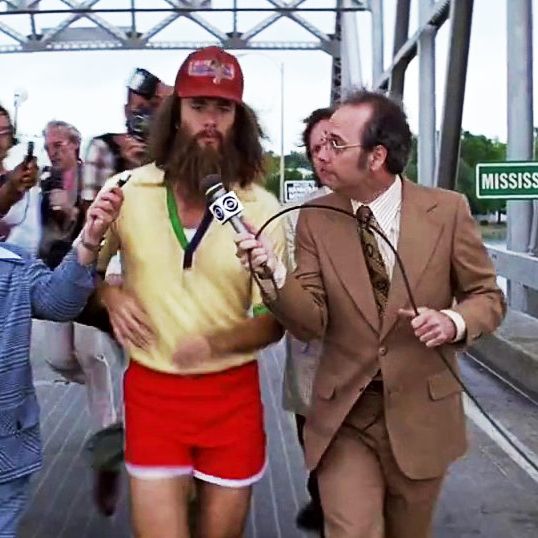 Photo: Paramount Pictures
I've been running four or five times a week since early 2009. In that decade-plus, I've amassed what one could call way too much running gear: at least a dozen running shoes (including specific ones for trail running and "barefoot" running), several different kinds of socks and shorts and T-shirts (including actually cooling ones for hot days), and even a handful of running backpacks and weighted vests. Despite that glut of gear, the honest truth is that I tend to use only about 20 percent of it with any regularity.
Where I live, the four seasons still exist (for now), so the running gear I've come to depend on reflects that: I have stuff that can get me through 100-degree days with high humidity as well as things that allow me to hit the ground running in below-freezing temperatures. And as regular runners know, it is not only key to use the proper gear and apparel for the conditions, but also the minimum amount of stuff for said conditions. With that in mind, I've broken down my absolutely essential running gear for all seasons below, based on the weather conditions I use it in.
Mild days (50 degrees to 65 degrees)
In a perfect world, every time I step out for a run it would be in the 60s, partially cloudy, and with, oh, let's say 15 percent humidity. On those lovely days when that actually happens, my running outfit is as simple as possible. I tend to wear trail runners even when my run will be mostly streets and sidewalks, as I like to stray onto grass, gravel, dirt, and any other terrain I pass when possible. These shoes have a fairly aggressive lug pattern that provides plenty of grip on varied terrain (and more than you'd need on level ground like a road), along with excellent cushioning and impact reduction. The flexible mid zone preserves natural foot motion and gives plenty of return, and they're waterproof, so rain or puddles of slush are no issue. Seriously: I wear these babies rain or shine, in mud and snow, and on trail and street. They saw me through a 40K trail run in the Alps and work just fine on the mean streets of Port Washington, New York, where I live.
Once a runner finds a good pair of running socks, he tends to never stray. These low-cut socks are my go-to in almost all conditions except for extreme cold or wet weather. They offer arch support thanks to targeted compression zones, release heat, wick away moisture, and rise just high enough to prevent friction between the skin by your Achilles and your shoe.
This mid-weight tee is ideal for days when I'm going to feel a bit cool for the first few minutes but will then warm up enough to break a sweat. It has enough weight to keep my core moderately insulated and does a decent job of stopping windchill. Then, once I start warming up, it wicks moisture away well. Also: Each T-shirt is partially made out of recycled plastic bottles, which makes me feel a bit better about stocking up.