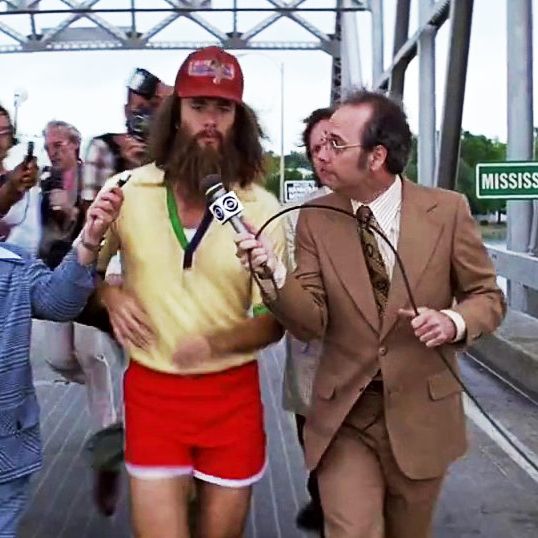 Photo: Paramount Pictures
I've been running four or five times a week since early 2009. In that decade-plus, I've amassed what one could call way too much running gear: at least a dozen running shoes (including specific ones for trail running and "barefoot" running), several different kinds of socks and shorts and T-shirts (including actually cooling ones for hot days), and even a handful of running backpacks and weighted vests. Despite that glut of gear, the honest truth is that I tend to use only about 20 percent of it with any regularity.
Where I live, the four seasons still exist (for now), so the running gear I've come to depend on reflects that: I have stuff that can get me through 100-degree days with high humidity as well as things that allow me to hit the ground running in below-freezing temperatures. And as regular runners know, it is not only key to use the proper gear and apparel for the conditions, but also the minimum amount of stuff for said conditions. With that in mind, I've broken down my absolutely essential running gear for all seasons below, based on the weather conditions I use it in.
Mild days (50 degrees to 65 degrees)
In a perfect world, every time I step out for a run it would be in the 60s, partially cloudy, and with, oh, let's say 15 percent humidity. On those lovely days when that actually happens, my running outfit is as simple as possible. I tend to wear trail runners even when my run will be mostly streets and sidewalks, as I like to stray onto grass, gravel, dirt, and any other terrain I pass when possible. These shoes have a fairly aggressive lug pattern that provides plenty of grip on varied terrain (and more than you'd need on level ground like a road), along with excellent cushioning and impact reduction. The flexible mid zone preserves natural foot motion and gives plenty of return, and they're waterproof, so rain or puddles of slush are no issue. Seriously: I wear these babies rain or shine, in mud and snow, and on trail and street. They saw me through a 40K trail run in the Alps and work just fine on the mean streets of Port Washington, New York, where I live.
Once a runner finds a good pair of running socks, he tends to never stray. These low-cut socks are my go-to in almost all conditions except for extreme cold or wet weather. They offer arch support thanks to targeted compression zones, release heat, wick away moisture, and rise just high enough to prevent friction between the skin by your Achilles and your shoe.
This mid-weight tee is ideal for days when I'm going to feel a bit cool for the first few minutes but will then warm up enough to break a sweat. It has enough weight to keep my core moderately insulated and does a decent job of stopping windchill. Then, once I start warming up, it wicks moisture away well. Also: Each T-shirt is partially made out of recycled plastic bottles, which makes me feel a bit better about stocking up.
I've found that seven-inch shorts are neither too long to interfere with your knees bending, nor too short to wear with boxer-briefs underneath. These are my go-to shorts on mild days, but also cooler ones when I want to wear an extra bottom layer under or over them. They are flexible and stretch easily in all directions, and there are zippered pockets along the back that are ideal for a credit card and ID, a little snack, or keys.
On mild days, these are some of my favorite boxer-briefs for running. They're super-flexible, medium weight, and snug without being at all constraining. I won't wear them in hot or cold weather, though, because they're about 57 percent cotton, which means that any sweat caused by ambient heat or layering is going to hang around. But in mild weather, the underwear's cotton-modal-Spandex blend is perfect.
Chilly but not cold (40 degrees to 50 degrees)
As it starts to get colder out, my running outfits are all about options. I tend to heat up fast, so within a few miles I'll often strip off a layer even when it's near or below freezing. Much of Columbia's cold-weather gear features a proprietary technology called Omni-Heat, which takes the form of tiny reflective dots spread around the interior of the garments that bounce your own body heat back at you. That warmth is actually perceptible, which is a big reason why I love this shirt and wear it as my only layer on chilly days (and as a base when it's frigid). The other thing I love about it is that it's a half-zip, so when I start to heat up, I can unzip it as far down as my sternum, letting out excess warmth.
For long runs on chillier days, I usually wear one of my many pairs of Saxx boxer-briefs. This is primarily because of their unique and crassly named "Ballpark" feature, which without spelling it out uses thin bands of fabric to keep legs and other parts separated, reducing chafing and providing even more surface area to wick moisture from — a plus when sweat builds up on longer runs in cooler temperatures.
Legitimately cold (30 degrees to 40 degrees)
With this moderately insulated jacket, I can brave temperatures between 30 and 40 degrees provided I have a T-shirt on under it and I keep moving fast enough. Add a base layer like the above half-zip shirt, and I'm good even below freezing, including when there's a breeze. The jacket blocks the wind without being bulky, so movement is left unrestricted.
Until temperatures drop down to near 40 degrees or below, I tend to stick with shorts. But once it starts getting truly chilly out, I usually turn to these snug, stretchy running tights that become like a second skin as a base layer (with no underwear beneath). They breathe well, offer compression that can keep muscles feeling better longer, and are quite well-priced, too. That said, I will wear my Path Projects shorts over them because, with nothing underneath, they leave little to the imagination. On windy days, or when the temperature drops even lower, I'll add another layer on top, but usually the X-Temp tights beneath the shorts are enough.
Below freezing (20 degrees to 30 degrees)
Sure, this balaclava was designed for skiers and boarders and such, and I did get it primarily for use while on mountains. Life being what it is, though, these days I spend a lot more time jogging around my neighborhood than reaching summits. When my block is as cold as the high alpine, I wear the Expedition Hood to keep my head, neck, and face warm. The face panel pulls down easily as needed, and the whole thing can be rolled up into a hat if you want to wear it that way.
Even though I tend to be pretty warm, my hands and fingers will still get bitterly cold on frosty days, and cold hands are about as pleasant as stubbed toes. These thin-but-insulated gloves cut the windchill and trap plenty of warmth to prevent cold fingers. Plus, thanks to their touchscreen compatibility, I can still switch between songs and playlists and decline spam calls when I'm on the move. They are even decently water-repellent, so unless it's an absolute deluge, my hands stay dry, too.
Frigid and forbidding (0 degrees to 20 degrees)
As I've mentioned (probably too much), layering is key when it comes to the cold. But it's harder to use layers on your feet. So when it's super cold, I will run in the same socks I use for winter hikes and skiing. They're tall and warm, do an amazing job staying dry, and, in keeping with the brand's name, also help prevent foot stink.
Patagonia's Nano Puff is one of the most popular puffers out there, and for good reason — or reasons, rather, because there's a lot to like. It's warm, lightweight, and amazingly compressible. I have two of these jackets, for the record, and in the course of my years wearing them I've taken them camping, climbing, hiking, and, of course, running. I love the lack of a hood, so there's nothing flopping behind me, and I also love that it can pack down so well, should I ever need to shed a layer. (I once folded one up and fit it into the front pocket of a pair of jeans.)
Only lunatics are out running now (below 0 degrees)
There is a point at which I throw in the towel and skip the day's run, but before that point comes, I put this jacket over my base layers. Part of Eddie Baeur's First Ascent collection, the BC Sandstone Stretch jacket was designed for mountaineers. To that end, I wore it during a climb in Rocky Mountain National Park and found the thing so superlative at cutting windchill and keeping me warm and dry that I now wear it on runs when Arctic temperatures hit the greater New York City area.
In snow
When precipitation is actively falling, I don't change my gear up that much. But if it's cold and snowing, I step into these water-resistant pants, because being soaked goes from unpleasant to unsafe as the temperature drops. In these, I know my legs will stay bone-dry, but not suffocate, because the pants are breathable. They allow for layering and temperature control in a way that traditional, bulky snow pants never could. But they're also light and flexible enough to wear on cold, rainy days when it's not quite frigid enough for snow.
In rain
In every season save for summer, when it's raining, I will wear this raincoat over whatever else I'm running in. It's truly all I need to stay dry — a total downpour will not get through. On cooler rainy days, I will layer up appropriately underneath it; on milder ones, one of my light T-shirts is all I need. A bonus: It has pockets, which are also reliably waterproof.
Many of the running and trail shoes I own are waterproof, but during a downpour or when I step in a puddle, that waterproofing backfires, keeping liquid inside the shoe. Thus, I put on my single pair of waterproof socks when heading out for a run in heavy rain. My shoes will end up soaked, but these socks keep my feet completely dry.
Hot and sunny weather (65 degrees and up)
Hot, humid days are no reason not to get out there and run. But they are a reason to consider running earlier in the day, and to add a few extra key pieces of gear to your getup (namely, stuff for hydration and sun protection, which I'll get to). This shirt is so lightweight I can almost forget it's on, which makes it perfect for the dog days of summer. It's also rated as UPF 15, which means it'll help protect your torso from sun damage. The shirt is 100 percent polyester, so it wicks well and doesn't hold moisture, and has reflective patches that help keep you visible when you're running on the street on a summer night.
While I usually prefer seven-inch shorts, on hot, humid days, the less fabric, the better. These shorts are light enough to barely add weight and short enough to expose most of your legs, letting your body's natural evaporative cooling mechanism (a.k.a. sweat) do its thing. They have both an elastic waistband and a drawstring, so they stay nice and snug even as you log long miles.
Truth be told, I usually prefer not to wear sunglasses when I run. I don't like the sweat dripping down the lenses, or the minor reduction in visual acuity and blocked field of vision. But there are days when it's so bright out that it's neither safe nor pleasant to run without eye protection. The fact that I wear sunglasses as little as possible is why I love these unique glasses from Ombraz. They have no arms, instead staying in place thanks to easily adjusted cords. That way, when I pull them off, they stash flat in a pocket, making them easier to put on and take off while on the move. The corded design also ensures they stay in place as I'm jogging along, which is especially handy on a bouncy trail run.
On hot, humid days, it might seem counterintuitive to add an accessory to the head, but … it's not. One of my favorite warm-weather running accessories is this lightweight tube of fabric from Buff. Worn on top of the head, it collects all the sweat that would otherwise be running down my face, and once saturated, I swap in a bandanna and tuck this thing into a pocket. You can also use it to protect your neck from the sun, but for me, sweat regulation is a lot more important.
I first started using a hydration pack when training for that 40K trail run in the Alps. But I got so used to having water on me during those longer runs that now I often wear this little backpack even on shorter jogs. It can be fitted with a water bladder on your back, or with smaller bottles in shoulder pouches, so you can carry plenty of liquid. It also has the capacity to carry snacks, a phone, a wallet, and even a piece of apparel, like a raincoat. A bit of added weight is more than worth the hydration, and that snack mid-run can extend your range if you pick the right fuel. (My go-to these days is the One Bar, usually the Almond Bliss flavor.)
In the heat, these are the boxer-briefs I wear for runs. They're so flexible you basically forget about them (again, a huge plus when it's scorching), and lightweight enough that they don't generate any perceptible extra heat. Their fabric has a bit of elastane for stretch, wicks moisture, and dries fast, so sweat is a minimal issue.
The Strategist is designed to surface the most useful, expert recommendations for things to buy across the vast e-commerce landscape. Some of our latest conquests include the best acne treatments, rolling luggage, pillows for side sleepers, natural anxiety remedies, and bath towels. We update links when possible, but note that deals can expire and all prices are subject to change.