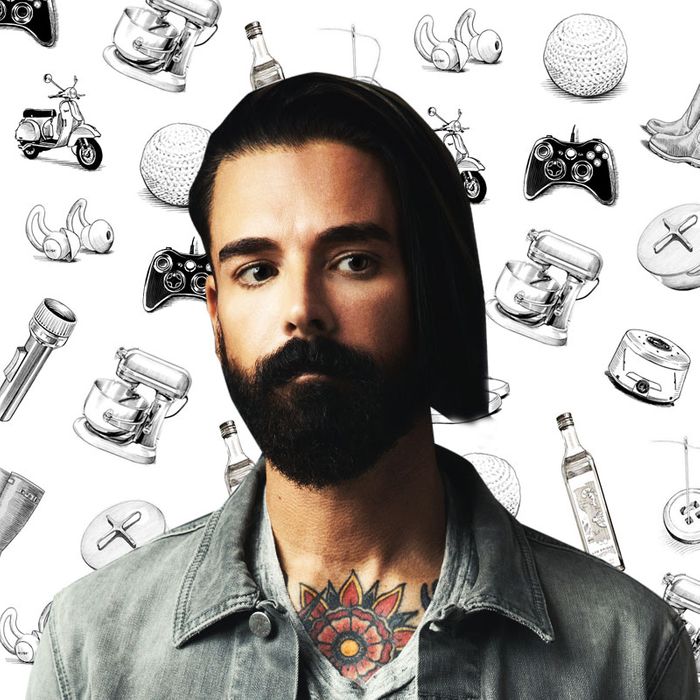 Photo: Dave Bean / Illustration: NYMag.com
If you're like us, you've probably wondered what famous people add to their carts. Not the JAR brooch and Louis XV chair, but the hand sanitizer and the electric toothbrush. We asked Dashboard Confessional's Chris Carrabba — whose career-spanning compilation album The Best Ones of the Best Ones comes out today — about the multi-tool, motorcycle helmet, and underwear he can't live without.
I do have a favorite dental floss, it's called Cocofloss Delicious Mint. It helps you feel good about flossing because it says "relax and floss," and everybody needs to be reminded to relax and floss. I have a pretty good hunch that I found this in a dressing room one day, unopened, and decided that was going to be something I tried since I was out of floss. Then I converted. Now, I am an exclusive devotee to this particular brand of oral health care.
It's great for flights. If you don't bring a hoodie, you can pull it over your head and it can become a hoodie. Pull it further, and it can be an eye mask. Pull it all the way over your mouth, and it can be a balaclava. There's some part of me that feels like you've got to keep your neck warm if you're a singer. I don't think there's any scientific fact to that, but this helps, even if it's psychosomatic.
The Stance socks are great for adventure sports. I skateboard a lot, and they're made really, really well. They last forever, and they're moisture-wicking. You can wash them really easily in a sink, so if you're somebody like me that travels light, you can make three pairs last a week, because you just keep washing them in the sink. I think they come with like the antimicrobial stuff or whatever — the workout material that makes it not gross.
These are similar in the material, where they can be washed in the sink and they dry like overnight, which is great for travelers. To be candid here, they're called Saxx because there's a little sack where you have extra space, I guess? And so things are situated in a more pleasant way than when I wear other brands on the market. Yeah, I didn't know exactly how to say what I'm trying to say, but I think I got it. Imagine summertime on the road in, say, Texas — that little bit of separation helps a lot.
My favorite multi-tool is the least manly sounding one: the Leatherman Squirt. It's just the right size to always be in your pocket. I don't know if you know this, but I wear very tight jeans, and it's small enough that it's still discreetly in my pocket. Plus, it is very, very handy. I wouldn't say I'm like the most mechanical person in the world, but I take a lot of things apart and try to put them back together. I'm often successful, but not always. Anyway, this is a fantastic tool; I think it's got almost everything that a true Leatherman has, it's just really compact. There are varying reports on its TSA compliance, but I think it is compliant. I bought a second one strictly to find out if it'll be taken away from me at the airport. I'll let you know.
If you ride motorcycles, you've accepted that you're doing something dangerous, and you can either be cavalier about it and throw caution to the wind, or you can accept. You can say, "I'm going to do what I must and should do to keep myself the safest I possibly can on this very dangerous machine." And that's where my Bell Moto 3 helmet comes in. It's a great helmet. It's full face: You only get one face, so it's good to protect your whole face. It's also very resilient — mine has some scars from when I've been thrown off the dirt bike, but it manages to remain a helmet, not a helmet that I used to have. And then it's bright orange — that's a hunter's color — so I can be seen riding on the trails or in the city.
The reason I have it on the list is because I take it everywhere. I'm asked by friends around the country to jump on a little ride with them when I'm in town, and oftentimes, they have everything but the helmet. They'll have gloves and jackets and stuff you can use, but there's something about being in somebody else's helmet that's like wearing somebody else's Invisalign. It's just not quite right. It's a light one to carry, I can loop it around my backpack straps, and as long as I don't bang it around, I've got it with me.
I use it for everything — on tour, but for riding days too, and for going to the beach. Being that it's waxed canvas, it's water-repellent, not completely waterproof. The inner lining is incredible: I've taken it on hikes, and I'll have my post-hike clothes — my dry clothes — in there, and nothing seeps through or gets them smelly or anything like that. A lot of waxed stuff, by the way, can take on a smell, like an old-closet smell, but this does not. It's got to be close to ten years that I've had this. It's also a relatively normal-sized bag, but the roll-up makes it so that you can overpack. So if you end up with more stuff than you meant to on the way back from somewhere, you can get it all in there.
I've got three of these Goorin Brothers hats that I kind of rotate. I kind of have a fascination with big cats — you know, like the wild animals. So I like a black panther one that they make, but the one I wear most often is the eagle that says "Freedom." I'm hyperaware of how ultrapatriotic that might look, and there are times when it feels really weird to put myself in that column. I am a patriot, but being somebody that is very liberal and active sort of means a different thing right now in this political climate. But because I'm liberal and active, I think I'm entitled to wear the Freedom hat.
Well, in all candor, I think I have all of the washes, but the shimmering indigo is the one I wear cross-seasonally. The denim jacket might be the most utilitarian item of clothing ever developed in America. I mean, especially at this stage, where people wear it with dressy clothes, or to go work on farms, or to be onstage playing rock and roll. It's not something you actually worry about, like, "Gee, what if my jacket gets ripped?" If it's a jean jacket, it can only get cooler the worse it looks. I've had this same jacket for four years. It's beginning to show its age. My last one was from Levi's, and after 15 years, the elbows blew out and I just had to relegate it to a sleeveless jacket. The elbows look like they're about to pop on this guy, but the thing about Nudie is it'll do patchwork and fix your stuff for free. The brand prides itself on keeping you in your clothes that they've made, for life.
The Strategist is designed to surface the most useful, expert recommendations for things to buy across the vast e-commerce landscape. Some of our latest conquests include the best acne treatments, rolling luggage, pillows for side sleepers, natural anxiety remedies, and bath towels. We update links when possible, but note that deals can expire and all prices are subject to change.