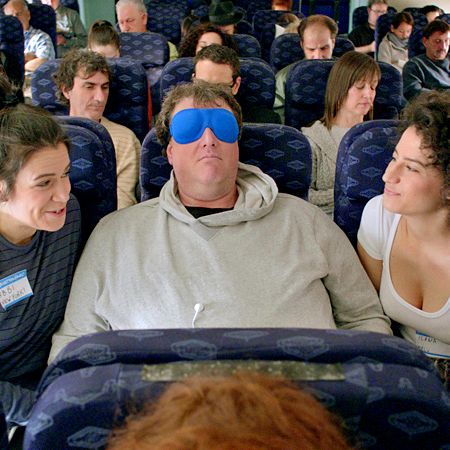 With your knees jammed up against the seat in front of you, a loosely supervised kid kicking you from behind, and seatmates slowly inching into your already-limited personal space, flying economy is not conducive to getting a good night's — or even few hours' — sleep. Add in a long-haul flight over several time zones, and this can leave you groggy and irritable on your first few days of vacation.
But you don't have to blow your entire year's travel budget on a first class seat to get a little shuteye. We asked three very-frequent fliers and a sleep doctor to share the eye masks, neck pillows, headphones, and other sleep aids they use to find some peace up in the air.
Best travel pillows for sleeping
Photo: Bobby Doherty/New York Magazine
Dr. W. Chris Winter, author of The Sleep Solution and a sleep specialist who has researched how sleep and travel affect professional athletes' performance, says people often tell him they can't sleep on planes. His advice is to instead devote the first half-hour of a flight to meditating–without trying to force sleep. "It's amazing how many people will fall asleep if you give them a goal of just relaxing for 30 minutes," he says. "Let your mind go, but don't have this expectation of trying to sleep." Of course, it's much easier to relax with a comfortable pillow. A long-time Strategist favorite, Winter says the Trtl is a comfortable option that's "a lot cooler looking" than most neck pillows since it doubles as a scarf.
Winter says he never steps on a plane without his NapAnywhere pillow. "It cradles your shoulder and neck so you can wear it on either side, and holds your head up softly if you don't have a window seat." Plus, it folds up to the size of a Frisbee when not in use.
Although it's bulkier than other pillows, Winter says, if space is no concern the Neck Sofa is "far and away the best one." Covered in soft velvet it's the pillow's neck brace-like inner structure that ensures proper alignment and support, but also prevents it from folding down to a packable size. It can be comfortably worn in a number of different positions depending on how you like to rest your head.
Best eye masks for sleeping
Between overhead lights and your seatmate's insistence on keeping the window open, you're not going to find total darkness on an airplane without an eye mask. This one from Slip, maker of the beloved silk pillowcases, is a favorite of Alys Colayera, a travel expert at Black Tomato. "[It's] made of sumptuous silk and feels like a delicate cushion for your face," she says. "It's a total game changer." Jen Rubio, co-founder of Away, is also a fan.
When it comes to eye masks, Winter recommends getting one that's hollowed out around the eye socket that will "put pressure on the bony structure around the eye and not on the eye itself," which can become irritating after hours of wear. This one, first brought to our attention by writer Maureen O'Connor, fits the bill and leaves you with plenty of blinking room.
Best headphones for sleeping
Winter has a similar philosophy toward headphones whether you're using them to block out ambient sounds or listen to music or white noise. "Noise reduction headphones that are fitted around the ears and not touching [them] work a little better to block noise and they do a better job of not touching your ears and making them sore," he says. Ear cartilage is very sensitive and what feels like a subtle pressure at first can lead to pain over a long-haul flight. These noise-cancelling Bose headphones have plenty of protective padding for added comfort.
Best earplugs for sleeping
If you're preferred sleep soundtrack is total silence, a good pair of earplugs are necessary for shutting out the outside world. Rose Annis, director of sales strategy and marketing at Atlas Obscura, loves these wax ones that come in a travel-ready tin. "My brother-in-law, who frequently commutes between London and Vancouver, introduced me to these old-timey wax earplugs, and now I also swear by them for overnight flights," she says. "The wax becomes pliable as it responds to your body heat, making them fit comfortably no matter how misshaped your ears might be." She also likes that they're sold in packs of 12 so it's not a huge deal if she loses one.
Winter always keeps foam earplugs ready to go in his travel bag. They're both very affordable and effective at quieting down the sounds around you.
Best clothing and accessories for sleeping
For Jeralyn Gerba, co-founder and editorial director of Fathom, the secret to getting a first-class experience in an economy seat is covering yourself in cashmere. "It's a small luxury that makes a big impact," she says. "The more the merrier, and best to make it a ritual." She'll often wear this sustainable, and affordable, pullover sweater on cold flights.
We're also fans of this Everlane cashmere V-neck. Because of the relaxed fit you can easily put it on over whatever you're wearing and take it off as the cabin temperature changes.
"Once you get settled in your 17-inch-wide seat, change into cashmere socks," says Gerba. It's a small step you can take for instant coziness. She likes Toast's socks made from recycled cashmere.
This pair of cashmere socks would make a good gift for a visiting far-flung relative's trip home.
The final step in Gerba's ritual of settling in for a long flight's sleep is to "wrap something around you for complete, cocoon-like immersion." White + Warren's super-soft wrap can double as a blanket — and a scarf when you get to your destination.
Best supplements for sleeping
Some people think popping a melatonin pill will help them fall asleep quickly, but Winter says it's actually amino acids like 5-HTP and tryptophan — which the brain synthesizes on the way to producing melatonin — that are best for short-term sleep aids. He says products with these melatonin precursors, like Dream Water and Neuro Sleep, are generally safe to use on a flight every once in a while. "For people who don't use them very often they can be effective," he says.
Best aromatic facial serum for sleeping
Besides giving a boost to dehydrated in-flight skin, Colayera likes that this serum's soothing scent helps her fall asleep. "I dab this on my face when I get on the plane as the lavender essential oil is calming and lulls me into sleep," she says. "I also reapply when I land so I am refreshed, shiny and ready for the adventure that awaits."
Best blue-light blocking glasses
We've already done a dive into blue-light-free light bulbs and blue-light-blocking glasses, so it makes sense that Winter recommends wearing a pair as you get ready to board your flight. "If you're in the airport and it's bright and busy, the blue-light-blocking glasses will start preparing your brain to not seeing the blue-green wavelengths of light that keep you awake." They're especially useful if you'll be on your phone or computer while in the gate.
Best foot rest for sleeping
Your economy seat won't convert into a full-length bed, but there's still ways to help your legs stretch out. Writer Alyse Whitney clued us in to this padded foot sling which she says allowed her to sleep for most of a 20-hour flight and "was the closest thing to a first-class experience that I could get in economy."
The Strategist is designed to surface the most useful, expert recommendations for things to buy across the vast e-commerce landscape. Some of our latest conquests include the best acne treatments, rolling luggage, pillows for side sleepers, natural anxiety remedies, and bath towels. We update links when possible, but note that deals can expire and all prices are subject to change.
Every editorial product is independently selected. If you buy something through our links, New York may earn an affiliate commission.