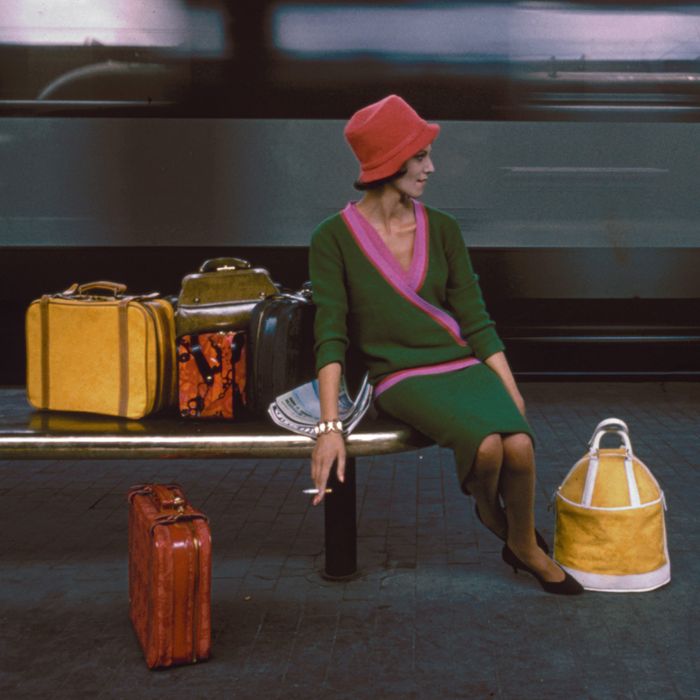 Photo: Mark Kauffman/The LIFE Images Collection/Getty
Every travel situation requires a different set of tools and knickknacks, whether you're taking a road trip, a red-eye, or backpacking from hostel to hostel. That's why we talked to eight different kinds of travelers who haven't settled for the sedentary lifestyle — from professional travel writers and expedition leaders to hard-core nomads (one who's already ticked 65 countries off of his bucket list) about the special travel accessories that have made their journeys that much easier.
They described in-flight necessities that make that cramped plane seat a little more bearable, functional gadgets that are small miracles in off-the-grid regions, and even a de-constructable suitcase that has earned many admirers abroad. (If you're sniffing out the ideal gift for a seasoned traveler, too, see what other vagabonds are asking for this year.)
"Pacsafe makes all kinds of products geared toward travel experts looking to stay one step ahead of thieves, which are RFID-protected (meaning they keep people from swiping your credit-card information). I personally like the Pacsafe wallets because of their retro design, and the ability to chain the wallet to your belt or belt loop. This is essential not only when you are in a big group of people (like a train station in India or tourist area in China), but also when you have had too much to drink and might leave your valuables unattended and lost." — J.R. Harrison III, nomadic traveler who has backpacked to over 65 countries and six continents, travel blogger at The Savvy Vagabond
"I always have tons of gadgets when I travel: the Kindle Paperwhite, the GoPro Hero 5, the Sony A7 Mirrorless Camera, the MacBook Air, multiple USB power banks (all of which are Anker, by the way, the best company for this stuff), etc. When couch surfing — or staying in guest houses, especially hostels — around the world, plugs are few and far between. There are also times when you may be on the move for a few days and won't have time to sit and charge all of your things for 12-plus hours. This is where this wall charger comes in handy: All you need is one outlet that you can reach with the extended cord, and voilà, plug six devices in all at once." — J.R. Harrison III
"It's funny-looking, and before they were more prolific, I always worried people would think I was wearing a neck brace, but it's the most practical neck pillow I've tried thus far. And I can sleep through an entire 15-hour flight, so clearly it's working for me." — Sarah Khan, travel writer 
"I take quite a few red-eyes, and it's not uncommon for me to head straight to meetings from the airport, so I always have a great eye mask on hand to ensure I can get a good night's sleep. Slip makes a fantastic one that we also carry in our stores." — Jen Rubio, co-founder of Away
"This cap can turn any Nalgene water bottle into a pressurized shower. Just screw on the lid, pump up to pressure, and depress the button. Mist yourself off on a hot day, rinse your dishes, or even wash your hair while camping. It's pressurized water, wherever you go. We already ordered ours!" — Megan and Michael of travel blog Fresh Off the Grid
"Small and portable, this tripod can be set up instantly. It's not intrusive to your fellow travelers, easy to use, and compact enough to slip into a suitcase or even a day pack. Add an adapter to safely sync this sturdy little tripod with your smartphone." — Jen Martin, director of expedition development, expedition leader, Lindblad Expeditions
"This plasma arc lighter is hands down the coolest way to light a fire. Using a rechargeable lithium-ion battery, it generates an electrical arc that is 100 percent windproof. It comes with an integrated flashlight and lantern, so you can offer somebody a 'light' in every sense of the word." — Megan and Michael
"Lightweight, compact, and easy to pack, this utensil set is great for camping trips or just having in the glove box of your car. Never use disposable plastic utensils again!" — Megan and Michael 
"I like the Garmin eTrex — it's rugged, waterproof, and small enough to hold in your hand or pocket. The latest updates have improved screens, resolution, graphics, and ease of use. Having a GPS can come in handy if you want to record where you've been or specific locations you've visited. (Did you propose on a trail hike? Want to geocache a message for future travelers?) We use them often to record good landing sites, hiking trails, and as an additional safety measure." — Jen Martin
"I never really invested in quality headphones until now, and I'm so glad I did. Beats by Dre's new Studio 3 headphones have advanced noise-canceling technology that can drown out everything. I take a lot of red-eyes, and have always found it nearly impossible to sleep with the constant buzz of the plane's engine, so these headphones are game changers. They're wireless, so I can connect them to my iPhone via Bluetooth or use the removable cord to plug them in when I want to watch a movie. They're not cheap, but if you travel a lot, I think they're worth it." — Laura Itzkowitz, freelance travel writer and editor
"For a total gadgetry pick — more for fun than functionality — a range finder is high on my list. Tell your distance from a glacier face or know how far your ship is from shore or the nearest iceberg. It's an interesting option — especially in cold climates, where the 'white on white' topography makes it impossible to tell distances. Small and portable, this is highly rated and comes from a company known for good optics." — Jen Martin
"These headphones block out all the noise in an airplane. The motors, but also crying children and snorting men. The sound is, of course, phenomenal — so perfect to watch a movie, listen to some music, or get into a meditation mode." — Pauline Egge, travel blogger and creator of PetitePassport.com
"I always use the Pearl when I'm on a trip. It's designed with the traveler in mind, so everything fits in it. That is, my camera, my phone, a charger, lipstick, my wallet, a small notebook, and a pen." — Pauline Egge
"I just got the carry-on suitcase by Away, which has a super-sleek design with a virtually indestructible shell, built-in USB charger, and clever internal compartments, including a waterproof laundry bag. Just make sure to remove the battery pack if you're traveling through Asia! A friend got flagged at security because of it." — Laura Itzkowitz
"I am absolutely in love with this backpack. It's expensive, but I really couldn't find a better option that's both stylish and practical. If you are carrying anything nice as far as a laptop, gadgets, or a nice DSLR camera, these bags are the TRUTH. It is padded in just about every area, provides easy side-pocket access, a padded slip for a laptop, a pouch for a tripod, and enough space for a Bluetooth speaker, hard drive, clothes, or whatever else you want. Extremely durable, sexy, stylish, comfortable, and practical." — J.R. Harrison III
"I took this suitcase with me to Asia, Europe, and the States. Everywhere I went, people reacted to the suitcase as if it were a Labrador pup. They wanted to touch it, use it, and basically wanted to take it with them immediately. The Bugaboo Boxer (yes, of the stroller company) is a suitcase you push instead of pull. It has four wheels you can easily fold and unfold. It makes traveling so much lighter. I'm a big fan." — Pauline Egge 
The Strategist is designed to surface the most useful, expert recommendations for things to buy across the vast e-commerce landscape. Some of our latest conquests include the best women's jeans, rolling luggage, pillows for side sleepers, ultra-flattering pants, and bath towels. We update links when possible, but note that deals can expire and all prices are subject to change.
Every editorial product is independently selected. If you buy something through our links, New York may earn an affiliate commission.