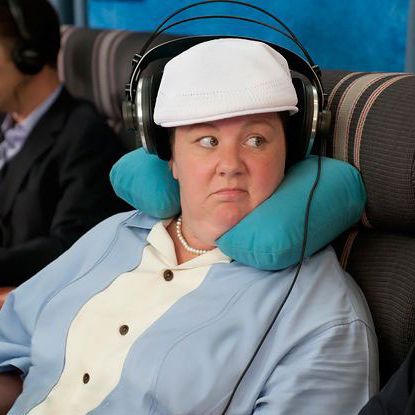 Photo: Courtesy Universal Pictures
Here at the Strategist, we like to think of ourselves as crazy (in the good way) about the stuff we buy, but as much as we'd like to, we can't try everything. Which is why we have People's Choice, in which we find the best-reviewed products and single out the most convincing ones. (You can learn more about our rating system and how we pick each item here.)
And while we've written about lots of travel products before — including travel shoes, travel accessories, including in-flight necessities, and duffel bags for travel — here, we've rounded up the best travel pillows, as praised by the most enthusiastic reviewers on Amazon.
Best-rated travel pillow
Photo: Bobby Doherty/New York Magazine
One of our most stood-behind products, this travel pillow is "essentially a padded scarf," but that's exactly why we've called it the most comfortable travel pillow — and with more than 6,500 five-star reviews on Amazon, the Trtl's fanbase extends far beyond Strategist staffers. One reviewer tried to explain just how handy it is: "Imagine your neck is swimming in a bowl full of noodles, unable to grasp any support through the turbulence on your flight from LAX to, say, PIT. Then, imagine, just as your neck is about to drown in the limp pasta, a hand reaches down from the heavens and baby Jesus himself wraps your supple, tired neck, barely keeping its cricoid above the surface of the linguini soak, in a velvety, form-fitting embrace … This is how I felt when I first strapped on Trtl Neck Pillow." In other words, this pillow is supportive, a word used by nearly 2,000 others to describe it. Reviewers also appreciate that it can support almost any sleep position, like one who says, "I used it to sleep resting my head to the side. I used it to sleep resting my head to the front (a unique feature to any other I'd found)." One downside of the particular design is that you might look a little crazy while wearing the Trtl, but according to this reviewer it's worth it: "People may look at you a little funny when you first go to put it on but I can tell you that those funny looks very quickly become looks of envy."
Best-rated (less expensive) travel pillow
"This pillow was one of the best purchases that I made," writes one satisfied reviewer of this inflatable travel pillow, one of dozens who appreciate how compact it is. One, who used it for a train ride, says, "It was small enough to fit in my backpack, since I was traveling light I didn't want to waste valuable space." Another writes, "This pillow packed up and was at least 30 percent smaller than my friends pillows that also were inflatable." Reviewers also appreciate the unique shape of the neck pillow. One says the "raised back supports head more than plain horseshoe shapes do," while another notes "it will hold your head in position for maximum comfort." And while a few reviewers were confused by the two-valve inflation system one user explains, "The special dual-nozzle it has is great to be able to inflate without losing air when you stop blowing and put in the plug." They continue, "Then when you want to deflate it, you can do so quickly."
Best memory-foam travel pillow
Customers think this inexpensive travel pillow keeps them just as comfortable as some of the more expensive pillows. "I bought this pillow because I was flying red-eye through the night and needed to be able to sleep on the plane," explains one reviewer. Overall, he appreciated that "the memory foam was comfortable" and "it was easy to pack" because it hooked onto the luggage handle. Another reviewer expected it to be comfortable, but the standout feature to her was that unlike other memory-foam pillows, "the foam did not get hot." She likes this travel pillow so much that when she lost it while traveling from Paris to Barcelona, she planned to buy another. One more is pretty picky when it comes to travel pillows, saying he "tried out six others before this one" for his flight to South Korea. The price made him "skeptical" but after trying it, he writes, "Super comfortable! I love it so much. It's honestly one of the best neck pillows I've ever owned."
Best travel pillow with chin support
Nearly 1,200 reviewers call this travel pillow "comfortable," even reviewers who say they typically never find travel pillows to be useful. One woman has purchased about two dozen pillows in a quest to find the best travel pillow, but as she says, "not one of them has ever held my head in a position so that I could sleep on a plane." But with this pillow, "I slept all the way from California to Hawaii during the day." Another reviewer "bought this for a 14-hour flight to China" and after testing out multiple travel pillows, she writes, "This pillow is much closer to what sleeping on a pillow feels like and was very comfortable for curling up on the window or leaning on each other for sleeping." Many say that the issue with traditional travel pillows is that their head can still fall forward; this pillow prevents that because, according to one reviewer, "It holds your chin up so your head doesn't fall forward," and she found it to be so much better than any other travel pillow, she "used this for multiple five-hour flights with one being overnight."
Best travel pillow with hood
According to one reviewer, this travel pillow is, "Everything as described: compact, comfortable, soft material, provides all the proper support." It's inflatable, which makes it easier to pack down, and many say it takes only two breaths to inflate. In addition to the pillow itself being comfortable the "the hood accessory included with the neck pillow is next level," according to one reviewer. Nearly one-fifth of reviewers mention it in their reviews. On a trip to Italy one "put the hoodie over my noise-canceling headphones and found it very relaxing." Another says, "I love the protective hood — it keeps my hair clean and I can blast the overhead air vent without freezing my neck." And while one admits "the hood can raise a few eyebrows, but it keeps one insulated from surroundings that are unpleasant or contributing to wakefulness." This pillow comes with other accessories, too, including an eye mask and earplugs, which reviewers also appreciate.
Best lumbar travel pillow
Travelers with back pain turned to this lumbar support pillow that easily inflates for the flight then packs down to put into a suitcase. "It folds up to the size of a medium size water bottle, so you can carry it anywhere without all the bulk of a foam cushion, plus this works better for me," writes one reviewer who is "suffering from a bad back." Another calls it "a tremendous asset to anyone that has back trouble and can't get comfortable in an airplane seat." He travels "on planes from two hours to 30 hours for business and vacations," so this pillow "has been a lifesaver," especially because it "inflates itself and is easy to deflate for packing." One more has "tried four different pillows and two different inflatable pillows." She returned them all and gave this pillow a final shot. "It's perfect. Cars, vans, airplanes, theaters, restaurants … It goes everywhere with me and lets me be safe and comfortable as my back continues to heal and strengthen."
Best foldable travel pillow
Customers wanted a travel pillow that can pack easily. "It folds up nice and small in its travel pouch which means it will not take up a lot of room in your carry-on so you don't have to walk with it around your neck as you would some other pillows," writes one reviewer who calls this pillow "magnificent." She appreciates that it will also "mesh with your neck just fine no matter how you sleep." Another had their first "long haul flight in over 26 years" and "didn't want to risk getting a pinched nerve from trying to catch some shut on on the way there." She reports back, " The cover is soft and doesn't get too hot after prolonged use. The memory foam is very comfortable." And an added bonus for her was that it "can be folded which makes it great for storing in your carry-on when not in use." One more suggests, "If you've ever considered a blowup pillow for packing ease, do this instead. It's a million times better."
Best inflatable travel pillow