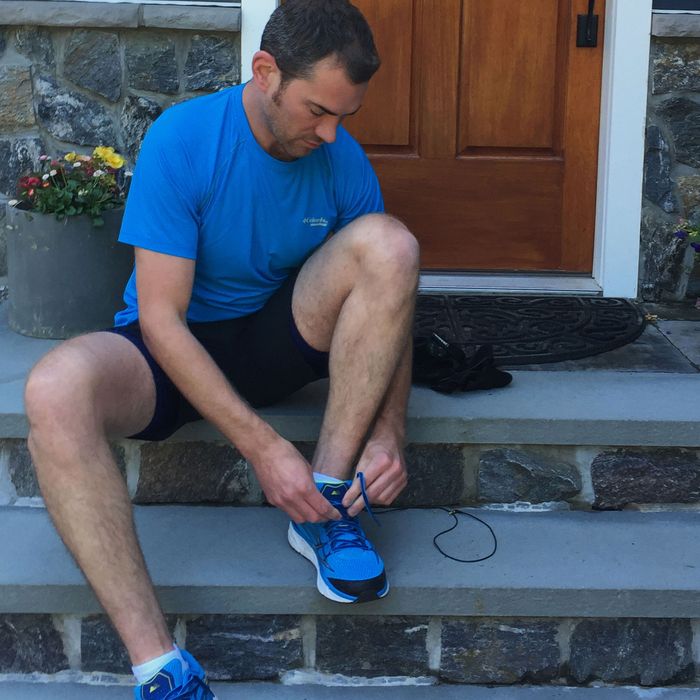 I've been running several times a week for almost a decade, and over the years I've started logging longer distances and gotten serious about trail running. Thus came the need for better gear and apparel than I'd used during those neighborhood jogs.
Soon, I traded in my worn sneakers for several pairs of high-quality trail runners and tossed old basketball shorts for pairs of dedicated running shorts. Because when you're logging multiple miles — especially on trying terrain — the material, weight, and design of every piece of apparel you're wearing matters. These are the one I use for any situation.
Whether I'm going for a quick run through my neighborhood or logging miles on a hotel gym's treadmill, I often choose my ASICS Rival II running shorts. That's because the lightweight, quick-drying, and secure-fitting shorts are suitable for use in just about any conditions. They feature a loose liner that provides a bit of comfort but doesn't add too much fabric when you're wearing briefs or compression pants, while the exterior layer is loose enough for full range of motion. The polyester fabric also dries quickly whether you're running in the rain or simply sweating. For longer street runs I prefer shorts that are a bit shorter, and for trying trail runs I like more built-in support, but for casual jogs these are my go-tos. (I have three pairs.)
There are three reasons my Columbia Titan Ultra shorts are my favorites for trail running. The first is the snug-fitting built-in liner, which provides support and compression that's appreciated when I'm bouncing over boulders or stomping along on the downhill. Second, the "Omni-Wick" weave pulls sweat away from my body, keeping me drier and reducing chafing. And finally, the five-inch cut allows for plenty of range of motion while the outer layer stays close to your thighs, reducing snags on branches and brambles. Yes, they cost more than three times as much as many decent pairs of running shorts, but my Titan Ultras have held up beautifully after a year of heavy use and regular machine washing and drying. They're worth it.
When I'm headed out to log miles around the neighborhood, I like to wear the simplest, lightest shorts I have — the Soffee Running Shorts. Running on suburban roads means I know help is always at hand, so I don't worry about pockets for stashing extra gear. With a 2.25-inch inseam, the Soffees are definitely minimal. They allow for excellent range of motion while staying securely in place thanks to a covered elastic waistband and a moderately snug liner. I often wear compression shorts under the Soffees, but you could get away without an additional layer if you prefer. They're also way cheap in price, but not in quality.
For the record, I am wearing my pair of Mack Weldon 4-Way Shorts while writing this article. I often put them on before sitting down at my desk because that way, if the need to run a sudden errand or the desire to take a walk with my family arises, I can simply head out the door. I also always travel with these shorts because I'm as comfortable wearing them while strolling through a foreign city as I am jogging along a suburban block or a city trail. The 4-Way Shorts are breathable thanks to minute perforations, flexible thanks to nylon and spandex material blend, and versatile thanks to their stylish cut. They're shorts don't look like they were made for running but wouldn't look out of place on the track or trail, either, where they sure feel at home.
If you're looking for a different style of running shorts — or something at a different price range — here are some highly reviewed options from Amazon, according to hyperenthusiastic runners.
"Wow. Great. These have a good fit for running shorts. They are on the shorter side, but my wife isn't embarrassed that I'm leaving the house in them (I've got a pair of those…). The slits on the side are enough to give free movement, but don't go all the way up to your hip. The material and stitching seem to be good quality. They are light, and even when running in the rain they didn't get really heavy. They have a credit-card-sized pocket inside. I really wish they had more colors. I've been looking for good running shorts at a reasonable price. I struggle to spend $40 on running shorts when there's not much to them. Well, here they are. The only slight negative I've found is the elastic band in the liner seems a little tight, but I don't notice it when I run. Only when I first put them on."
"The shorts are excellent, excellent quality, fit, and so far excellent top to bottom. I am about 5-foot-10, 180 pounds, 33-inch waist, and order medium shorts — they fit great! Will certainly order again, as well as the other shorts Baleaf has listed once they receive the medium size in stock. I don't mind the shorter sides, however I am also going to order the other pair of running shorts they have that have a slightly longer side to them. One suggestion for Baleaf: might be better if the liner isn't white. When you are stretching in some positions, the white liner sort of gives your 'area' too much focus, because of the stark white against the navy blue shorts. However not a deal-breaker and I like the inner pocket, which you see in the pics I have posted. Thank you!"
"I'm impressed. I really hate spending a lot of money on running clothes, but it's important to invest in good quality gear. $40 for running shorts from the big brands? Seriously?? This is good stuff. I especially like the rear zipper pocket. It is actually large enough to fit something as large as today's cell phones. I read some reviews about the large elastic waist band. It is a bit bigger than some of the major brands, but it is not an issue at all for me. The fit is just perfect, and I like it. I will definitely look at Baleaf product l