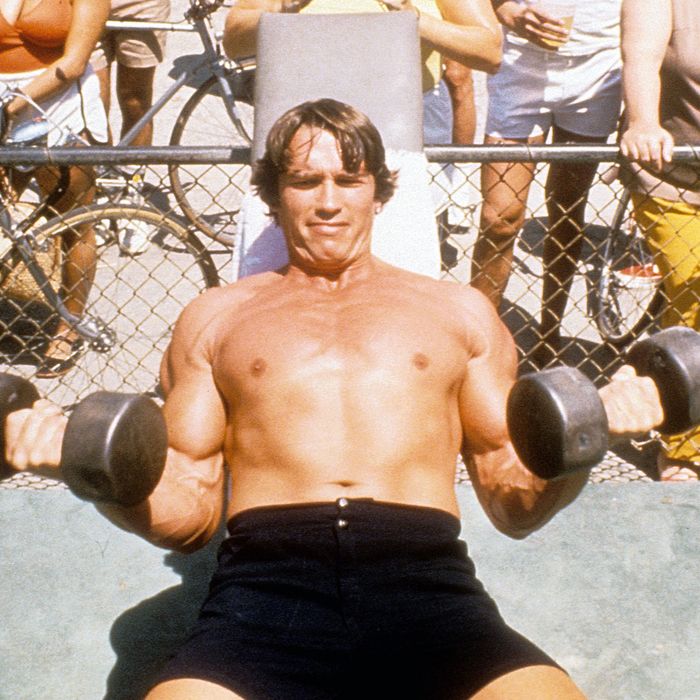 Photo: Michael Ochs Archives/Getty Images
Even though COVID-19 cases are dropping, it's still a good idea to maintain social distance. One way to do that is to work out at home rather than at the gym. And while we've written about lots of home-gym equipment before — including the best big-ticket home-gym equipment and the best foam rollers — here, we've rounded up the best weight benches, as praised by the most enthusiastic reviewers on Amazon.
Since demand for at-home workout equipment, including weight benches, has increased during the coronavirus pandemic, stock has been constantly fluctuating on Amazon. We'll keep updating this post as more best-rated weight benches come back in stock.
Related Articles: Best Online Workout Classes | Best Smart At-Home Gym Equipment
Best-rated weight bench
"I used to go to the gym, which cost me $120 a month and 30 minutes driving back and forth. Now instead of spending that amount of money and time, I do exercise at home using this bench," says one pleased customer, who describes this bench as "sturdy and yet inexpensive." Nearly 300 other five-star reviewers agree about the quality, including one reviewer who says that even after a month of constant use during quarantine, "It feels very sturdy while doing a variety of exercises. This seems like the sweet spot with price and quality." Another reviewer replaced her full bench setup with this foldable, easy-to-store option, and though she was initially afraid it wouldn't be as strong, she says, "I could not have been more wrong. I'm 5'9, 168 pounds, and this thing doesn't budge when doing step ups or any other exercises. With this, my power blocks, and resistance bands, I can have a fully functioning gym set up available to me right in the closet of my studio apartment."
Best-rated (less expensive) weight bench
Over 7,000 reviewers give this no-frills, under-$60 weight bench a five-star rating, and hundreds describe it as "sturdy," "great price," and "easy to assemble" in their reviews. "I thought I would take a chance on this bench since it was so cheap, and I couldn't be more satisfied," one reviewer begins. "It was packed well and went together in about 5 minutes… I hopped on for a few quick reps to test it out and found that it was incredibly solid — absolutely no wobble at all. With the indicated 600-pound limit, this should be fine for heavy lifting for just about anybody." They add that the padding was "thick and firm" and that they couldn't feel any bolts underneath either. Another appreciated this weight bench's "maneuverability," writing, "I don't have much floor space to work with at home, so I have to reposition the bench quite often depending on the exercise. It is light enough to reposition for different exercise setups with ease, but also very stable when in use." While others note that it's "not a bench for serious lifters" because of its smaller size and lack of incline, it gets the job done for beginners — and, as one reviewer says, you "absolutely can't beat the price."
Best adjustable weight bench
Reviewers rave about the wide adjustment range of this bench, especially given its under-$200 price tag. "I was amazed by how easy it is to adjust the angle and how many positions I can set this bench to. It feels like an expensive, heavy duty bench" says one reviewer, who includes a video of the bench's seven adjustment levels with their review. Another five-star reviewer, who notes that they hardly ever give items five stars on Amazon, says "this bench is so much better than anything else on the market for its price range. Amazing, light weight, super sturdy, comfortable cushions and super easy to assemble." Many other customers mention how "easy" it is to assemble, store, and adjust this bench, including one who says it has taken their home workouts to the next level: "I'm 5'11, weigh about 180 lbs. and I had no issues with it wobbling or not being able to hold my weight/height. I even do ab exercises with it by putting it in the recline position and propping my feet up on the bench. Now I have no excuses to get my workouts in."
Best gym-grade weight bench
With over 2,700 five-star reviews, this Bowflex weight bench gets top marks for sturdiness and stability. One reviewer describes it "like anything you'd find in a gym," adding, "Wow. What a bench. Now, I've only been using this bench a couple times, but I get the impression that it will last me for a very long time, or at least accommodate my P90X needs." Another writes, "sit-ups are made easy with this bench as well. Just had a coregasm on this bench a few days ago and the experience is, oh, my god." One reviewer admits he's "super anal when it comes to equipment," but was "pleasantly surprised by the quality and engineering of this beautiful piece of equipment," concluding, "When I pulled it out of the box I was like Wow it's so nice. It's just so rare nowadays to not only get what you pay for but to actually be blown away with the quality."
Best foldable weight bench