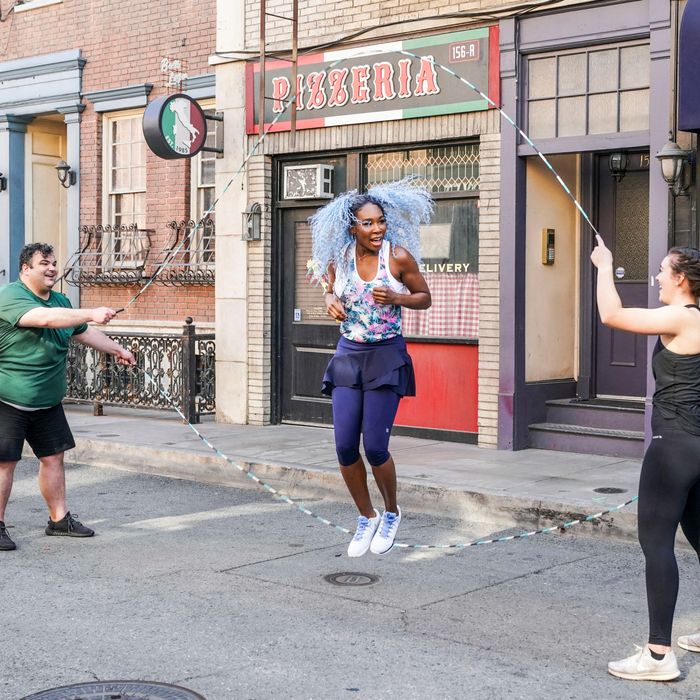 Photo: Sonja Flemming/CBS via Getty Images
For a heart-pumping at-home workout that requires minimal equipment and space, you can't beat jumping rope. As personal trainer Mark Sayer explains, it's the ideal small-space workout (whether you're in your living room or a hotel once travel is a thing again) and easy to get creative with by mixing in single-leg hops, side-to-side "slaloms," and other moves. According to Hari Singh, owner and general manager of CrossFit NYC, jumping rope is more than just good cardio: "Anyone can jump up and down, and anyone can swing a rope around," he says. "The challenge is doing those two together, which involves coordination and accuracy. It's not simply a physical challenge, it's a neurological challenge." Because of that, Sayer says, jumping rope can become more of a game than a workout. "You have to use so much coordination, you don't think about how hard you're working," he says. Jumping rope is still relatively easy to master, though, especially if you're using the right rope for you.
While you might be inspired by experienced jumpers who are whipping the rope around at lightning speed and doing double-unders (a move popular in CrossFit where the rope passes underneath your feet twice in one jump), if you're just starting out you'll want to avoid so-called "speed ropes" and stick to slower moving ones that'll make it easier for you to nail down the movement. Below, five fitness professionals share their picks for the best ropes for beginners, as well as for those who are more advanced and looking for a bigger challenge.
Best jump rope for beginners
Samantha Orme, owner and lead coach at CrossFit Virtuosity, tells us that this smooth-turning rope is her favorite for beginners. "It's heavy enough that you get some feedback, but light enough that it's not too tiring to turn," she says. Plus, the rope's length is adjustable and can accommodate anyone up 6'5". Although your height will help determine the proper length for you, when you're first starting out, a longer rope is good because it provides a slower rotation. You can start off with big, more forgiving circles and shorten the rope as your jumping gets quicker and more precise. The Buddy Lee rope is a good option when your technique improves, too. Sayer has had his for nearly a decade and says it's still in great shape. "You would never necessarily outgrow this rope," he says, adding that its longer handles are helpful when you're ready to try out new moves like crossover jumps.
Best budget jump ropes
If you want to test the jump-roping waters without dropping a lot of cash, Orme likes this affordable "licorice-style" rope. It lacks the sleek ball bearings that make more expensive ropes turn faster, but for beginners Orme says it "works totally fine."This is the rope she buys for her gym, and she likes that it comes in several different lengths, from a 7-foot rope for kids to a 10-foot rope for those above 6'2".
This budget-friendly, adjustable-length jump rope comes recommended by Keegan Draper, a fitness specialist at Mindbody. Since it's made with lightweight rubber cable, he admits the rope won't be as durable as a more expensive one but still calls it "a simple, basic jump rope to get the job done." Plus, he likes that it's "easily adjustable for all heights," and has comfortable foam grips.
Best speed jump ropes
As you become more advanced, Orme says you'll want to switch to a "faster, lighter rope to minimize shoulder fatigue for higher volume jumping." Singh explains that these faster ropes — known as speed ropes — get their quick turnaround from fine ball bearings that minimize friction as the rope turns in the handles. He says this allows the rope to move faster relative to the speed your hands are moving. Orme likes JumpNRope R1 speed ropes because they're "affordable, turn smoothly, and are pretty easy to size." (You need only a screwdriver to adjust the length.)