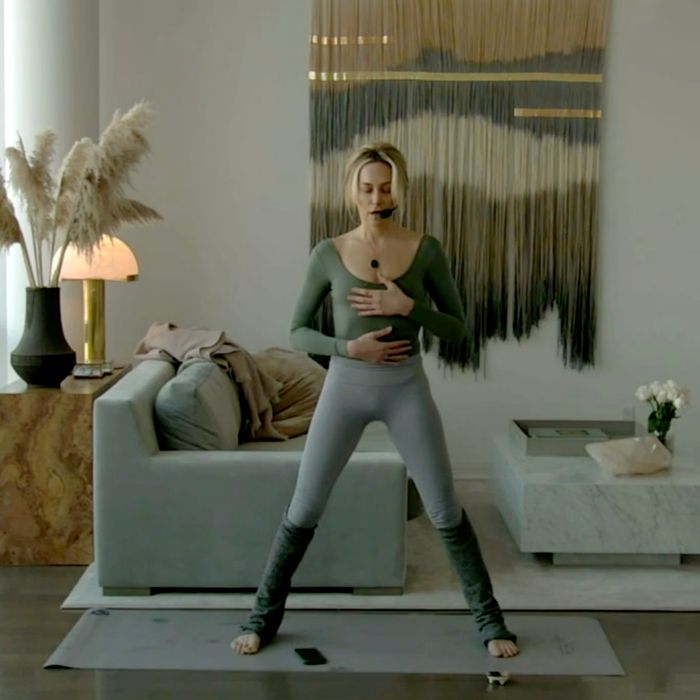 Many pre-coronavirus activities can't be reimagined for quarantine, but working out has seamlessly transitioned into an inside-only activity. People have created their own home gyms with everything from free weights and resistance bands to serious hardware like Peloton bikes and fitness mirrors, and workout studios have quickly pivoted to bringing their in-class experiences home. For instance, until this year, The Class by Taryn Toomey — a cult-favorite mat-based fitness program that counts Jennifer Aniston and Gisele Bündchen as fans — was in-person only. But now, like many other boutique studios, it's available digitally (for $40 a month, after a 14-day free-trial period). Below, Toomey shares everything she uses before, during, and after a workout at home — all of which, we should note, would be helpful for a variety of exercise regimens in addition to hers.
"I think it's much easier to get my system going while exercising when my body's not working on digestion. So I take L-Carnitine, an amino acid that helps push your stored fat into your mitochondria (which are like a furnace for fat), 20 minutes before I exercise. I've been using it for like 15 years. I use the gel packet. I think that anything that's a liquid or gel processes much faster and cleaner than a pill."
"If I need some energy and feel like my system needs a bit of fuel, I'll put some MCT oil in my coffee, because it's not a heavy, dense food that my stomach has to digest — just a quick source of energy."
"Burning palo santo before I workout is a personal ritual. When I light it, it's a cue to my body and my mind that I'm about to step in. I do it before I meditate, too. It just feels very grounding, earthy, and very comforting, which is helpful since we step into these practices and we intentionally create discomfort."
"Two reasons why I use this: It's thick and it's super-sticky on the ground."
"This speaker is key for me. Music can really drive a workout, so the louder you can get it, the better, in my opinion."
"I think it's healthier for the body to warm when it moves, and I strongly believe in the power of purifying the body with sweat. So if you're going to move and activate your heartbeat and get your system going, I recommend supporting it with some external heat so you can purify yourself, your organs, and your skin. I have the ability to just turn the heat up on my wall, but if you're in an apartment that doesn't have that, I recommend buying a space heater and having it next to you. We use the Dyson ones in the studio."
"Selenite is a protective stone and it's supposed to shield a human or their space from outside influences. It can clear and it can open; sometimes it's used for good luck. I just feel calm with it — that's why I use it. It creates a sense of peace inside me. I have a selenite wand and I just place it in front of my mat. People also will move selenite wands all around their body — under the armpits, around the heart, around the crown. The thought is that it helps support clearing the physical."
"I think a journal is super-important, especially in these times. I have two I've been using. We've been conditioned to go to our phone immediately after an experience, which is why I put it next to my mat before I workout — if the journal is right there, afterward, I can just turn to it and brain dump before I'm sidetracked by emails, texts, the thing on social, or whatever else has come through while I'm working out. And whatever comes through during a workout — a new feeling, a new thought, an epiphany, an awakening — you can just write it down."
"I created this soak with Pursoma; it was intentionally made for use after The Class, but you can use it after any workout. There's Epsom salts in there, to draw things out of the body and help with cortisol levels. There's also a bit of lavender in it, and white pine and spruce, which are grounding scents. Each bag also has a special intention stone — people used to joke about it, calling the bags the Cracker Jacks of wellness. What I like to do is dump this in a warm bath and then, while I'm soaking in it, rub some regular Epsom salts in my hands and apply it to my body where there are lymph nodes, to help draw any toxins out. I'll rub it in my armpits, around my throat, my inner groin, the inner edges of my ankles, and just sit in the bath and allow it to do its thing."
The Strategist is designed to surface the most useful, expert recommendations for things to buy across the vast e-commerce landscape. Some of our latest conquests include the best acne treatments, rolling luggage, pillows for side sleepers, natural anxiety remedies, and bath towels. We update links when possible, but note that deals can expire and all prices are subject to change.