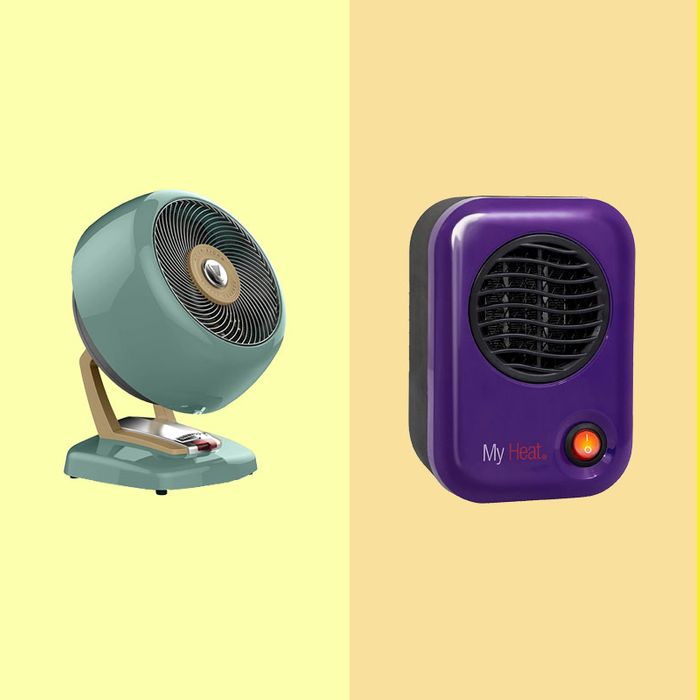 When winter descends, there's only so much wool socks, slippers, and fuzzy fleeces can do — especially if the heating in your building hasn't been switched on yet. To help you cope, we've rounded up the best space heaters to keep your home office, garage, or even boyfriend's bedroom warm. Once you've chosen yours, be sure to carefully read the safety manual. You'll want to keep it "at least three feet away from anything that can catch fire — clothing, papers, bedding — and make sure you're plugging it directly into the wall, never a power strip or extension cord," says Alexander Hoehn-Saric, chair of the U.S. Consumer Product Safety Commission. It's also key to find a "stable, flat, nonflammable surface — you don't want it to be knocked over unintentionally."
Best overall | Best tower | Best quieter | Best compact | Best stylish | Best infrared | Best oil | Best outdoor
Heating style: A ceramic space heater works by heating up a ceramic plate and uses a convection fan to distribute this warmth outward. If you're sitting close to it, this style of heater will provide a more immediate effect compared with the slower burn of an oil-based one. The trade-off? A noisy fan and higher energy consumption. Oil-based heaters will eventually succeed in heating up a larger space for longer periods.
Efficiency: We've noted the output and thermostat settings of our heaters so you can buy the best one for your particular space. Many of our picks have adjustable thermostats or fan-only settings that will use less power. Just note that while space heaters can provide comfort when central heating systems fail, they likely won't save you money unless used sparingly. "There's no such thing as an energy-efficient space heater," says Michael Thomas, the founder of Carbon Switch. "The only scenario where a space heater is ecofriendly or energy efficient is when it's used to reduce the amount of energy a central heating system uses. For example, you might want to warm up just one room or a small section of a house. If doing so means turning off the central heating system, then it might save energy."
Safety features: Although the CPSC offers guidelines for safely utilizing space heaters (as well as an archive of products recalled for safety issues), it does not enforce any mandatory safety features. Instead, Hoehn-Saric explains, "there are voluntary industry standards" that some manufacturers will choose to meet. Two U.S.-based independent laboratories, Underwriters Laboratory (UL) and Intertek (ETL), assess heater safety, and products approved by these labs will be advertised as such. "When you see the markings of an accredited laboratory, you know that that product has been manufactured to those standards," Hoehn-Saric advises. "So if you're buying a new space heater, look for those markings." National Fire Protection Association communications manager Susan McKelvey told us the same thing: "Our only general guideline for buying a space heater is to check that it bears the mark of an independent testing laboratory, which ensures that the product meets established safety standards."
Best overall space heater
Convection ceramic | ETL listed, cool touch, overheat protection, tip switch | 1,500 watt, adjustable thermostat
Ideal for small rooms and single-person use, this space heater is affordable, portable, and plenty warm. Its highly adjustable thermostat offers 11 temperature settings, and the fan strength is adjustable, too, which allows volume control. This heater has both overheat protection and a tip switch — though, being compact in form, it's less likely to topple than larger models. If you're looking for a space heater to take the edge off for a few hours when your radiator isn't doing the trick, this one is safe and efficient.
Best tower heater
Convection ceramic | Cool touch, overheat protection, tip switch | 1,500 watt, adjustable thermostat, timer
Better for medium-size rooms, this oscillating heater has not been independently lab tested but did receive an unusually high safety score from Consumer Reports. It offers conveniences like an easy-to-read digital display, a remote control, and a timer. Rotating fans (with two adjustable settings) will distribute heat effectively around your room, and they do so very quickly. It will shut off automatically in the case of overheating and features a tip switch — unlike Lasko's very similar tower heater.
Best quieter heater
Convection ceramic | UL listed, overheat protection, tip switch | 1,500 watt, adjustable thermostat, timer
For a little more money than our best overall pick, this compact Vornado offers powerful yet quiet convection heating with a minimalist aesthetic. It comes recommended to us by Bethany Lyons, the founder of Lyons Den Power Yoga. Compared with those by other brands she's tried, she says, Vornados are longer lasting, quieter, and even more aesthetically pleasing. And while some people doing hot yoga at home will use several small heaters at once, this one is powerful enough to heat up your whole room.
Best compact heater
Convection ceramic | ETL listed, cool touch, overheat protection | 200 watt
A cute little under-the-desk buddy, this mini space heater is essentially a smaller and more colorful version of our best overall pick above. While it definitely won't warm up the room, it's great for keeping your feet or hands toasty.
Best stylish heater
Fan | UL listed, overheat protection, tip switch | 15,00 watt, low and high settings
Most space heaters, we must admit, are rather ugly. Resembling a mid-century desk fan, this retro-styled Vornado is an exception, and it's also highly effective at warming up medium-size spaces. The heater uses a quiet fan to gently move warm air around the room, and it features both overheat protection and a tip switch. Set it up next to your Eames recliner and enjoy a cozy reading session.
Best infrared heater
Infrared | UL listed, overheat protection, tip switch, 12-hour automatic shut-off | 1,500 watt, low and high settings
Hot-yoga instructor Nicole Katz stands by infrared heaters as more effective at warming up entire spaces than ceramic ones. She says this under-$200 one is a "solid choice" that even has a built-in humidifier, which will keep your skin from drying out and add a dose of extra-cozy comfort even if you're not setting up a home hot-yoga studio.
Best oil space heater
Oil | Overheat protection | 1,500 watt, adjustable thermostat
Oil heaters work by gradually warming up oil then radiating that heat outward. They don't offer instant gratification or spot heating but will slowly heat up a large room then keep it warm all night — even after you flick the "Off" switch. This one offers a "comfort temp" button that allows you to regulate temperatures within your preferred range for long periods, and it's also sealed, meaning you'll never have to replace the oil, as you do with some older styles.
Best outdoor and RV heater
Propane | Tip-switch | 9,000 BTUs 
For cozy evenings on the porch or stoop or even cold nights in the RV, you can't beat a Mr Buddy. This propane-powered heater is beloved by outdoor experts for its affordability, ease of use, and toasty, radiant heating power. According to the manufacturer, if run on high, a one-pound propane canister can power the Buddy for up to three hours; on a lower setting, you'll get more like five. Strategist editor Maxine Builder is a fan of Mr. Heater, saying it "puts out serious heat" and is a cinch to use: "All you have to do is screw on the propane canister, click the pilot light on, and once it catches, set it to either high or low." She finds it so effective and easy to use that she "convinced my boyfriend's mom to buy two more for outdoor hangs." Michael Dean, an outdoor-living consultant and the founder of Pool Research, says it has "a nice carrying handle and can easily heat up a patio or be placed on a tabletop." It's also "plenty warm if you have three or four folks around it."