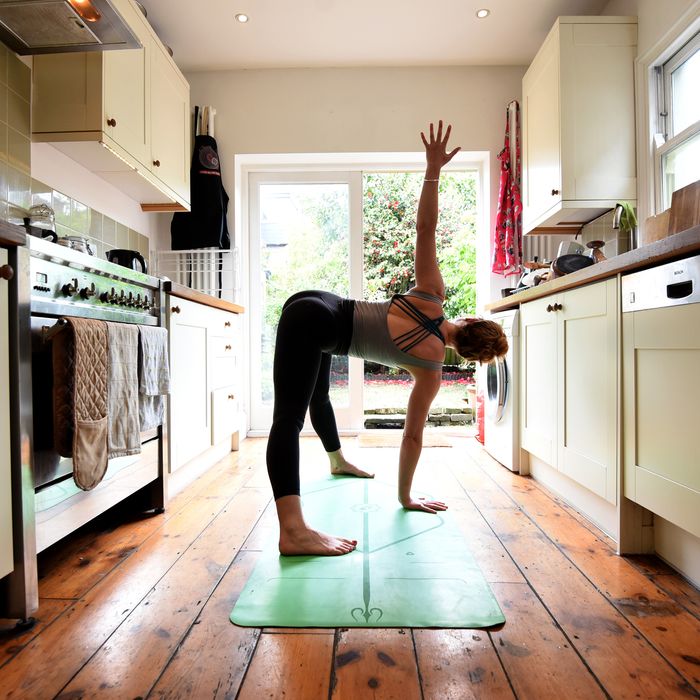 Maybe if she opened the oven?
Photo: Kate Green/Getty Images
It's been nearly a year since indoor group-fitness classes closed in New York City because of the pandemic, and although some gyms are open again at reduced capacity, workout fanatics have had to find lots of ways to safely replicate the in-person experience. Dance-cardio fans took to shaking it in parks and on rooftops; cyclists bought Pelotons and other indoor bikes to clip-in remotely; and weightlifters stocked up on kettlebells to follow along with strength-training classes on Zoom. While it's easy enough to unfurl a mat and livestream a vinyasa class from your favorite yoga studio's website, if you're a hot yoga devotee, you've probably found it a bit more difficult to duplicate the feel of your sweltering studio.
A recent New York Times article detailed the extreme measures some yogis are taking to achieve the studio heat at home, such as continuously running a hot shower to create humidity or buying dedicated hot-yoga domes, starting at $850. No matter how much you miss the hot room, though, Bethany Lyons, founder of Lyons Den Power Yoga, doesn't recommend investing in an expensive, gimmicky gadget. "It seems like so much of a hassle to put up, take down, and clean, and so much wasted space," she says. So what should people use instead? To find out, we asked Lyons and three other hot-yoga instructors and studio owners for more affordable (and sustainable) ways to sweat it out at home.
Best infrared heaters
Donna Rubin, co-founder of Bodē NYC, explains that when you do yoga in a hot room, your muscles are more flexible, and your heart rate increases so the workout becomes more challenging; the heavy sweating can feel "euphoric," like a runner's high. Most hot-yoga studios are between 85 and 105 degrees, but Rubin says even if you can't get your room that hot, you'll still benefit from whatever heat you can make. For best results, Tom Salshutz, co-founder of New York Yoga, says to select the smallest possible room in your home, where it will be easiest to manage the temperature.
Several yoga instructors we spoke with recommended infrared heaters, which are used in lots of hot-yoga studios. Instead of blowing hot air, infrared heaters emit heat waves that your body and other objects absorb just as they would the rays of the sun. Lyons says they create "even" heat without the "pockets of cold" you might get from traditional heating systems. Infrared heaters are quieter, use less energy, and heat spaces faster than space heaters, but they tend to be much more expensive. If you're willing to make the investment, Lyons likes the plug-in options from Heating Green. They're more affordable and easier to use than infrared heating panels, which have to be installed in your ceiling or walls. (This one actually comes with mounting equipment, should you eventually want to make it a permanent fixture.) It's powerful enough to heat 50 square feet, more than enough room for you and your mat.
Hot-yoga instructor Nicole Katz agrees that infrared is the way to go. If you're looking for a more permanent solution and have a dedicated yoga room at home in which to install a heating panel, she recommends the ones from Herschel.
Katz says this under-$200 infrared heater is a "solid choice" for small spaces. It also has a built-in humidifier, so it may be all you need for your hot-yoga setup. "In terms of humidity, this is where we can help ourselves work up a good sweat," says Katz. "It makes the 'feels like' temperature even higher." Even if you can't get your room up to 100-plus degrees, a humidifier can help you achieve a humidity level between 40 and 60 percent, which is what you'll find in most studios.
Best space heaters and humidifiers
If you don't have the budget or space for an infrared heater, Lyons likes this compact, under-$100 space heater from Vornado. Compared to those by other brands she's tried, she says, the Vornado heaters are longer-lasting, quieter, and even more aesthetically pleasing. While some people doing hot yoga at home will use several small heaters at once, this one is powerful enough to heat up your whole room. Salshutz also uses a Vornado and agrees that it's "nice and quiet."
For a heater that's nice-looking enough to keep out even when you're not doing your asanas, Vornado also makes this vintage-style one, reminiscent of its popular mid-century fans.
With its "huge coverage area," Katz says this large humidifier should easily do the trick in a small space. It has a digital display, so you can monitor the humidity level, and a sizable 3.6-gallon tank that you won't be constantly refilling.
Best mats and towels
When it's hot and humid, you'll want a yoga mat that won't turn into a Slip 'N Slide when that first drop of sweat falls. Lyons recommends the Gaiam Dry-Grip mat, which is coated with a quick-drying top layer that wicks away moisture. Instead of getting slippery, it maintains its "stickiness," so your hands and feet can stay grounded. "I just love the feel and grip of this mat," she says.
Lyons also likes the Jade Harmony mat, which is made from an extra-grippy rubber. She says it's a long-lasting mat with "zero floor slippage," and Katz calls it a "tried-and-true favorite."
Rubin recommends this mat from Kulae, which has "little grooves" along the surface that make it less slippery. She also likes the brand's towels, which are designed to perfectly fit over its mats.
Most hot yoga instructors recommend adding a towel to your mat for extra traction. Because you can easily toss the sweaty towel in the washing machine after your practice, it also helps keep your mat clean and prolong its life. Lyons says these towels, which are made in Los Angeles by a small business, are "stellar" and "last forever."
With silicone nubs that grip to your mat, the Yogitoes towel is specifically designed to stay in place, no matter how much you sweat, making it a favorite of both Katz and Salshutz. It's also the preferred non-slip towel at Y7 Studio.
Best water bottles
Since you'll be sweating a lot during your hot yoga sessions, it's important to stay hydrated. You'll probably be more motivated to drink your water if it's cold and refreshing, so look for a bottle that will keep water cold even if your room is hot. Salshutz calls the vacuum-sealed Yeti the "Cadillac of water bottles."
Both Katz and Rubin like Hydro Flask insulated bottles for keeping their water cold. Rubin says they're "the most popular ones out there" in the hot-yoga world. The powdered-coated exterior makes the bottle easy to grip, too, even if your hands are sweaty. For other stainless-steel, insulated options, Katz also likes the MiiR bottle, and Salshutz recommends S'well.
Lyons prefers a classic (and budget friendly) Nalgene bottle for her classes. She likes that it has a wide mouth, which allows her to fill it with ice and slices of lemon or lime for added electrolytes. "As class goes on, the ice melts and the water stays cool," she says. "It's also a bonus to have the cold droplets of condensation fall [on your skin] when your body is so hot."
The Strategist is designed to surface the most useful, expert recommendations for things to buy across the vast e-commerce landscape. Some of our latest conquests include the best acne treatments, rolling luggage, pillows for side sleepers, natural anxiety remedies, and bath towels. We update links when possible, but note that deals can expire and all prices are subject to change.