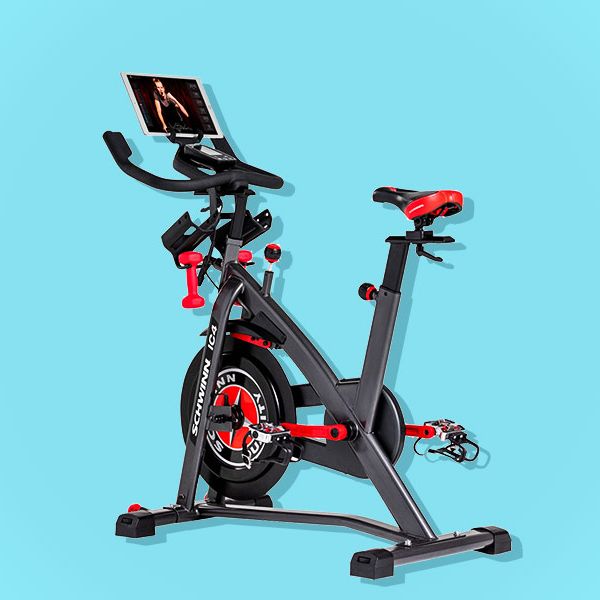 Peloton bikes may be beloved, but with a price tag over $2,000, they're not exactly accessible. Since home workouts are still the norm for many of us, we asked two writers and fitness buffs to tell us about their favorite Peloton alternatives. As it turns out, they like the same bike. Although the Schwinn IC4 and the Bowflex C6 have different names, different branding, and, in many cases, different prices, they share a parent company: Nautilus. In fact, mechanically speaking, they are the exact same bike. And according to our experts, that bike is very, very good.
Update: We also found a third bike that is even less expensive and offers an excellent workout, if you don't need the extra bells and whistles. We've added that review to the end of the story.
The longtime indoor cycling fan
I've been spinning since the small gym I went to got its first Schwinn Johnny G spin bike in the mid-'90s. I've ridden bikes to nowhere an average of twice a week ever since, from rusty old ones in church basements to the bikes in $40 SoulCycle classes. Pre-pandemic, I was doing most of my spinning on a free communal Peloton bike in my building's workout room. When that was no longer an option, I tried a handful of apps and streamed classes in things like strength training and yoga. But after a few months, I really missed working out on a bike and started doing some research.
Instead of splurging for a Peloton, I bought Schwinn's IC4. Aside from the much lower price, the real appeal for me is that non-Peloton-owners can stream all of Peloton's content via the Peloton app, including live classes, for just $12.99 a month. (The company charges its bike owners $39 monthly for the same content: A Peloton spokesperson told me that this is because owners have access to more "performance data," since the bike connects directly with the hardware, and that multiple users in the household can have an account. But those things, combined with the steep price tag on the bike, just weren't worth it to me.)
Like Peloton, the IC4 uses magnetic resistance, which results in an incredibly smooth and quiet ride. The bike is ten inches shorter in length than the Peloton, making for a more compact footprint. The seat and handlebars have four-way adjustment, moving up and down and forward and back. I'm five-foot-five, and my teen son is five-11, and we both feel comfortable on it.
The IC4 offers 100 levels of resistance, as Peloton does, though the levels aren't equivalent — a 25 on a Peloton, for instance, is not the same as a 25 on the IC4. Owners have done conversion calculations, and enterprising Etsy creators have even made attachable conversion plates to stick on the bike so you can dial in the equivalent resistance when instructors call it out.
You'll need to supply your own phone, iPad, or smart-TV hookup to stream classes. (I use an old, cracked iPad.) There's a built-in holder on the handlebars, a USB outlet for charging, and an arm-strap heart-rate monitor. You can connect the app to the bike via Bluetooth to get a cadence display, and for riders who really want hard-core data and power output, there are countless threads in the Facebook group about how to Frankenstein a setup using apps like Kinetic and Wahoo.
The only caveat to the IC4 is the pedals. They're dual-sided, allowing you to clip in with bike shoes or slip regular shoes into cages, which is convenient, if a little clunky and inelegant. But some users complain about the pedals falling off or loosening (which the company insists is a user-assembly problem). I haven't had any issues with mine, but, for what it's worth, my husband, a bike guy who's quite handy, helped with assembly.
Like a lot of hot home-fitness equipment, the IC4 isn't easy to buy at the moment. You can order directly from Schwinn, but the wait time is dragging out into months despite the company's increasing its factory capacity by 500 percent. I snagged mine on Amazon for $799, thanks to a Facebook tip, but I haven't seen the IC4 available there for weeks. At press time, it seems to be in stock at Dick's, but only for pickup; Best Buy has the bike listed at $899, though availability may be limited, depending on where you're based.
— Cheryl Wischhover
[Editor's note: the IC4 is now available and ready to ship on Amazon for $900.]
The indoor cycling convert
Before COVID, my daily routine as a work-at-home mom was strict: kid drop-off, coffee, and a beeline to the Brooklyn Dodge YMCA for an HIIT or Zumba class. Then lockdown hit.
I'm a New Yorker and an apartment dweller; I do not have a backyard, garden, or deck to stream Zoom workouts or Instagram yoga. I have to stay away from treadmills because of knee problems, and I don't have enough space for a bulky piece of equipment like an elliptical. But an exercise bike with wheels could be easily transferred from the bedroom, where it would be stored, to the living room, where I could ride it. I just needed to find the right one. After a couple of hours of online research, I had it: the Bowflex C6.
Despite any appreciation I may have for those slick Peloton ads with the happy ladies cycling in their glass-encased skyscrapers and French farmhouses, that bike's price meant it was never an option for me. The much more affordable C6 delivers an open-platform, Bluetooth-connected fitness experience with a high-performance build. It comes with free shipping and two three-pound weights to do arm exercises while biking. [The Schwinn also includes three-pound weights.] And while it doesn't have the fancy, 22-inch touchscreen that Peloton provides, you can use pretty much any phone or tablet to connect and stream classes. The bike itself needs to be assembled, and though my husband and I are not the handiest of folks, we managed to put it together with minimal effort.
You can connect to a handful of apps, including Bowflex's Explore the World as well as Zwift and Peloton. Explore the World offers lovely paths to follow but nothing that would help get me psyched to ride hard, while Zwift was way too complex for me. Instead, I downloaded Peloton, which offered a 90-day free trial during lockdown (it's now down to 30 days). The app has live and on-demand classes for everything from strength to yoga and stretching to cycling.
For my first ride, l confidently chose a 45-minute advanced class. After all my time at the gym, I figured I could handle it. Halfway in, I thought I might die — like, have a heart attack right there on my brand-new bike. That taught me an important lesson: I've always thought that to get in a truly good workout, you have to go to the gym, but this bike showed me right away that wasn't the case.
Although I've now built up the stamina to do a 60-minute class, I often opt for a high-energy 30-minute class and supplement it with a 20-minute strength class and a 10-minute core class from the app. If I'm short on time (or motivation), I'll hop on the bike for a quick 15- or 20-minute ride. My kids like it too. My 14-year-old sticks with the hip-hop rides, and my 12-year-old follows along with a football pregame ride. They end up just as sweaty and worn out as I do.
After using it for nearly seven months, I still haven't exhausted the possibilities for the app. It'll definitely keep me going until I can finally be back in the gym Zumba-ing in a once-again safe and crowded room.
— Tobey Grumet Segal
Bonus! The casual biker engaged to a cycling fan who needed a way to stay healthy
When it's nice outside, my fiancé bikes everywhere. He commutes to work on his bike, grocery shops on his bike, and on weekends he goes on rides up to 20 miles long. My workout routine is not nearly as intense (a little Yoga With Adriene here, a little biking on errands or to meet friends there). Having canceled our gym memberships during lockdown, both of us had been relying on the outdoors for regular cardio, but once it started to get cold, that couldn't last. We were about to buy the Schwinn IC4 when we discovered the IC3, Schwinn's older, but still quite capable, indoor bike for only $600.
The IC3 is somewhat bare-bones compared to the IC4, but for us, the extra features were not worth the extra $300. Like the IC4, the IC3 has double-sided pedals so you can use sneakers or clips, and it's fully adjustable. One big difference between the two is that, instead of magnetic resistance, the IC3 uses flywheel resistance. It's louder, but not so loud that it's a distraction, and I actually kind of like the feedback of the slight whirring sound it makes when you really push yourself. We bought an exercise pad to go under it that also dampens any noise and makes that area of our bedroom feel like a tiny gym. While the bike doesn't have Bluetooth and can't connect to apps directly, you can still follow along with the Peloton app for an excellent workout.
We have our bike set up to face the TV so we can either watch a show or do a Peloton ride. The IC3 monitor shows RPMs, which helps you match your cadence to the instructor, although you do have to watch it carefully since the screen alternates between RPM and speed. There are no specific measurements for resistance; you just turn the knob to the right to increase it and to the left to decrease it. This means you're flying a little blind when it comes to following instructors. Online forums suggest testing the knob to see how many small turns it takes to get from the lowest to the highest resistance and then figuring out how many of those turns you'll need to go from say 20 to 30 in Peloton resistance, but that is more effort than I'm willing to put in. For now, I go by feel and try to match my effort level to the instructor's. When he's not doing a Peloton ride, my fiancé rides to action movies using the adrenaline rush of battle scenes to hype him up. He says he likes the bike so much that on mild winter days when he could go for an outdoor ride, the draw of the IC3 is enough of a temptation to keep him in.
If you're very serious about your rides, this is not the bike for you. But as someone who just discovered Peloton and spin in general, I've found it to be a game-changer. Whether I'm biking to an episode of Bridgerton or to a 20-minute Beyoncé ride, I still end up working up a good sweat — and having a pretty good time.
— Liza Corsillo
The Strategist is designed to surface the most useful, expert recommendations for things to buy across the vast e-commerce landscape. Some of our latest conquests include the best acne treatments, rolling luggage, pillows for side sleepers, natural anxiety remedies, and bath towels. We update links when possible, but note that deals can expire and all prices are subject to change.