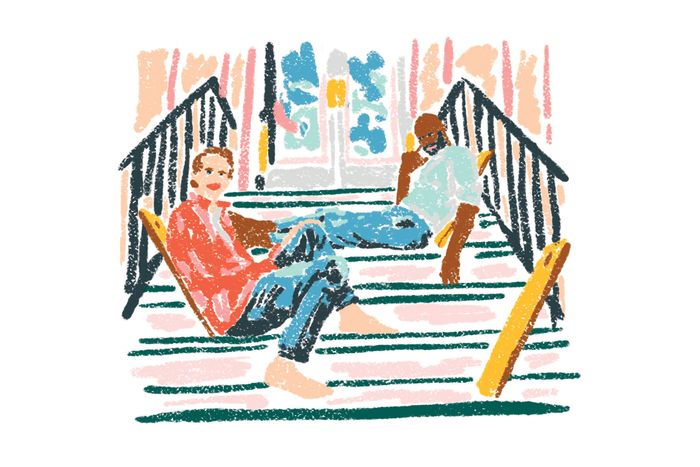 Most city-dwellers are not in possession of palatial backyards, let alone any proper outdoor space to call their own. As temperatures rise and it becomes more difficult to find a socially distanced spot in the park, many are looking for ways to put their rusty fire escapes and unfinished roofs to use. Here, ideas on how to transform even the bleakest of spaces. [Editor's note: Before getting started on your own setup, be sure to consult your local fire, safety, and building regulations.]
Create a Backrest out of Plywood
"My family wanted to be able to sit on our stoop without the iron rail digging into our backs. So we cut some plywood with a saw into 24-by-9-inch boards to use as backrests. We call it the Stoop Sit." —Chris Mitchell, former chief business officer and publisher at Vanity Fair
Turn the Handrail Into a Trellis
"Plant trumpet vine or climbing hydrangea in a large planter (at least a foot high), then tie a piece of the vine to the handrail with twine to get it to grow around the rail." —Krissie Nagy, owner of BK Bumpkin
Put Out a Picnic Table — and Suggest Your Neighbors Do the Same
"Years ago, we got a pine picnic table and have used it for meals on our front stoop since. Recently, four of the houses next to us did as well; now, we often eat at the same time." —Dan Pelosi, creative director
If You Have a Fire Escape:
Design a Deep-Fryer Station
"A friend put a deep fryer out on the fire escape with an extension cord so she could make fried chicken without it stinking up the house. A tiny hibachi is great too — you can barbecue right outside your window." —Young Huh, interior designer
Lay Down AstroTurf
"AstroTurf-esque grass just makes it a little bit nicer to lie out on. I measured the fire escape, cut the grass to size with scissors, and laid it down. Done. Took me five minutes." —Rod Thomas, singer-songwriter-DJ
Hang a Hammock
"Attach a hammock chair to the corners of the fire escape above — choose the ones that are closest to the building so you have a safer distance from the edge."—Chiara de Rege, interior designer
Install a Handrail Table
"A tuckaway, balcony-mounted tabletop is a perfect thing to latch to the rail on your fire escape — you can pop it up for impromptu dinners or drinks, then put it back down when it's not in use." —Ming Thompson, co-founder of Atelier Cho Thompson
Fashion a Makeshift Daybed
"I lay out my cozy duvet cover and some comfy pillows so I can take an hour or two to meditate or soak in the sun every day. And my husband turns the window into a to-go bar and passes me margaritas." —Dariana Perez, blogger
If You Have an Unfinished Roof
Host a Buildingwide Film Series
"For the screen, we used thick fabric I bought from Mood, which we punched holes into and attached to two lighting poles with zip ties. Then we bought a Crenova projector and a Harman Bluetooth speaker. Everyone brings up their own pillows and soccer-mom chairs and popcorn. Our inaugural screening was Clue; every week, a different apartment nominates a movie." —Jeffrey Vizcaino, media producer
Assemble an Outdoor Office
"Make a bench that's safe for outside use — it's really easy. All you need to do is buy four concrete cinder blocks and two long two-by-four-inch pieces of wood. You can bring your laptop and sit up there and work." —Jared Blake and Ed Be, founders of Lichen
Lay Down Lots of Rugs
"I attached dozens of six-by-eight-foot outdoor rugs from Home Depot to the roof with a spray adhesive — it made the space feel so much more intentional." —Kiel Wuellner, home stylist
*A version of this article appears in the June 8, 2020, issue of New York Magazine. Subscribe Now!