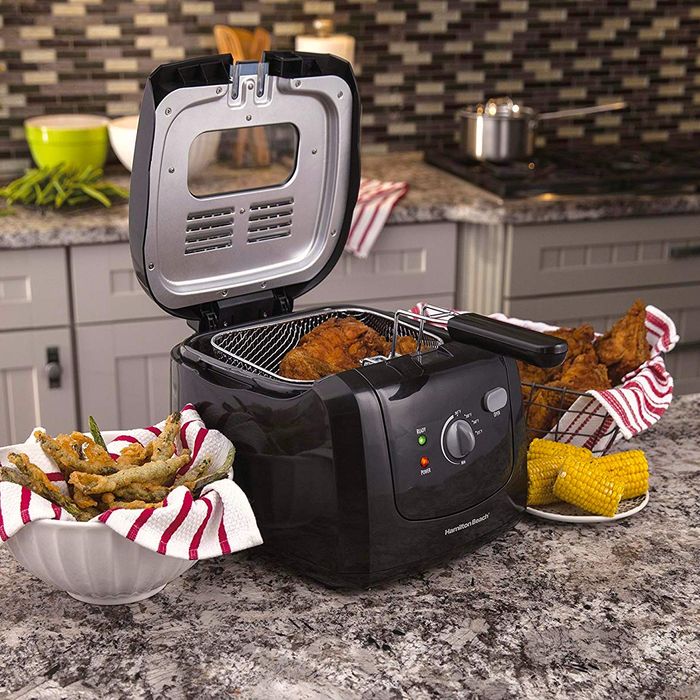 Here at the Strategist, we like to think of ourselves as crazy (in the good way) about the stuff we buy, but as much as we'd like to, we can't try everything. Which is why we have People's Choice, in which we find the best-reviewed products and single out the most convincing ones. (You can learn more about our rating system and how we pick each item here.)
And while we've written about the kitchen appliances before — including the best air fryers, the best pressure cookers, and even the best Instant Pot accessories — here we've rounded up the best deep fryers, as praised by the most enthusiastic reviewers on Amazon.
Best-rated deep fryer
Of the thousands of positive reviews many said that they loved how easy this fryer is to clean. One reviewer said, "The best part is the automatic filtering and built-in storage for oil. After letting the oil cool, I hand wash the heating element and just put the basin, basket, and lid in the dish washer." Another reviewer liked how this fryer helps you keep from wasting oil by filtering out dirty oil from oil you can use again. "I use refined coconut oil which can be expensive so the fact that I can reuse the oil several times over is awesome." And this reviewer reiterated that point. "This fryer saves oil (money) and solves the storage problem after using it."
Best-rated (less expensive) deep fryer
Reviewers like that this fryer heats up quickly and is easy to use when you need a quick snack. "Although we know that fried food isn't the healthiest choice, once in awhile it is a tasty delight! We love to fry clams and shrimp, French fries and a few other items. It's easy and safe to use and has an oil well, so the clean-up is really not bad." Another reviewer who also appreciated the easy clean-up said, "I like that it doesn't take up a lot of space. The lid is great for when you want to reuse the oil another time and the cleanup is very easy." This repeat customer liked it so much she has bought a total of four FryDaddy: "This is my fourth one. I would be lost without one."
And now for some micro-picks for every type of deep fryer you might be looking for.
Best compact deep fryer
"Pretty simple clean-up and doesn't take up too much counter space like most fryers that are bulky and ridiculous." said one reviewer who used it to fry chicken fingers. Another happy shopper said that this is the perfect couple's fryer. "Great little fryer! Almost impossible to get splashed with oil. It is a perfect size for one to two people, too small for families. If you are single or just a couple like we are, it's great." Another reviewer called it the best fryer he's found: "The size is perfect for cooking shrimp to French fries for the family. Best unit I have found, and believe me I shopped around."
Best large capacity deep fryer
"It's great for a party or large family," said one reviewer who also mentioned that this deep fryer heats up quickly and holds its temperature. Another reviewer who bought this for her husband recommended using it to fry bacon. "My husband wanted this fryer and he's having so much fun," they write, adding, "Not sure if this will be called healthy eating, but the food tastes awesome. It's extremely easy to use and then stores away neatly on the bottom shelf in the pantry. He's now an expert with french fries, breaded pickles, green beans, and bacon." Reviewers also confirmed that it's probably big enough to fry a whole chicken: "We use it about once a month and it's been great! Haven't tried a whole chicken at this point, but I don't see why it wouldn't fit."
Best dual basket deep fryer
"I bought this for my dad for Christmas and he is in LOVE with it. The dual baskets are great for making meals like chicken and fries. He used to be a fryer way back in the day so he knows how to use this kind of machine (and he knows a good one from a bad one)," said one reviewer who was pleased with her gift. Another reviewer who was impressed by the performance and lack of food smell said "My husband was sitting just a few feet away while I was using it and he didn't even realize I was frying food until I handed him a plate." Yet another reviewer liked that this fryer is dishwasher safe. "One of my favorite features of this product is that it is all dishwasher safe, with the exception of the heating element."
Best deep fryer with digital controls
Reviewers loved the digital thermostat and timer on this fryer. "This is the first deep fryer I have ever bought. I love the digital thermostat and timer function, and our breaded shrimp and scallops came out perfectly." One reviewer also likes that it heats up quickly: "It reaches 375-degrees Fahrenheit fairly quickly and maintains it well." And as one of the few fryers around with digital controls this reviewer said it is a great deal. "Great fryer, one of the few with a digital control for the temperature, which I like. Basket is the right size and it cooks items exactly as you would want. One of the better fryer's on the market for the price."
Best deep fryer and multi cooker combo
"Our deep-fryer died, so we purchased the little 'kettle' to use while we researched another 'big' one. Well, this little sweetheart does it all." said one pleasantly surprised shopper. Another reviewer said that she has purchased this brand before and was buying this one as a gift. "I have had about four to five of these deep-frying kettles. You can cook, steam, or deep fry in this kettle. I bought this one for a gift." And like this reviewer lots of people commented on how easy and fast it is to set up and clean up. "Super easy to install and in about 6 minutes I was able to cook. It heats up real quick, the thermostat works perfectly, easy to figure out how much heat you need. Nonstick for real, easy one-minute washing out."