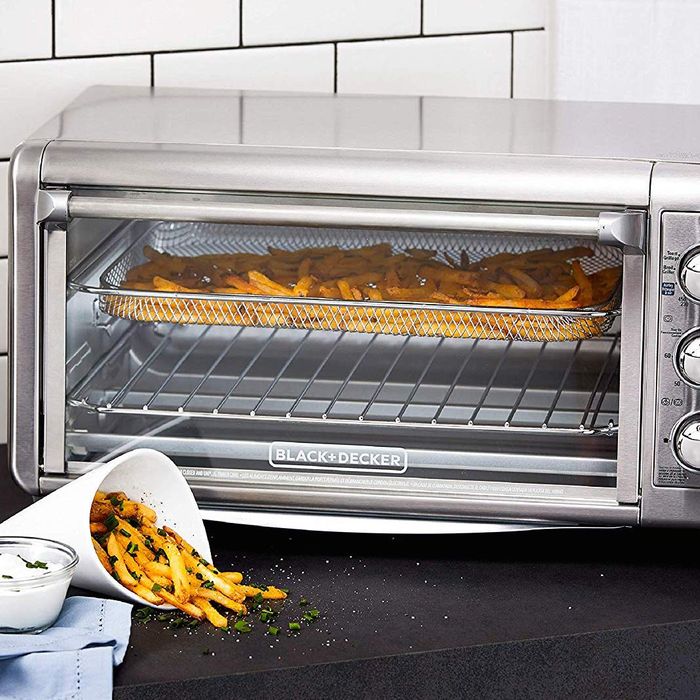 Here at the Strategist, we like to think of ourselves as crazy (in the good way) about the stuff we buy, but as much as we'd like to, we can't try everything. Which is why we have People's Choice, in which we find the best-reviewed products and single out the most convincing ones. (You can learn more about our rating system and how we pick each item here.)
And while we've written about lots of little kitchen appliances — including the best toasters, the best stand mixers, and the best smart appliances — here, we've rounded up the best toaster ovens, as praised by the most enthusiastic reviewers on Amazon.
Best-rated toaster oven
"I've had this oven for about three weeks and have baked sheet cakes, homemade biscuits, chicken, brats (the sausage, not kids), cookies, brownies and casseroles," writes one reviewer. Another says that this Breville toaster oven has "virtually replaced our traditional oven … We use this for anything that will fit. We baked a large chicken for Christmas, plus a huge cheesecake." Not only does it tackle the big things well, but many of the over 3,000 five-star reviewers say its good at traditional toaster oven duties too, like toasting bagels and "reheating those items you don't want to use a microwave for." And while about 10 percent of reviewers reference the price of this oven, many think it is worth it given how long-lasting it is. One user has already owned their Breville for nine years and wonders, "I can't wait to see how many more years this thing will last."
Best-rated (less expensive) toaster oven
"We are low tech seniors on a budget," one reviewer writes. "If you have a $50,000 kitchen, not for you. But for people like us, it's perfect." And while none of the reviewers say they are roasting chickens or cooking Christmas dinner in this thing, one reviewer points out that there's lots of things this does well: "It's a $40 toaster [oven] that toasts bread, it toasts frozen waffles, it cooks small pizzas and appetizers (think Trade Joe's), it warms leftovers, and much more via three simple and easy to use dials." Another says, "It does a great job melting cheese on open face sandwiches and toasting nuts for salads." A few point out that the temperature setting is off, but one notes, "Being aware makes this OK."
And now for some micro-picks for every toaster oven you might be looking for.
Best toaster oven for toast
"Can I give this 10 stars?" one reviewer asks. "It's everything a toaster oven should be in a compact package." While it might sound like a given, reviewers are seriously impressed by how well this toaster oven toasts bread and bagels. "We took a shot and bought this really looking for something that would toast well and accommodate larger things like bagels," one reviewer writes. "This does toast and all that perfectly." Another reviewer, who acknowledges the cost, says, "Just for the perfection of the toast alone, it's worth it." But this smart oven can do much more than toast, a fact that many reviewers also appreciate. "I have also baked cakes, brownies, potatoes, frozen pizzas, all come out perfect," they write. And about one sixth of reviewers describe this toaster oven as "small," calling out its convenient, compact size. As one sums up, "It has a small footprint, looks great in my kitchen and works like a charm!"
Best toaster oven for reheating food
Reviewers love this toaster oven for how well it reheats food, so much so that some even think of it as a microwave replacement. "Where a microwave will warm food much faster, it also tends to make some meats 'rubbery.' Not the Breville toaster oven, it warms the food through uniformly and doesn't 'change it' the [way] microwaves can," one reviewer writes. Another says that they specifically "picked this toaster oven up as a replacement for a microwave and so far, it has been the best thing I have purchased for my kitchen in a long time." One reviewer writes, "I no longer have to tolerate rubbery, soggy, uneven reheated baked items from the microwave." In addition to its ability to reheat food to the perfect temperature and texture dozens of reviewers call out the crumb tray. One says it's "a simple, but appreciated, feature that seems to be very well implemented."
Best toaster oven for baking
"This toaster oven looks great on the counter and is ideal for baking," one user writes who like others use this for both sweet and savory goods. "In fact, I prefer it over my oven. Salmon comes out moist. Pies are baked to [perfection.]" Another says, "I've only baked so far but all the foods have come out just right." This retro-looking toaster oven also gets praise for the spacious two-rack design, which allows reviewers to cook multiple items at once. "Food cooked well on both racks and it cooled down quickly when it was done," one reviewer writes. Another who says the inside is huge even writes, "It fits my 12-inch cast iron skillet, which I bake with often." Reviewers are equally as impressed with the outside appearance of this toaster oven as well. "We love this for our vintage kitchen, " one writes, while another says, "The retro design is really cool."
Best toaster oven with convection
Nearly a quarter of reviews specifically call out the convection feature of this toaster oven, praising it for how quickly it cooks. "It preheats quickly, doesn't heat up the kitchen as much as a regular oven AND it's convection so it heats fast," one writes. "It also makes toast and reheats food without drying it out like the microwave would. I haven't had a convection oven in many years and am relearning all the good points of a convection oven." Another says, "The convection feature is selectable and is quite effective, providing an extra evenness in baking while speeding up the process a bit." Others like how accurate the heat is. "The convection exact heat feature is one of the best features on this little oven," one writes, while another says, "it will also quickly come to any baking temperature you set and hold it, something most toaster ovens claim to do but most don't."
Best toaster oven with rotisserie
While this toaster oven has all the standard capabilities, like toasting and baking and reheating, many users like it for its rotisserie feature. "I bought this item for the rotisserie capability and that works like a champ," one writes. Another says they, "rotisseried (if that is the past tense) a chicken a few days ago and it turned out perfect." They add, "It was a 3 pounds, and we tied up the legs and wings for easy turning." In fact, one user warns that tying up the chicken before roasting it on the spit is a step not to be missed, as "it won't rotate properly." One user's only wish is that it "had more parts for the rotisserie so that I could do other foods like vegetables or seafood."
Best toaster oven with air fryer
"This countertop oven is the appliance I didn't know I couldn't live without," one reviewer writes. And nearly a quarter of reviewers call out this toaster oven for its air frying capabilities. "I wanted a new toaster [oven] and an air-fryer all in one," one says. "This oven fits the bill perfectly. We've been making air-fry sweet potato fries since we got it. I've also used it to bake chicken thighs and a few other items." Others are impressed by the sheer size of this thing. "This toaster is really big and fits full meals inside," one writes, while another says, "I like that it can fit a handled 9x13 pan in with no problems." While one agrees that it holds a lot they say, "it isn't that much bigger overall."
Best large toaster oven
"This product takes toaster ovens a notch higher," one reviewer writes. "Bigger pizzas, chickens, etc. Easy open doors." This user calls out both of this toaster oven's standout features — its large size and French doors: "This thing is huge so make sure you have the countertop space for this. It looks great and functional. If you have no oven at all, this is a legit oven replacement." Another says their four teenagers can make "Everyone's toaster strudel or bagel pizzas at once." Not only is it large but it's also sturdy, according to one reviewer who saw a comment about the shelves not holding enough weight and decided to put them to the test: "We had a nice pot roast in a Le Creuset Dutch oven. It weighs a ton and the oven did fine." As for the French doors, which nearly a third of reviews mention, one says it "Makes things easier to get in and out" and that they "open up so easy." One warns, you "just have to open all the way, then they stay open."
Best toaster oven with roll-top door
About of the third of reviews mention how awesome the roll-top door on this toaster oven is. "Clever arrangement on the door opening," one writes. "It is slanted rather than vertical. And swings up on hinges rather than down." For at least one reviewer, this means it is "out of the way for pulling food out onto a nearby plate," while lots appreciate that it frees up counter space. One even says it allows them to "easily access the food you prepare without burning yourself (I really needed that)." And while one skeptical boyfriend is now a convert — he now "bakes cookies in it, makes toast, makes bagels, cooks a pizza in it" — this couple's favorite part is still the door. "It swings up and it is great," they write. "Cleaning is SO easy and love that it comes with a baking dish and a crumb catching tray."
Best digital toaster oven
Reviewers praise this toaster oven's digital display. "The illuminated controls are easy to use and the internal light is a blessing," one customer writes. Another says, "The dials/settings are very intuitive and it's easy to change things mid-cycle if you want to," despite the electronics. Dozens of reviewers also call out that this oven is spacious inside. One even says it's "Large enough to bake a full sized chicken, most any pizza, and everything in between." They add, " It also easily accommodates quarter-size baking sheets." One common complaint is that the pain wears off the dials over time, so one savvy user decided to "place clear plastic tape over the buttons (as everyone was complaining about the printing wearing off)."
Best toaster oven with simple knobs
"This oven makes all the other toaster ovens I've owned seem like cheap toys," one reviewer writes. "You can see and feel the high quality whenever you use it." And one of those "quality" features for many reviewers is the simple knob design. "I like that there are only 2 knobs and 3 buttons to control the cooking options, temp, time, light, and power," one reviewer says. "I also like that the control panel remembers the last function you used." Another writes, "I like the fact that the buttons and the knobs are fairly intuitive and pretty much anyone can figure out how to use this toaster oven without deep knowledge of the unit." This user adds that there is one downside to the buttons, a flaw dozens of reviewers point out. "Once the oven is preheated, you must press the 'Start' button again for the timer to start working and for the oven to continue to heat," they warn. "If you fail to do this, the oven will not heat and you will end up with raw or still frozen food after you thought that the food should be finished cooking."
Best countertop oven
Nearly 80 percent of reviewers give this toaster five stars, and a majority say this is now their primary oven. "I have not turned on my oven once since this one came," one writes. " And I plan my meals around NOT using my big oven. The Breville just works too well and does everything I want." For one user that is doing everything from "roasting meat, baking perfect cookies to reheating leftovers." About one fifth of reviewers also say it does these things with ease. One says, "The controls are easy to use," while another writes, "We use it instead of our oven often as it is quick and easy to clean."
The Strategist is designed to surface the most useful, expert recommendations for things to buy across the vast e-commerce landscape. Some of our latest conquests include the best acne treatments, rolling luggage, pillows for side sleepers, natural anxiety remedies, and bath towels. We update links when possible, but note that deals can expire and all prices are subject to change.
Every editorial product is independently selected. If you buy something through our links, New York may earn an affiliate commission.