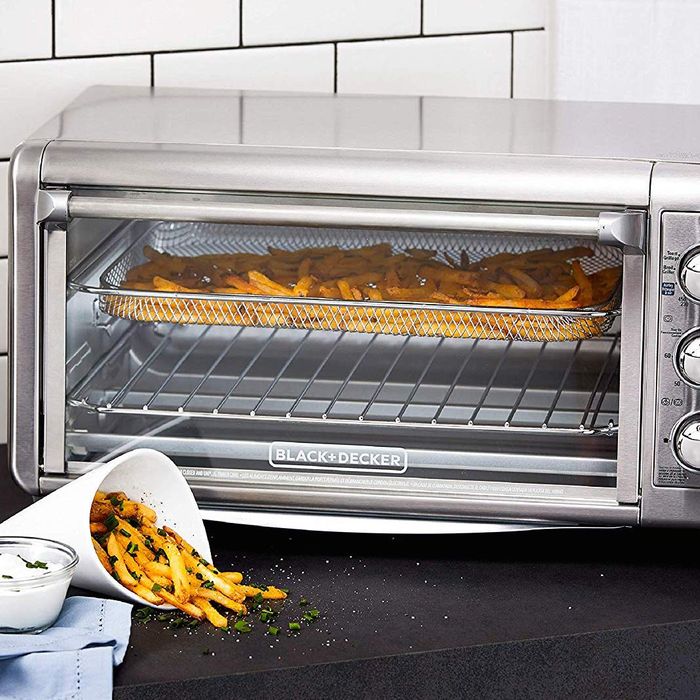 Here at the Strategist, we like to think of ourselves as crazy (in the good way) about the stuff we buy, but as much as we'd like to, we can't try everything. Which is why we have People's Choice, in which we find the best-reviewed products and single out the most convincing ones. (You can learn more about our rating system and how we pick each item here.)
And while we've written about lots of little kitchen appliances — including the best toasters, the best stand mixers, and the best smart appliances — here, we've rounded up the best toaster ovens, as praised by the most enthusiastic reviewers on Amazon.
Best-rated toaster oven
"I've had this oven for about three weeks and have baked sheet cakes, homemade biscuits, chicken, brats (the sausage, not kids), cookies, brownies and casseroles," writes one reviewer. Another says that this Breville toaster oven has "virtually replaced our traditional oven … We use this for anything that will fit. We baked a large chicken for Christmas, plus a huge cheesecake." Not only does it tackle the big things well, but many of the over 3,000 five-star reviewers say its good at traditional toaster oven duties too, like toasting bagels and "reheating those items you don't want to use a microwave for." And while about 10 percent of reviewers reference the price of this oven, many think it is worth it given how long-lasting it is. One user has already owned their Breville for nine years and wonders, "I can't wait to see how many more years this thing will last."
Best-rated (less expensive) toaster oven
"We are low tech seniors on a budget," one reviewer writes. "If you have a $50,000 kitchen, not for you. But for people like us, it's perfect." And while none of the reviewers say they are roasting chickens or cooking Christmas dinner in this thing, one reviewer points out that there's lots of things this does well: "It's a $40 toaster [oven] that toasts bread, it toasts frozen waffles, it cooks small pizzas and appetizers (think Trade Joe's), it warms leftovers, and much more via three simple and easy to use dials." Another says, "It does a great job melting cheese on open face sandwiches and toasting nuts for salads." A few point out that the temperature setting is off, but one notes, "Being aware makes this OK."
And now for some micro-picks for every toaster oven you might be looking for.
Best toaster oven for toast
"Can I give this 10 stars?" one reviewer asks. "It's everything a toaster oven should be in a compact package." While it might sound like a given, reviewers are seriously impressed by how well this toaster oven toasts bread and bagels. "We took a shot and bought this really looking for something that would toast well and accommodate larger things like bagels," one reviewer writes. "This does toast and all that perfectly." Another reviewer, who acknowledges the cost, says, "Just for the perfection of the toast alone, it's worth it." But this smart oven can do much more than toast, a fact that many reviewers also appreciate. "I have also baked cakes, brownies, potatoes, frozen pizzas, all come out perfect," they write. And about one sixth of reviewers describe this toaster oven as "small," calling out its convenient, compact size. As one sums up, "It has a small footprint, looks great in my kitchen and works like a charm!"
Best toaster oven for reheating food
Reviewers love this toaster oven for how well it reheats food, so much so that some even think of it as a microwave replacement. "Where a microwave will warm food much faster, it also tends to make some meats 'rubbery.' Not the Breville toaster oven, it warms the food through uniformly and doesn't 'change it' the [way] microwaves can," one reviewer writes. Another says that they specifically "picked this toaster oven up as a replacement for a microwave and so far, it has been the best thing I have purchased for my kitchen in a long time." One reviewer writes, "I no longer have to tolerate rubbery, soggy, uneven reheated baked items from the microwave." In addition to its ability to reheat food to the perfect temperature and texture dozens of reviewers call out the crumb tray. One says it's "a simple, but appreciated, feature that seems to be very well implemented."
Best toaster oven for baking
"This toaster oven looks great on the counter and is ideal for baking," one user writes who like others use this for both sweet and savory goods. "In fact, I prefer it over my oven. Salmon comes out moist. Pies are baked to [perfection.]" Another says, "I've only baked so far but all the foods have come out just right." This retro-looking toaster oven also gets praise for the spacious two-rack design, which allows reviewers to cook multiple items at once. "Food cooked well on both racks and it cooled down quickly when it was done," one reviewer writes. Another who says the inside is huge even writes, "It fits my 12-inch cast iron skillet, which I bake with often." Reviewers are equally as impressed with the outside appearance of this toaster oven as well. "We love this for our vintage kitchen, " one writes, while another says, "The retro design is really cool."