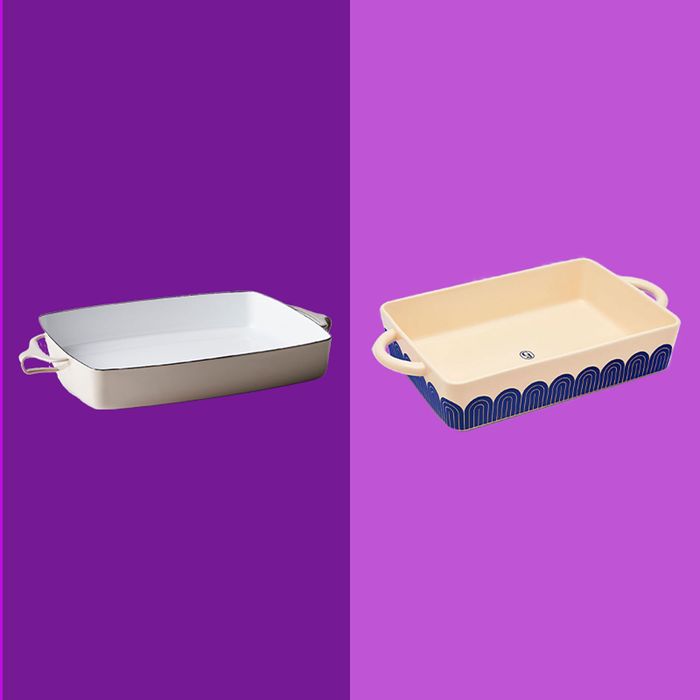 Photo-Illustration: The Strategist; Photos: Retailers
Turning on the oven brings a sense of comfort and warmth, especially this time of year. As such, your kitchen needs a solid range of bakeware, which, for the purposes of this list, I'm defining as any vessel that only goes in the oven. Instead of sticking to one style, I included many casserole dishes, a roasting pan, and several other shapes for making desserts, like a cake pan and loaf pan. (Notably, I left out Dutch ovens, which are also stovetop compatible, and sheet pans, which have their own dedicated post.)
Because there are so many different types, I'll note that a well-stocked kitchen should probably have a mix of what you'll find below (as opposed to a category like blenders, where you're likely just searching for a single standout item). What that looks like will depend on what types of food you cook, how many people you're usually serving, and your level of interest in baking. To ensure this list was as thorough as possible but not overwhelmingly big, we asked more than a dozen professional chefs and recipe developers about their own favorite pieces of bakeware and what they use them for most.
What we're looking for
The majority of bakeware on this list is casserole-style, meaning a somewhat deep and wide baking dish. They come in a variety of materials, shapes, and sizes and can be used for traditional casseroles (as the name suggests), baked pastas, roasted or braised vegetables and meats, and more. Any would work for making a cobbler or crumble, and some even lend themselves to cakes or bars if they're the right shape and size for a given recipe. For this category, I've listed the type of bakeware each item is.
You'll find a wide assortment of materials below. There's ceramic, enamelware, glass, porcelain, and nonstick (all of which tend to heat up slower and cook foods more gently) as well as cast iron and metal (which get hotter and cook food more aggressively). Within each caption, I've detailed what a given material means for that particular type of bakeware.
Here, I've listed the dimensions of each vessel. Whether the measurement of the sides of a rectangle or square, the overall length of an oval, or the circumference of a circle, you can easily reference what you're getting with any given piece.
Best overall baking dish
Style: Casserole | Material: Enamel-coated carbon steel | Size: 13" x 9.75" x 2.25"
Three experts told me Dansk's rectangular Købenstyle Baker is their favorite baking dish. Anna Hezel, senior editor at Epicurious, says the carbon steel (similar to cast iron) means you end up with "really crispy browned corners" when you make something that touches the sides, like lasagna (her area of expertise). Still, the enamel coating ensures it's super-easy to clean and will hold up for ages (there's a reason it's a dish you commonly see floating around antique stores). Also, despite the usually heavy interior material, the build is superthin, resulting in a light weight overall. Prop stylist Bea Chastka and Anna Polonsky, founder of the branding and design consultancy Polonsky & Friends, both commented on the sturdy handles — which wrap all the way around, from top edge to bottom — as well as the eye-catching design with many color options. "I have a blue one and a yellow one," Polonsky says, "and they're just so beautiful to put out directly on the table."
Best less expensive baking dish
Style: Casserole | Material: Ceramic | Size: 13" x 9.25" x 3"
Another baking dish that looks great is Great Jones's retro-inspired model that Polonsky says she loves for its '60s styling. It features a border of layered arches in one of the company's signature colors: bright blue, mustard yellow, taffy pink, or forest green. The handles, though shaped differently than Dansk's, are also very hefty and easy to grip. I've had one in my collection for several years now and find that I turn to it whenever I have a lot of mouths to feed; with the exception of the Pyrex below, its sides are about an inch higher than all the others on this list, which makes a difference in terms of how much food fits inside. The vessel is dishwasher safe and, in my experience, has shown no signs of wear.
Best baking-dish set
Style: Casserole | Material: Porcelain | Size: 10" x 6.6" (oval); 8" x 8" (square); 9" x 13" (rectangle)
If you're in the market for baking dishes in multiple shapes and sizes, it doesn't get any better than Made In's the Bakeware Set, recommended by Nicole Rucker, owner and chef of Fat + Flour in Los Angeles. It includes three versatile shapes: rectangle, especially good for foods that have straight, crispy edges, like lasagna; oval; and square, which you can use to cook smaller portions or bake brownies. In particular, Rucker appreciates the material. "Hard porcelain [a specialized type of ceramic] is a great thing to bake in and on," she says. "It conducts very even heat." (Because of this, she also turns to Made In's bakeware for other more specialized pieces like its baking slab and pie dish.) She notes that all these pieces are on the heavier side, but that "makes them feel solid and high quality," a plus in her book.
Best nesting baking-dish set
Style: Casserole | Material: Ceramic | Size: 9" x 6.5" x 2" (small); 12" x 8.5" x 2.5" (large)
I turn to these two baking dishes more than any others in my collection. The classic look can read more casual, but they look equally at home on a more dressed-up table, too. I appreciate that they nest, an obvious plus for storage. But most of all, I love the smaller-size vessel. It's absolutely perfect when I'm cooking for two (which is how many I'm usually cooking for) — it holds a piece of salmon for slow-roasting, a pile of beans for marinating, thinly sliced potatoes for an on-the-fly gratin, and so much more. It also works for appetizers or side dishes.
Best individual baking dish
Style: Casserole | Material: Cast iron | Size: 8.2" x 5.4" x 2.2"
While baking individual portions is a bit more of a to-do, there is an undeniable "wow factor when they come to the table," says recipe developer and cookbook author Melina Hammer. Since these baking dishes are made of cast iron, an especially efficient heat conductor, they're good for foods that benefit from a bit of color and a crispy edge, like a gratin, she says. Additionally, they fit in a toaster oven, convenient for anyone who's making dinner for one and doesn't want to bother with their conventional oven.
Best baking dish without handles
Style: Casserole | Material: Ceramic | Size: 13" x 9"
For storage purposes, a baking dish without handles can be useful — and, as recipe developer and cookbook author Anna Stockwell points out, you have to use pot holders or a dish towel either way. She's loyal to the speckled ones from Vermont-based Bennington Potters, which her mom used while she was growing up. The glaze is somewhere between shiny and matte with an easy-to-clean surface that can go in the dishwasher or be wiped down with a sponge. Stockwell notes that "ceramic cooks food more gently and evenly than metal, like cast iron," so she uses it for things such as braised chicken thighs, polenta casserole, and fruit crisp. A bonus: "Food photographs so well in it," she says. "I've used this one in so many photo shoots for so many different people."
Best glass baking dish
Style: Casserole | Material: Glass | Size: 15.1" x 9.5" x 3.25
Though they may not be as visually striking as some of the products above, Pyrex glass dishes are classic for several reasons. They're incredibly affordable and durable — I'm never worried about scratching or chipping, even when I stack other cookware on top or throw them in the dishwasher. Of course, you can see through them, which chef Paola Velez especially appreciates when making layered dishes like sheet cake and shepherd's pie. They come in many shapes and sizes; the deep one here is great for the aforementioned foods, but I own a more shallow one that I use for roasting fish and vegetables, baking chicken thighs, and more. Some even come with silicone lids, just like Pyrex's classic food-storage containers, which means that once your food has cooled down, you can take it directly to the fridge to store and neatly stack them on top of one another, too.
Best roasting pan
Style: Roasting pan | Material: Stainless steel | Size: 14.25" x 11.75" x 3" (small); 16.75" x 13.75" x 2.5 (large)
While you may associate a dedicated roasting pan with Thanksgiving turkey, it's a useful piece to have for cooking any large-format meat. Chef, writer, and artist Ifrah Ahmed has owned All-Clad's roasting pan for several years and says it's the kind of cookware she knows will be with her for a lifetime (no surprise given how many chefs endorse other All-Clad stainless-steel pieces, too). She uses it to make traditional Somali dishes like Xawaash spiced chicken, in which the drippings fall down from the poultry onto a bed of roasted vegetables, coating them in flavor but still allowing them to get brown and crispy, something that wouldn't happen as evenly if you squished all your ingredients into one casserole dish, Dutch oven, or skillet. The air circulation below also allows for super-even cooking, regardless of whether or not there's anything resting below. And the rack insert is built to be sturdy and easy to grip and pull out, even with something bulky sitting on top of it — again, not the case if you were to use an alternative method, like a cooling rack inserted into a sheet pan. "The design is efficient but stylish," Ahmed says. "It's spacious, but it doesn't feel clunky."
Best cake pan
Style: Cake pan | Material: Anodized aluminum | Size: From 4" x 2"
We first heard about Fat Daddio's from recipe developer and cookbook author Claire Saffitz a couple of years ago when she told us her list of essential cake-baking gear; she praised a few key features that make these pans stand out. They're made from anodized aluminum, which is less reactive than untreated aluminum, meaning they won't discolor and emit funky flavors over time. But they also heat much more evenly than nonstick, which will often leave you with a "burnt outside with a huge dome that is undercooked in the center," Saffitz says. Pastry chef Kaitlyn Wong — another big fan of Fat Daddio's — assures that even without a nonstick surface, cakes release easily. The pans also have perfectly straight sides, unlike other cake pans that have ever so slightly rounded or slanted sides that may not be apparent until you go to stack a layer cake. They come in a striking 41 sizes, but if you just need something basic, go with a classic nine- or ten-inch. And, finally, it's worth noting that Fat Daddio's also makes a springform pan that releases the bottom from the sides, the preferred style for turning out cheesecake and upside-down cake.
Best decorative Bundt pan
Style: Bundt pan | Material: Nonstick cast aluminum | Size: 10" x 3.5"
Nordic Ware makes a myriad of decorative Bundt pans, each one more beautiful than the last. Some are more subtle updates to a classic ridged Bundt look, while others have designs so intricate you wonder how you'll possibly be able to free a cake from the interior. But that's just it: According to three experts we spoke to, you always can. Baker and cookbook author Vallery Lomas, Velez, and Polonsky all praise Nordic Ware for how it's somehow managed to create a vessel that cooks evenly and releases perfectly. "Flan, angel food cakes, pound cakes — they all come out beautifully," Velez says. Like the Fat Daddio's pans, they're made from aluminum — but because of all the swirls and indents and shapes, they also have a nonstick exterior layer. "You don't have to fuss around with frosting anything or layering anything or decorating anything," Lomas says.
Best loaf pan
Style: Loaf pan | Material: Nonstick | Size: 9" x 5"
Velez calls herself "a big Wilton girl," and the reasons are straightforward: The brand makes a tried-and-true loaf pan that is sturdy but lightweight, cools down quickly, releases well, and cleans up like a breeze. The wide handles (not always present on loaf pans) make it especially easy to grip and transfer from oven to counter, and the surface is nonstick, which Velez says holds up through "the wear and tear of lots of recipe-testing." The company assures that you can use most metal tools on the surface, so sliding an offset spatula along the sides to help with release shouldn't cause damage.
If you're interested in a loaf pan that gives you bread more like what you'd see in professional bakeries, Wong swears by King Arthur Baking's Pullman Loaf Pan. The shape was created to make perfectly rectangular loaves (and then perfectly square slices) of Pullman bread, which is also why there is a removable top piece. It's slightly bigger than the Wilton (and other standard loaf pans for home baking) but will work with the same amount of batter. What's more, Wong says the extra room can be a good thing: "They're so tall, they give a good amount of flexibility with the rise, and never overflow."
Best pie pan
Style: Pie pan | Material: Glass | Size: 9.5"
Pyrex strikes again — in this case, the see-through material provides a more technical benefit: "Most pies need to bake for longer than home bakers typically think," Saffitz says. "With glass, you can monitor the browning on the bottom and sides." Erin Jeanne McDowell, a recipe developer and cookbook author, and Emily and Melissa Elsen, co-owners of Brooklyn's pie shop Four & Twenty Blackbirds, endorse this extra bit of assurance, too, especially for beginners. And the Elsens have a pro tip to add: "If the crust is pale but the top is browning, cover it in foil, drop the temperature 20 or 25 degrees, and bake until the bottom crust is done."
Our experts
• Ifrah Ahmed, chef, writer, and artist
• Bea Chastka, prop stylist
• Emily Elsen, co-owner of Four & Twenty Blackbirds
• Melissa Elsen, co-owner of Four & Twenty Blackbirds
• Melina Hammer, recipe developer and cookbook author
• Anna Hezel, editor of Epicurious
• Vallery Lomas, baker and cookbook author
• Erin Jeanne McDowell, recipe developer and cookbook author
• Anna Polonsky, founder of Polonsky & Friends
• Nicole Rucker, owner and chef of Fat + Flour
• Claire Saffitz, recipe developer and cookbook author
• Anna Stockwell, recipe developer and cookbook author
• Paola Velez, chef
• Kaitlyn Wong, pastry chef
The Strategist is designed to surface the most useful, expert recommendations for things to buy across the vast e-commerce landscape. Some of our latest conquests include the best acne treatments, rolling luggage, pillows for side sleepers, natural anxiety remedies, and bath towels. We update links when possible, but note that deals can expire and all prices are subject to change.