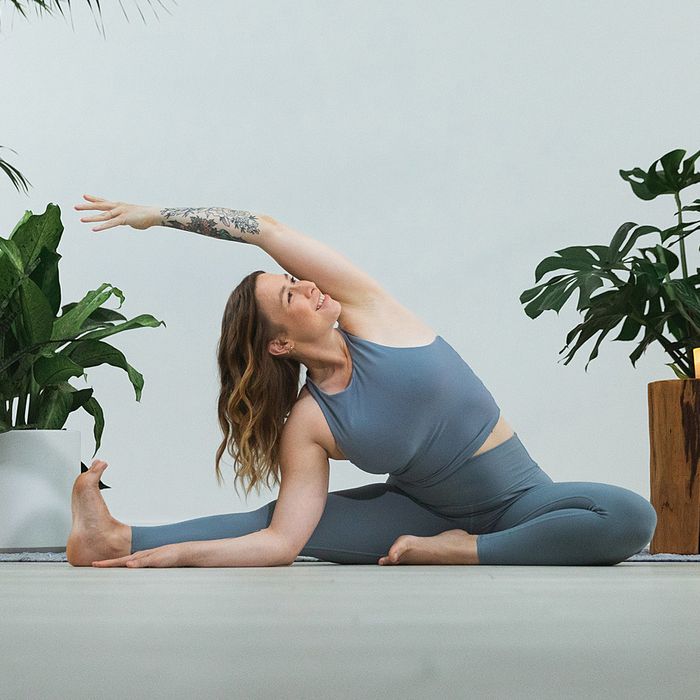 I really, really, really miss yoga studios. I miss the damp 90-degree rooms. I miss the smell of palo santo smudge sticks. I miss the way sweat would gush down my forehead, effectively blinding me. I miss the choreographed breathing. I even miss awkwardly bumping elbows with my neighbor.
But for the foreseeable future, I'll be doing my poses from home, so I decided to test out as many classes as I could physically handle, all in an attempt to find my zen from my living room. I flowed along with some of my favorite New York City studios who are now offering online classes, either via their own platforms or on Instagram Live, as well as some of the always-online classes that I'd been missing out on as a (formerly) IRL yoga loyalist.
And while nothing can replace flowing to Drake in a humid, candlelit room with strangers, I found that the instructors are lively, the flows are just as intense as any real-life class, and the plant porn in the background is every bit as inspiring. The best part is, because it's yoga, all I really need is a mat to flow from the living room. (Some classes require other doodads; if so, I've mentioned it below.)
Alo, maker of chic yogawear, has a surprisingly wide selection of yoga classes over at their sister site, Alo Moves. The clean interface divides classes by duration and skill level, and the brightly lit studio setting is instantly calming. The 15-minute morning stretch is one of my favorite ways to start the day, and when my hips are feeling tight from all that Netflixing on the couch, the Smarter Hips video makes me feel relief within minutes. There's even a Yoga for Runners class, which I love to do on the days that I'm not logging miles.
What you need: A block
Flow speed: Slow to medium
Sweat factor: Medium. Some of those faster classes can get dewy.
Zen factor: High. Those white spaces are visual Xanax.
Price: $20/month
Y7 is a music-based studio with locations in L.A., Chicago, and NYC, where I was a bit of a regular before this whole quarantine thing started. If you're new to their fast-paced style, there's a "Get Started" video to explain the way the classes are structured, which is mostly the same as their in-person studios: Vinyasa repeats three flows three times each, and Slow Burn holds poses for longer. In fact, this one is the closest to the IRL experience. But in Y7's online iteration, they've added a few shorter videos, too, like a 15-minute Energy Shift class that helped me unclench after a frustrating hour-long dispute on the phone with my health insurance. And in true Y7 fashion, each class is paired with an R&B-heavy Spotify playlist for you to play alongside the instructors' guidance. The music really helps make you feel like you're right there in a studio — minus the 90-degree room, of course.
What you need: Towel, mat, and water
Flow speed: Fast for Vinyasa, medium for Slow Burn
Sweat factor: High, even in shorter videos
Zen factor: Major. Flowing to Beyoncé is good for the soul.
Price: $16/month
A favorite of hard-core yogis and celebs, Modo is perhaps the most hippie-dippie spot on this list (and one of my personal favorite studios). But there's something about stepping into Modo West Village — the damp rooms, the way you're not allowed to talk before class, and the fact everyone there has a generally zen vibe — that you just can't get from the videos. Still, Modo made a decent effort with their sleek new online platform filled with live and prerecorded classes. From their classic Modo 60 (my No. 1 pick to take in studio because it's slow and purposeful) to one-off classes that help with spine alignment. They even have guided meditations and sound-bath classes for when you just want to sit with your own thoughts for a little bit. It's the priciest of any I tried (and I'm not exactly sure why), but if your crow pose is as weak as your wallet, @ModoYogaNYC is currently offering two suggested-donation Instagram Live classes a day.
What you need: A block
Flow speed: Medium. You won't get lost in the flow, nor will you be hanging out in plank so long that you want to give up.
Sweat level: Low
Zen factor: More than any other studio, Modo focuses on the mind-body connection, and they work Savasana breaks into most classes.
Price: $60/month
Sky Ting TV is a mix of on-demand and live classes that have the best, most hyperspecific names of any I tried: Pick-Me-Up, Water Salutations, and even one called Glandular Health. During quarantine, a time when every day seems the exact same, the variety of these flows got me excited about trying new things. I even learned a few new anatomy facts, like that the thymus gland helps aid your immune system. And their Low Back Relief 30-minute class is a savior on the days I'm hunched over my laptop. And while I haven't actually taken a Sky Ting class in person, my friend who's a fan says the online videos are pretty similar in both vibe and movements to the studio experience.
What you need: Two blocks, a blanket or towel, and, sometimes, a chair or sofa
Flow speed: Slow to medium; you'll get the gist quickly, and the transitions are intuitive.
Sweat level: Medium
Zen factor: Blissfully high
Price: $20/month
A friend mentioned that her co-workers were obsessed with this Amazon Prime 30-day yoga challenge, which is designed for true beginners — the first episode is just the instructor cooly explaining basic poses and breathing. But even I, a seasoned yogi student, found the half-hour episodes to be great refreshers. (The host, Jess Tisment, even suggested a variation on child's pose that's been beneficial to my lower back.) You can hear the audio super-clearly because she's wearing a mic. Maybe it's because it's not shot from someone's living room, or maybe it's because it was produced in pre-pandemic 2017, but this one most resembles the tone and feel of an in-studio class. If only it was longer than 30 days.
What you need: Two blocks, a blanket
Flow speed: Slow, but only because of all the instruction.
Sweat factor: Low
Zen factor: Medium. There's not a lot of yogi talk here, so it's not where I go for clearing my mind.
Price: $13/month, the cost of an Amazon Prime Membership
The interface of this one is amazing: You can choose classes by length (from one to 60 minutes) and skill level (C1 is the most basic, and it's great for beginners). CorePower is more about fitness than flow, and the workouts themselves are solid without being life-crushing. Every time I did one, I felt challenged, yet also renewed. And if you're looking to finally nail crow pose, there's an entire class for that. Or if you want to build muscle, there are two whole sections of sculpting classes. While the variety is great, the videos are a little cheesy — the instructors are just a little too robotic and smiley. Still, I found myself going back to this one when I was in the mood for a real burn.
What you need: Just a mat, though some Sculpt classes require weights (but soup cans work, too)
Flow speed: Medium to slow
Sweat factor: High, especially in the sculpt classes
Zen factor: Big. Maybe it's the extra-cheery instructors, but it's hard not to smile during these classes.
Price: $20/month
This powerhouse studio's app has a bazillion kinds of classes, from running to strength training to, obviously, indoor cycling. They also have yoga, but of all the different streaming workouts I tried, these were the least challenging to me, and they also seemed the least yoga-like. Is it necessarily a bad workout? You're moving your body, so no. But I found the instructions to be slower than what I was used to, to the point that I was getting frustrated, which I think is the opposite of what yoga is supposed to do to your mind.
What you need: Two blocks, a blanket
Flow speed: Slow, too slow
Sweat factor: Low
Zen factor: None, really
Price: $13/month
The Strategist is designed to surface the most useful, expert recommendations for things to buy across the vast e-commerce landscape. Some of our latest conquests include the best acne treatments, rolling luggage, pillows for side sleepers, natural anxiety remedies, and bath towels. We update links when possible, but note that deals can expire and all prices are subject to change.