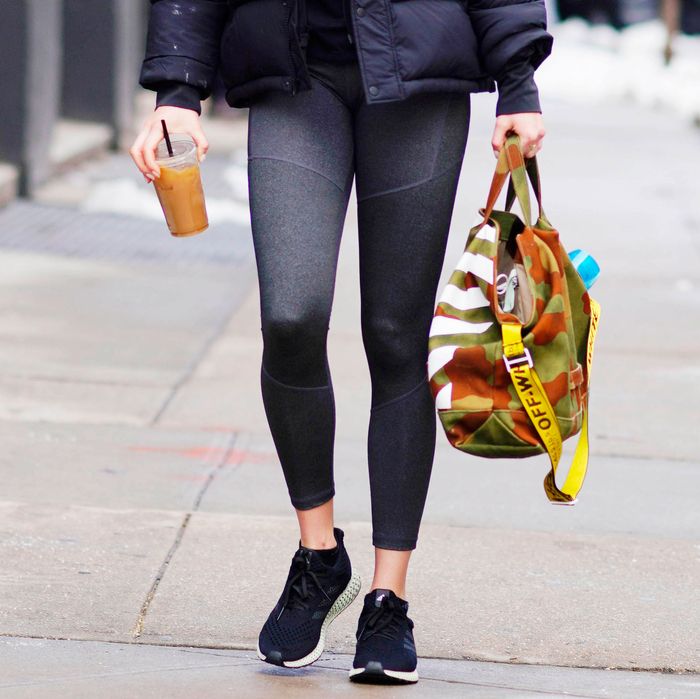 Photo: XPX/Star Max/GC Images
We've written before about workout gear — including the best yoga mats according to yogis, the most reliable sports bras, workout tops, and leggings, and the best compression tights, plus-size workout leggings, and even maternity workout clothes, but here, we've rounded up the best yoga pants for women on Amazon.
Related Article: Best Women's Workout Leggings | Editor-Approved Loungewear
Best-rated yoga pants
These yoga pants are so good one reviewer "celebrated with Champagne" after wearing them on a run. "My run times have improved tremendously since buying," she claims and highly recommends them for "that feature alone." The leggings could even fit her bottle of Champagne in the pockets. And she's not the only one who raves about how large and useful the pockets are. One customer has a very large Galaxy S9+, and it fits comfortably in the pockets: "They're big pockets and there's a pocket on both legs." But the quality of the leggings is what really blew her away. "They passed the squat test and they didn't move," she adds. Another runs a fitness blog that includes videos, and so far these have held up and looked good in her videos. She "sweat in them a lot," yet calls them "resilient." She goes on to say, "I love the waistband and design of these leggings, and the pockets are just simply amazing and convenient. More than one person has asked me where I got them." Plus, one tall reviewer says these leggings are "actually long enough for my long legs, and that is hard to find in leggings."
Best-rated (less expensive) yoga pants
Nearly 70 percent of reviewers give these yoga pants five stars, with many describing them as lightweight enough to workout in. "I was looking for cool, light material because I use these pants for running on an indoor track. They are perfect," one writes, while another says, "I have hiked in them a couple times now and found them to feel comfortable, and yet very supportive on my legs." And while they are breathable, one assures, "They're not see-through like a lot of leggings can be; so wearing them at the gym is totally fine." As far as the length goes, some reviewers say they are a little long, but one five-foot-one-inch reviewer says, "Once I put on a sneaker they are just above the ground." Reviewers also appreciate that they're affordable — and that that doesn't impact their quality. "I had them for 2.5 years and they still look like new," one owner says. "I wear them weekly. Amazing quality. No stretch, no holes, no sign of wear. Just amazing."
Best high-waisted yoga pants
According to the majority of positive reviewers here, Baleaf High Waist yoga pants don't press, squeeze, pinch, or leave indents on your stomach, and they stay put. "The high waist stays up through all kinds of movement," said one reviewer. Another satisfied customer who wears them for work and yoga said, "I love that they don't slide down, flatten out my waist without leaving indents in my stomach or putting too much pressure like most high-waisted pairs do." A woman who said she wears them running called them "perfect workout pants" saying "they fit wonderfully, and they're so comfortable I don't even feel like I'm wearing pants (wore them for my run tonight). The waistband comes up high enough to cover what I want covered without squeezing the hell out of my belly. Super breathable, moisture-wicking, not see-through!" And a reviewer who bought another pair "immediately" after receiving the first ones said "the fit on these pants are amazing! They hold everything in yet still manage to feel breathable and so comfortable! They'll make your booty look great also!"
Best high-waisted yoga pants with pockets
"I've been searching for a LONG time on Amazon for the perfect leggings," writes one customer who wanted Lululemon quality "without spending a lot of money." She tested many different Amazon leggings before these, and says "these by far are the most comfortable to work out in. They def pass the squat test, are not see-through at ALL, and have convenient pockets that I didn't think I needed but love." And nearly 1,300 more five-star reviewers mention the pockets on these IUGA leggings. One calls them "great, deep pockets." She says that women should "DEMAND more and better pockets" because after all "pockets are not just for men." Another customer says these leggings "are everything." She appreciates the pockets because they're large enough for her utility knife and keys, but like nearly 200 other five-star reviewers, she loves the high waist. "The high waist allows me to look slimmer and feel better about myself which ironically makes me work harder and faster," she explains, adding, "I can bend and squat and kneel and lift easily with no restrictions or material pulling in certain places and not in others."
Best high-waisted yoga pants with mesh insert
"So take it from me and get one of these pants, if not multiple, because they will change your life," writes one reviewer who thinks these leggings are top-quality. Many are especially impressed with the mesh panel on the calves; one notes that it "is very flattering" and "slimming," while another adds that "the mesh panels gives better cooling effect." But the mesh isn't the only draw: As one reviewer notes, "The bottom of the legs is cut on a slight angle (which doesn't show in the image), but it adds to the styling along with some the diagonal seaming, which is the inverse of the mesh insert. There's also mesh trim on the pocket, a nice detail." The fit is another selling point. Reviewers describe the leggings as stretchy and comfortable, but thick enough to be supportive. "They keep my 'jiggles' controlled for yoga, barre, and boxing workouts (told you … GOALS!)," one says. "The high waisted 'tummy tuck' also stays put during all my activities, no rolling down! And finally, the material is dense, no awkward 'see-through' spots on the bum."
Best yoga capris
"I'd venture to say they are the PERFECT capri," writes one reviewer who, like many, thinks this is a solid option for capri-length yoga pants. "These are a cute flared-out capri with no frills or weird things to get in the way," another fan says, noting that "the fabric is a lighter mid-weight fabric that has a cottony feel and a bit of stretch. These are great for yoga and the butt isn't see through." One writes, "These are a true mid-calf capri length, are roomy at the bottom but still flatteringly slim in the thigh and waist." And just because they are loose in some areas doesn't mean they don't have any shape. "Though they fit a little more snug than other pants of the same size, they are stretchy and not confining," another writes, adding that "they don't become shapeless and saggy after being worn for several hours." That same reviewer bought four more pairs because the fit is so good.
Best yoga capris with pockets
"Finally, I have found a workout capri that is perfect," says one customer. For her, the best feature is the pockets. "The pockets are great for carrying my cell phone and keys when hiking. They do not show as pockets when empty, making for a very smooth look," she says. And over 300 more five-star reviewers call out the pockets on these yoga pants. One can't believe that she ever work yoga pants without pockets. "I get sad when I think about the old days when I used to have to wear a tight without pockets," she writes. They were more useful than she thought they would be and ended up going back to buy several other colors. "I will literally wash my clothes the night before class if there aren't a pair of these clean," she adds. Another appreciates that they keep her asthma inhaler secure throughout class and calls these pants "incredible," explaining, "They are soft, fit well, great price, and definitely well made. I need pockets and these are the BEST." She plans to go back and buy the full-length version.
Best plus-size yoga pants
Reviewers commented again and again on how well these leggings stayed in place while also looking good. One reviewer, who is five-foot-nine and ordered a size 4X, said, "They fit perfectly. I went for a five-mile bike ride my first time wearing them, and they stayed perfectly in place and didn't get too hot. They look super cute too!" Another reviewer who wears them to lift weights said, "My legs and butt are very large — I'm also only five-foot-one … these fit perfectly and didn't cut into my large calves. It made working out so much nicer to actually have workout clothing that fit my large figure and were cute!" And this first-time Amazon reviewer said, "I have the worst time trying to find workout pants without spending $50 or more at Lane Bryant for a decent pair. I LOVE THESE. I have huge thighs so finding anything to fit my thighs is hard enough as it is. I will be buying every color in these because they fit me perfectly! They are super comfy."
Best fold-over yoga pants
These yoga pants were compared multiple times to a more expensive pair from Victoria's Secret, and the fold-over waistband was called "gentle," "comfortable," and "soft." One reviewer who was looking to replace her yoga pants from Victoria's Secret said, "I have been searching for yoga pants to replace my VS pairs. Those were discontinued for a while and are now never available in my size. These pants are the perfect replacement at a more reasonable cost." And a satisfied customer who admits to "living in yoga pants" wrote, "Yes I am one of those moms. I've tried a lot of different brands. These are so incredibly comfortable. I have a stomach pooch and these accommodate my tummy so well, no squeezing or rolling down, just a nice comfortable controlled feel." A woman who said she wears the waist both folded over or all the way up said, "I have difficulty finding jeans to fit. These are the perfect replacement for my lifestyle. I can go from my Chi Gong to lunch with a friend then go shopping with comfort." Finally, this new mom was pleased with the affordable price and comfort of Viosi's yoga pants: "I'm heavy right now from having a baby and these don't show a lot of bumps like cheaper, thinner yoga pants do. They have a nice, long fold-over band that doesn't dig in. I've paid over $50 for yoga pants I don't like even half as much as these!"
Best drawstring yoga pants
These yoga pants have a drawstring waist, which according to one reviewer "makes them suitable for many figures," and others agree. "This is the first pair of pants I can wear to the gym that I've found in years that are good for my thick thighs and relatively small, high waist," one curvy reviewer writes, while another says "being a somewhat vertically challenged person (5' 1-1/2") and not heavy (103 pounds), I find these pants to be nearly perfect." No matter where you fall on the spectrum, one reviewer says the drawstring waist "allows me a secure fit with no pants drooping if I'm stretching or bending." The fit is just one reason why more than 40 percent of reviewers describe these pants as comfortable; it's the material too. "These fit perfectly and are very durable, all cotton with a little spandex for elasticity," one explains, making them "lightweight and soft."
Best fleece yoga pants
"Comfy, perfect fitting yoga pants," writes one reviewer — and many would add "cozy" to that description, because these fleece pants are so warm. "Was happy the material isn't thin but isn't heavyweight, which is just right for outside in fall up north and winter workouts in the gym," one writes. Another who was "looking for something warmer than yoga pants" says, "These are so warm and comfy." Reviewers also say they are flattering compared to bulkier fleece sweatpants. "I love that they're not too baggy," one writes. "I don't feel sloppy while wearing these." According to another, "I dare say, they even seem slimming, which is not usually what you find in a sweat pant." These have another thing you don't usually find in sweatpants: pockets. One reviewer says "the pockets are deep enough that my large cell phone doesn't fall out."
Best yoga sweatpants
Unlike the fleece yoga pants above, these Baleaf sweatpants are cut like joggers and reviewers praise these as a yoga pant alternative. "These are a great alternative to leggings," says one customer who explicitly does "not like bootcut yoga pants and wanted something that was loose than leggings and thicker." So far, she thinks "these are perfect," and plans to buy more "for sure." And she's not the only one who plans to buy more. "Honest to God, I fantasize about getting home and putting these on. I look forward to it more than anything," writes one customer who came back to update her review months later and notes she did end up buying two more pairs. "I will die in these pants," she says. One more thinks they're just too multipurpose not to buy them. "They are great for lounging around the house, yoga, lifting days at the gym, and even with a crop or t-shirt and sneakers to run errands in," she notes. Plus, according to her, they're trendy. "They definitely fit in with that whole 'jogger' style pant that is trending right now."