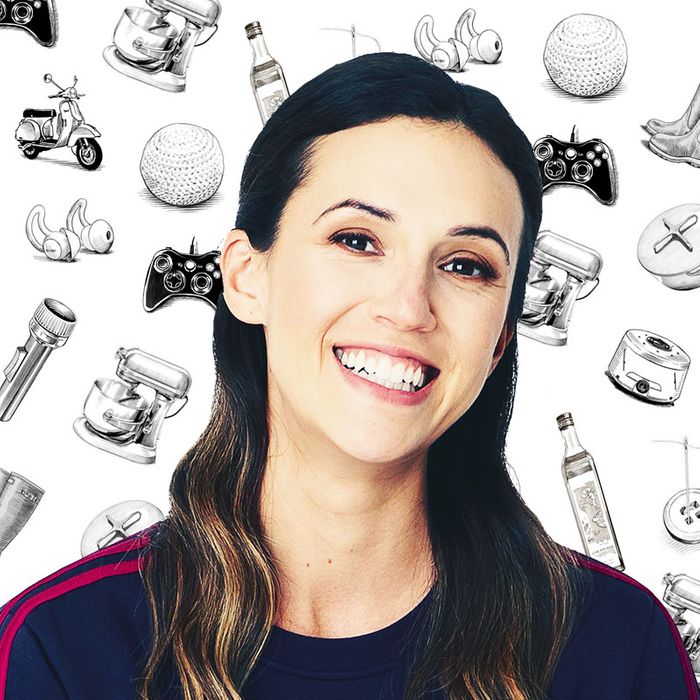 Photo: Courtesy of Yoga With Adriene, Illustration: Joe McKendry
If you're like us, you've probably wondered what famous people add to their carts — not the JAR brooch and the Louis XV chair but the hairspray and the electric toothbrush. We asked yoga instructor Adriene Mishler — the founder of Yoga With Adriene and a co-founder of the Find What Feels Good app — about the water bottle, eye pillow, and sneakers she can't live without.
It sounds silly, but if you like your drinking vessel, you're more likely to make it an extension of your body. This is my favorite water bottle. I used to be a Nalgene gal, but the thing about a big wide-mouthed bottle is that nine times out of ten, you'll spill water on yourself. Which is no big deal — unless you're about to perform or do an interview. I spilled a lot of water on myself drinking from a Nalgene while on tour in the past. This has a nice little spout for your mouth. The lid also has a handle, and I like that the water bottle is stainless steel and can better control the temperature of the liquid.
You can pull the hem on these up to make them more fashionable, or you can wear them longer to be a little bit more cozy. They're quality joggers and made well. The women who run Apiece Apart are exquisite human beings. They do a good job of making pieces that are simple and comfortable, but also interesting and elegant.
I probably don't go a day without wearing these. I've been really loving them for walks and runs. Yes, they look cool and are hip, but they feel good, too. I'll wear them casually as well. It's nice to have a shoe I can wear for everything.
When I was traveling on tours for work, I was on a mission to stop using disposable coffee cups. Things like the Keep Cup weren't as popular back then. I don't remember when I originally got this — it was a long time ago — but when I did, I was like, The search is over. It just checked all my boxes: It doesn't leak, it's light, and it's stylish. I actually still use the first Keep Cup I bought. Maybe it's unrealistic to say, "I'm never going to touch a single-use piece of plastic again." But if you pick one thing like coffee, which is so ritualistic, making a small change like this can have a big impact.
Miranda Bennet does a lot of zero-waste work by reusing excess materials to make stuff, including this eye pillow. The color is gorgeous, and it's plant-dyed, so I'm not putting junk on my face. I gifted it to myself early on in the pandemic. I know it's a cliché — the yoga teacher and her eye pillow. But this one's really lovely and elegant. I'll of course use it in bed; sometimes I lie on top of my already made bed and put the eye pillow on for 15 minutes just to reset. But I'll also bring it onto my yoga mat.
I hang this suncatcher near the desk I sit at every afternoon; it faces west, and I've arranged my daily routine so that, by the time I am sitting at my desk, the sun is shining through the decal when I most need some stimulation. By that hour, I am looking for inspiration and motivation, and the suncatcher just makes me happy.
As I learned more about what's actually in tea bags, I heard that some can have traces of chemicals and plastics. Pique makes powders you stir into water that are very pure and clean. In a nutshell, the brand is all about super-high-quality ingredients. It gets quite hot here in Texas, of course, so right now I have the hibiscus flavor in my fridge. I make a big batch of it warm, in a glass bottle, and then just keep it in there.
I used to wear this to weddings and other fancier functions, but it has become a favorite thing for any day. It gets really warm in Austin, and this is just a comfortable, more elegant alternative to your standard floral-print spring or summer dress. Sometimes I'll wear it over a T-shirt with sneakers or boots, like I might have worn a slip dress when I was younger. If I want to look more mature, I'll throw a sweater or cardigan over it. It never feels old or like I've worn it a lot before, it's super versatile, and I always feel good in it.