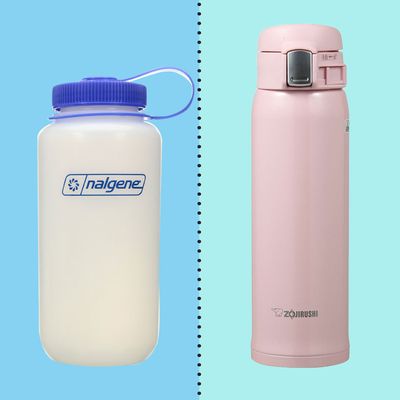 Photo: Courtesy of the Retailers
If you follow our monthly Strategist Haul, you're familiar with the idiosyncrasies of our editors' and writers' shopping habits. While we think of those as the highlights, there are plenty of other, less glamorous things we buy — and love — on the regular, too. So whether you've wondered about the work bags we tote around or the underwear we're most loyal to, this is the Stuff We Buy Ourselves. In this edition, the water bottles our editors swear by.
Alexis Swerdloff, Strategist editor
I am firmly on Team Zojirushi. It's truly mind-boggling how cold my water stays in this thing and the open/close lock is extremely fun to fiddle with at my desk. I have it in this pleasing shade of pearl pink.
Simone Kitchens, senior editor


I keep three of these REI Nalgenes in rotation because I am always leaving them behind — in conference rooms, pilates studios … To make the whole thing even more crunchy, I drop in a stick of Kishu charcoal, which claims to "absorb impurities." I just think it makes office tap water taste like a $5 bottle of Essentia.
David Notis, writer
I know it's not necessarily the hot new status water bottle on the market anymore, but I still love my S'well. I don't really do anything fancy with it. I just fill it with tap water and throw it in my tote bag. The cap screws on tight, so I don't worry about it leaking. I like that the water doesn't "bead up" on the outside of the bottle, so I don't need to worry about damaging any CVS coupons or other important things I have in my tote bag. I also originally thought about getting this in matte black or some other cool color, but I went for the bright blue to sort of train myself to associate drinking water with fun, bright things, and I think it's working.
Hilary Reid, writer
I bought this pretty randomly during a trip to the Atlantic Terminal Target last fall. It seemed like a less-expensive alternative to the Bkr bottles I'd been eyeing and turned out to be a good purchase: The glass is easy to clean, it holds plenty of water without being too heavy, and the silicone coating on the glass feels substantial. The only thing is, I hate the purple color, something I spend a not-insignificant amount of time thinking about because the water bottle sits within eyeshot on my desk at work. I'm considering replacing it with something easier on the eye, like this lovely yellow one from HAY.
Lauren Ro, writer
A couple of Takeya water bottles were sent to the office, and I grabbed one for my husband, who was in the market for a gym water bottle. Turned out, Takeya's "Actives" line was perfect for his needs. We were quite impressed with how thoughtfully designed the lid is. It has two parts: the bottle's main, widemouthed lid twists off, but there's also a smaller spout on top of the main lid with its own attached twist-off lid for "sports" drinking, which snaps back and stays in place when opened, so it doesn't hit your face as you take a swig. The bottle's main widemouthed opening is great, too, because you can easily drop in regular ice cubes instead of having to buy those silly water-bottle ice molds. (The bottle also keeps cold water cold for hours.) There's even a little handle for easy transport, plus a removable silicone bumper at the bottom of the bottle to give it extra grip and protection. I'm tempted to get my own as a replacement for my current water bottle from a very popular brand (so I can stop stealing my husband's).
Chloe Anello, junior writer
I keep cheap, reusable water bottles everywhere: in my car, by my bed, in my gym bag, at my desk. I felt indifferent about all of them until I left this actually nice one in my car for almost an entire day in 90-degree heat — and returned to find that the water I filled it with stayed cold despite the bottle baking inside my car all day. Not to be dramatic, but that's extremely impressive. I never thought I'd be one to gush about a water bottle, but this guy deserves it.
Maxine Builder, managing editor
Yes, I have a widemouthed Nalgene for everyday hydration, and, yes, it is covered in stickers, including a Patagonia sticker from Bar Harbor, Maine, and a sticker from my hometown ski shop. But if you want to get more specific, I have the widemouthed, 32-ounce Nalgene made of HDPE, a super lightweight plastic. That means it only weighs 3.75 ounces when empty, according to the Nalgene website. The ones that are made of Tritan plastic weigh 6.25 ounces, and those three extra ounces make a difference when you're toting around a bottle full of water every day or going hiking or schlepping through the subway, carrying everything that feels like everything you own to the airport or Grand Central. As an extra bonus, this lightweight option is slightly less expensive than the more traditional Tritan ones.
The one situation in which I find my widemouthed Nalgene insufficient is at yoga. I go to Y7, which is hot yoga in a dark room, and trying to unscrew a cap in that situation is a recipe for disaster and spills. But I need to stay hydrated, so I tote along my 32-ounce widemouthed Hydro Flask with a straw lid, which really is as nice a water bottle as everyone says it is. The straw is easy to flip up and sip, and the water stays cold even in a humid yoga studio that hits 90 degrees. That's also why the Hydro Flask is my favorite water bottle to bring on long car rides, where I don't want my Nalgene to get baked and weight isn't a primary concern. (In fact, these two totally different water bottles make for the perfect duo when hiking. The Nalgene comes up the mountain with me, and the Hydro Flask stays in the car, keeping water cool for my return.)
Anthony Rotunno, senior editor
I knew nothing of the origins of the water bottle I've used every day for years until Liza asked me to tell her about it. Before she asked, I'd have said, "My husband received it as a freebie from a flak, and it sat unused on top of our fridge until I took a job at a local newspaper and started to bring my coffee to work to save money." Turns out the thing is some $55 stainless-steel thermos made in France by the Nice-based cycling outfitter Café du Cycliste. The company currently sells several water bottles, but mine is not among them, and it seems to be permanently out of stock at other places as well. That said, this less expensive bottle from Tree Tribe — an ecoconscious brand that apparently plants a tree for every sale it makes — has a similarly minimal look, a comparable shape, and even the wood-capped screw top that mine does (though the Tree Tribe bottle's logo is slightly less cool-looking than the Café du Cycliste one on mine). Importantly, it is also made of stainless steel, which will keep hot drinks hot, cool ones cold — and allow you to save money, too, should you decide to take a job at a local newspaper.
At home, I've taken to drinking from the intimidating water jug that my husband bought after Strategist contributor Caroline Goldfarb introduced readers to it in her ode. It's proved to be especially great in hot weather because we just fill it up in the morning before we go to work, stick it in the fridge, and then return hours later to a perfectly chilled gallon of water we can drink from all night.
Karen Adelson, senior writer
I first discovered this sporty style when I was working at a running store a few years ago. Since then, I've used a lot of different water bottles, but always came back to the Podium Chill. I have a few colorful S'well bottles that, while very pretty, I don't tend to use a lot because they aren't dishwasher-safe, and I'm lazy when it comes to cleaning. They're also not really an option for the gym because I can't twist off the cap with sweaty hands (although I would give their pop-top sports cap a try). My (surprisingly statusy) Nalgene bottle is great for work since I can fill it up with a ton of water at once, but it doesn't fit into the bottle holders on most treadmills. The Podium Chill, though, manages to do it all. It's insulated, keeping water cold, and you can twist the drinking valve to lock it, making it spill-proof. I find that it delivers a steady stream of water without leaking, and there's something satisfying about squeezing the bottle when I'm parched. It's also dishwasher-safe and is perfect for the gym since it fits on any machine, and I can toss it in my bag without worrying about spills. I wish it were a little nicer looking, but it does its job so well that I don't really mind.
Jenna Milliner-Waddell, junior writer
Unfortunately, I have not found a water bottle worthy of carrying to and from home every day. I have a S'well strictly for gym use, and I typically grab for a glass when I'm at home. The closest thing I have to a water bottle constant in my life would be my work water jug/jar, which I bought after feeling left out when several former co-workers started drinking out of Mason jars. I like it because it looks cute sitting on my desk and is perfect for lemon water, but the wide mouth doesn't exactly work with my klutzy tendencies, and the fact that it didn't have a lid didn't sit well with me either. But one day, while strolling through Target, I found these Ball straws and lids, which turned my jar into the perfect bottle. In addition to it being desk eye candy, I love that I now have a water bottle I can see through — because I know it's time for a cleaning when I can't see through it anymore.
Dominique Pariso, writer
My water-bottle history is a bit fraught: I used plastic water bottles all through high school (I know, I know) then went to college and bought my first S'well, which I truly loved, then lost. Then I bought a Sch'well (a fake S'well) on Amazon that was a very convincing fake, but it was hard to clean and I got freaked out that I was drinking mold. So then I went with this old-school Nalgene, per Karen's Status Water Bottle post. It's exactly one liter, which makes it easy for my brain to conceptualize how much I need to drink each day, and has a wide lip, which makes it easy to clean. Plus, the cerulean, lime, and orange colorway feels appropriately cheery.
Liza Corsillo, writer
I've gone through a lot of water bottles over the last five years because they're a popular freebie at press events and easy things to lose. I never got into using a Nalgene bottle because of the wide mouth, which I still haven't mastered drinking from without dousing my chin and chest. For a while, I was absolutely in love with my seafoam-green Soma glass water bottle for its beautiful design and narrow opening. But it doesn't keep water ice-cold all day the way this insulated MiiR narrow-mouthed water bottle does. I use this for picnics, riding bikes to the beach, or commuting when I really have my shit together. I also own the insulated growler, which, like Maxine, I keep in the car for post-hike hydration and sharing with friends who are always appropriately impressed by the water temperature.
The Strategist is designed to surface the most useful, expert recommendations for things to buy across the vast e-commerce landscape. Some of our latest conquests include the best acne treatments, rolling luggage, pillows for side sleepers, natural anxiety remedies, and bath towels. We update links when possible, but note that deals can expire and all prices are subject to change.