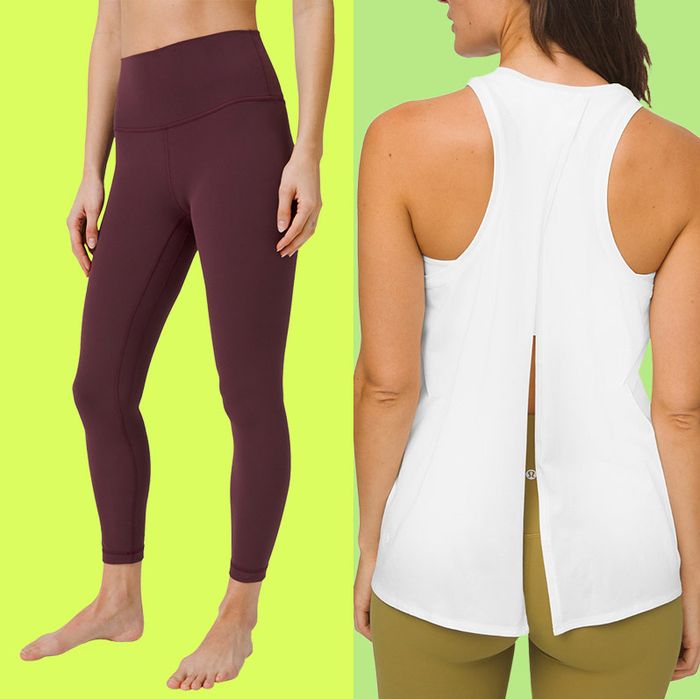 Photo: Courtesy of the vendor
Anyone who has shopped at a bigger-box store knows it can be hard to figure out where to begin. There are dozens upon dozens of options that all seem as worthy as the next, but the reality is that products from any given brand are not all created equal. When you shop as regularly as we do, you learn that many brands just do some things better than they do other things. Lululemon, with all of its stretchy, sweat-wicking offerings, is one of those brands, with an expansive inventory (more than 100 styles of leggings alone!) that can be overwhelming to sort through. To make it a little easier, we've culled through our archives and put together a list of all the Lululemon gear we've written about (along with the occasional piece that our friends at the Cut swear by, too). Read on for all of our favorite Lululemon finds, from Navarro-cheerleader-approved scrunchies to marathon-runner-recommended shorts (and tights and tops) to leggings beloved by fitness folk and new moms alike.
Lululemon's Align pants are one of the most universally beloved pairs we've written about. Fitness instructor Ashley Rosenberg calls the style a "forever classic" that's "just unbeatable." Expecting mothers, yoga instructors, and other fitness folk all agree, praising their high-rise fit, durability, and four-way stretch. Strategist contributing editor Jessica Silvester is another fan: She wore these while seven months pregnant and told us the same pair still fits her years later: "My proportions have more or less returned to normal, but the fabric has snapped back, too; it continues to conform to my shape."
This shorter version of the Align pants also works as both workoutwear and loungewear, according to the Cut's Diana Tsui. Made with lycra fiber that helps the pants hold their shape, Tsui says they offer a snug fit "without squishing any internal organs." She adds: "They're so ridiculously comfortable that I also wear them to sleep."
These elevated joggers work as well for lounging or working out as they do for days that require you to look more put together, according to author Lauren Weisberger, who told us she can't live without them. "These pants that are like regular pants. I've convinced myself that they can be worn in real situations, so I've worn them to meetings," she says. "The material is kind of crêpe-y and silky and hangs better than it has any business hanging."
The Strategist's resident running expert, senior writer Karen Iorio Adelson, calls this style one of her favorite pairs of running shorts. She likes that they are roomy enough around the legs, have a nifty side zipper pocket, and are long enough without getting in the way. "The slightly longer length provides generous coverage which can be nice on longer runs," according to Adelson.
Photo: Retailer
"When the weather's verging on too cold for shorts, fitted styles like these are warmer than loose ones since they allow for less airflow," Adelson says of these shorts, which she also loves to run in. "These are thin enough that you'll never overheat," she adds, noting that she "also loves the generously sized pockets, which fit my phone, keys, and some energy gels."
Photo: Retailer
Adelson also likes to wear these cropped tights on runs in cooler weather. "I started wearing these in the past year, and now I have them in three different colors," she writes. "Like the Fast and Free shorts, they're so thin and stretchy they feel like a second skin."
Fitness instructor Hollis Tuttle, who is also a Lululemon ambassador, says that this Lululemon racerback goes the extra mile during runs: "It's very breathable, light (even when sweaty), dries quickly, and does not chafe." The lightweight fabric is interwoven with naturally antimicrobial silver thread to prevent odor (Tuttle calls it "anti-stink technology"). Adelson — who is not a Lululemon ambassador — is also a fan, telling us that "this top is a workhorse that gets me through most of the summer."