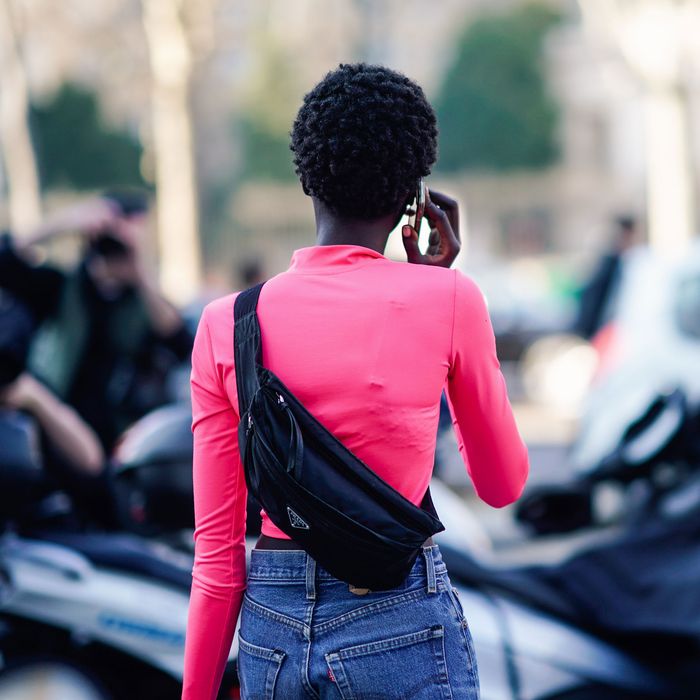 Photo: Edward Berthelot/Getty Images
The fanny pack, also known as a bum bag or waist pack, crossed the line from tourist trope to hypebeast accessory long ago. Now, it's become a practical option as common as a backpack or a status tote. And there's a good reason for that: The fanny pack allows you to keep your hands totally free but still travel light. Sure, it looks cool, but it's also versatile and useful. To find the most stylish (but still functional) fanny packs, we asked ten fashionable people, including models, photographers, stylists (as well as some of our own writers and editors), for their favorites.
Best
under-$50
fanny
packs
"JanSport is known for its high-quality book bags and sports bags," says stylist and designer Alljahni Mack, who adds that the same durable construction can be found in this fanny pack. It also adds a "beautiful splash of color to your outfit and is compact for an active day spent hiking or working out." While Mack is partial to this bright mustard color, it's available in six other options too.
While Strategist managing editor Maxine Builder finds the Lululemon branding on the front "a little embarrassing at times," she says that in terms of function, this fanny pack is "excellent." She can fit all of her necessities, including sunglasses case, wallet, phone, and car keys, and "easily sling it across my chest." Plus, "it's fairly sturdy," and "water-resistant," so she can wear it in a rainstorm and not worry that anything will get soaked.
Strategist senior editor Anthony Rotunno relies on this small sling bag, which he received from American Eagle last year, for frequent outside runs. "The nylon fabric means that even next to my sweaty body, it dries super fast, and the pack itself is nice and roomy — it's just one big pouch with a small zip pocket inside of it, which is great for keeping a phone or keys away from everything else," he says. Plus, "the strap is wide and easily adjusted."
"I like that this fanny pack is simple in looks and in construction," says Strategist writer Liza Corsillo. "It has a front pocket, a back pocket, and a waist strap — that's it." Corsillo says it "goes well with everything from jean cutoffs and sandals to a slinky black dress." She adds that she mostly uses it to replace a purse when walking her dog or to replace a backpack when biking. "The fabric is coated inside making it water repellent, so I can carry credit cards and my phone in the front without worrying that my sunscreen or hand sanitizer will spill on them."
If you want to invest in a sustainability-minded brand, stylist, Crumb Agency model, and photographer Michael Sabuni loves Afends. "This bag is a great choice as it boasts a steezy design," he says, adding that it's "not at the expense of our environment, which is a big plus." It's a durable hemp-cotton blend and has plenty of smart design features, including a magnetic flap closure, an adjustable cross-body strap, an internal pocket compartment, and a quick-access back zip pocket.
Podcaster and style expert Ella Sisso loves this fully monochrome bag in a cheery orange color. "This one is especially cute," she says. "Even the straps and zip are colorful." The bag also comes in dozens of other colors from bright blue to tie-dye.
For a leather option, style influencer Bethany Everett-Ratcliffe likes this Madewell belt bag. "At $45, this one is budget-friendly and big enough to hold the essentials," she says. This bag also comes in multiple sizes — from XXS to XXL — to fit a variety of waist sizes.
Sisso loves this roomy pouch that she says "you can use easily as an everyday bag," because the leather "will wear nicely" during daily wear and tear.
"I wear this if I'm all dressed up, but don't feel like carrying a bag," says Crumb Agency model Fiona Griffiths. While many people these days wear their fanny packs slung across their chests, Griffiths suggests using this one as a belt to create a "snatched waist." One of the most affordable options on the list, the structured silhouette makes it look like a splurge.
If you only need enough space to carry your keys and wallet, Mack says to try this super-affordable, contrast-stitched bag from ASOS.
Sisso also suggests this bum bag from Jade Thirlwall's collaboration with U.K.-based brand Skinnydip; she likes its fun fire pattern and the unexpected beaded details.
Best
under-$100
fanny
packs
Builder also uses this Dagne Dover fanny pack because its "logo is hidden on the backside, in relatively small print," making it more discreet than her Lululemon bag. And since it's made of "forgiving, easy-to-clean," neoprene, "it expands a fair bit," so she can stuff more into it. "It also feels a little less sporty, so it's a nice 'going out' option," she concludes. Everett-Ratcliffe also recommends this one, noting that it comes in ten different colors and "is small, but durable."
After being sent this diaper bag–fanny pack combo by Kibou in April, it has become Strategist writer Lauren Ro's "go-to." While it's technically meant to act as a compact replacement for a diaper bag — it has space for diapers, a waterproof pocket for wipes, plus a built-in changing mat in the back — she has begun using it as her everyday bag, she says. "What makes it convenient for baby use is what makes it great for everyday life: Everything you need is easily accessible, and it's small enough to not get in the way," she adds. Ro says she especially likes the pocket in the front with cardholders, which lets her grab her credit card without having to dig. She also likes that it's made of easily wipeable vegan leather. "It's just big enough to carry the absolute minimum: The main compartment fits my wallet (which is admittedly fat), phone, keys, a small bottle of hand sanitizer, lip balm, and a mask," she says. "I take it everywhere, and it's convenient for when I need to be hands-free, whether that's at the grocery store, chasing my toddler around the neighborhood, or at protests."
For longer excursions — "like a Citi Bike ride to catch a ferry to explore a far-flung park" — Rotunno recently bought this Fiorucci fanny pack to free his hands to hold bike handlebars while keeping essentials close. "This one has two main compartments: a larger one with an internal zip pocket, but also a smaller front pocket that's the perfect size for a phone, making it easier to reach for one if, say, I take a wrong turn on Flushing Avenue on my way to the Navy Yard pier," he says. While he notes that the strap is unembellished, the white-gold hardware is subtly stylish. While Rotunno admits this is a bit of a "splurge," he says that the fanny pack is a cheaper, more functional way to own a piece of Fiorucci's iconic design.
Jess Lawrence, social manager for Vogue Business and Crumb Agency model, says she loves this fanny pack because of its compact size and pop of color. "I'm trying to support Black-owned businesses as much as possible, and Daily Paper is amazing, always so innovative and creative," she adds.
Sabuni says that this option from Carhartt WIP is "a must-have in your arsenal of bum bags." It also has "lots of little compartments," he says, and comes in a variety of colors, including black, brown, green, navy, and camouflage.