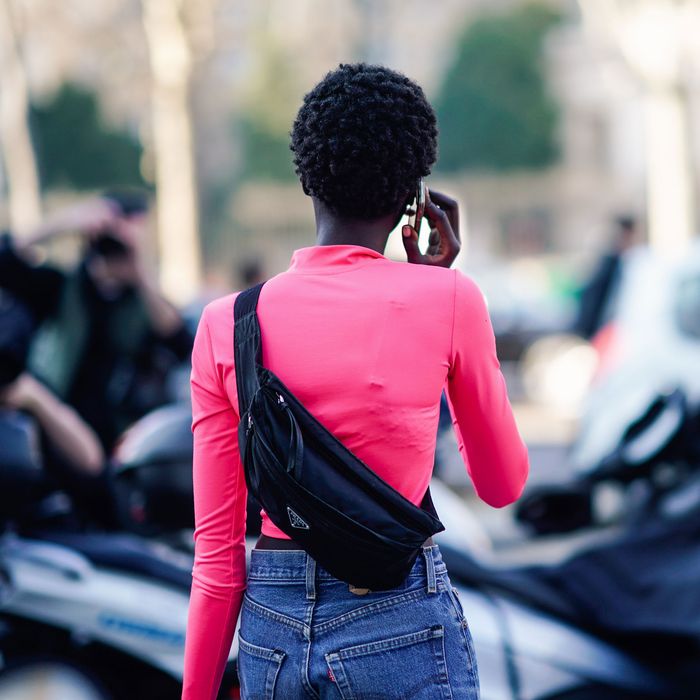 Photo: Edward Berthelot/Getty Images
Once mocked as a tourist trope, the fanny pack — also known as a belt bag, bum bag, or even waist pack — has become a must-have. Now it's just as common to see one as you would a backpack, gym bag, status tote, or cross-body. There's a good reason it's made such a transcendent comeback; much like the current Crocs renaissance, a fanny pack is, simply put, practical. "Gone are the days of bulky wallets and carrying around an entire vanity's worth of makeup — a phone, card wallet, lip gloss, keys, and your mask — is all [you] need," says stylist Lauren Messiah. "Make it completely hands-free, and it's a no-brainer." And the bright-neon nylon fanny packs of yesteryear are still here — but you're also more likely to see them in similar styles to the latest "It" bag: Take Coach's suede-and-leather one, for example, or even this jacquard option from Dior. To find the most stylish (but still functional) fanny packs, we asked more than a dozen fashionable people, including models, photographers, stylists, and some of our own writers and editors, for their favorites.
Best
under-$50
fanny
packs
"JanSport is known for its high-quality book bags and sports bags," says stylist and designer Alljahni Mack, who adds that the same durable construction can be found in this fanny pack. It also adds a "beautiful splash of color to your outfit and is compact for an active day spent hiking or working out."
While Strategist editor Maxine Builder finds the Lululemon branding on the front "a little embarrassing at times," she says that in terms of function, this fanny pack is "excellent." She can fit all of her necessities, including sunglasses case, wallet, phone, and car keys, and "easily sling it across my chest." Plus, "it's fairly sturdy" and "water-resistant," so she can wear it in a rainstorm and not worry that anything will get soaked.
Photo: retailer
Parents, please allow us to point you to this belt bag, which writer Sarah Hoover uses as a minimalist diaper bag. It turns out, Hoover writes, she didn't need all the frills — from bassinets to bounce seats — that she thought she did once her baby was born. Once she left her house with her newborn in tow, she "discovered that, for day-to-day excursions, a fanny pack is far superior to any proper diaper bag." At first, she would carry two diapers, a Ziploc of wipes, and an extra onesie in the bag. But as her son has grown, her load has actually gotten lighter — with more space to spare for her own essentials, like a ChapStick and credit cards (which she keeps in the front pouch of the fanny pack). "Paravel's pack, in its austerity and attention to smart design, goes well with jeans and simple dresses, but has a price that makes me not too worried if it ends up with a little baby puke on it," Hoover says.
"I like that this fanny pack is simple in looks and in construction," says Strategist writer Liza Corsillo. "It has a front pocket, a back pocket, and a waist strap — that's it." Corsillo says it "goes well with everything from jean cutoffs and sandals to a slinky black dress." She adds that she mostly uses it to replace a purse when walking her dog or to replace a backpack when biking. "The fabric is coated inside making it water repellent, so I can carry credit cards and my phone in the front without worrying that my sunscreen or hand sanitizer will spill on them."
This bag is a favorite of blogger photographer Ryne Williams, who calls it both sleek and stylish. A self-described "avid wearer of fanny packs," he points out the simple design of the bag as a big bonus, since it can go with just about anything. But don't let the small size fool you — there's enough room to hold a surprising amount, he says, with pockets inside the bag and outside (one on both the back and front).
Podcaster and style expert Ella Sisso loves this fully monochrome bag in a cheery orange color. "This one is especially cute," she says. "Even the straps and zip are colorful." The bag also comes in dozens of other colors from bright blue to tie-dye.
Here's another affordable Herschel favorite, which comes recommended by stylist Hallie Abrams of the Wardrobe Consultant. She appreciates that it's meant to be unisex (many on the market are still marketed as either for men or women) and waterproof — making the pack ideal for outdoorsy folks. Plus, Abrams points out that this fanny pack comes in more than 20 colors, like the one right above.
"I wear this if I'm all dressed up, but don't feel like carrying a bag," says model Fiona Griffiths. While many people these days wear their fanny packs slung across their chests, Griffiths suggests using this one as a belt to create a "snatched waist." One of the most affordable options on the list, the structured silhouette makes it look like a splurge.
Messiah loves this fanny pack from Fila for its affordability. But it's also on-trend, speaking to "the '90s moment we're still embracing." It features the brand's legendary logo on the front pocket.
This pick comes from frequent flier (and regular runner) Molly Fergus, who is the general manager of TripSavvy. Although it's much more athletic-looking than others on our list, Fergus is "extremely loyal" to this belt, owning more than five of them in different colors by her calculation. "The neoprene belt sits squarely on your hips and is tight enough to keep from bouncing around when you're running," she says. "The design is ingenious, too: It's essentially a neoprene tube about the width of your phone, with slits to slip in essentials," she adds. "Once full, flip the belt over so the openings are close to your body and nothing falls out." Fergus always packs one for trips — since she has to carry her vaccine card much more on these trips, it's become especially handy. "I've considered using this as a money belt when I'm in crowded areas. It could easily hide underneath a baggy shirt, so your passport, cash, and CDC card — perhaps the most valuable item of the three — are safely hidden," she explains.
"This brand is all about community and positivity," says Sabuni, adding that this bum bag is "great for someone who pays attention to small details when styling an outfit."
[Editor's note: Kwaleö lists its prices in pounds, so this is an approximation in U.S. dollars.]
Best
under-$100
fanny
packs
Builder also uses this Dagne Dover fanny pack because its "logo is hidden on the backside, in relatively small print," making it more discreet than her Lululemon bag. And since it's made of "forgiving, easy-to-clean," neoprene, "it expands a fair bit," so she can stuff more into it. "It also feels a little less sporty, so it's a nice 'going out' option," she concludes. Everett-Ratcliffe also recommends this one, noting that it comes in ten different colors and "is small, but durable."
[Editor's note: This Dagne Dover fanny pack is currently out of stock, but you can enter in your email to be notified when it's available to purchase.]
After being sent this diaper bag–fanny pack combo by Kibou last April, it has become Strategist senior writer Lauren Ro's "go-to." While it's technically meant to act as a compact replacement for a diaper bag — it has space for diapers, a waterproof pocket for wipes, plus a built-in changing mat in the back — she has begun using it as her everyday bag, she says. "What makes it convenient for baby use is what makes it great for everyday life: Everything you need is easily accessible, and it's small enough to not get in the way," she adds. Ro says she especially likes the pocket in the front with cardholders, which lets her grab her credit card without having to dig. She also likes that it's made of easily wipeable vegan leather. "It's just big enough to carry the absolute minimum: The main compartment fits my wallet (which is admittedly fat), phone, keys, a small bottle of hand sanitizer, lip balm, and a mask," she says. "I take it everywhere, and it's convenient for when I need to be hands-free, whether that's at the grocery store, chasing my toddler around the neighborhood, or at protests."