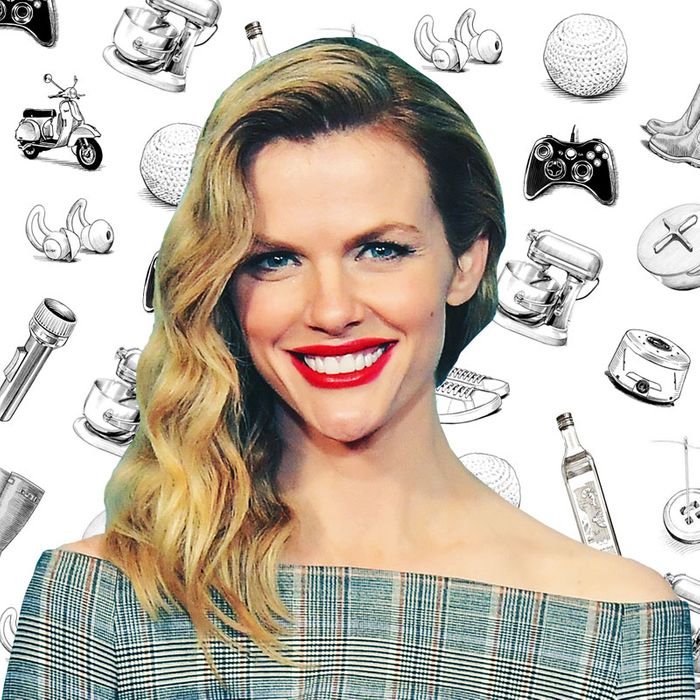 Illustration: Joe McKendry, Photo: Getty Images
If you're like us, you've probably wondered what famous people add to their carts. Not the JAR brooch and Louis XV chair but the hairspray and the electric toothbrush. We asked actress Brooklyn Decker — who recently partnered with Febreze for the launch of its Fade Defy Plug — about the ring light, body oil, and toothpaste she can't live without.
I truly don't know how I did any sort of video correspondence before we all had ring lights. I'm on Zoom calls all day, and I also audition on Zoom, so I have to look nice. I don't really see my girlfriends right now, so my ring light has become my new best friend. She makes me look and feel beautiful. She's there for me any time of day. My skin looks flawless thanks to her. This ring light is one of my most thrilling COVID purchases.
I split my time living in Austin and North Carolina, where I grew up. What doctors will tell you about living in Austin is that if you live here for a long stretch of time — I've been here for 11 years — you will eventually develop allergies to cedar. And it's true. You would think that you would build up an immunity to it, but it eventually wears you down; after about eight years of living there, I started developing allergies. It doesn't help that my house is in a literal cedar forest. This is really not the time to have allergies, because people are paranoid about any sneeze or cough. When I walk around my neighborhood, I'm always stifling coughs and sneezes caused by my allergies. So I really need Zyrtec, especially now that spring is here and I'm even more desperate for outdoor time.
Photo: Retailer
A friend gave this to me a few years ago as a gift. Mine has my initials on it and I love the look of it. It's so cute. But it also functions super well when I'm running around or outdoors. I can put my necessities in it — my phone, hand sanitizer, mask, wallet — and keep my hands free. It's comfortable to wear, too.
I've always been a big portable speaker person because I'm outdoors and hiking a lot. But I'm using this more now than ever. There are so many days when my kids and husband and I are all just exhausted. We're home all the time and in each other's faces every day. But if I play Wyclef Jean or Taylor Swift or anything upbeat on this speaker and blast it loudly — the speaker can get really loud — without fail, we will all start dancing. Everyone's mood is instantly lifted and the kids are burning physical energy. We can go for a solid 45 minutes. I can't wait until it's warmer so we can use it to have dance parties outside in our front yard.
This is such a mom thing. Lots of parents bring plastic sticky mats to restaurants so their kids don't leave the table a total disaster. But those are so wasteful because they go right in the trash when you're done. So I got these silicone place mats because they're reusable. We pop them in the dishwasher; they're so easy. We're not really going to restaurants right now, but we take them on outdoor picnics or bring them to parks to use on outdoor tables. The mats come in really cute prints — they're marketed toward kids, but I think they're great for adults, too, especially on flights when you have to use a tray table and might want extra protection. The company is female-founded and based in Austin.
This is from another female-founded company out of Austin. The founder is really particular about ingredients. I trust her formulations. Clean beauty is such a muddy space: What does clean beauty even mean? Something is organic? Plant-based? Cruelty-free? What are the specifics? It can be super overwhelming, but if I believe in a company and trust what it's doing, I feel good about using its products. That's the case with High Sun Low Moon. I use a bunch of its stuff, but I particularly love this oil. It's a universally flattering product — put it on and you look like you're glistening in the sun. It's super nourishing, too, especially in colder months when you want a little glow.
I would watch Melissa Wood's videos on Instagram pre-COVID and think, "Oh, that's interesting. I should try that." But I never actually did until a few months into the pandemic, when I really needed to move my body. My "me time" for working out is really sparse because my family is at home and the kids aren't in school. Melissa's videos are great because they're very quick. I can do an eight-minute arm workout or whatever whenever I have some free time. They're low-impact, gentle workouts that are super-effective. An hour-long workout is very intimidating to me — not to mention nearly impossible with my kids — but Melissa helps me fit a little something in that's just for me and makes me feel good.