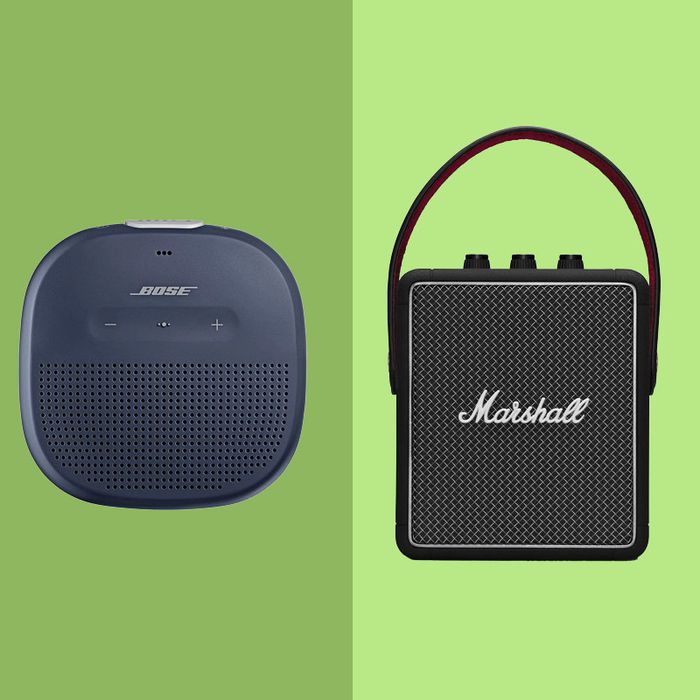 If you follow our monthly "Strategist Haul," you're familiar with the idiosyncrasies of our editors' and writers' shopping habits. While we think of those as the highlights, there are plenty of other things we buy — and love — on the regular, too. So whether you've wondered about the work bags we tote around or the underwear we're most loyal to, this is the "Stuff We Buy Ourselves." In this edition, the portable Bluetooth speakers our editors and writers rely on to listen to music at home and on the go. Perhaps not surprisingly, there are a few models that came up more than once, so we're starting this list with the speakers we heard about most frequently.
Louis Cheslaw, writer


I've had my Wonderboom 2 (the latest generation) since the summer of 2019, and all of the other speakers that have since come into my life — from a Google Nest to a Google Home to an Amazon Alexa to a JBL Clip — have only made me love it more. First, it pairs faster than any of those. Unlike the "smart" speakers I mentioned, it doesn't shout at me out of nowhere when it mishears its name, or when the Wi-Fi drops. It also doesn't listen to what I'm saying and then serve me related ads on Instagram two minutes later. And it plays whatever music I tell it to with clarity and depth. While my library is centered around guitar music and Motown-era R&B, my colleague and fellow Wonderboom owner Jordan Bowman says his rotation has "a lot of hip-hop, grime, and reggae" that sounds just as great pumped from the speaker. My former colleague Nikita Richardson, meanwhile, told me that she starts her day by cueing up the "latest episode of Morning Edition or Small Town Murder" on hers, and that it plays those podcasts just as crisply. But being a portable speaker, its performance at home is only part of its appeal. The Wonderboom, which is about the size of a mug, sounds just as good pretty much anywhere else. I like nothing better than to prop mine up under the windshield of whatever car I'm in, no aux required. I don't bother to fasten it more securely because I know that if it falls there'll be no damage nor stopping of my music.
While my Wonderboom may be my best-overall speaker (to put it in Strategist speak), I have found my JBL Clip to be superior for a very specific scenario that I think is relatable to many, especially amid the pandemic. On days when the weather allows, my girlfriend and I like to take nighttime bike rides around Brooklyn to get to outdoor bars and restaurants. Clipping this speaker over the frame of a bicycle and playing it — at a non-obnoxious volume, of course — as we ride provides what I'd call a cinematic element to an otherwise monotonous time. Oh, and because it's fully waterproof, I will also clip it to my shower rod and play it — at a non-obnoxious volume, of course — for sing-alongs. If I have any gripe, it would be with the sound; in my opinion, you sacrifice some quality to get a speaker as light and affordable as the Clip. But that's a tradeoff I'm more than happy to make for the situations I use it in. While I do not own the newest JBL Clip model (4), I do own the second-newest (3), and as long as I plug it in every three weeks, I never manage to kill the ten-hour battery while using it. (In their review of the Clip 4, our friends over at the Verge say it has the same battery life as the Clip 3.)
Jenna Milliner-Waddell, writer


Everything about the first and only portable speaker I've ever owned makes me sound much older than I am. The first version of the JBL Clip, which is what I have, is only available second-hand today; I purchased mine in-person, at a Radio Shack, in my college town — something I cannot imagine doing now, and not only because Radio Shack has since closed nearly all of its stores. My JBL Clip has moved with me from my first college "apartment" to the Brooklyn studio I live in now, and even though it's small, it's always been loud enough to fill whatever space I've lived in. As for its size, the speaker fits in my small Telfar bag — and even if I didn't have something to carry it in, its namesake clip allows it to attach to just about anything. My one complaint would be the battery life: These days, I mainly use the waterproof speaker for my ten-minute shower concerts and have to charge it on a weekly basis. But, again, mine is first generation, and as Louis points out, it seems the battery life has improved in the latest Clip 4 shown here.
Liza Corsillo, writer


Like a lot of people, I don't have a proper stereo at home. I used to use an Echo Dot as my speaker system. But I eventually got creeped out by the idea that it was always listening. Then, like some dads are known to do, I tried using different mugs to amplify my phone. That didn't last long. I got the Bose SoundLink speaker because I wanted something I could take to the park or the beach and also use in the shower. It's smaller than most books, but it manages to fill my two-bedroom apartment with rich, high-quality sound that I'd describe as whatever the opposite of tinny is. It also has a microphone, so I can use it for conference calls — something that makes me feel extremely powerful, even when I'm wearing pajamas on my couch. Plus, it holds a charge for what seems like forever.
Maxine Builder, deputy editor


I have my own Bluetooth speaker, but I find myself borrowing my boyfriend's Bose SoundLink Micro more often than I use my own. It's incredibly compact, about the size of my palm, with a little clip on the back, so you can attach it to a backpack strap or dry bag. And it's plenty loud, even when we're engaged in outdoor activities like canoeing or kayaking or biking or camping.
Chloe Anello, writer


Like the portable speaker Maxine uses, the one I use technically "belongs" to my boyfriend. I like it a lot: The sound is great, it's truly portable, and ours is five years old, which is to say it has lasted (and worked well) for a decent amount of time. The thing I like most about it is how the speaker automatically connects to known devices but is still very easy to switch from device to device. My boyfriend and I swap who plays the music all the time, and this functionality makes it pretty much seamless to do so.
Tembe Denton-Hurst, writer


I'd been lusting over another portable Stockwell speaker for the better half of a year when the brand reached out to me and offered to send its Stockwell II, which is lighter (and therefore even more portable) than the one I had my eye on. I fell in love at first sync. The sound quality is incredible; regardless of volume, it has this sort of warm, full sound. I'd previously been loyal to JBL (I had the Flip and multiple Clips), but after six months of using the Stockwell II, I'll never go back. Beyond being a superb speaker, it's also incredibly stylish — I love displaying it on my bookshelves or credenza, even when I'm not using it — and it is truly easy to tote from room to room or from couch to bed and back again. It also manages to keep a charge for an absurdly long time and has an auto-shut-off feature that helps preserve battery life, too.
Dominique Pariso, writer


For days spent wandering around from room to room inside, I rely on this handsome speaker from Harman Kardon. While it's compact enough to easily tote around, I rarely have to do that as it fills my entire apartment with a deep, rich sound. Like Tembe, I also appreciate that this speaker is not an eyesore. In fact, its little legs and rounded lines give it a slightly anthropomorphic vibe.
For outdoor pursuits, this small-but-mighty speaker that Tribit sent me back in September has quickly become a staple. The water-resistant speaker has a super handy silicone strap that I can attach to my bike's handlebars, and its palm-size body is small enough that I can stuff it in my fanny pack when I go roller skating. The sound is surprisingly powerful, too — enough that I can break it out during backyard gatherings.
Lauren Ro, writer


I got my first Sonos speaker at a press event several years ago and loved it so much that there are now five Sonos devices in my household. The latest addition to that collection, which I bought, is the Sonos Move: the brand's first portable Bluetooth speaker. The product attempts to resolve a problem that confronts every Sonos user — no matter how much you love the speakers, you could never really move them around with ease. With the Move, you get a truly portable device that offers the same seamless convenience, sound quality, and build Sonos's other speakers are known for. My husband and I can now start a podcast in the kitchen while we eat lunch and then finish it in our shared office upstairs. Or I can play our son's favorite Sesame Street tunes in the living room and then whisk him (and the Move) up to the bathroom for bath time without missing a beat. And when spring returns, with the Move in tow, we can have friends over in the backyard or meet them at the park for socially distanced hangouts. Simply put, the Move is an excellent solution for an existing Sonos user who wants true portability. While you don't need other Sonos devices to use it, know that part of its hefty price tag is for the ability to integrate it into a larger Sonos system.
Jessica Silvester, contributing editor


To incentivize my toddler to get out the door for preschool, I bought him one of these golf-ball-size speakers that come in various animal faces. He gets kind of mesmerized staring at the little penguin as it pipes through a Spotify playlist. He's also done his fair share of throwing the thing on the ground like a toy, and it's yet to break. And the battery life is a solid four-plus hours, or plenty of time for his attention to turn to another toy before it dies.
The Strategist is designed to surface the most useful, expert recommendations for things to buy across the vast e-commerce landscape. Some of our latest conquests include the best acne treatments, rolling luggage, pillows for side sleepers, natural anxiety remedies, and bath towels. We update links when possible, but note that deals can expire and all prices are subject to change.