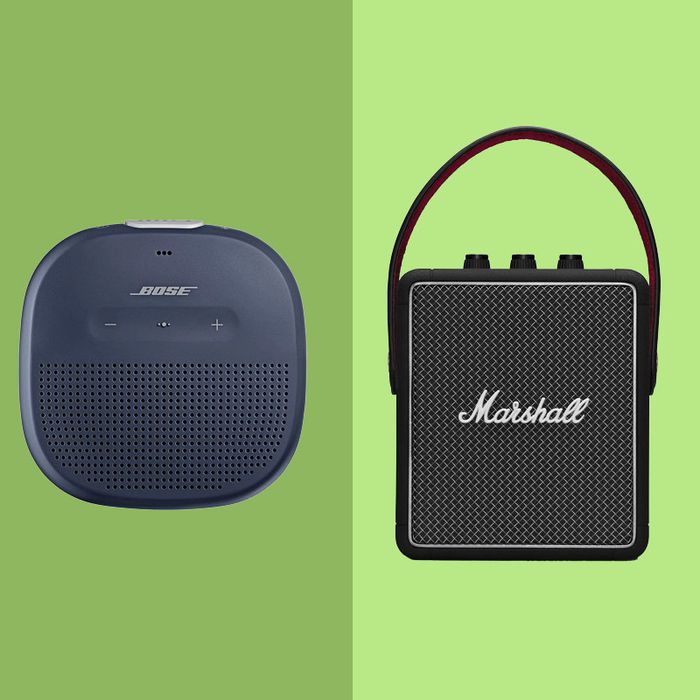 If you follow our monthly "Strategist Haul," you're familiar with the idiosyncrasies of our editors' and writers' shopping habits. While we think of those as the highlights, there are plenty of other things we buy — and love — on the regular, too. So whether you've wondered about the work bags we tote around or the underwear we're most loyal to, this is the "Stuff We Buy Ourselves." In this edition, the portable Bluetooth speakers our editors and writers rely on to listen to music at home and on the go. Perhaps not surprisingly, there are a few models that came up more than once, so we're starting this list with the speakers we heard about most frequently.
Liza Corsillo, writer


Like a lot of people, I don't have a proper stereo at home. I used to use an Echo Dot as my speaker system. But I eventually got creeped out by the idea that it was always listening. Then, like some dads are known to do, I tried using different mugs to amplify my phone. That didn't last long. I got the Bose SoundLink speaker because I wanted something I could take to the park or the beach and also use in the shower. It's smaller than most books, but it manages to fill my two-bedroom apartment with rich, high-quality sound that I'd describe as whatever the opposite of tinny is. It also has a microphone, so I can use it for conference calls — something that makes me feel extremely powerful, even when I'm wearing pajamas on my couch. Plus, it holds a charge for what seems like forever.
Maxine Builder, deputy editor


I have my own Bluetooth speaker, but I find myself borrowing my boyfriend's Bose SoundLink Micro more often than I use my own. It's incredibly compact, about the size of my palm, with a little clip on the back, so you can attach it to a backpack strap or dry bag. And it's plenty loud, even when we're engaged in outdoor activities like canoeing or kayaking or biking or camping.
Jenna Milliner-Waddell, writer


Everything about the first and only portable speaker I've ever owned makes me sound much older than I am. The first generation of the JBL Clip, which is what I have, is only available secondhand today; I purchased mine in person at a Radio Shack in my college town — something I cannot imagine doing now, and not only because Radio Shack has since closed nearly all of its stores. My JBL Clip has moved with me from my first college "apartment" to the Brooklyn studio I live in now, and even though it's small, it's always been loud enough to fill whatever space I've lived in. As for its size, the speaker fits in my small Telfar bag — and even if I didn't have something to carry it in, its namesake clip allows it to attach to just about anything. My one complaint would be the battery life: These days, I mainly use it for my ten-minute shower concerts (the speaker is waterproof) and have to charge it on a weekly basis. But, again, mine is first generation, and I can only assume that the battery life has improved in newer models like the Clip 4.
Louis Cheslaw, writer