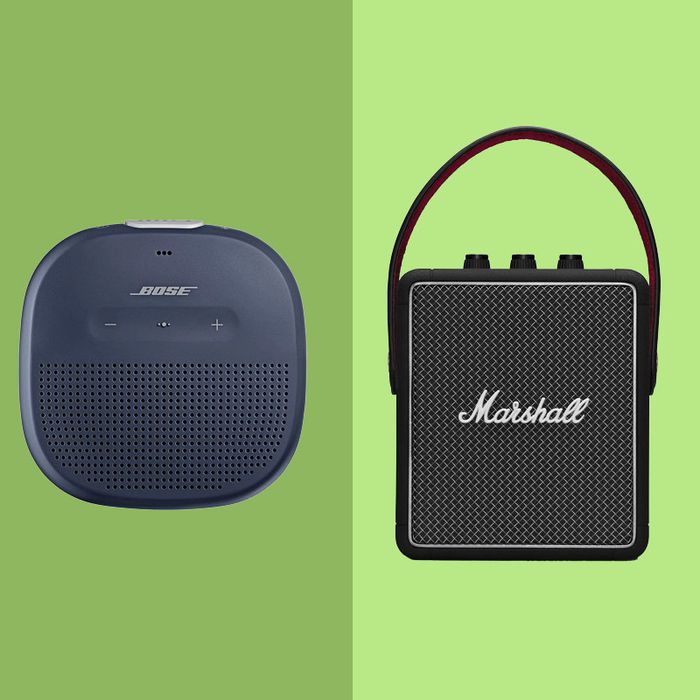 If you follow our monthly "Strategist Haul," you're familiar with the idiosyncrasies of our editors' and writers' shopping habits. While we think of those as the highlights, there are plenty of other things we buy — and love — on the regular, too. So whether you've wondered about the work bags we tote around or the underwear we're most loyal to, this is the "Stuff We Buy Ourselves." In this edition, the portable Bluetooth speakers our editors and writers rely on to listen to music at home and on the go. Perhaps not surprisingly, there are a few models that came up more than once, so we're starting this list with the speakers we heard about most frequently.
Louis Cheslaw, writer


I've had my Wonderboom 2 (the latest generation) since the summer of 2019, and all of the other speakers that have since come into my life — from a Google Nest to a Google Home to an Amazon Alexa to a JBL Clip — have only made me love it more. First, it pairs faster than any of those. Unlike the "smart" speakers I mentioned, it doesn't shout at me out of nowhere when it mishears its name, or when the Wi-Fi drops. It also doesn't listen to what I'm saying and then serve me related ads on Instagram two minutes later. And it plays whatever music I tell it to with clarity and depth. While my library is centered around guitar music and Motown-era R&B, my colleague and fellow Wonderboom owner Jordan Bowman says his rotation has "a lot of hip-hop, grime, and reggae" that sounds just as great pumped from the speaker. My former colleague Nikita Richardson, meanwhile, told me that she starts her day by cueing up the "latest episode of Morning Edition or Small Town Murder" on hers, and that it plays those podcasts just as crisply. But being a portable speaker, its performance at home is only part of its appeal. The Wonderboom, which is about the size of a mug, sounds just as good pretty much anywhere else. I like nothing better than to prop mine up under the windshield of whatever car I'm in, no aux required. I don't bother to fasten it more securely because I know that if it falls there'll be no damage nor stopping of my music.
While my Wonderboom may be my best-overall speaker (to put it in Strategist speak), I have found my JBL Clip to be superior for a very specific scenario that I think is relatable to many, especially amid the pandemic. On days when the weather allows, my girlfriend and I like to take nighttime bike rides around Brooklyn to get to outdoor bars and restaurants. Clipping this speaker over the frame of a bicycle and playing it — at a non-obnoxious volume, of course — as we ride provides what I'd call a cinematic element to an otherwise monotonous time. Oh, and because it's fully waterproof, I will also clip it to my shower rod and play it — at a non-obnoxious volume, of course — for sing-alongs. If I have any gripe, it would be with the sound; in my opinion, you sacrifice some quality to get a speaker as light and affordable as the Clip. But that's a tradeoff I'm more than happy to make for the situations I use it in. While I do not own the newest JBL Clip model (4), I do own the second-newest (3), and as long as I plug it in every three weeks, I never manage to kill the ten-hour battery while using it. (In their review of the Clip 4, our friends over at the Verge say it has the same battery life as the Clip 3.)
Jenna Milliner-Waddell, writer