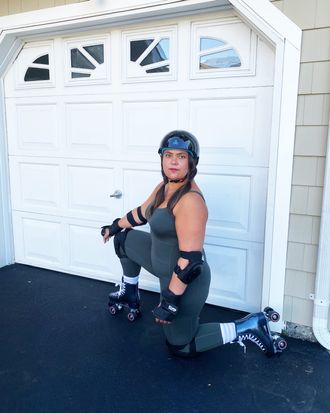 Like every teen on TikTok, I decided that this spring — and the lack of things to do it presented — was as good a time as any to strap a pair of roller skates for some good old-fashioned fun. I had, up until that point, only attempted to skate on two prior occasions. Once in my driveway when I was 8 (with a pair of white skates with pink wheels I had gotten for my birthday), and again in college at a United Skates of America roller rink. Neither foray went particularly well, but they also didn't go badly enough for me to give up on wanting to master the hobby.
Unfortunately, my renewed interest came at a time when there is an unprecedented roller-skate shortage, with every major retailer experiencing a surge in demand. Luckily, after stalking social media for weeks, I managed to snag a pair of black glitter Impala skates — the style that took the title of best affordable roller skates in a story I wrote last year — during a short-lived restock. My mom actually bought them for me for my birthday, some 16 years after she got me that first pair of pink-and-white skates. But, unlike those, I'm happy to say I've worn these wheels more than once. After hours of watching YouTube tutorials (shout-out to both Dirty Deborah Harry and Rebel RousHer for instructing first-time skaters such as myself for free online) and practicing in my parents' living room, I finally got the hang of skating. But in doing so, I learned that roller skates themselves are just one piece of gear you really need to hone your technique — without a handful of other key things, it can be much more difficult (and dangerous). Below is everything I used on my journey to becoming a bona fide (beginner) roller skater, from the multi-tool to the kneepads to the breathable helmet.
The multi-tool
The Y3 tool is a must-have. It allows you to loosen (or tighten) the nuts on your wheels, as well as your toe stop and the truck of your skate. Each time you lace up, you should ensure that all of these things are secure in order to skate safely. Fresh out of the box, your wheels may be too tight to spin freely, which will make learning how to skate much, much harder. Thankfully, my Y3 tool arrived before my skates did, so I could hit the ground running or, well, rolling. After practicing almost every day for several weeks, I noticed that my wheels had become too loose, but a couple twists of the Y3 tightened them right up. Essentially, you want your wheels to spin without wobbling up and down or side to side. And you want to tighten your toe stop to make sure it won't budge when you try to stop or stand up. Should I ever want to upgrade my skates by swapping their wheels for a new pair, this tool will also help me do that seamlessly.
The pads
I've fallen. A lot. It's kind of a prerequisite for roller-skating. Luckily, none of my spills have caused any serious damage (yet) — and I have these Smiths Scabs pads to thank for that. The set comes with wrist guards, kneepads, and elbow pads, all of which have protected me from fractured wrists and scraped knees. The pads aren't that bulky, but they can still absorb a lot of impact. And I love that Smith Scabs makes its pads in fun colors (red, blue, purple) and patterns (leopard, holographic silver, rainbow, and checkerboard). One thing to note: I have thick thighs and calves — my legs are 20 inches above the knee and 16 inches below the knee — and the extra-large Smith pads just barely fit. If your legs are thicker, I suggest you check out the Thick Set pads from Moxi, which have a similar streamlined design but with much stretchier bands.
The helmet
I admit that, when I was just focused on getting from my couch to my fridge, I didn't wear a helmet. But now that I'm trying to learn more complicated moves, I've been using this Triple Eight helmet. It complies with safety standards set by both the U.S. Consumer Product Safety Commission and American Society for Testing and Materials, and will protect heads from both low- and high-force impacts. I'm an extremely sweaty person, so I also appreciate how its air holes and sweat-wicking interior fabric help to keep me cool. While I opted for a shiny black helmet (to match my shiny black skates), they have a range of colors in both glossy and matte finishes, including a sherbet-colored ombré number, one emblazoned with a glitter rainbow, and a Moxi collab, which has both a Lisa Frank–esque blue-and-pink leopard pattern and an Evel Knievel–inspired striped option that I also considered. A helmet is only as good as the fit, which is another reason I like Triple Eight: The brand has a very helpful animated video to guide you to the right size, which includes tips on how to adjust your helmet for maximum safety.
The socks
Since skates come up pretty high on the ankle, a lot of skaters opt for socks that are calf- or knee-height, to keep the skates from rubbing against your skin. Because my gear is all black, I went a little crazy with my knee-sock purchases to add some color. In addition to two pairs of Skater Socks and a pair of Girlfriend Collective crew socks, I also bought this affordable multipack of knee-highs from Amazon. All help keep the tops of the skates from aggravating my skin as I move.
The bandanna