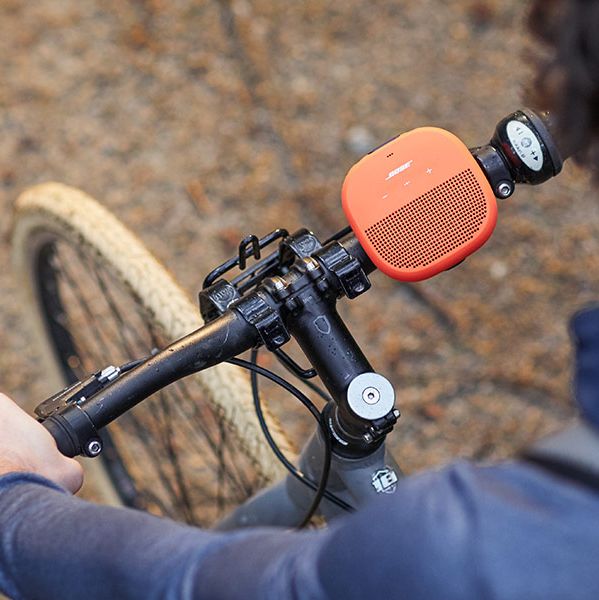 Photo: Courtesy of Retailer
Whether you're looking for something to use on the go or in the shower, a portable speaker will play any music, podcasts, or audiobooks a lot louder (and a lot clearer) than the one that comes with your phone or laptop. And while we've written before about lots of audio accessories — including the best noise-canceling headphones, wireless headphones, and workout headphones — here, we've rounded up the best portable speakers, as praised by the most enthusiastic reviewers on Amazon.
Related Articles: The Best Computer Speakers | The Best Record Players
Best-rated portable speaker
Over 53,000 reviewers give this Anker speaker five stars, with thousands particularly impressed with its 24-hour battery life. "Oh my God, it lasts forever," says one reviewer. "I've charged it once since I got it (a week ago) and used it every day for at least a few hours." Another calls it "RIDICULOUS. I gave it a full charge and got over a week play time while playing via Bluetooth at around five presses below max volume for about ten hours a day." And while the battery might be on par with the original Soundcore model, this newer model — called the Soundcore 2 — has several upgrades. It has 12-watt speakers instead of six-watt ones, which leads to a beefier sound overall. "I have the original Soundcore, which was an excellent little gadget until I finally blew a little speaker playing it louder than recommended, repeatedly, for years," one says. "This SC2 is also excellent. It does put out more sound and the base is fuller." This model is also waterproof, which increases the number of places you can port this speaker to. "This little speaker has taken on the Atlantic Ocean, Moriches, and Great South Bay with no problem at all," says one fisherman. "Swells of huge waves have soaked this speaker and it just keeps working."
Best-rated (less expensive) portable speaker
This under-$20 speaker received high marks from over 19,000 five-star reviewers for its sleek design and surprisingly powerful sound. "This is the most fantastic Bluetooth speaker I have ever purchased and I have purchased a lot," says one such reviewer, who goes on to say that the sound is "gorgeous," and the controls are "incredibly easy and intuitive. I might even add slick. I have no idea why they are selling [it] at this price." Another reviewer was looking for a small speaker to carry while on the go, but they were "pretty skeptical about this little $15 speaker being that great." As it turns out, "this little speaker packs BIG POWER," they write. "I can't believe the volume level. I have a much bigger 808 Audio Bluetooth speaker that cost much more and has half the sound." While the reviewer admits you're "not gonna be bumping bass with this little dude," they say it "gets the job done well" for streaming videos and music. And ultimately, for under $20, "if it does break, I won't mind buying another one."
Best 360-degree portable speaker
"360-degree sound is extremely innovative and the best part of this product, as it essentially solves the problem that most portable speakers have, which is the volume level being too loud for some people and not loud enough for others," one reviewer says, explaining the appeal of the unique design of this Bose speaker. They add, "With music coming from all sides of this speaker, everyone is hearing the same level of music and you can have it loud enough to be enjoyed but not worry about it overpowering someone else." Other companies make similar style speakers, but one user says this one from Bose is above the rest. "If you have owned a 360-degree speaker under a hundred bucks and then upgrade to this one," they write, "WOW, what a difference. I own the Soundcore Flare also; it sounds good, but you get what you pay for. The lows are much more pronounced on the Bose along with much fuller sound." It's a sound so full it's enough to power a party. "Used for the music at our outdoor wedding ceremony," one writes. "All 120 people could hear the music just fine."
Best portable speaker with long battery life
Like our best rated pick, also an Anker speaker, this model has an impressive 24-hour battery life. "Great little speaker — especially for the price," one says. "Sound is crisp and full, it looks great, and has a nice, solid heft to it. It's also extremely easy to pair to an iPhone. Once paired, it quickly and reliably connects to my phone when turned on." Another asks, "Is it the utmost in premium quality sound? Of course not, don't be an idiot, it's a tiny speaker that costs under $30." But they find it impressive nonetheless: "I think you would be hard pressed to find anything at this price point that comes anywhere even remotely close to the awesomeness you get with this speaker." Many of the thousands of reviewers call out the long battery life, including one who describes it as, "stupid-good … I have literally left this thing on for days — DAYS — and it still had juice." Another says "I have only charged it once and have likely played it for a total of 4 hours over the last week (Bluetooth) and the battery still says 100 percent." And when it comes to portability, reviewers say it can hold up to most environments. Reviewers use this in the bathroom, the car, and even on motorcycles, which leads one to say it's pretty durable: "I've dropped this thing onto the street from a speeding motorcycle — the speaker didn't even stop playing."
Best portable speaker with long battery life and enhanced bass
Hundreds of reviewers call out the bass quality on this Tribit speaker, which also has a 24-hour battery life. "The bass and sound quality out of this little speaker is truly unimaginable for its price range," says one. "I am a musician and I have good ears. I was just looking for a small Bluetooth speaker to take with me on the go outside when hanging with some friends and this speaker does more than I expected." Another reports, "Holy cow. The bass clearly scales with volume. At low-mid volumes I'm very surprised how much bass this little guy puts out. At high volume it's pretty thin. But even as I say that, it's still got a better low end at high volume than any other Bluetooth speaker at this size and price range I've ever used, and its volume is outrageous." And it's waterproof, too: "This little guy definitely plays with the big dogs! I'm impressed with the connectivity and battery life but mostly the quality of sound! Great for people who like to dance in the shower!"
Best touch-controlled portable speaker with long battery life
Thousands (upon thousands) of reviewers praise this speaker for its sound quality, 20-hour battery life, and sleek touch-controlled design. One reviewer starts off by calling it a "wonderful speaker," describing the sound quality as "beyond superb. The built-in subwoofer gives amazing bass for how much and how big the speaker is." Overall, they write, it's an "amazing Bluetooth speaker for the price." Another reviewer also appreciates the SoundBox for its sound quality, calling it "very crisp and clear, without any distortion," making it a great option for streaming both music and podcasts. They also praise its long battery life, saying, "A single charge lasts a very long time. Off and on during one week, I've calculated about 10.5 hours of use time before I heard the voice reminder to recharge." (But when the battery does die, it's fully charged in less than two hours.) "For the money paid, I think the performance makes it a steal," they write.
Best portable speaker with enhanced bass
"For around $40 you get a compact, tough speaker that pumps out some high volume and doesn't lose clarity, which is important because that's the first thing that happens to low-quality speakers: You crank 'em and they crackle," writes one reviewer. "I've had speakers twice this size sound remarkably similar." And for a speaker this size, about 15 percent of reviewers are most impressed with the bass quality. "Bass out the you know where, mids and highs are right there," one says. "I had to adjust my EQ to allow for the extra bass. Clean and crisp at ALL volume levels." One even says the sound is "louder than I need." In fact, "using power tools a couple rooms away from the speaker will allow me still hear it — anything louder and I would use earmuffs to protect my hearing." The Bluetooth range, which works up to 100 feet, is also highlighted by reviewers. "What I really like is that I'm able to leave my device, usually my Kindle, as I listen to a lot of audio books, in one place and move the Angle 3 Ultra with me as I do chores, even outside and in the garage for laundry," one says. "There isn't any static or broken connection, it's as clear and strong as if I were inside."
Best mini portable speaker with enhanced bass
Like the speaker above from OontZ, this one from Sony has enhanced bass, but the dimensions of this make it even more portable. "I hadn't known how compact it was when I purchased it but the sound quality is pretty clear and has a great volume for its size," one says. Another says, "Its dynamic range covers the highs and the lows. I didn't think a little thing like that could pump out bass like a subwoofer, but it does." This speaker is also waterproof and can be hung up, which users find is a big bonus: "Love the loop attached, makes it easy to hold or attach it to the handle of any beach bag or cooler," one explains. "The waterproof part is also a huge plus for the pool or beach!"
Best portable speaker for large parties
The JBL Xtreme 2 speaker is built with four drivers and two bass radiators to deliver immersive (and exceptionally loud) stereo sound for up to 15 hours — making it the go-to option for any (vaccinated) partygoers. "This thing traveled with me to our wedding in Mexico. It blasted tunes from sunup to sundown on the beach, got into a few rainstorms, survived baggage handlers, and still pumps the jams," one five-star reviewer writes. "If you're looking for a durable, LOUD Bluetooth player that plays with incredibly crisp and clear sound quality … this is the one." Because the Xtreme 2 can link with other JBL speakers via PartyBoost — a feature which Strategist tech writer Jordan Bowman says is perfect for outdoor parties — that reviewer advises that customers buy two for a "house party your neighbors are sure to love." Another points out that because it's portable (and easy to pair), it can be used for both work and play. "What I really like and was pretty much the reason why I got the speaker was because of its versatility," they write. They use it often for both music with friends while outdoors, and as "audio equipment with my PowerPoint presentations. Its versatility is king." And as for the bass: "You can kind of feel the bass thumping within your body which is really crazy good," they assure. "This speaker is a major GO!"
Best portable speaker for small parties
The well-reviewed JBL Charge 3 can also connect to other JBL speakers via PartyBoost Mode, though it's slightly less powerful (in volume and in bass) than the Xtreme 2 above. One reviewer who used to own the original JBL Charge model says the Charge 3 "blows the older out of the water." They also prefer the smaller Charge 3 over the JBL Extreme, which they purchased and returned. "I wanted a more intertwined and seamed-together theater sound," they write. The Xtreme had too much bass, but two Charge 3 speakers felt just right. After connecting the two to create a kind of surround-sound setup, the speakers make you feel as if "the singer is directly in front of you," they explain. "JBL hit it out of the ballpark on these guys." Another reviewer says this quality is something all JBL speakers share. "JBL is in it, to win it. I own the JBL Xtreme, the Charge 2+ and now the Charge 3. If I had to pick one it would be the Charge 3," they write. They say this is because the Charge 3 is louder than the Charge 2+, yet smaller than the Xtreme, making it the Goldilocks option in terms of sound and portability. "The sound is very well-balanced with an emphasis on midrange and vocals … yet the volume can go twice as loud as the Charge 2+ and almost as loud as the Xtreme," they write. "Kudos to JBL for making an already great speaker even better."
Best (less-expensive) portable speaker for parties
One reviewer said this the best purchase they made last year. "I have decent audio systems in the house, but find myself using this more often when I'm just in the kitchen, or when I'm in the shower, or when I'm outside," they say. It's perfect for gatherings, says another: "There isn't a beach day that does not include this speaker. For the BBQs and hangouts, this brings the party alive with the amazing performance." Other customers were equally impressed with the Flip 4's performance. "You can legitimately feel the bass of the lows," one reviewer says. "The mids are punchy and warm, the highs are clear. There's no distortion at high volume. JBL knows how to build a speaker, even portable ones. I've owned a few other brands in this size and they don't even come close to this one." Plus, like the two JBL speakers above, the speaker can be paired with other Flip 4's to give yourself a wireless multiroom sound system: "You can set the speakers in different rooms of the house and have music in every room and not have to worry about hearing it just from one speaker."
Best portable speaker for travel
More than 75 percent of reviewers give this portable speaker five stars, and dozens appreciate how compact it is making it easy to travel with. One customer has used his for nine months now and calls it "compact and well built." He thinks it "will travel easily," but he's not sacrificing great sound for space. "The sound will fill a room," he says. Another writes, "This space-saving, compact Bluetooth speaker actually delivers surprisingly good sound." He bought it to take to and from work and appreciates its compact size and stellar design. "The product design is superior, too, minimalist design with nothing flashing, but stays functional all around. It even has a rubber footing that helps to keep the speaker in one place." One shopper even says it's "louder than anticipated." He needed a shower speaker because he would "struggle to hear the music in the shower" when playing it on his phone. He thought this would just be a cheap speaker that would be fine for the time being, but he loves it. "One of the nicest features of this product is that it has an auto-off (about five minutes) when I leave the house," he writes. "It is wireless, and the charge lasts quite a while (I have used it for multiple days without plugging it back in). It is loud and has good bass."
Best portable speaker for sports
Reviewers say the Bose SoundLink Micro is great for any sort of outdoor activity because it's small, durable, and waterproof. A wildlife biologist says this "rugged" speaker was up for every challenge they could throw at it: "I am outside all of the time, and I have to kayak for work, so the physical toughness and the fact that it's waterproof were really important to me. For $100, this is a steal." Many purchasers say it's especially great to use to add a soundtrack to a bike ride: "This has completely solved my bike-riding music needs! It connects snugly to my crossbar with the included rubber strap that stretches to fit different sizes and types of mounting areas. It has never fallen off even when going off-road on bumpy terrain."
Best wearable portable speaker
More than 15 percent of reviewers appreciate the clip-on design of this portable speaker, which makes it very easy to take on the go. "A lot of cheaper clips won't stay straight when you try to hook them onto things, and you have to physically move it back into place to fully 'hook'. Not this thing," writes one reviewer. "I've hooked it onto doorknobs, backpacks, the belt loops of my jeans." This speaker is also waterproof, and according to one reviewer, who threw it in the pool to test it, "it does indeed float and no piece of hardware seems to have suffered as a result." Another reviewer really put it through the ringer, with minimal effect: "It held up perfectly to being dunked and held underwater as well as tossed off small cliffs into the water and sitting in the sun most of the day."
Best waterproof portable speaker
Reviewers love that this Bose portable speaker is waterproof. One spiteful customer bought this as a gift for a friend or potential significant other. But this "ungrateful person" really "pissed [her] off," so she "naturally decided to destroy this Bose speaker" that they loved. As she explains, "I ran water over it, but I noticed the water rolling off. I then submerged it in water and watched until little bubbles formed. I removed it and placed it back. The next day, this same ungrateful person is blasting perfect-sound-quality music from this damn speaker," and the buyer will now be a loyal Bose customer. Another shopper actually appreciates that it's waterproof. "It comes in the bathroom with me when I take a shower," he says. He also loves that he can easily "move it from room to room," but if he doesn't move it, it's still "loud enough to hear from another room that isn't close." And a third reviewer calls the waterproof feature "convenient" because she won't have to worry about her child accidentally getting it wet.
The Strategist is designed to surface the most useful, expert recommendations for things to buy across the vast e-commerce landscape. Some of our latest conquests include the best women's jeans, rolling luggage, pillows for side sleepers, ultra-flattering pants, and bath towels. We update links when possible, but note that deals can expire and all prices are subject to change.
Every editorial product is independently selected. If you buy something through our links, New York may earn an affiliate commission.