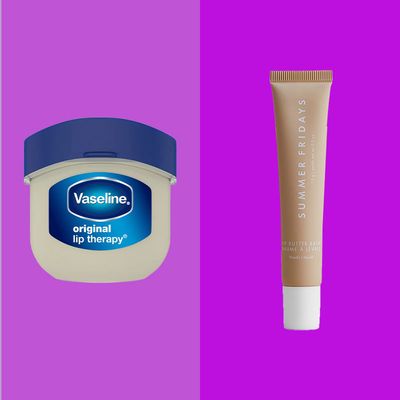 Photo-Illustration: Getty Images
We all have an items that we always seem to lose or just constantly need more of no matter how much of it we buy. For many people — including myself— that item is lip balm. I have multiples of my favorites (there's a teeny tub of Vaseline and a Rhode peptide lip treatment in my every bag) and somehow still find myself picking up another just in case. Most of us can attest to having a few rolling around in the bottom of our bags, and who doesn't have at least two hanging out in their desk drawers? So unless you magically keep track of your teeny-tiny tube of lip balm wherever you go, chances are you're looking to buy more. To help you navigate which to buy, we put together a list of some very hydrating (and mostly very cheap) options recommended by makeup artists, a dermatologist, and Strategist staffers who are very passionate about their balms.
All lip balms hydrate, but not all lip balms use the same ingredients to do this. We've noted the standout ingredients in each formula, whether it's powered by an old-fashioned emollient like petroleum or packed with extra skin benefits like shea butter or vitamin E.
As mentioned above, most of our lip balms skew to the affordable side, but in case price is a consideration, we've noted how much you're getting in a tube and the cost per ounce.
Best overall lip balm
Ingredients: Petroleum | Price: 0.25 ounces (Approx. $8/ounce)
I hate to do this, to tease you with the possibility of a fancy lip balm, when the truth is that Vaseline, the classic, the staple, is the best overall pick. It outperformed our previous go-to, Burt's Bees, which is nicely scented and works well enough but doesn't coat your lips in the same way. That one is more similar to a classic Chapstick, which, while effective, feels like a thin but nourishing layer of moisture as opposed to Vaseline, which is more buildable and can be as thick as you'd like. Then there's the matter of ingredients. Although beeswax is generally well tolerated by most, serious allergies to Vaseline are pretty rare, making it a good option for sensitive skin types too. It contains a single ingredient — petroleum jelly — an incredibly effective occlusive that locks in moisture and provides near-instant relief to ultradry chapped lips and skin. Recently, when my lips had a freak allergic reaction to another lip product, Vaseline was the only thing that would soothe my cracking, raw lips. In five days it was cleared up, but I continued to keep Vaseline close, and it quickly turned to my go-to for everyday use. It layers nicely under other lip products (namely Ami Colé's lip gloss, which can feel thick atop dry lips) and melts down over time. Strategist kitchen and dining writer Emma Wartzman is also a regular user, as is Strategist writer Amber Pardilla, who says, "This is what you use when your lips are bone dry, chapped, and ready to bleed."
Best lip mask for very dry lips
Ingredients: Vitamin C | Price: 0.7 ounces (Approx. $31/ounce)
The Laneige lip mask has reached cult status thanks to its thick, gloopy texture and sweet berry scent. It sort of wraps your lips in a deeply moisturizing film that sinks in and seemingly repairs them overnight. It contains vitamin C and other antioxidants along with hyaluronic acid, which gives lips that hydrated, plump look. Even though it's meant to be used as a reparative nighttime treatment, many people (myself included) have ignored the instructions and worn it all day long. Storm Reid is a fan, using it as both a balm and a lip gloss. "It keeps my lips super-moisturized but also has a high-shine gloss and adds a little plumpness to my lips," she says. Strategist writer Erin Schwartz applies it nightly, and though they aren't thrilled with the mask's stickiness, they wear it anyway because "the formula is just that good."
Best lip balm for very dry lips
Ingredients: Petroleum, mineral oil, ceresin, lanolin, glycerin, bisabolol | Price: 0.25 ounces (Approx. $1.40/ounce)
One of the hallmarks of Accutane is unbearably dry lips because the acne-eliminating medication works by decreasing the size of oil glands in the skin. Makeup artist Kasey Spickard, who has been on the medication multiple times, can attest to the effectiveness of Aquaphor in treating Accutane-dried lips: "It's simple and stands the test of time to hydrate and soothe lips," he says. Aquaphor is an occlusive and contains petroleum jelly alongside a bunch of other ingredients such as mineral oil, ceresin, lanolin, glycerin, and bisabolol, an antioxidant that has anti-inflammatory properties. It's also good for non-Accutane users. I am a longtime fan — it's been my go-to since 2015, and despite trying a whole host of other lip balms, it's the only one I come back to time and time again. I have it in just about every size from the tiny half-ounce tube to the larger squeeze bottle. I keep a few around the house at all times and apply it to my lips regularly. It's softening without being greasy and provides immediate relief. It also doubles as a colorless highlighter. When Rio Viera-Newton asked an array of cool people about the best beauty products under $10, Maddie Biallis, the manager of new product and collaborations at Alex Mill, named Aquaphor, which she says gives skin a "perfect glisten-y high-shine effect."
Best glossy lip balm
Ingredients: Shea butter, avocado butter, peptides | Price: 0.3 ounces (Approx. $53/ounce)
I love a glossy lip balm — it's the ideal two-in-one, offering shine without sacrificing hydration. My current favorite is this one from Nudestix, which has peptides (all the rage in newish lip balm launches) along with avocado and shea butters, moisturizing ingredients that contain vitamins A and E to soften and soothe dry lips. Beyond the hydrating properties, it's very glossy, and thanks to the peptides, a bit plumping too. And though I'm typically sensitive to fragrance, after weeks of using it, this one —which smells of vanilla-mint— hasn't broken me out at all.
Best tinted glossy lip balm
Ingredients: Shea butter | Price: 0.35 ounces (Approx. $49/ounce)
Laneige also makes lip balm, and it is very good. It's a go-to for me and lives up to its "glowy" claim. It's very shiny — almost lip-gloss-level shine — and very moisturizing. It's less sticky than the lip mask and feels like a true daytime alternative. Rather than using the brand's proprietary moisture-wrap formula, it moisturizes using shea and murumuru butter, which contributes to the slick, less sticky feel. Spickard is a fan, noting that the packaging makes it easy to take on the go and to apply to clients. It's available in five sweet-smelling flavors, some of which are tinted to give lips a little extra color.
Best lip balm for chapped lips
Ingredients: Sugar, mango butter | Price: 0.12 ounces (Approx. $133/ounce)
If you're looking for another two-in-one, celebrity esthetician Sarah Akram recommends this exfoliating lip balm from Dior, which she says is a triple threat. "It's a nourishing balm, lip exfoliator, and has a touch of pink for a naturally rosy finish," she says. It exfoliates using fine grains of sugar that melt away, leaving a moisturizing balm behind. Akram recommends it especially during the colder months as lips start to get dry and chapped.
Best vegan lip balm
Ingredients: Shea butter, murumuru butter | Price: 0.5 ounces (Approx. $44/ounce)
Some lip balms incorporate beeswax, which may not be an option for someone who doesn't use animal by-products. I'm a longtime fan of this option from Summer Fridays, which uses thick butters like shea and murumuru to moisturize lips along with vegan waxes that give it a lip gloss–like shine. It comes in an easy-to-use squeezy tube (though OGs will recall the aluminum tube reminiscent of Aēsop hand cream) and has a curved applicator that hugs your lips. It has become ubiquitous of late thanks to TikTok hype and celebrity endorsements (Sofia Richie Grainge famously wore it throughout her wedding weekend), but it's a longtime favorite of Viera-Newton, who first sang its praises in 2020. "It works wonders when it comes to moisturizing, nourishing, and repairing cracked lips," she says. Makeup artist and Humphreys Witch Hazel committee member Jaleesa Jaikaran is also a fan: "It has become one of my favorites this year — so much so that I've gifted it to clients. It helps with dullness and dryness that lasts throughout the day." And though this isn't table stakes for a lip balm, it also tastes good.
Best less expensive vegan lip balm
Ingredients: Petroleum jelly, fermented papaya | Price: 0.9 ounces (Approx. $10/ounce)
Another do-it-all salve that's ideal for the lips is Lucas Papaw. Strategist writer Kat Gillespie has been using it since high school and attests to its ability to quickly and effectively moisturize. "It's essentially Vaseline mixed with fermented papaw (papaya). It has a slightly chunky texture and goes on pretty thick. It's perfect for when things get a bit dry or cracked," she says. It also is a bit glossy, if you're into that.
Best medicated lip balm
Ingredients: Camphor, menthol, cocoa butter | Price: 0.35 ounces (Approx. $5/ounce)
We first wrote about Carmex back in 2017, when Tyler Oakley named it as something he can't live without. In the time since, it has been recommended by podcast host Clara Amfo and Ellie Kemper, who said that nothing else compares. It also comes recommended by dermatologist Dr. Karan Lal of Schweiger Dermatology, who says it's healing because of its star ingredient: camphor. Camphor is a mild pain reliever that's known for its ability to soothe chapped dry lips. It also contains menthol, which creates a cooling sensation and gives Carmex its signature minty scent.
Best lip balm with SPF
Ingredients: Aloe, vitamin E, SPF 30 | Price: 0.15 ounces (Approx. $20/ounce)
The skin on your lips is very thin and thus susceptible to being sunburned just like anywhere else on your body. That's where lip balm with SPF comes in. Lal recommends this one from Sun Bum, which has an SPF of 30 and comes in a range of flavor options. Its main ingredients are vitamin E and aloe, which work together to soothe and moisturize.
Best lip balm with physical SPF
Ingredients: Cupuaçu butter, mongongo oil | Price: 0.15 ounces (Approx. $120/ounce)
If you prefer a mineral sunblock to a chemical one, there's Coola's lip balm, which comes recommended by Strategist senior editor Crystal Martin. "The colors are really cute," she says. "You can throw it on and look a little zhuzhed up but not trying too hard." It moisturizes using a blend of cupuaçu butter and mongongo oil, which gives it a creamy, spreadable texture.
Best tinted lip balm
Ingredients: Lanolin | Price: 0.27 ounces (Approx. $30/ounce)
Originally designed for breastfeeding mothers, this balm has become popular for its deeply hydrating properties. Spickard says it's a staple in his kit because it's both hydrating and soothing. Its main ingredient is lanolin, a popular occlusive derived from sheep's wool that helps to stop moisture loss in the skin. While Spickard likes the original clear formula, he recommends the tinted version, which he says gives lips a "simple, light wash of color."
Best-smelling lip balm
Ingredients: Lanolin, beeswax | Price: 0.5 ounces (Approx. $24/ounce)
Glossier Balm Dotcom has made fans of everyone from Rio to celebrities to teen girls. It likely has something to do with its photographable Pantone-colored packaging and thick but not greasy formula, which works as well on lips as it does on the apples of your cheeks (Rio often uses the berry shade as both balm and blush). It contains beeswax and lanolin, which Lal describes as "super-moisturizing." The original clear shade is great if you're looking for the basics, but the scents are what really sets the balm apart. Recommendations vary. Rio is partial to coconut, while Pardilla is a Birthday fan. "It's a hill I'll die on," she says. The vanilla buttercream scent has a subtle, superfine shimmer, which Pardilla says is "barely noticeable on its own but looks especially pretty on top of a matte lip."
Some more lip balms we've written about
• Sarah Akram, celebrity esthetician
• Kat Gillespie, Strategist writer
• Jaleesa Jaikran, makeup artist
• Dr. Karan Lal, dermatologist at Schweiger Dermatology
• Crystal Martin, Strategist senior editor
• Ambar Pardilla, Strategist writer
• Karol Rodriguez, makeup artist
• Erin Schwartz, Strategist writer
• Kasey Spickard, makeup artist
• Emma Wartzman, Strategist writer
The Strategist is designed to surface the most useful, expert recommendations for things to buy across the vast e-commerce landscape. Some of our latest conquests include the best women's jeans, rolling luggage, pillows for side sleepers, ultraflattering pants, and bath towels. We update links when possible, but note that deals can expire and all prices are subject to change.
Every editorial product is independently selected. If you buy something through our links, New York may earn an affiliate commission.