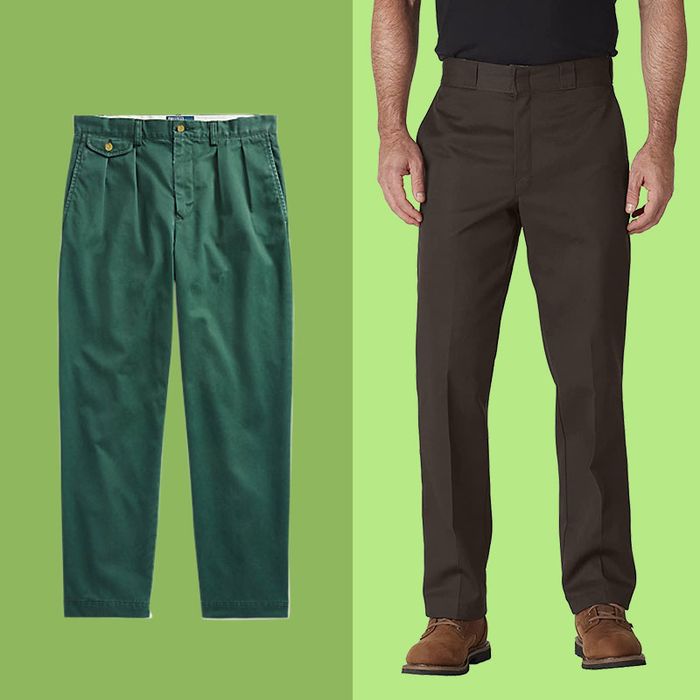 Chinos suggested; motorcycle not required.
Photo-Illustration: The Strategist; Photos: Retailers
Chinos are often written off as the go-to dad look. You imagine someone wearing oversize pants that become a pool of baggy fabric over the tops of New Balance sneakers. But I think they can be a critical part of any man's wardrobe if styled well. The chino is all about versatility — it can be paired with sneakers, loafers, dress shoes, or combat boots.
Chinos typically fall somewhere between denim and dress pants on the casual-to-formal spectrum. For years they were seen as the epitome of business-casual style. However, chinos have a more interesting history. Similar to the way denim originated as workwear, chinos started out as military trousers made from twill cotton during the Spanish–American War. The chino later evolved from a military garment into a mainstream piece of clothing — similar to the way bomber jackets did when GIs continued wearing them after returning from World War II. Chinos made their mark on modern American style when they became a preppy staple among East Coast Ivy Leaguers throughout the 1950s and '60s. They even made their way to Hollywood and were often seen worn by Steve McQueen and Paul Newman.
It's because of their military origins that chinos tend to be more casual than suit trousers, says personal stylist Patrick Kenger of Pivot Image Consulting. And although many people use the terms "khakis" and "chinos" interchangeably, khaki is a color, while chino is the style; chinos are available in a variety of colors, from khaki to black to gray to green (and beyond). Today, you'll be hard-pressed to find a menswear brand that doesn't have its own version of a pair of chino pants — in addition to OG options like Dockers, everyone from Bonobos to Ralph Lauren offers them. To find the very best ones, we asked stylish guys to share their favorites.
Best overall chino | Best workwear chino | Best slim-fit chino with stretch | Best chino for men with big thighs | Best relaxed-fit pleated chino | Best slim-fit lighter-weight chino | Best warm-weather chino | Best splurge-worthy chino | Best made-to-order chino | Best upcycled chino
What we're looking for
Sizing: One factor we looked at when searching for the best chinos was size inclusivity — a wide range of available waist sizes and inseam lengths. Some brands allow you to select your waist and inseam measurements independently, while others only let you select your waist measurement and pair it with a fixed inseam length. (Inseams for most styles of men's pants tend to fall between 30 and 34 inches on average.) To find your ideal measurements, in addition to measuring your body, try measuring the waist and inseam on a pair of pants that you already love and using those measurements as your starting point.
Cut: There are three dominant cuts of chinos: straight fit, slim fit, and relaxed fit. The straight fit, where the legs are cut straight down with a consistent measurement from the hips to the bottom of the pants, is a classic and one of the most popular options. It looks good on a variety of body types and will endure even as trends come and go. A slim-fit cut will be snugger in the butt and thighs while also tapering toward the bottom of the legs. And a relaxed fit is designed to be looser in the butt, thighs, and even in the legs, where it has a wider drape. It's also quite comfortable because it isn't as restrictive as slimmer cuts.
Pleats versus flat front: Pleats are a familiar style detail on chinos. Pleats are essentially folds of extra fabric stitched into the top of the pants around the waistband that allow for more room in hip and thigh areas. While they are often associated with a more relaxed fit, pleats don't determine the overall cut of the pants — you can still have pleats in a pair of trousers that have a slimmer or tapered cut in the legs. For each of our chino picks below, we've noted whether the pants have pleats or a flat front.
Fabric: Chinos are traditionally made from 100 percent cotton with a twill weave that is meant to be sturdy and long-lasting (a by-product of the pants' history as militarywear). Chinos tend to be softer and more lightweight than jeans. Modern chinos are sometimes made with synthetic materials like elastane to add a bit of stretch for even more comfort or maneuverability.
Best overall chino
Waist sizes 26–38 | Inseam sizes 28–36 | Flat front | Straight leg | 97% cotton, 3% elastane 
As a "Northeastern preppy American kid," WM Brown founding editor Matt Hranek told us that he's "lived in chinos my entire life." He says he's tried "every incarnation — expensive and otherwise" and finally found his perfect pair at the resurgent teen (and tween) favorite Abercrombie and Fitch. But Hranek promises these are not your cologne-soaked Abercrombie chinos from yesteryear: "The new designer they brought in to make the brand a little less 'shirtless men and perfume' has a long history in menswear," he tells us, adding that Abercrombie's chinos now feature "great construction and perfect sizing." Because they have a little stretch, Hranek says they feel "like pajamas" but assures that the twill cotton fabric is sturdy — "kind of bulletproof" are his exact words — "and definitely carbonara-spill-proof." Hranek is partial to the classic straight fit, which he owns in "every shade of tan." (Abercrombie's chinos are also available in skinny, super-skinny, and athletic-skinny cuts, and in a variety of neutral colors.)
Best workwear chino
Waist sizes 28–58 | Inseam sizes 28–39 | Flat front | Straight leg | 65% polyester, 35% cotton
Two of our panelists enthusiastically endorsed the classic 874 work pants from Dickies, which Noah Johnson, a senior editor at GQ, told us are the "ultimate egalitarian chino." He appreciates that they come in different inseam lengths ranging from 28 to 39 inches, meaning that even people who are on the shorter side might be able to avoid going to a tailor to have them hemmed, and taller people will likely still find a pair that's long enough (note that the 37- and 39-inch inseams will come unhemmed). Johnson also appreciates the "subtle sheen" of the fabric and the "flawless factory crease" you will find in any new pair. Fashion writer and DJ Isaac Hindin-Miller also loves Dickies — and has since he was a teen: "They are the sturdiest pants on the market, they're stain-resistant, classic, and will never go out of style." Hindin-Miller adds that he wears his favorite 874s in white all year round, "Labor Day be damned," but they come in more than a dozen colors to suit all seasons and tastes.