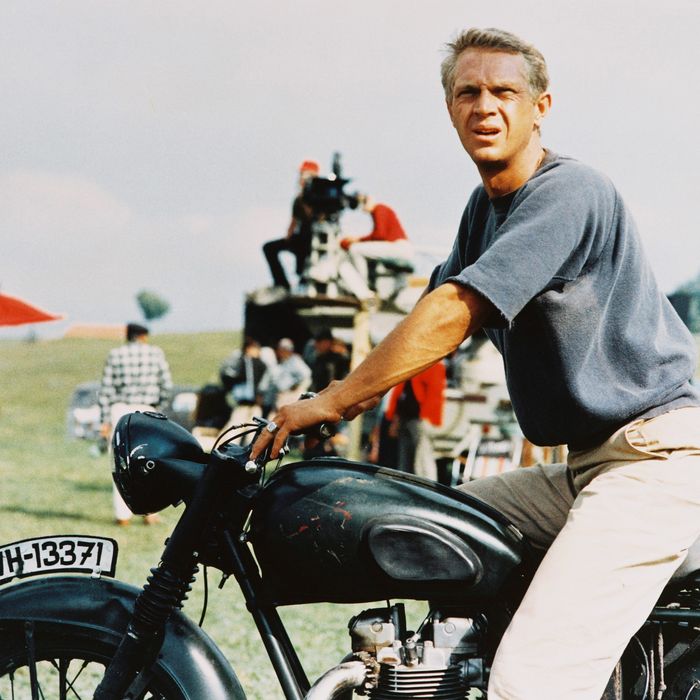 Chinos suggested; motorcycle not required.
Photo: Silver Screen Collection/Getty Images
Yes, the global pandemic and the work-from-home culture it spawned have undeniably led to a loungewear boom. But after a year of wearing it, many guys are feeling a desire to dress up again whether they're returning to their offices or not. Even if your boss can't see that you're wearing them on Zoom, chinos — a softer, more urbane cousin to khakis — are an ideal pant to pull on if you want to feel a bit more put together. (Technically, chinos don't show any stitching and are more of an indoor garment than a pair of khakis. Also, khaki is a color; chino is a style.) Unlike some denim, most chinos are comfortable enough to lounge around in, and they're also smart (looking) enough to trick your brain into thinking you've dressed up for the workday.
Seeing as just about every menswear brand offers a chino (or three), we asked 13 stylish guys to tell us about their favorite pairs to help separate the good from the great. Read on for their suggestions, which include affordable workwear staples, instant classics from lesser-known brands, and reimagined vintage pairs with no detail left unperfected.
Best
under-$100
chinos
for
men
Two of our cool guys enthusiastically endorse the classic 874 work pants from Dickies, which Noah Johnson, a senior editor at GQ, told us are the "ultimate egalitarian chino." His favorite Dickies details include the fact that they come in different inseam lengths, meaning you might be able to avoid going to the tailor, and the "subtle sheen" and "flawless factory crease" you will find in any new pair. Fashion writer and DJ Isaac Hindin-Miller also loves them — and has since he was a teen: "They are the sturdiest pants on the market, they're stain-resistant, classic, and will never go out of style." Hindin-Miller adds that he wears his favorite 874s in white all year round, "Labor Day be damned."
When we asked UX designer Nehemiah Blackburn who makes his favorite chinos, his answer was the same one we hear for a ton of men's basics: "Uniqlo, Uniqlo, Uniqlo." Blackburn says he has worn the same pair of these slim-fit chinos for three years and they're "still in great shape." While not all of us may be shopping in stores yet, he notes that Uniqlo offers free in-store hemming within 30 days of your purchase and "usually turns them around in a single day," at least in his experience. Nicolas Lazaro, a community specialist at the menswear platform Grailed, is also a fan of Uniqlo's chinos, telling us they are the first pair of "non-Dockers" chinos he ever bought. "The best under-$40 chinos you'll find anywhere," he says, adding that "with a little tailoring or a folded cuff, they can look as good, if not better than, most luxury options."
Speaking of Dockers, actor and model Kyle Andrew says, "If you don't have a pair of their chinos in your closet, you've skipped an entire rite of passage." Andrew appreciates that Dockers makes its Ultimate Chino in a "massive range for men of all shapes and sizes," adding that, in his experience, "they wash and wear forever and are incredibly low maintenance in terms of stuff like wrinkle care."
As a "Northeastern preppy American kid," WM Brown founding editor Matt Hranek told us that he's "lived in chinos my entire life." He says he's tried "every incarnation — expensive and otherwise" and finally found his perfect pair at Abercrombie and Fitch. Hranek promises these are not your cologne-soaked Abercrombie chinos from yesteryear: "The new designer they brought in to make the brand a little less 'shirtless men and perfume' has a long history in menswear," he tells us, adding that the chinos the brand now offers have "great construction and perfect sizing — they never require tailoring." Because they have a little stretch, Hranek says they feel "like pajamas" but assures that the twill cotton fabric is sturdy — "kind of bulletproof" are his exact words "and definitely carbonara-spill-proof." The chinos come in three different leg widths, though Hranek is partial to the classic straight fit, which he owns in "every shade of tan."
According to Strategist contributor Chris Black, you can't say chino without paying respect to J.Crew, a brand that is "usually on sale." Black describes the brand's 484 slim-fit stretch chino as "not exactly light" but still "fine in the warmer months." He also likes the range of shades they come in, which include a dark Catskill Green color and a gray called Light Stone.
Photo: retailer
If you're a guy who feels squashed in any pants that aren't sweats, Calvin Stowell, the chief growth officer at the Trevor Project, says that his "bigger" size means most chinos don't fit him well, especially over the thighs. Chinos from Bonobos, however, have been his saving grace. "They fit nicely over my butt and thighs without being too baggy at the ankle and last longer in the seat than other chinos." Like J.Crew, Bonobos makes its chinos in a bunch of colors — this style is currently available in 20 shades.
Best
under-$200
chinos
for
men
Photo: retailer
Writer Zachary Weiss told us he's been "living" in these Lululemon pants that the brand describes as "inspired by chinos." According to Weiss, they may not be formal enough for a night out (a concern to very few people right now) but are a "true life hack" for day-to-day life, travel, and lounging at home. "They're comfortable without looking sloppy, and I love that Lululemon hems them for free, too, if you want a more tailored fit." For a pair of stretchy Lululemon pants that would pass muster at a restaurant or bar, check out these ones that Strategist writer Louis Cheslaw calls "sweats in disguise."
Perhaps not surprisingly, Ralph Lauren's chinos came up a lot when we talked to our cool people. But we didn't expect three guys to recommend three different pairs. If you like a wider leg, brand consultant Kapil Sehgal suggests these relaxed-fit chinos. He calls them a wardrobe staple and tells us their "soft cotton-twill fabric is super comfortable, and their oversize fit is perfect for WFH." Sehgal, who has worked in menswear for 13 years, adds that pleated chinos are very of-the-moment: "The trend in menswear for the past few seasons has been toward oversize, comfortable fits, and I don't see that changing for a while."