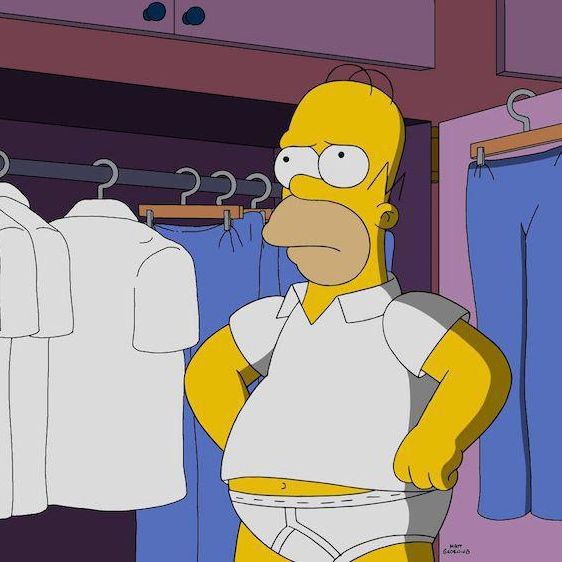 I love and look forward to warmer weather as much as anyone. But even before gyms locked their doors and we were told to stay home surrounded by food we'd stockpiled, as a guy who is carrying about 20 pounds more than he'd like, I was starting to worry about what to wear now that the weather no longer calls for layers upon layers. In discussing my dilemma with an employee at prep mecca J. Press (pre–social distancing), he told me one thing I should invest in is a "sack jacket" — a traditional men's blazer cut for heavier guys, with more breathing room in the waist and shoulders to prevent the wearer from feeling like a sausage in a casing. His immediate answer made me wonder if there are other slimming garments that guys like myself can get to look and feel our best.
The answer, according to the five cool people I spoke to — who include stylists and menswear-store owners — is yes, there are other garments out there that are better suited for camouflaging extra pounds. Read on for the button-downs, polos, T-shirts, shorts, and pants that they recommend for cuddly guys — essentially, anyone who has gone up a couple notches in their belt since buying it — which include a few of my own favorite flattering items, too. And one piece of shopping advice shared by all of the people I talked to: When choosing a size, pick the one that actually fits. As George Brescia, a stylist and the author of Change Your Clothes, Change Your Life, puts it, "When we wear clothes that are too large and oversized, the wearer becomes as big as the item." Speaking of sizes, all the garments on this list go up to a size XL, with many offering more sizes (we've noted which ones have a wider range).
All five of our cool people told us about the importance of creating vertical lines down your body, as they "elongate your look, making you appear taller and leaner," explains Donnell Baldwin, a former style director for Mr Porter. The best garment for creating long, vertical lines, according to them, is a button-down shirt because, as Brescia notes, "the buttons going down create the line," while the collar helps to create a flattering shape. "Collars frame your neck and bring back some angles to your look," adds Peter Nguyen, a personal stylist. Two of our cool guys pointed us to this specific button-down from Bonobos (which goes up to a XXL) as a flattering style, not only for its buttons, but also it's vertical stripes. "Vertical stripes on an item are your friend, too" says Baldwin. "Plus, they're timeless."
An even more affordable option with vertical stripes is this blue-and-white Gap button-down that goes up to a XXXL, which Baldwin loves because it "gives off a nautical, easy, free-flowing style," especially as it's designed to be worn untucked. He owns one himself, telling us that it has lasted him multiple seasons. He adds that the shirt's combination of poplin (a lightweight cotton) and stretch material makes it easy to move in and breathable.