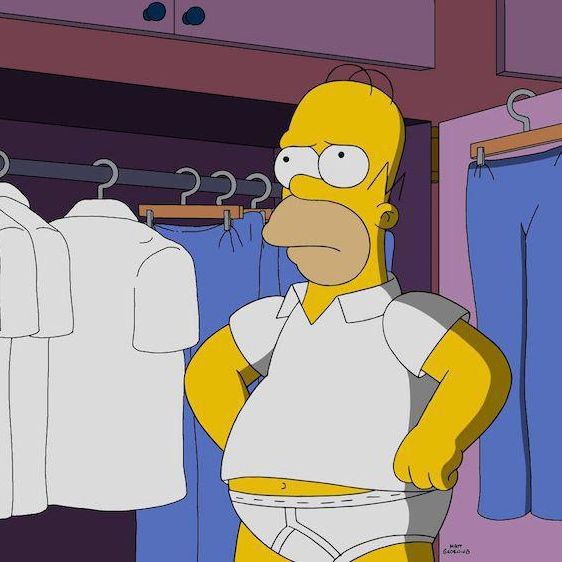 I love and look forward to warmer weather as much as anyone. But even before gyms locked their doors and we were told to stay home surrounded by food we'd stockpiled, as a guy who is carrying about 20 pounds more than he'd like, I was starting to worry about what to wear now that the weather no longer calls for layers upon layers. In discussing my dilemma with an employee at prep mecca J. Press (pre–social distancing), he told me one thing I should invest in is a "sack jacket" — a traditional men's blazer cut for heavier guys, with more breathing room in the waist and shoulders to prevent the wearer from feeling like a sausage in a casing. His immediate answer made me wonder if there are other slimming garments that guys like myself can get to look and feel our best.
The answer, according to the five cool people I spoke to — who include stylists and menswear-store owners — is yes, there are other garments out there that are better suited for camouflaging extra pounds. Read on for the button-downs, polos, T-shirts, shorts, and pants that they recommend for cuddly guys — essentially, anyone who has gone up a couple notches in their belt since buying it — which include a few of my own favorite flattering items, too. And one piece of shopping advice shared by all of the people I talked to: When choosing a size, pick the one that actually fits. As George Brescia, a stylist and the author of Change Your Clothes, Change Your Life, puts it, "When we wear clothes that are too large and oversized, the wearer becomes as big as the item." Speaking of sizes, all the garments on this list go up to a size XL, with many offering more sizes (we've noted which ones have a wider range).
All five of our cool people told us about the importance of creating vertical lines down your body, as they "elongate your look, making you appear taller and leaner," explains Donnell Baldwin, a former style director for Mr Porter. The best garment for creating long, vertical lines, according to them, is a button-down shirt because, as Brescia notes, "the buttons going down create the line," while the collar helps to create a flattering shape. "Collars frame your neck and bring back some angles to your look," adds Peter Nguyen, a personal stylist. Two of our cool guys pointed us to this specific button-down from Bonobos (which goes up to a XXL) as a flattering style, not only for its buttons, but also it's vertical stripes. "Vertical stripes on an item are your friend, too" says Baldwin. "Plus, they're timeless."
An even more affordable option with vertical stripes is this blue-and-white Gap button-down that goes up to a XXXL, which Baldwin loves because it "gives off a nautical, easy, free-flowing style," especially as it's designed to be worn untucked. He owns one himself, telling us that it has lasted him multiple seasons. He adds that the shirt's combination of poplin (a lightweight cotton) and stretch material makes it easy to move in and breathable.
This under-$20 button-down that Baldwin recommends also has slimming vertical stripes, is designed to be worn untucked, and has short sleeves, making it ideal for hotter days. Plus, it sizes up to XXL.
Photo: Retailer
On the other end of the pattern spectrum, Nguyen says that a button-down with a "busy, all-over print is a great way to camouflage your belly." Baldwin told us he also likes an all-over print, as it can "distract the eye, making you appear slimmer." He directed us to this short-sleeve button-down with a sort of neon, New York City–at–night print, but says the most important thing is to find a print that works for you and "rock it with reckless abandon."
For another flattering all-over print, Nguyen pointed to this short-sleeve button-down with a bright bull's-eye pattern from Todd Snyder, which runs up to XXL and is designed to sit untucked just below the waistline.
Photo: Retailer
If you're looking for something slightly more casual that still has those flattering elements, namely buttons and a collar, Sean Crowley, the owner of Crowley Vintage, suggests this Alex Mill "popover" shirt that's kind of polo shirt–button-down hybrid. "Popovers are about as old fashioned as it gets," he explains, "but they've had a revival in the last few years. The fit is generally a little looser than a regular button-up shirt, and they look great tucked or untucked." It runs up to a size XXL.
According to Robert Squillaro, the chief merchandising officer at J. Press, an actual polo shirt can be a flattering warm-weather staple for cuddly guys for the same reasons as a popover (buttons around the neck and a collar). He didn't have a favorite, but I'm a fan of Brooks Brothers' sweat-wicking polo shirts, which size up to a XXL. Mine has retained its shape and soft texture, even after three years of frequent wear and washes.
For another (slightly more expensive option), Chris Black loves Sunspel's polo shirts. "They are logo-free," he notes, "and made of supersoft Pima cotton."
Most of the guys we spoke to said cuddly guys concerned about camouflaging anything should avoid just wearing a T-shirt. But, according to Brescia, the one exception is when you wear a T-shirt beneath a jacket or overshirt (more on those below), because those outer garments provide those vertical lines down your front that a T-shirt does not. As for what kind of T-shirt to wear, Brescia says a V-neck, as the design "adds new angles, opens up your neck a little more, and makes you look more relaxed and comfortable." His favorite V-neck tee is this one from the Gap, because it's reasonably priced, has a "great silhouette and shape," and goes up to a size XXXL.
While warmer weather often doesn't require any outerwear or layering, there are occasions that call for it. When it comes to the best styles for cuddly guys, the folks we talked to again say to opt for a second layer that again creates more vertical lines down your body, like this lightweight bomber jacket from Uniqlo that Baldwin recommends and runs up to a XXXL. It "can be paired with many looks," he promises, adding that it "is also perfect for someone trying to develop more of a capsule wardrobe."
Back to that sack jacket: Essentially, the style is really any blazer that has a roomier fit in the waist and a natural shoulder, which Squillaro told us is "more forgiving for a fuller body type." Personally, I've found this Uniqlo linen jacket, with its relaxed silhouette and unstructured shoulders, to be just what he describes (it runs up to XXXL). Because the linen is so breathable, I don't sweat when I wear it, and it also gives me those flattering vertical lines, even with a T-shirt underneath.
"When it gets warmer out, I still think there's a place for clothing with a capital C," says Crowley, who says that for larger guys, heavier work shirts like this one can add the textures of classic tailoring to a warm-weather outfit while still keeping the collar and line of a button-down shirt. This piece, which goes up to a size XXL, is definitely an investment, but Crowley says it's kind of a twofer, or "sort of a shirt and a jacket in one." While he "loves it as a second layer," he told us you can also "wear it with practically nothing underneath, just an undershirt. Cuff the sleeves and it looks smart, as well as hiding the winter paunch."
If you want a lightweight sweater to throw on once the sun goes down, our experts all strongly advise against being tempted by horizontal stripes, not matter how timeless or trendy they may be. "Stripes widen you further," explains Brescia. Instead, go for something in a single color made from a forgiving fabric. Brescia pointed us to this linen crew-neck sweater from Gap, which is light, flattering, runs up to XXXL and, as he puts it, comes in a "great navy."
Larger guys have a tendency to reach for hoodies or sweatshirts as a second layer, according to Nguyen, believing they're more comfortable and forgiving. But the danger with many, he warns, is that "the material likes to hug your shape, which accentuates your roundness." That's why Baldwin specifically recommends this hoodie for cuddly guys, because he says its heavier weight, bright color, and size range (up to XXL) will provide a "good disguise for any areas you'd want to conceal."
Another investment piece, this lightweight linen-mohair sweater from heritage British brand Drake's not only has subtle vertical stripes but a "traditional fisherman's cut that's pretty forgiving" on larger guys, according to Crowley. As for whether it's worth your money, he promises that Drake's clothing is made to last decades, ensuring that — should you choose to keep it past the return period — this will maintain its shape and quality as long as you have it.
When it comes to bottoms, no matter the time of year, any guys concerned about flattering their bodies should only opt for flat-fronted styles. "While pleats may be back in style," Brescia says, "they have no clean lines, and instead their extra fabric around the waist attracts attention to an area you're likely trying to minimize." Beyond that, they say to go for stretch fabrics that make moving around more comfortable rather than super-rigid denim that can cut into your waist. "Stretch material," according to Baldwin, can "look normal from afar, but secretly accommodate an extra pound or two." Brescia adds that larger guys should also go for darker colors, which he says are "more forgiving" than lighter ones that "show you where every bump and bulge is." These Lululemon pants, which meet all of these criteria and run to XXL, have been transformative for me. They're made of a stretchy, proprietary Warpstreme fabric that keeps me from overheating and can accommodate any position I sit in, and the dark navy color is on trend and flattering.
Slightly less-professional-looking, but just as flattering, are these Lululemon joggers, which run to the same size as the above, that Baldwin says are great for providing shape to even the least athletic bodies. "Granted, they're expensive for sweatpants," he says, but his pair has lasted him for many years of near daily wear in warmer weather. "I don't mind shelling out a bit more money to ensure that they don't fall apart after several washes."
For a style of pants that was specifically designed with larger guys in mind, Baldwin pointed us toward this pair from Levi's, which, as the name suggests, run to XXL. "I love this collaboration between Levi's and singer Khalid," he says, pointing out that "Khalid is not the standard sample size."
Personally, these stretch-denim jeans from Everlane (which size up to a XXL) might just be the most comfortable I've ever owned. While they aren't as structured as some classic 501s, they have far more give, especially in the hip and thigh, because they were designed to be intentionally roomier in those areas to accommodate the bodies of muscular athletes (and, apparently, less-muscular writers).
In choosing shorts, Brescia told us that, again, stretch material is key for appearing and feeling comfortable. He likes these shorts from Rhone that he says can be "dressed up or down," and which are in stock up to XXL. Brescia's styling tip: "Pair them with a shirt in the same color — they also come in blue, khaki ,and navy — to create a monochromatic moment, which in turn, creates a slimmer silhouette."
A slightly more affordable pair of flat-front shorts are these from Bonobos that Brecia also likes: They "come in so many different colors," (13, to be exact) "and go up to a 40-inch waist (or XXL)."
The Strategist is designed to surface the most useful, expert recommendations for things to buy across the vast e-commerce landscape. Some of our latest conquests include the best acne treatments, rolling luggage, pillows for side sleepers, natural anxiety remedies, and bath towels. We update links when possible, but note that deals can expire and all prices are subject to change.