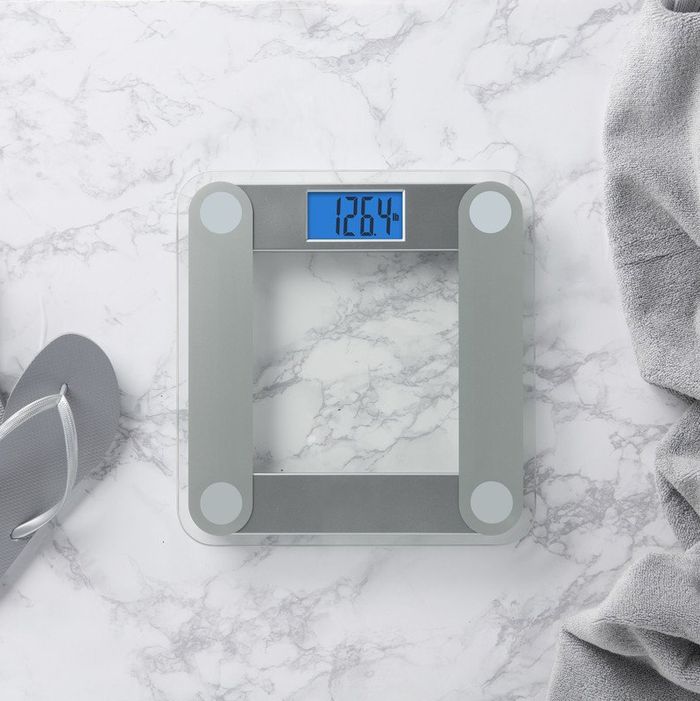 Not only can a bathroom scale help you track your fitness goals, it can also double as bathroom décor. And while we've written before about a variety of bathroom accents — including the best full-length mirrors, the best bathroom organizers, and even a roundup of cheap (but expensive-looking) bathroom accents — here, we've rounded up the best bathroom scales as praised by the most enthusiastic reviewers on Amazon.
Related Article: Best Bathroom Scales, According to Experts
Best-rated bathroom scale
With over 200,000 reviews — more than 170,000 of which are five stars — this smart scale is the best you can buy on Amazon. And lots of reviewers also note that it's a convincing alternative to the more expensive Fitbit Aria scale, which connects to a Fitbit. One reviewer describes the Fitbit-syncing process as simple and intuitive: "I downloaded the RENPHO app, and it synced up easily. I was able to link it to my Fitbit, which in turn is linked it to MyFitnessPal so I see the weight tracking in all three apps. Pretty awesome." Another says, "Setup was a breeze, and yes, it does sync with Apple Health Kit and Fitbit." App-compatibility aside, reviewers were also impressed with the features on the scale itself. "Hands down, this is the best scale I've ever owned," one reviewer raves. They call it "tech savvy," and can show "body fat percentage," "BMI," and "water weight percentage," and found it to be not only accurate, but "sensitive" and "consistent," too.
Best-rated (less-expensive) bathroom scale
More than 800 of this scale's five-star reviewers describe it as "simple" and appreciate that it "does one thing and one thing only: It weighs things." That same reviewer notes that while the scale doesn't have a BMI calculator or Bluetooth connectivity, it's "accurate to about two-tenths of a pound" (which, they argue, is more important for a scale). Another reviewer was "tired of having to enter everything but my Social Security number into a scale just to find out my weight" and is pleased that this one is "simple, you stand on it, and just like that, [it tells you] your weight." Since this scale automatically recalibrates between uses, dozens of others also appreciate that you don't have to tap the top with your foot to get a read. Instead, you "step on it, and a second later, the display locks in," explains one reviewer, who adds that this scale is as accurate as the one in their doctor's office. Ultimately, "If you want a scale that is just a scale, then this is a great price," according to another reviewer.
Best low-profile bathroom scale
In our roundup of expert-recommended digital bathroom scales, registered dietitian Brooke Alpert describes this scale as "inexpensive, accurate, and easy to use." But it's the design that draws so much attention from Amazon reviewers, hundreds of whom describe this scale (unironically) as "slim" and "thin," since its profile is less than an inch off the ground — unlike many others on this list that are over an inch tall. The low profile also means it's easy to slide this scale under cabinets and sofas when it's not in use, and all without losing accuracy. "I barely knew this solid scale was under my feet when I stepped onto it, except for the large blue digital numbers that immediately displayed my body weight with absolute accuracy," writes one reviewer, who is pleased that this "sleek" scale sits "flat on the floor."
Best scale for small bathrooms
Compared to other scales on this list, most of which are 11 or 12 inches wide and long, this 10.2-inch square-shaped scale is on the smaller side, and those dimensions make it a favorite among reviewers with limited space. "My bathroom is not big, and with the rugs, there is not a lot of free space," begins one reviewer, who replaced her old scale with this one and is pleased that it is "smaller and lighter and just more attractive." And while reviewers agree that this scale has a small enough footprint to "easily be pushed into a corner," hundreds mention that the minimalist white design also "looks nice enough" to leave in the open, "without feeling like you have an ugly scale on the floor." But the small size doesn't impact its accuracy: "This scale shows consistent readings," says one of the nearly 600 reviewers who describe the scale as "accurate." That same reviewer notes that his old scale was "bulky" and showed "different readings when taken a few minutes apart," but this "compact" one is consistent enough that he "can track the changes in my weight."
Best glass bathroom scale
"First of all, the photo on the web page does not do the scale justice," writes one purchaser. "It's really a beautiful work of art in addition to being a great scale." And while many satisfied customers also praise the "easy to read" large display and accurate and reliable measurements, they keep coming back to its stylish glass and chrome design. "When I first got it, I told my husband 'It is so pretty' and he said 'How can a scale be pretty?' Then he saw it sitting on the floor and said 'You're right it is pretty.'" Some also mention that the clear glass platform helps the scale "blend in" with their bathrooms since you can see the floor below. "Love the way it just blends into the floor," writes one purchaser, while another even suggests that "the thick glass design makes your bathroom look bigger because you can see through to the floor."
Best simple bathroom scale
Close to 200 verified purchasers mention the "great price" and no-frills functionality of this scale while giving it a five-star review. "We needed a second scale for the downstairs bath, and so I went for, really, the least expensive," one reviewer writes. "I AM DELIGHTED! Nice-looking, lightweight but sturdy, and, wonder of wonders, it records pounds, kilograms, and stones (finally, my British guests will be satisfied)." Sharing a sentiment expressed by many other reviewers, one shopper notes, "I was a bit overwhelmed by all the options. I tried researching brands and comparing features, but after a while, I stopped and just searched by price and picked the first thing I really liked the look of." After praising this scale's simple setup, bright screen, and attractive design, they conclude, "I've had the scale for about a month now, batteries are still going strong, and I'm very happy with my purchase."
Best stainless steel bathroom scale
Many reviewers are drawn to this scale because they trust the sturdiness of stainless steel over any other platform material. "It is so sleek and slim, fits in the corner of my bathroom without getting in the way," writes one purchaser. Another adds that the low profile design makes it "easy to store under a cabinet." Dozens also praise the stainless steel as "easy to clean." One writes, "Love the stainless steel finish, so attractive and easy to clean." As for the best cleaning method, one reviewer suggests "just a Clorox wipe and it's shiny again," while another says all you need is "a sprinkle of water and a cloth." As one purchaser sums it up: "Meets my two requirements of easy-to-read large numbers and no buttons or tabs to activate … A bonus is the sleek look and easy-to-clean stainless steel."
Best nonslip bathroom scale
If you like the option of weighing yourself right after a shower or if you have balance issues, you may want to consider this nonslip AGM scale. Built with an anti-skid platform to avoid accidents, its grippy silicone surface is "large enough to accommodate feet (men's 11 wide) and still see the display," while the display itself only takes "three seconds to settle on the exact number," according to one reviewer. This model has the approval of a home health nurse who found it "easy to read" and "lightweight" at just over 2.5 pounds (with a capacity of 400 pounds) Emphasizing the scale's "sturdy" construction, a third reviewer, whose previous glass scale shattered, says they feel "more confident moving this around."
Best extra-wide bathroom scale
Over 1,700 purchasers specifically mention this scale's extra-wide 15-inch platform, which they say greatly increases the ease of use and sense of balance they have while standing on it. One reviewer writes, "I have some balance issues, and had difficulty with my old scale's narrow platform. Happy to say this is NOT an issue with this scale. The platform is wide enough to allow me to keep my balance, and forgiving enough to still give an accurate reading if I happen to 'wobble' a bit." Another purchaser praises the extra-wide platform: "My size 15 EEEEE bare feet fit easily." Many also mention its 440-pound capacity, but some simply appreciate the durability and accuracy. One purchaser penned a review "after three years of use" and calls this scale "one of the best purchases of any product I have ever made. Period … It is easy to clean, easy to use, easy to read."
Best high-capacity bathroom scale
This scale's extra-high capacity — at 550 pounds — is a major feature for many reviewers. "I'm a big guy and I needed a scale that would withstand my weight," writes one happy purchaser who bought this one after another scale stopped working. "This one is wide enough to balance myself to get an accurate reading," they say, adding, "I highly recommend this to anyone who wants a heavy-duty scale that is easy to use." Most report that this scale gives them readings "within a pound" of the professional scales at the doctor's office, and they're really glad to find a home scale that works for them. "When you weigh 380 pounds, it is tough to find a scale that is both large enough to stand on, and one that gives accurate readings. This one does. I verified it at a local pharmacy and it was dead on."
Best body fat scale
This scale gets high marks for offering an affordable and simple way to track a variety of metrics in addition to weight, such as body fat, BMI, water percentage, muscle percentage, and more. Many note that setup does take "a few minutes," but ultimately it's easy to do, though one customer warns, "It is 'paperless', so you have to go to their website for instructions, but I nearly figured out how to set it up out of the box." Another reviewer adds that once you set up your profile the scale is "really good about recognizing who is on and giving all sorts of information." And acknowledging the potential for confusion with some of the tracking features, one purchaser tries to clear things up: "For anyone unaware, body weight is not the whole story, and even BMI is not a particularly great indicator of anything. But with the body analysis this does, giving you your percentage of muscle mass, fat, water and bone, you can tell what is REALLY going on." Many also appreciate that once you set up your profile, the scale itself provides all the information you need. As one puts it, "I noticed a lot of body fat scales require you to download an app on your phone. Who has time to check their phone and open an app every time they step on the scale?"
Best Bluetooth bathroom scale
Users can set goals and track their metrics over time with this Greater Goods scale. It uses an app and Bluetooth to record weight, BMI, body fat, lean mass, water weight, and bone mass. One reviewer loves that the app automatically calculates the "difference [between your] weigh-in and your set goal" and that the "Bluetooth hook-up (especially for this NON TECH SAVVY person) was so easy." More reviewers appreciate the ease of connecting their phones to the scale, with one saying, "I love that I don't have to press a lot of buttons on the scale or app to sync it. I just step on the scale, and like magic it records my weight in the app."
Best talking bathroom scale
This "talking" scale gets rave reviews, especially from those who are visually impaired. "I am a legally blind person and I love this scale," writes one purchaser. "It reads the numbers out very clearly." And while the visually impaired certainly seem to find this scale to be a great fit for their needs, one reviewer mentions buying this to use the "voice" feature in a slightly unexpected way: "It will keep us honest, not being able to ignore the polite voice announcing our weight." The scale's loud volume is another highlight for some reviewers. According to one purchaser, who bought this scale for their 92-year-old mother, "The volume is adjustable, and even with her being hard of hearing, she can hear it on the highest volume." Multiple reviewers also mention the attractive design of this scale. "It's a nice and stylish model, not like some other models that look like they're from the 1980s," one says.
Best rechargeable bathroom scale
Although a couple of other scales on this list are also Bluetooth and app enabled, not a single other scale is "rechargeable, thus omitting the need for batteries," writes one user. Using a charger makes the scale even easier to use, since there's "no fooling around with batteries" when you're getting it set up, says another reviewer. A third says that you "just plug it in to charge for a couple hours, and while you do that, set up the app," which includes "simple to understand" instructions. And after a full three-hour charge, the battery stays charged for a "superlong time" — though an exact number isn't specified by the brand, this reviewer says she only had to charge hers once during nearly nine months of use. She also appreciates that the scale "tells you so many cool things about your body mass" and a dozen other measurements, including body fat, body water, and muscle mass.
Best analog-style digital bathroom scale
"It's like watching the dash light up on a new Mercedes every time I get on it," writes one purchaser of this bathroom scale, and goes on to call it, "the most stylish and coolest scale I've ever seen." While it has the look of a classic analog scale, reviewers do note that the dial measurement is battery-powered. Still, many love the design of this scale; they also say that it performs well and provides accurate measurements. One reviewer sums it up: "It's a must-have for all those who are 'weight conscious' or just looking for a sleek and cool looking bathroom accessory. It has the traditional scale look (without the bulk) combined with precision scale metrics."
The Strategist is designed to surface the most useful, expert recommendations for things to buy across the vast e-commerce landscape. Some of our latest conquests include the best women's jeans, rolling luggage, pillows for side sleepers, ultra-flattering pants, and bath towels. We update links when possible, but note that deals can expire and all prices are subject to change.
Every editorial product is independently selected. If you buy something through our links, New York may earn an affiliate commission.